Archive for 2009
December 31, 2009
The year is coming to an end and I've spent the last few days reflecting on the things that have happened this year; good and bad.
This year I felt betrayal
This year I felt devastation
This year I felt desperation
This year I felt depression
This year I found new friendships
This year I drifted from some
This year I rekindled an old friendship
This year I graduated with a Master Degree
This year I started working full-time
This year I got my first front-page article
This year I am able to help financially at home
This year I found myself lost (oxymoron I know)
This year I found my way back
This year I learned again that ignorance is bliss
This year I felt what true determination was
This year I realised I'm not a quitter after all
This year I am more in love than I have ever been
This year…
I've changed…
December 14, 2009
Okay I know I haven't been updating in over month but work is seriously taking up most of my time.
By the time  I get home, am too brain-fried to come up with something creative to write about.
However, I am loving some of the freebies and food tasting I get when I cover events, e.g the opening of The Body Shop at Boulevard. I think it was smart of them to give me freebies considering I got one of my colleagues hooked on the perfume and she is going to buy it.
Heck I am ever so tempted to go get myself a bottle. It is a combination of vanilla and jasmine. Then again I think to myself if I want to spend the money, considering I need to save up for a possible visit from Rob next year. Decisions decisions decisions.
Hmmm perhaps I can justify buying it for myself for Xmas? 😀
By the way, the scent is called "Love etc…"
The Body Shop is also currently having promotions for their Xmas line of which I got freebies too. I got a Merry Berry shower gel, body lotion and soap. It has a fruity smell to it.
I wish I could show pictures but since I started using my digital camera for work, the memory card has contracted a gazillion viruses from the computer at the office (no we do not have up-to-date anti viruses). So I refuse to plug the camera on my laptop because I am not risking it!
Oh yeah, my off days are switched from Mondays to Tuesdays AND Wednesdays now. The office is trying out the 5-work days thing so I get two days off from now on. It's currently on trial so we still get called back if there are too many functions/events to cover.
Anyway I'm babbling. Will figure out what to blog about tomorrow.
November 5, 2009
Yes I know I have neglected this blog long enough.
I'm just starting to get used to my working hours and don't feel as tired as I did when I first started the job.
It's an interesting job when it comes to the people I get to meet. Sometimes I hit a block and can't find the perfect angle to start the story but I'm slowly getting there. I suppose it's true when people say things get easier with time.
I got paid last week and have already bought myself an early birthday present; a handphone. Not just ANY handphone but a PINK(!) one. Coincidently the moment I paid up for the phone and was about to leave, I bumped into a friend of mine whom I have no seen in a while and somehow seeing her made me way too happy for my own good for the rest of the night. It was Siew Pin AKA Soupy!
Then again, I don't know if it was a coincidence or not because she knew I was going to be there (but didn't know what time) so I almost suspect that she headed over that general direction just to see if we would bump into each other. I should ask her that. Hehe
Either way, seeing her really made my night. I almost wanted to hug her but felt self-conscious to because there were tons of people around.
It's strange because I haven't felt that sort of happiness in a while. Work is taking a lot of my social life (as if I had a lot of social life to begin with). I do enjoy interacting with my colleagues whom I've gotten to know more and more everyday.
Anyhow I think I'm babbling away so I'm going to stop here. Have to a function to cover tomorrow at 9am. Will write when I get the chance too. Au revoir!
P/S: Pictures of my front page article! *jumps in joy*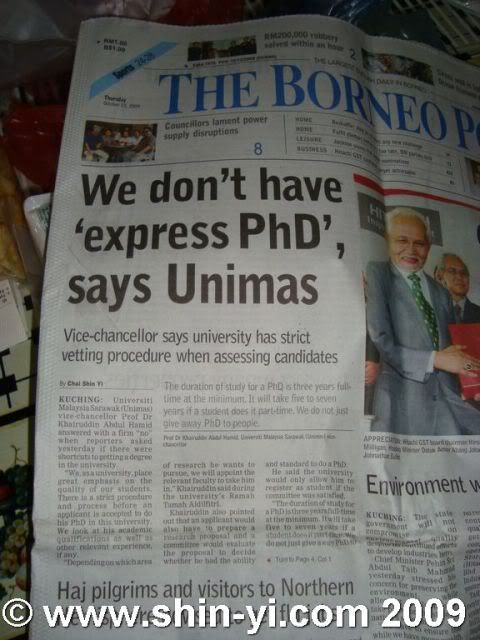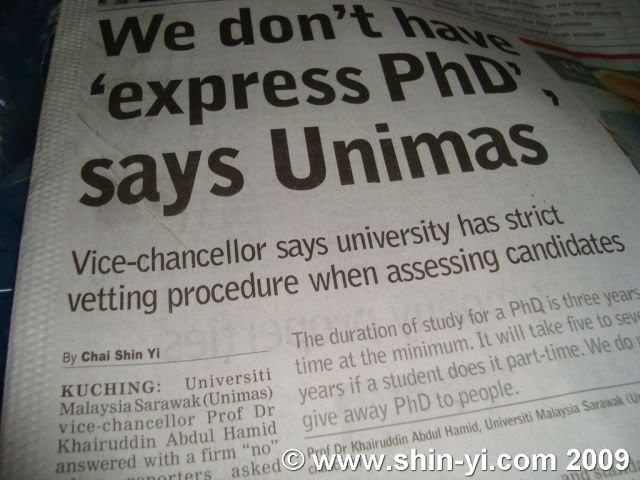 P/P/S: You know when I said I meet interesting people everyday? This is one of the SIAW "interesting" ones.
October 25, 2009
This is the second time I'm sittng in front of the computer not knowing what to write.  I've been tempted to just shut everything down and go to bed but I feel somewhat a little guilty neglecting my blog.
Nothing interesting going on with my life. I'm sure most know by now that I've started working. The hours are longer than usual jobs. My life cycle goes something like this
Wake up -> talk to Rob -> go to work -> come home from work -> eat -> back to work sometimes -> sleep -> repeat process.
So please tell me what am I suppose to write about? Heh
Plus I signed a contract with work and one of the clauses said "I shall faithfully and honestly preserve strick silence in reference to any transactions or affairs of the company that may come under my observaton or knowledge" so I can't exactly talk about work related things here. 😛
I must be getting old or something (as much as I hate to admit it) because I'm feeling rather tired at 10pm so off to bed I go!
Au revoir!
October 16, 2009
If any of you read the local paper yesterday you might have seen a familiar name on the FRONT PAGE. 😀
If you haven't, check it out at http://www.theborneopost.com/?p=59871
WOOHOOO MY FIRST FRONT PAGERÂ  :dream:
GLOAT GLOAT GLOAT GLOATÂ  :party:
Okay, I'm done gloating. I gotta go to slave myself work now.  :puke:
Bye!
October 12, 2009
Won't have a lot of time to blog from now.
Just started a job last week but I do not forsee myself staying there long but who knows? I may grow to love it SO MUCH that I won't quit.
It's a long shot because the hours are long and the pay is hardly worth it. I have no fixed lunch hour and most of the time I forget to eat or too busy to. Hmmmm I wonder if my tummy looks flatter. 😕
Had to work til about 9pm my first day so that was a total turn-off for me! You know how they say first impression is everything (well, almost). I work weekends too. Yes, very tragic. 😛
I started to get withdrawal sympthons 2 days into the job for not spending enough time with Rob.
I don't know if I can say "Well it's better than nothing". I almost want to say it but I haven't made up my mind completely yet.
Anyway, I better sign off now.
Bye!
October 1, 2009
*Wrote this quite a while ago and forgot to publish*
In times of hardships and frustrations, I've begun to really appreciate the wonders of music in helping me get through it.
I have spent many hours sitting in my room, analysing every single detail of every single speck of my life when things go wrong. I usually have the radio on and once in a while, lyrics from a song would catch my attention and give me some form of clarity.
One of my favourite is "Walking Away" by Craig David. I've always liked songs by Craig David. It's quite an old song, I know, but the lyrics just caught my attention right away a few months ago when I heard it on the radio again after so long.
Part of the song goes like this:
Sometimes some people get me wrong
When its something I've said or done
Sometimes you feel there is no fun
Thats why you turn and run
But now I truly realise
Some people dont wanna compromise
Well I saw them with my own eyes spreading those lies
And well I don't wanna live my life too many sleepless nights
I'm walking away from the troubles in my life
I'm walking away oh to find a better day
I'm walking away from the troubles in my life
I'm walking away oh to find a better day
I'm walking away
I found the music video on Youtube so take a listen if you're interested.
Anyway, other songs that I find inspirational (for the lack of other terms) include:
If today was your last day – Nickleback

(my currrent most favourite)

Let it be – The Beatles
The show – Lenka
I don't want to be – Gavin DeGraw
More than anyone – Gavin DeGraw
Chariot – Gavin DeGraw
More to life  – Stacie Orrico
Dare you to move – Switchfoot
The climb – Miley Cyrus (yes, Hannah Montana. Lame, I know) 😛
September 30, 2009
Today I went to pick up homemade Ping pi (Crystal mooncake) from a friend of mine, more commonly known in this blog as Soupy. Rob came up with that name, long story for another day.
The first time I tried it was back in 2005 when we were working together. Since then, I've been pestering her at almost a yearly basis for ping pi, because it was yummy! 😀

Even comes in a pretty box
After many chants text messages of "ping pi ping pi ping pi ping pi", she had no choice finally made some for me yesterday. Yes, I have no shame at all. :whistle: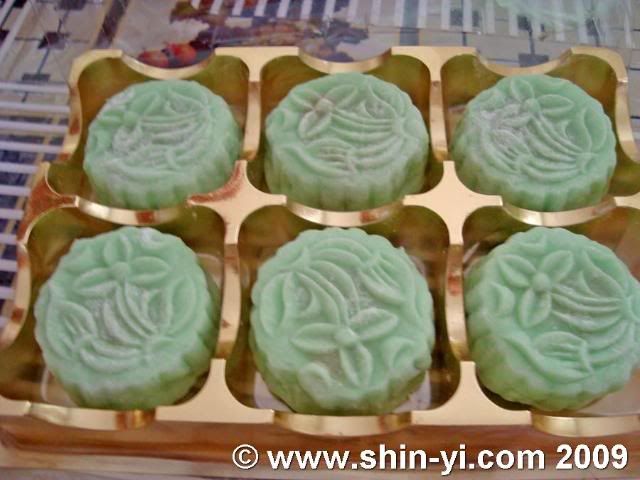 Oh so pretty!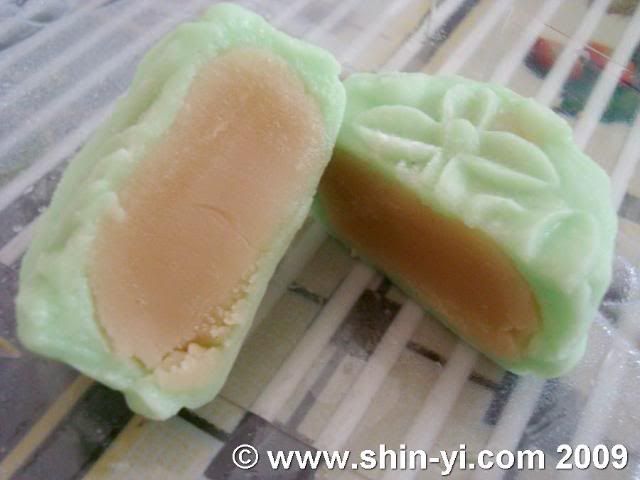 TONS of lotus paste filling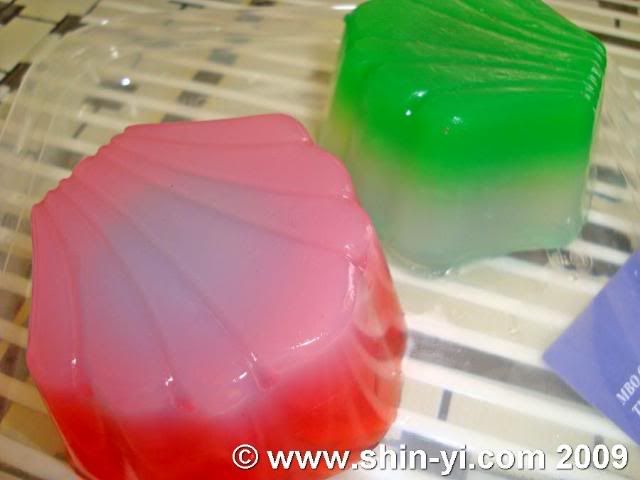 This year she introduced me to something new, agar agar mooncake, which I have never tried before. I have to say they were pretty good!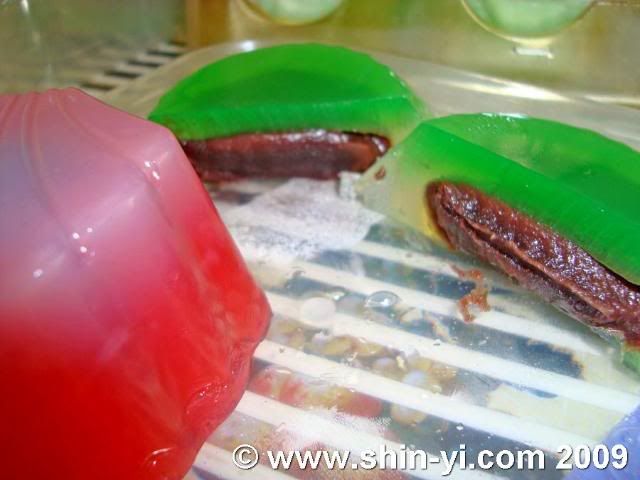 I found it kinda ironic how much I enjoyed the agar agar mooncake, since I literally got burnt from making plain agar agar last week. Gee I wonder why the agar agar is pinkish? Hmmmmm 😀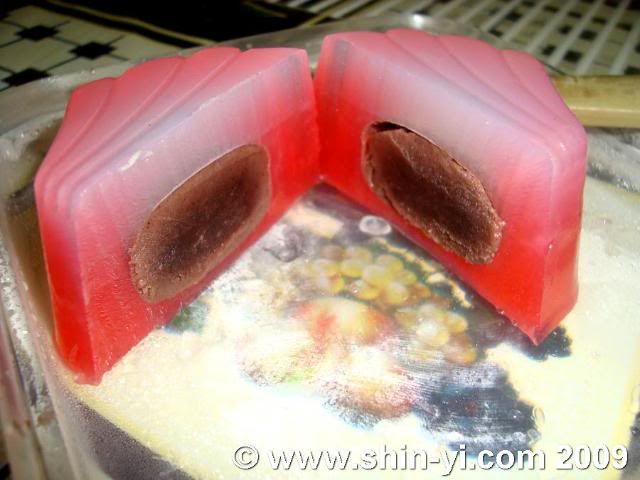 With red bean paste filling. YUM
=P~
Nom nom nom.
Thank you Siew Pin. ~muah~ 😀
P/S While I was enjoying my mooncakes and taking pictures, guess who was watching by the door?

Leo begging for some mooncakes too
September 28, 2009
This is probably one of the best videos I've watched on Youtube.
It may not be so funny at first but when you get to the good part (and you will know what it is when you watch it) you will laugh your ass off. Â 
I laugh so hard I cried.
I hope you enjoyed it as much as I did.