July 10, 2006
Rainforest World Music Festival happened over the weekend. I was lucky enough to finally catch the concert this year with FREE tickets! It was my first time and I definitely enjoyed it. I attended Sunday's show which was also the last night.
To be honest, I am kinda indifferent about cultural music. I'm no music enthusiast, other than the music I listen to in the car. Hehe I guess some people don't appreciate this kinda music. I'm certainly one of them. But after last night's show I will give those people credit. It was a real eye-opener.
I took a lot of pictures but most came out blurry cause of my shaky hands plus it was dark. I think I need a tripod or something. I did, however, take videos of the shows. I sat on the hill side of the stage and there was a big flat screen behind me so I took videos of the screen hehehe. You'll know what I mean when you watch the video.
Didn't know it was Visit Malaysia year in 2007
Marilyn went with me and we caught the 6pm shuttle bus from Holiday Inn to the Cultural Village for RM10 per way. I figured it's a lot better than driving up myself and finding a parking place. When I got to the Cultural Village I knew it was a good idea to take the shuttle bus. People were parking by the roadside on the grass, taking almost one lane of the road. Seeing as my car already has a booboo I'm not gonna risk it getting scratched again LAH.
Mae enjoying herself. Thanks for going with me, Mae. Really appreciate it!
I was watching the show and Mae decided to snap a pic of me. I look rather sleepy don't I?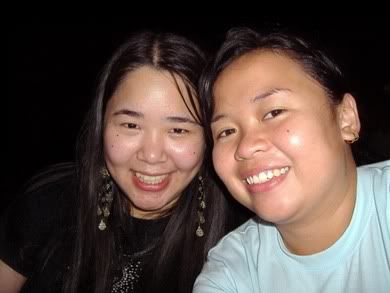 The show was scheduled to begin at 7.30 pm and ended at 12.30am. I didn't stay for the finale as it was getting late and we still had to catch the shuttle bus back to town. A total of 7 groups performed that night;
Istamuzika (Malaysia) – typical local Malay music. I personally didn't think much of it.

Genticorum (Canada) – Great vocals and music. If you hear tapping sounds, the guy on the chair was tapping his feet for beats. Check out their website

here

.

Tengir Too (Kygryzstan) – I really can't describe their music. It was very interesting to say the least.

Persatuan Tradisi Oriental Kuching (Sarawak's very own) – Chinese musical instruments.

Kilema (Madagascar) – Reggae feel and one of my favorites.

Calle Sur (Latin America) – Ricky Martin music feel

Les Yeux Noirs (France) – Very Irish-Celtic era music (instrumentally sounds like the Corrs) and one of my favorites.
You will get a feel of the different kinds of music when you watch the video.
Les Yeux Noirs
Calle Sur
Kilema
I think they were the most favored among all the groups. They made the crowd dance and jump around and participate. When you watch the video, keep an eye (or ear rather) when you hear "Tamaku" and the crowd will clap 4 times and another word (which I can't relaly pinpoint) for clapping 10 times. The crowd loved them so much they kept chanting for "we want more!" over and over again after they were done with their performance.
Tengir Too
The crowd was insane! A brilliant mixture of people from all over the world
Next year will be RWMF's 10th anniversary and it's going to be a grand event. It'll be from the 13th to 15th July 2007. I'm hoping to attend it again next year.
The video is a big file, about 26mb, (special kisses for Robbie for combining all the files) so it'll take time to load and the sound is a bit distorted LAH and doesn't do justice to the real deal PLUS it's only a digital camera video recorder. So be patient alright? Enjoy!