Archive for February, 2007
February 28, 2007
A couple days before X'mas Rob drove us both downtown for some sightseeing. We had no plans other than watching the Blueman Group at 10pm. We made a couple pitt stops along the way to Briar Street Theater.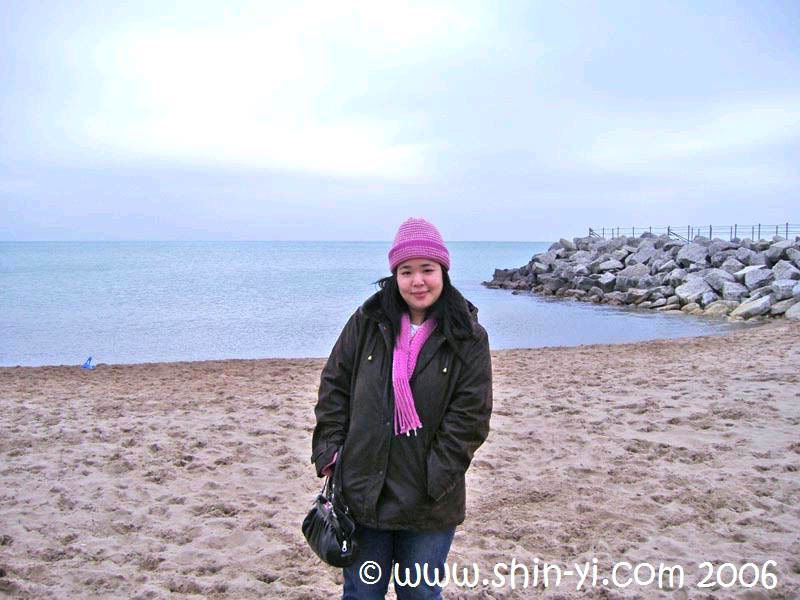 Evanston Dog Beach, where the dogs roam freely and swim. One of the few in Chicago.
The 30 minute ride to downtown Chicago was pleasant as there were not traffic jams. Rob picked the perfect time to go. The view of downtown mirrors the area where I stayed in New York. Lots of tall buildings with uniquely designed architecture.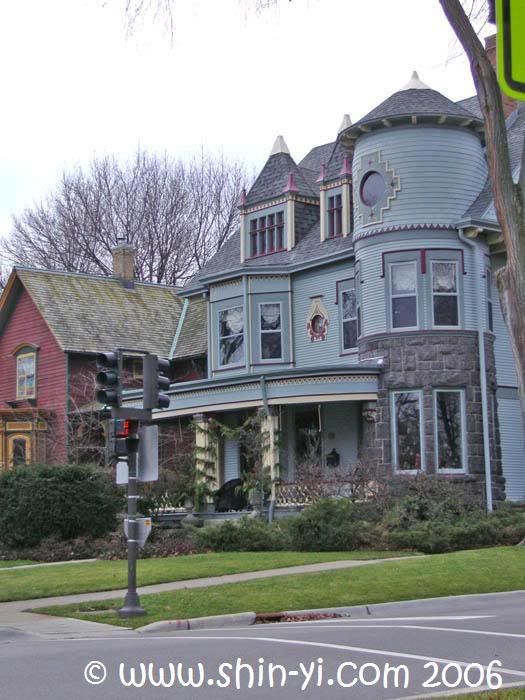 I thought this house looks like the "Charmed" sisters' house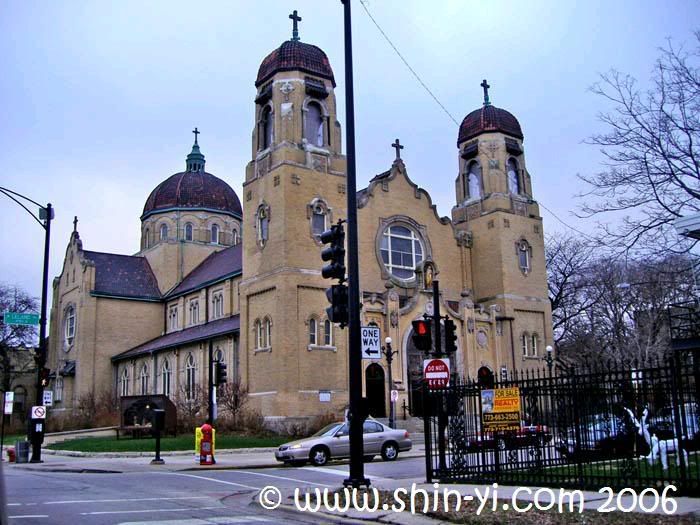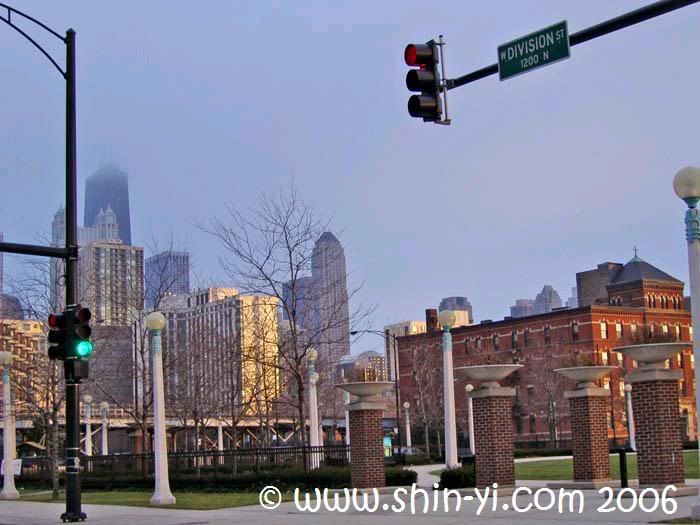 Rock n' roll McDonald's
Rob parked by the road near the Sears Tower, the tallest building in America, formerly tallest in the world, because it was cheaper than parking in those big parking garages. We did some sightseeing by foot and eventually took the train to Briar Street for the show.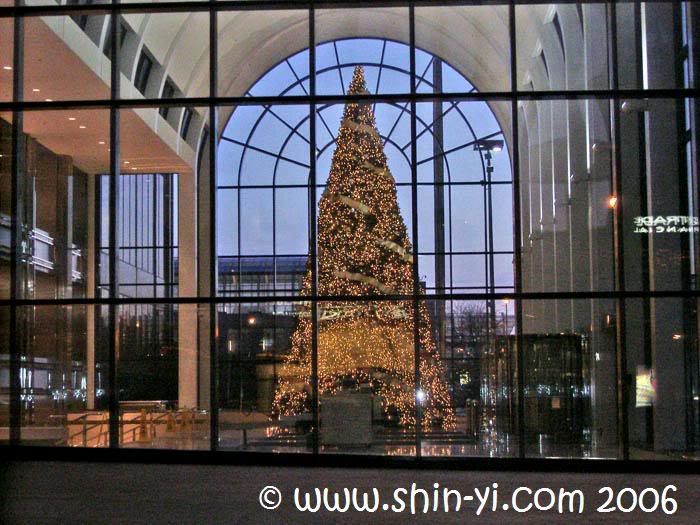 X'mas tree in the lobby of the Sears Tower

The Daley Center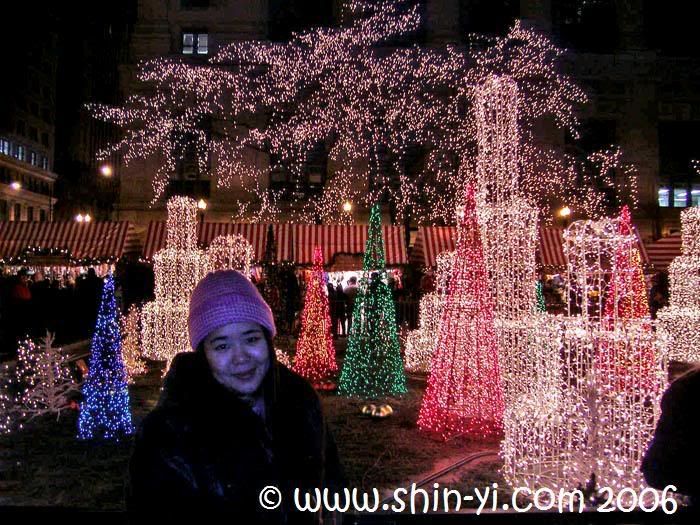 Lots of lights on display at the Daley Center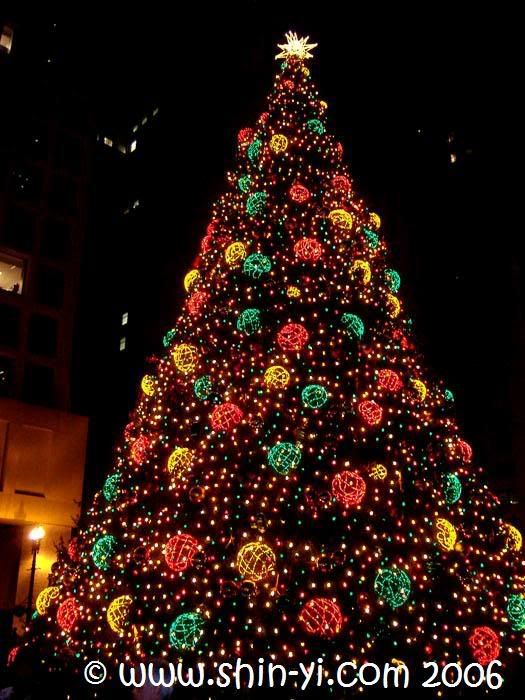 Big tall X'mas tree, as always, at the Daley Center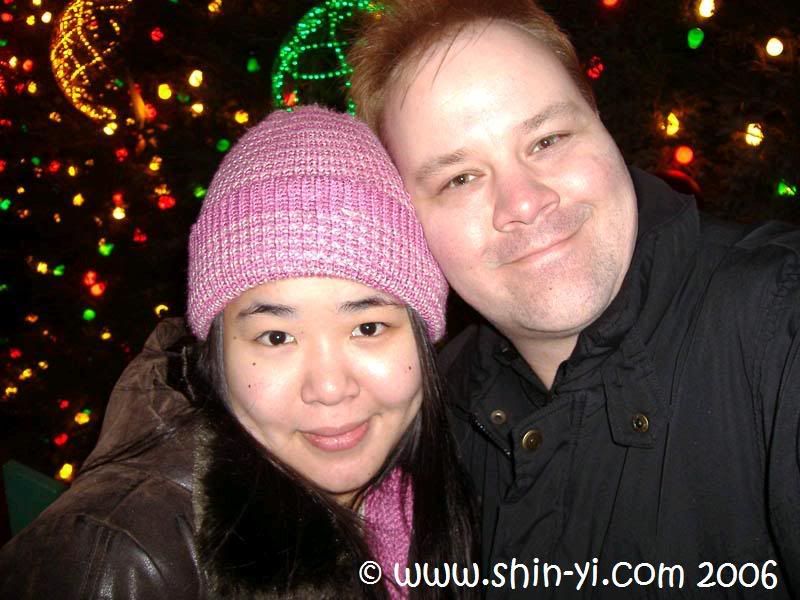 The Millennium Park was a few minutes walking distance from the Daley Center. It has really cool sculptures of sorts. (Don't mind me, I'm not artistically literate.) Standing in the entrance of Millennium Park itself are two gigantic screens of changing human faces of different race. I'm sure it means something but I'm too lazy to find out.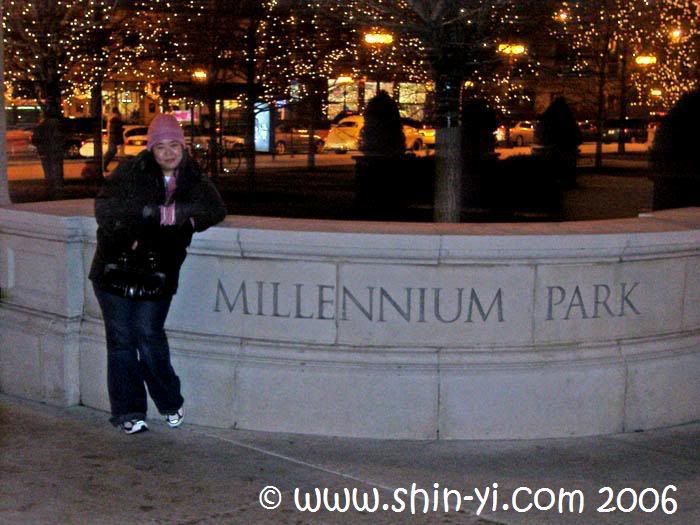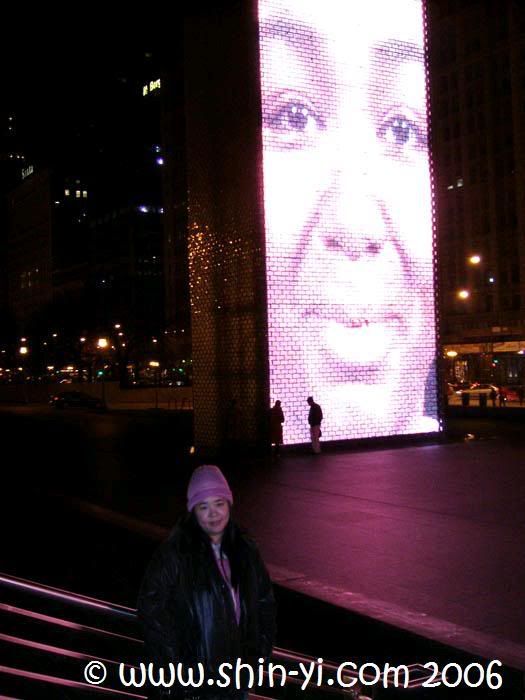 See the black shadow? That's me and my purse. LOL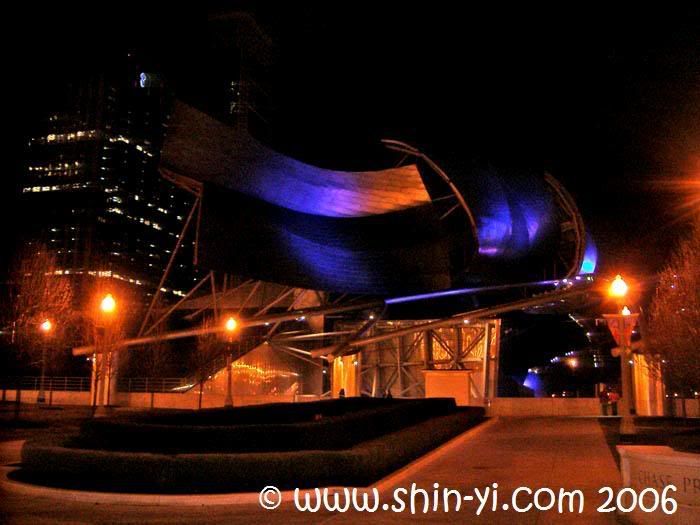 This is the back of a pavilion, an outdoor concert venue.

Cloud Gate
The Cloud Gate is probably one of its kind and the signature sculpture at Millennium Park. It reflects Chicago's famous skyline and the clouds, which would be clearer in the picture had it been taken during the day time. It's more than 30 feet high and 60 feet wide. The cool thing about it is that there's a high arch that allows people to go under the sculpture and touch the mirror-like surface and see their reflection back in different perspectives.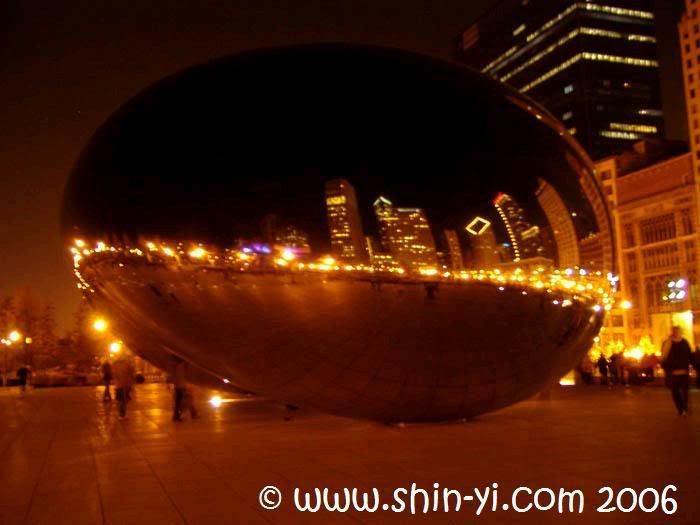 Better picture, with brighter lighting
After Millennium Park, we took a train to the closest stop where the show was. We ate dinner at a nice little restaurant, which I failed to camwhore in because I was tired and hungry plus I kenak (got) my monthly visitor there and then. Thank goodness I was prepared. 😛
We had tickets for the 10pm show so we took our time with dinner and walked around the area for a little while, but walking in the cold with stomach cramps wasn't at all that fun.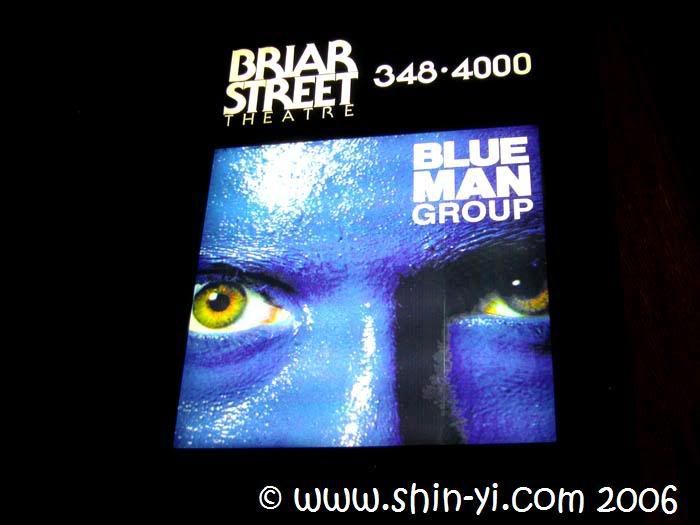 The Blueman Group was spectacular! They consist of 3 blue men in black suits, banging and clanking on plastic pipes, steel etc. Their perfomances was just simply amazing, combining music, comedy and multimedia theatrics. It was truly a unique experience. The atmosphere created at their show kept me anticipating for more. I saw some videos of them in YouTube so you can do a search if you're interested to know what kinda music they do.
No photo taking was allowed during the show so no pictures/videos of the show. Everyone in the hall had to take an oath. It was funny, there was a long screen of text on the stage and everyone had to read it. Surprisingly, Rob's name came up on the screen as they joked that he needed to pay his credit card bills (because Rob paid the tickets with a credit card). Even birthday wishes came up on the screen. It was very cool.

Exhibit R
Before the show started, strips of paper was passed around and we're suppose to tie it on our heads. I didn't do it though. Everyone else looked so silly. Observe exhibit R above. 😛
I can't really explain in words the show. I was speechless a few times during the show. It was so out-of-the-ordinary that by the end of the show, there was a GIGANTIC pile of paper in front of the stage. The Blueman Group made EVERYONE pull down (if I had to guess) over 100 rolls of (recycled) paper from the back row all the way to the first row.
Everyone had a chance to take pictures with the Blueman group when the show was done. I definitely did not pass out the opportunity.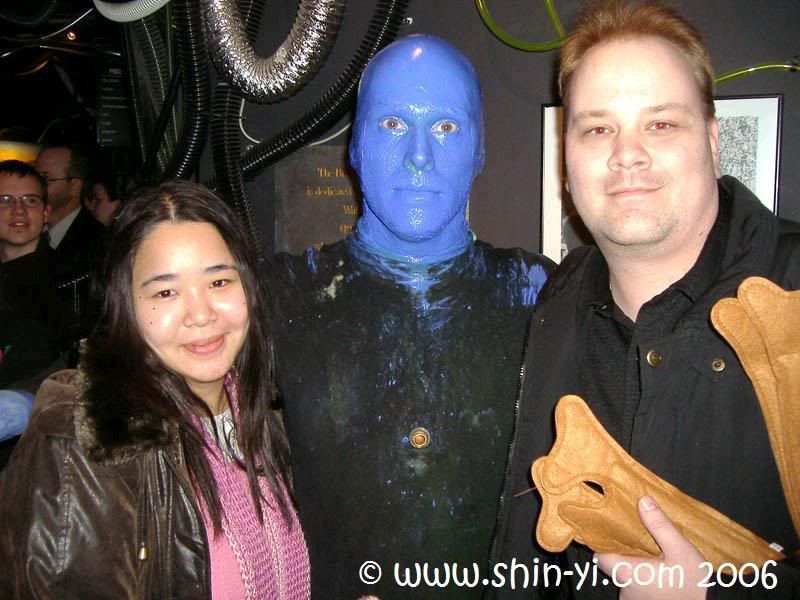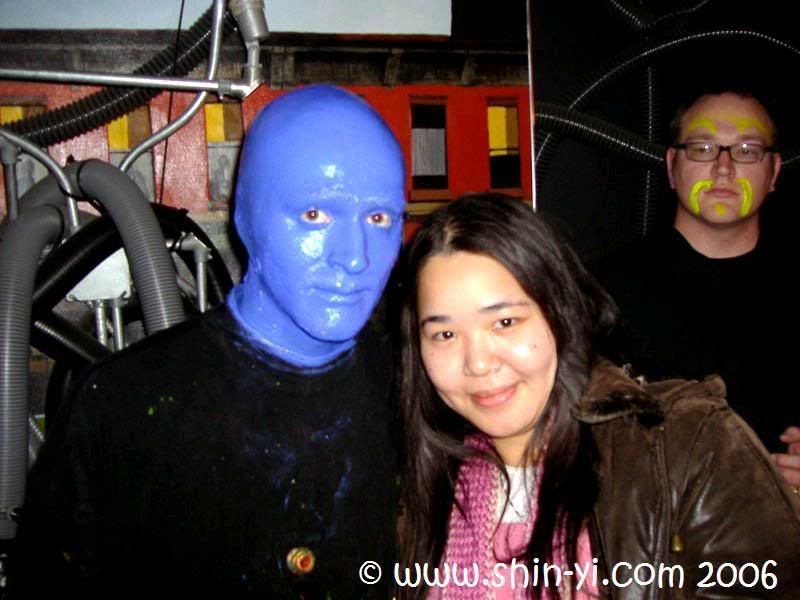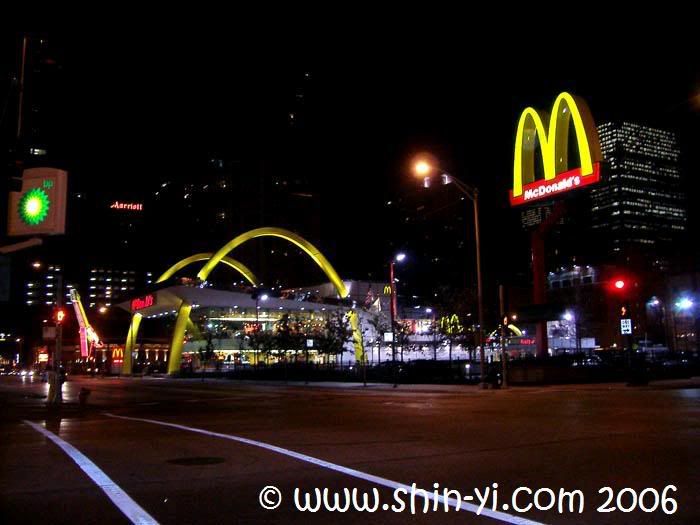 Night-shot of the Rock n' Roll Mickie D's
Oh I forgot to mention that Chicago is not called the "Windy City" for nothing. It was SO windy and made the air COLDER!!!! I had long-johns aka warm underwear and a winter jacket on and I was STILL shivering outside!
Okay, I gotta go work on my thesis. Rob and I made a deal. 😀
Ta~~~
February 26, 2007
I don't remember where I heard this song but this morning I woke up with the tune in my head. Maybe I had a dream of listening to this song. I really don't know but it's been in my head ever since I woke up. I did a search and found the song. Now I understand why this song is in my head. It says a lot about how I feel…
8th World Wonder – Kimberley Locke
Woke up early this morning,
made my coffee like I always do.
Then it hit me from nowhere,
everything I feel about me and you.
The way you kiss me crazy,
baby you're so amazing.
Seven days and seven nights of thunder,
The waters rising and I'm slipping under.
I think I fell in love with the 8th world wonder.
I guess that I'm just falling
deeper into something I've never known.
But the way that I'm feeling,
makes me realize that it can't be wrong.
You're love's like a summer rain,
washing my doubts away.
Seven days and seven nights of thunder,
The waters rising and I'm slipping under.
I think I fell in love with the 8th world wonder.
It's only been a week,
but it's coming over me.
It's making me believe that you're the one for me.
Seven days and seven nights of thunder,
The waters rising and I'm slipping under.
I think I fell in love with the 8th world wonder.
Nice lyrics eh?
I love you Robbie. Thank you for being my 8th World Wonder.
Who's your 8th World Wonder? Tell him/her today.
Back to the books for me.
February 24, 2007
Sorry for the lack of posts this past week. I have been so utterly engrossed with the CNY celebrations, e.g. pigging out and collecting angpows. I must say though, that as we get older the quantities of angpow received decreases every year. So it is my theory that one's age has high correlation with quantities of angpows received.
Anyway, I was sick all through the CNY but I can safely say that I'm recovered. Although occasionally, my ears kinda crackle a little.
I just got back from my uncle's place where he had steamboat with a bunch of family from my dad's side. I met my cousin from KL whom the last time I met just got married. Now she has 2 girls. I felt a little weirded out because another cousin (I think, there are so many from my dad's side I really don't know who is who) was constantly staring at me throughout the night. I don't think I am perasan lah because this has happened in the past years.
Moving along…
I'm feeling fat (although I AM already fat) and bloated from the CNY food. The yummy cakes, and cookies and…oh I think I'm drooling. Went visiting for a few days. It's nice to go out in groups and hang out with friends and be crazy. We took some crazy-ass pictures. Will post them up EVENTUALLY.
In the mean time, I'm off to the books. Been neglecting them for the past 2 weeks!!!
Toodles~~~
February 18, 2007
Happy Chinese New Year everyone!
May the year of the boar (oink oink) bring you and your loved ones much prosperity, abundance fortune and lots of happiness!
GONG XI FATT CHAI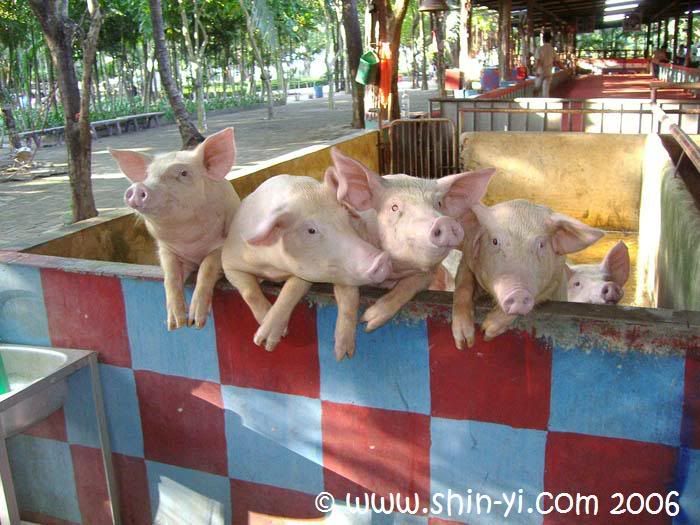 P/S Give me angpow!!!
February 15, 2007
I just got back from the doctor's. I'm down with a cold AND otitis AKA an ear infection. My nose congestion and ear aches are giving me headaches between the eyes and the back of my neck. Joy joy fun fun. Do you see the sarcasm oozing outta that one? 😛
I have to take antibiotics, amongst other pills, for the next 5 days. The doc said it's a stronger antibiotic and I believe him because the pill is the biggest pill I've ever seen. It's almost as wide as my pinky finger and three quarters of an inch long! The doctor visit cost RM55!
My Valentine's Day was…I really don't know what word would best describe it. Let's just say the local florist screwed up which led to a series of unpleasant situations between us. But, all is well in the land of Roshinia. Today could've been better but I was feeling "floatie" and light-headed so I ended up taking a nap when it was time for us to talk.
Streamyx is down yet again. *SIGH* I'm getting really tired of their crap. It's like every month I have to call in and make a complaint and every time I call, they say/do the same thing. It's getting old really fast. I wonder when Jaring's broadband internet will reach my area. Really want something more reliable and stable.
The meds are kicking in so I'm going to bed.
February 14, 2007
Yay it's Valentine's Day and I'm sick.
I can't stop sneezing.
My nose is dripping.
My throat is scratchy.
My ears feel clogged.
Damn I hate the cold.
It'll still be Valentine's Day tomorrow in Chicago so hopefully tomorrow will be better.
Happy Valentine's Day Robbie. I love you with all my heart. Thank you for the roses. *smooch*
February 12, 2007
Six more days til the Chinese New Year. I've been cleaning and washing and wiping, though not as much as I would want to.
Right now I have a headache and I took some painkillers. My throat is scratchy and I woke up this morning feeling cold while the sun was shinning brightly outside. I took my temperature and it was a little below normal, 36C or 96.8 F. The possibility of me getting sick? Very high in my opinion. *sigh*
Valentine's Day is just around the corner. Some feel that the V-day is overrated, it's a pretty special day for Rob and I. At the same time, yes, I agree it's very commercialized. It's a day where florists and the likes take the opportunity to "ding" guys (in particular) into buying flowers and chocolates and stuffed toys for their significant other. I shall talk about this further after V-day.
I'm behind on my posts. Yes, I said it many many MANY times. I'm almost done with Chicago. Maybe a couple more then I'll move on to Atlanta which would probably be in one post seeing as I only spent 2 days there. I'm sure you guys are sick of me talking about my trip and how I miss everything there so much.
I'm out of water. Going to refill…
Don't mind me, I'm just rambling. 😛
Will post worthy stuff soon.
February 9, 2007
Been busy getting ready for the new year, with the cleaning and tidying and whatnot. I'm SO behind on my trip posts. BLEH
Since it didn't snow in Chicago while I was there, Rob drove a couple hours to Wilmot Mountain where there's a ski and snowboarding area. We went on new year's eve so the place was kinda busy. I enjoyed the roadtrip though, because I got to see a lot of the countryside e.g. farms, lakes, parks etc.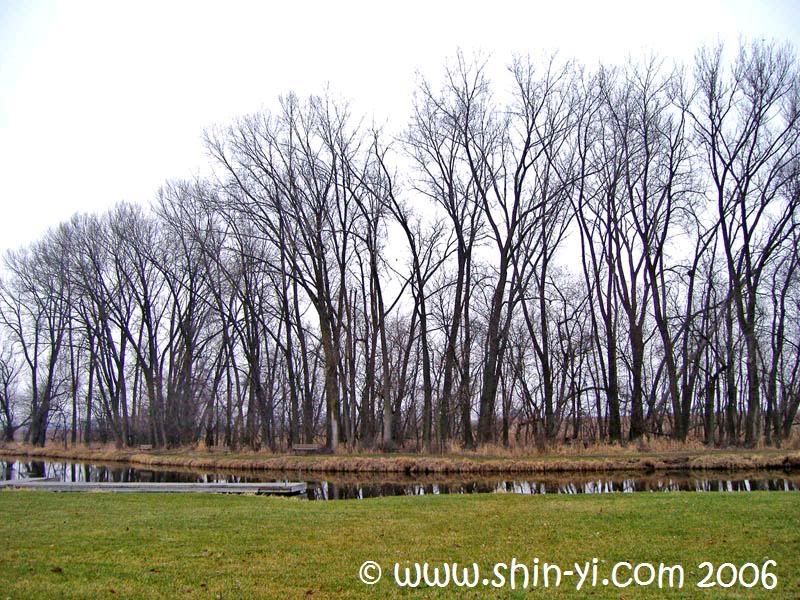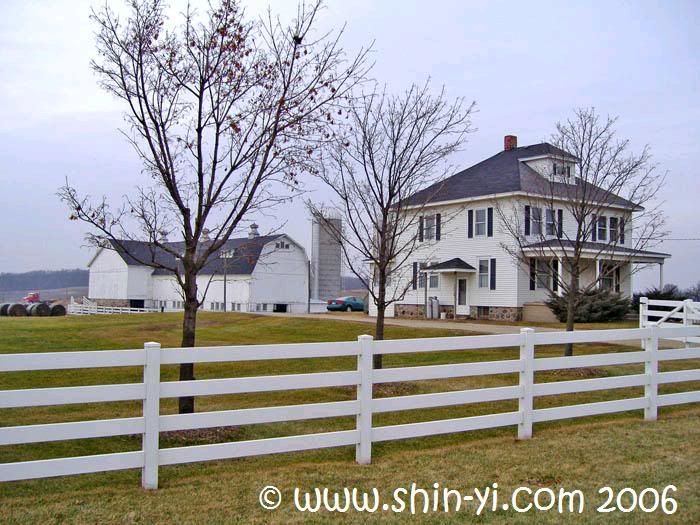 Farm homes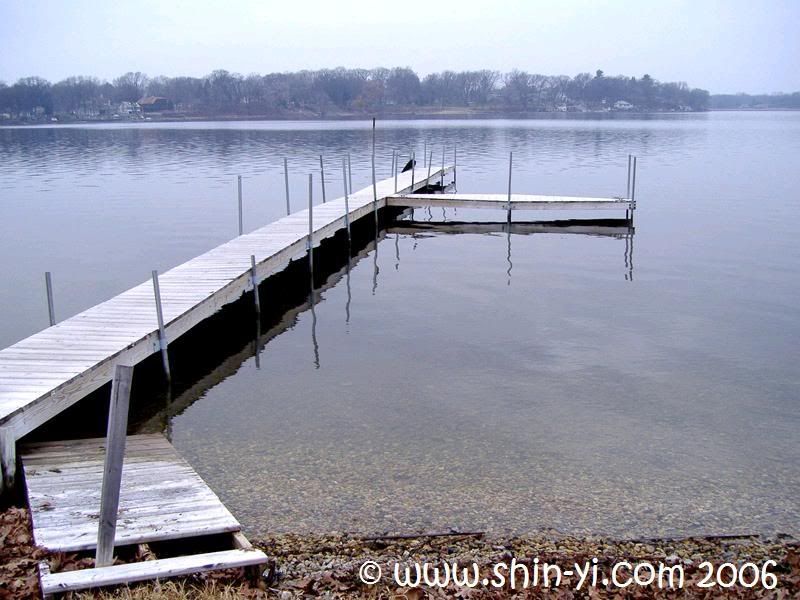 This is Lake Marie, one of my favorite pictures from the roadtrip.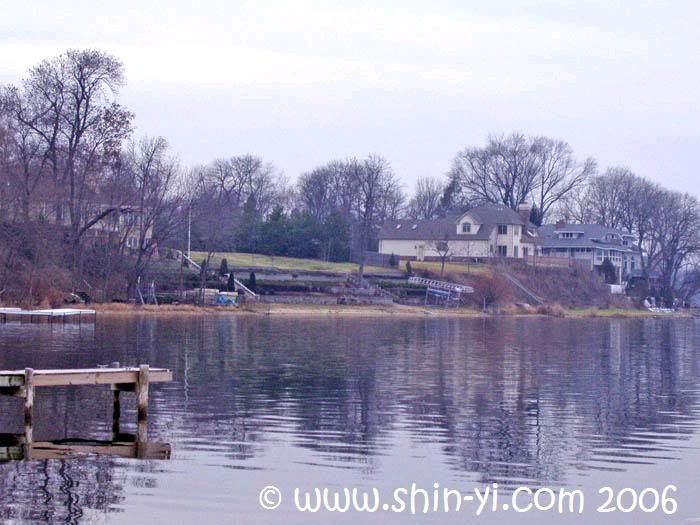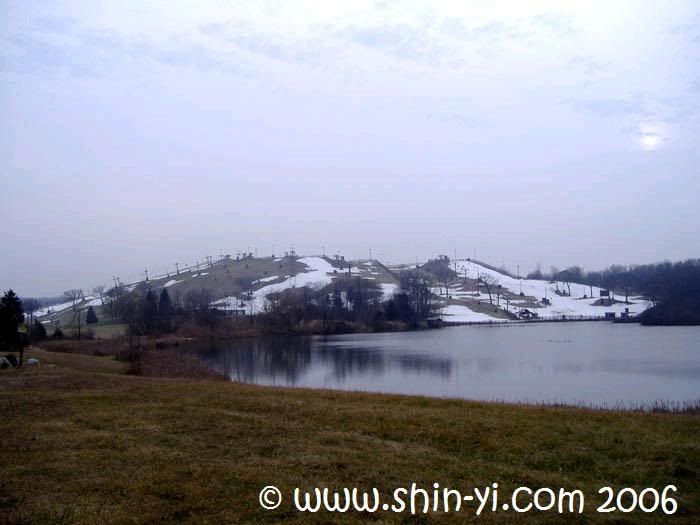 View of Wimot Mountain with the sun slowly peeking out of the clouds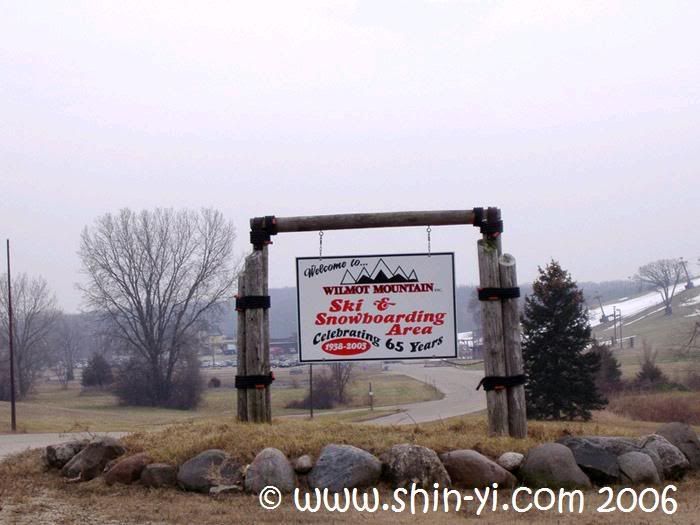 As you can see, the snow is melting off because it just wasn't cold enough to snow.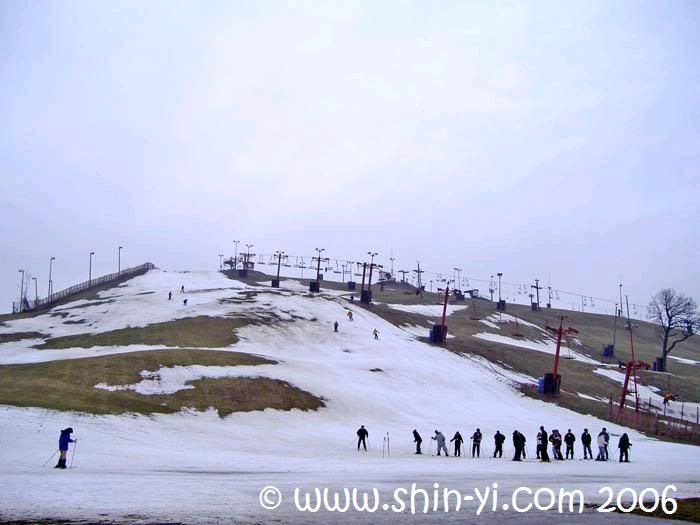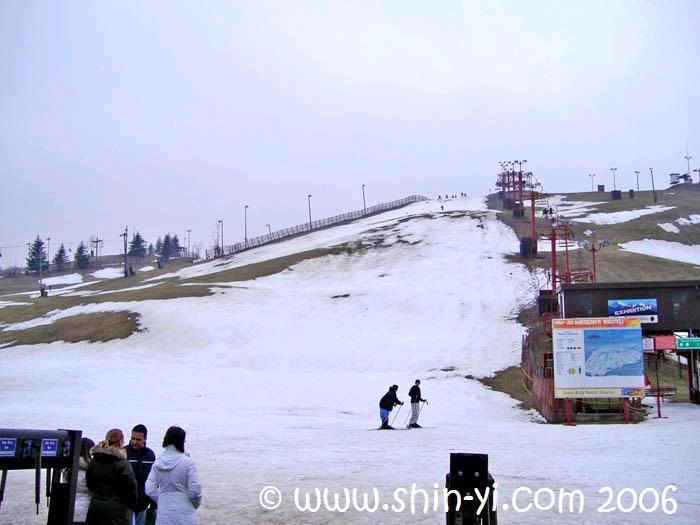 I didn't try skiing or snowboarding as I did not have the proper clothes and they require first-timers to take lessons and it wasn't cheap. Even walking on the snow was "hazardous" with my boots. Kept feeling like I would slip and fall on my ass, like I did on the ice skating rink during the Winter WonderFest. HEH
And so….
The camwhoring starts…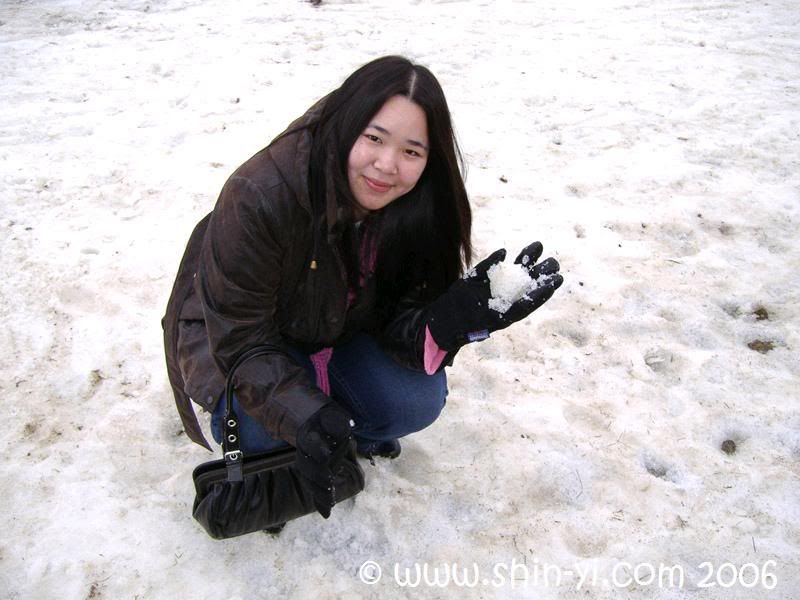 I made a snowball!

See, it's just crushed ice

Snow on my bare hands, I'm actually gritting my teeth cos it was SO cold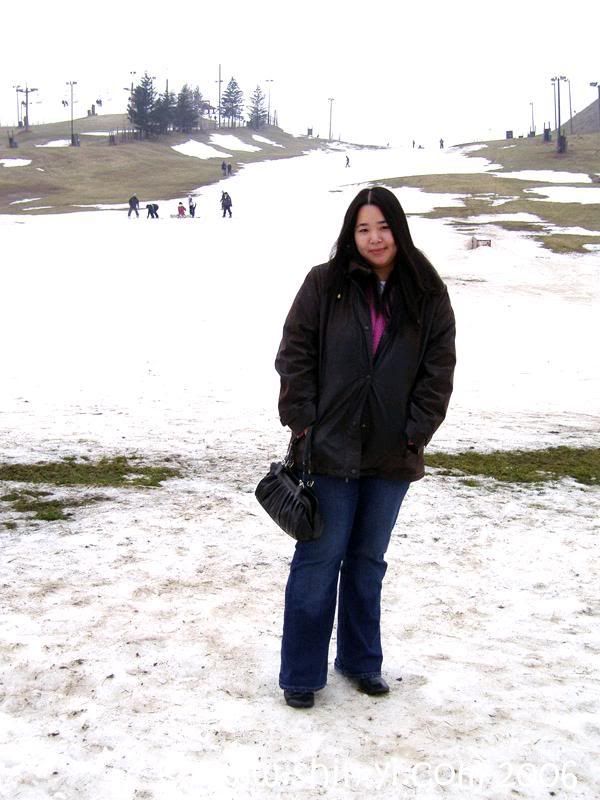 Robbie likes this picture a lot. I was enjoying the view when he called me. I turned around and he snapped the picture. So he's really proud of it *roll eyes* HAHAHA
I was happily standing and "posing" for my pictures but Rob made me sit on the snow. Needless to say, my ass was freezing cold and wet when I stood up.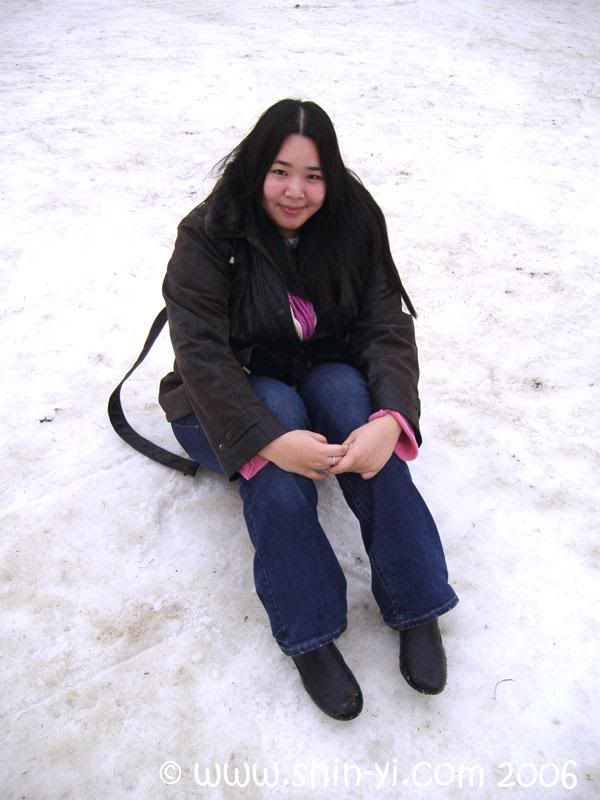 So, I made HIM posed for the camera. You will witness just how unbelievably weird and crazy we are.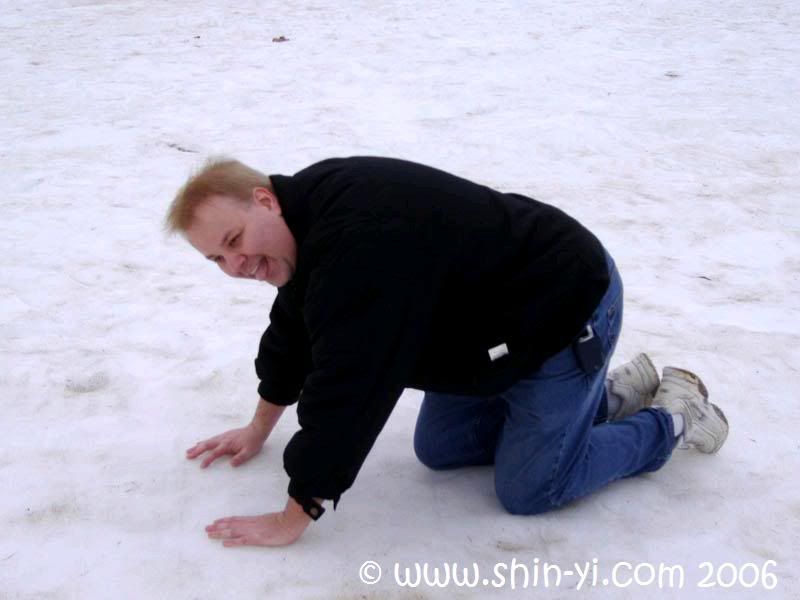 Doggie in training

Berlagak! (Showing off)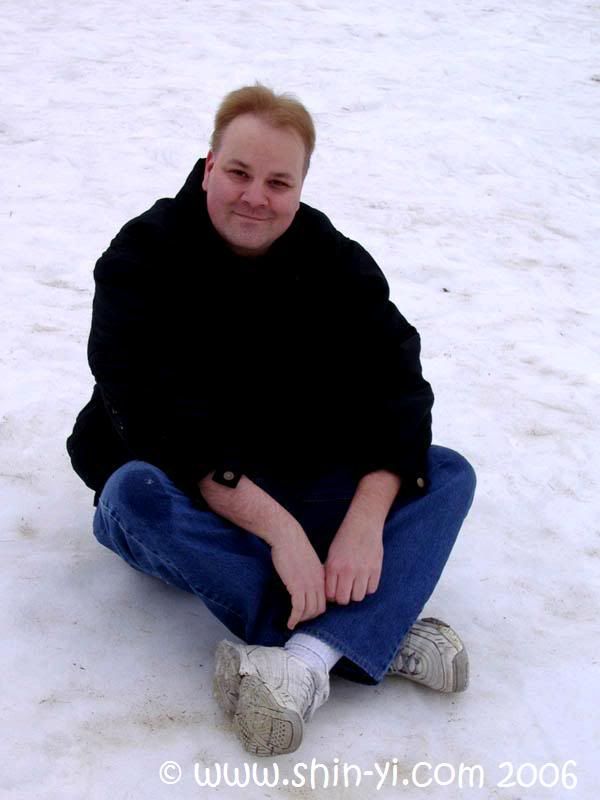 I like this picture. Rob looks like a kid. Isn't he cute?!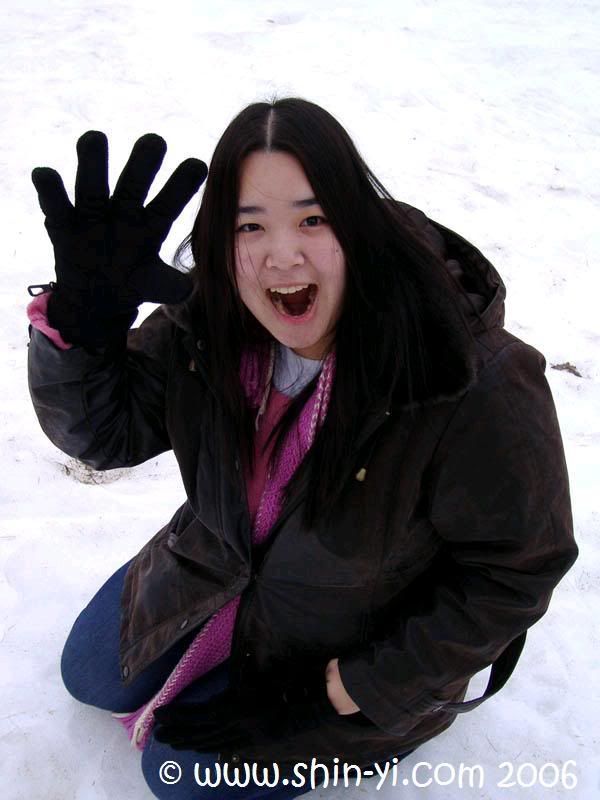 RRRAARRRRRRR or something like that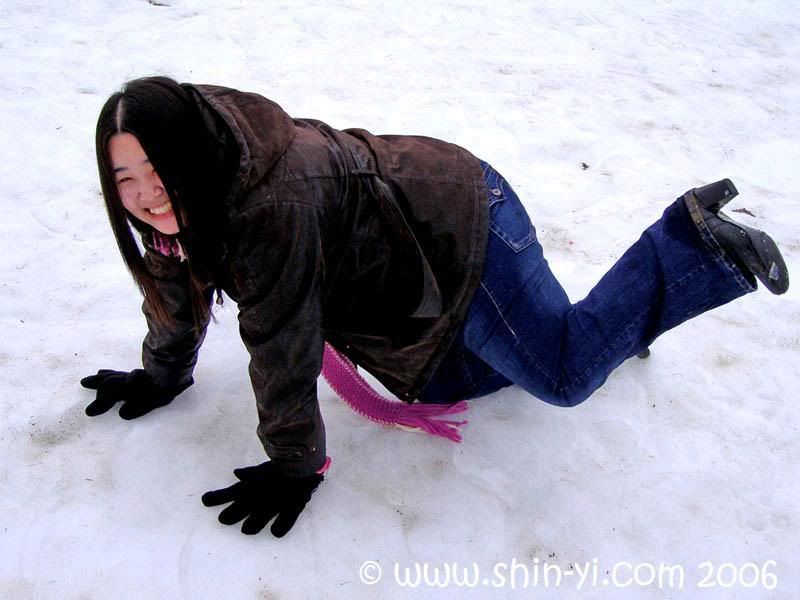 Yes, I'm attempting to pee like a dog.
We stayed and played for about 2.5 hours before leaving. I must say I was reluctant to leave because it was a lot of fun just playing in the snow. We had a little snow fight too. I tried to make a snowman but failed miserably because I didn't know how!!!! We only had a pair of waterproof gloves anyway.

Saying byebye to Wilmot
February 4, 2007
Christmas with the Gilles' was unconventional but very fun to say the least. We had X'mas dinner at Rob's brother's (Mike) place.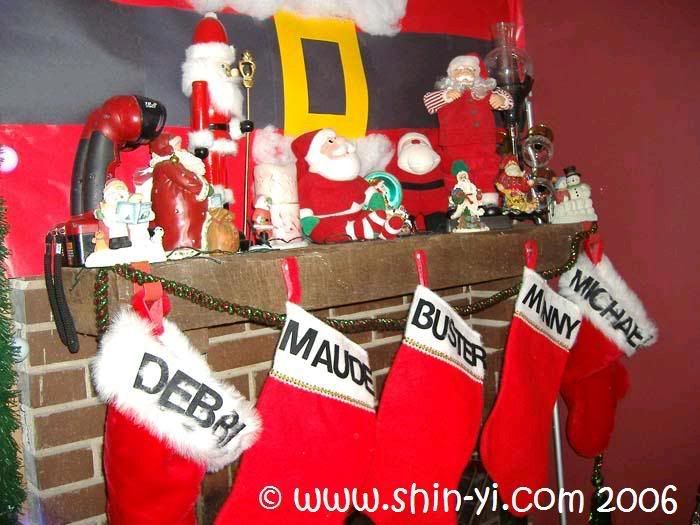 Alaskan King Crab…MMMmmmmMMMMMmmmm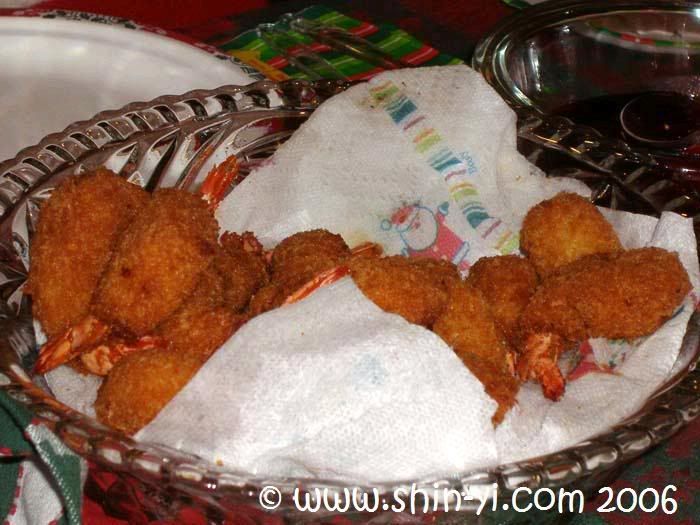 Fried breaded shrimp…mmmmm my mouth is watering
There were other foods too like steak and potatos but I was too busy eating to take any pictures. Hahahaha
Debbie (Mike's wife) made these cookies. They were DELICIOUS. Don't they look GOOD? Damn, I'm drooling right now.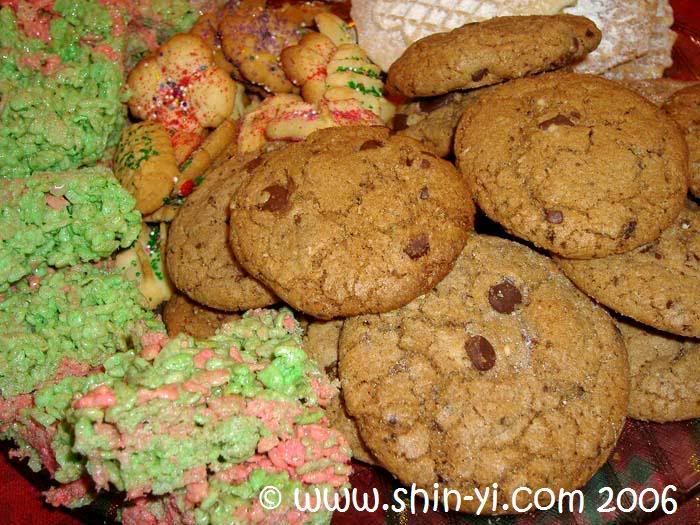 After dinner, all of us sat together to watch Ice Age 2: The Meltdown. It was hilarious and I love it!
Then, as soon as the movie ended, the camwhoring proceeded. We tried to get a family shot and it wasn't easy since I had to position the camera in the right place and make sure everyone can fit in the frame.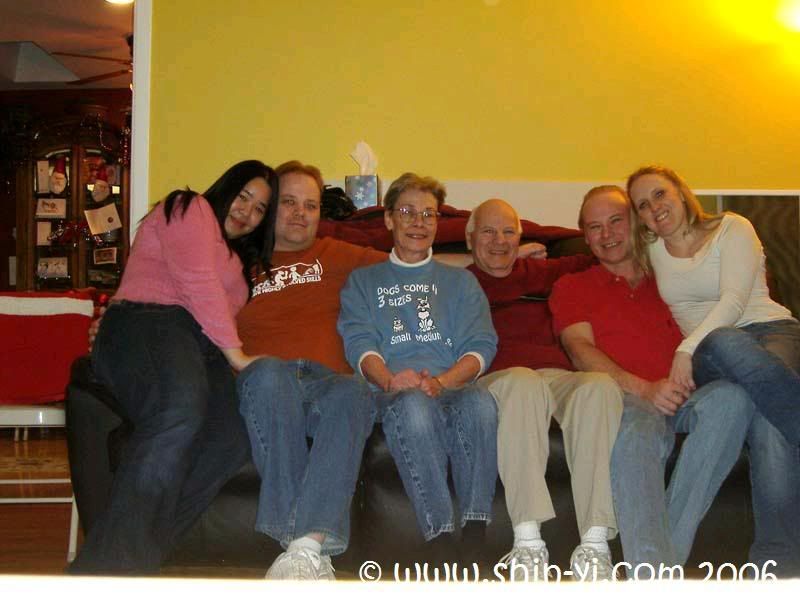 First try. It looks weird with me on the side with my BIG ass sticking out…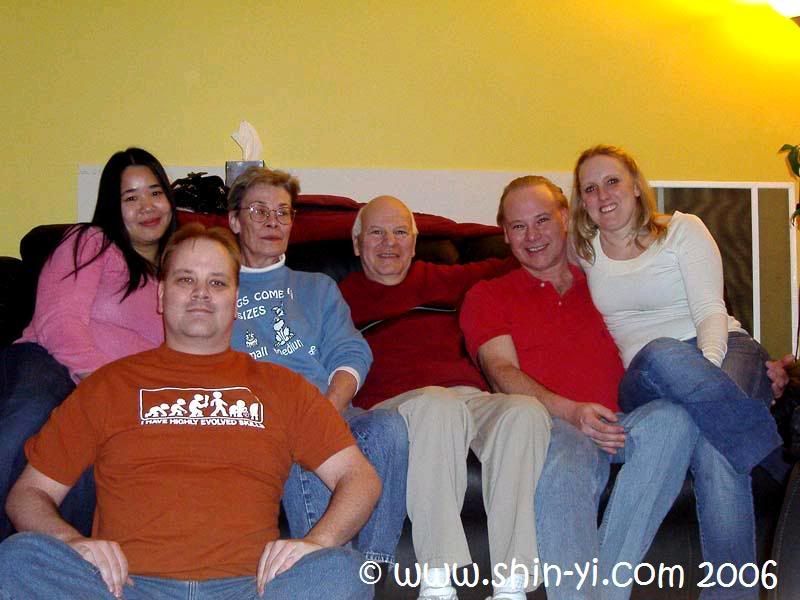 Second try with Rob sitting on the floor. Still looks odd…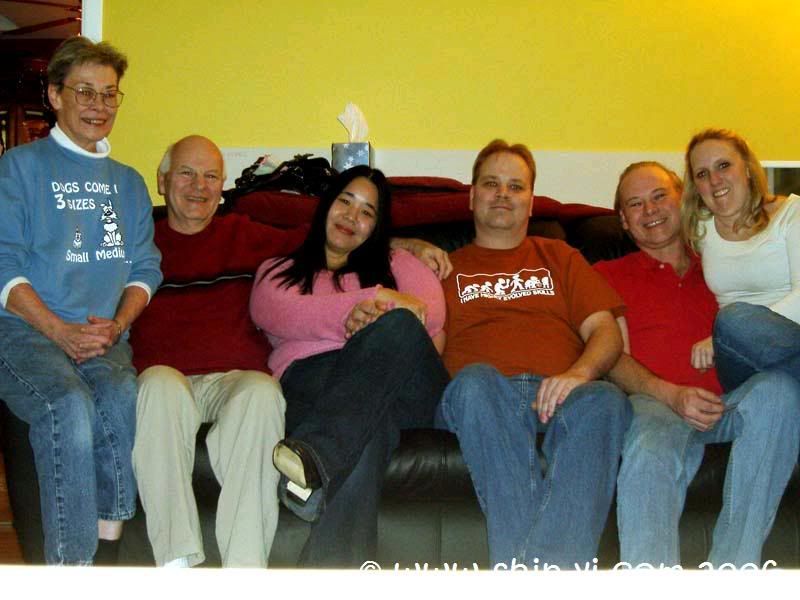 Third try. It dawned to us that Miss Big Ass ought to be in the middle. SUCCESS!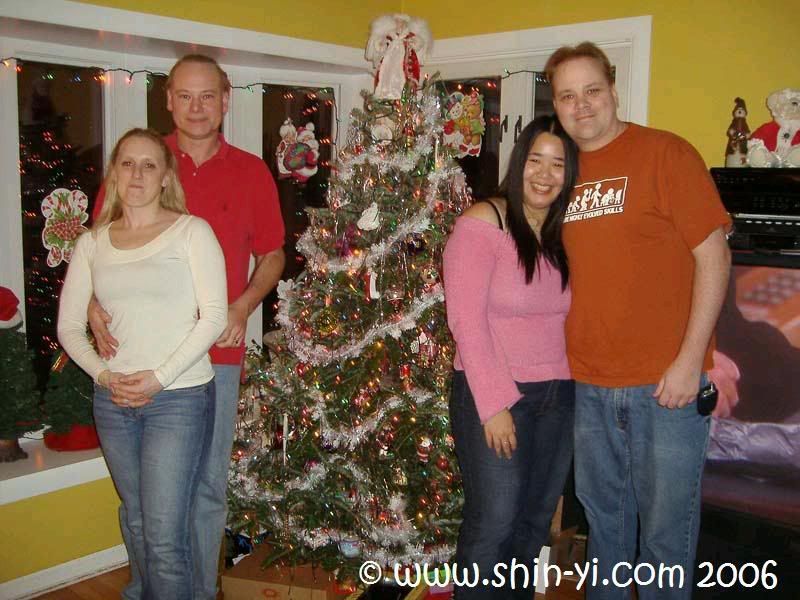 The "kids" (says Rob's dad) by the tree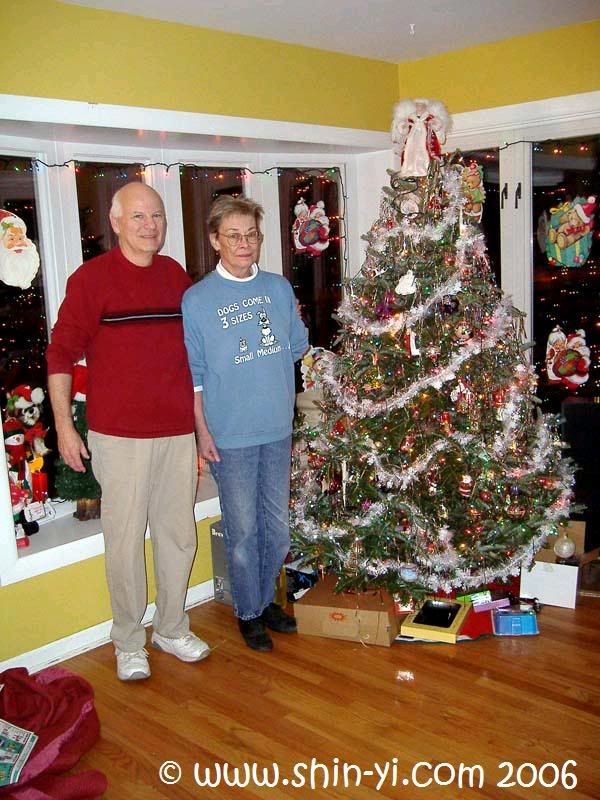 Rob's parents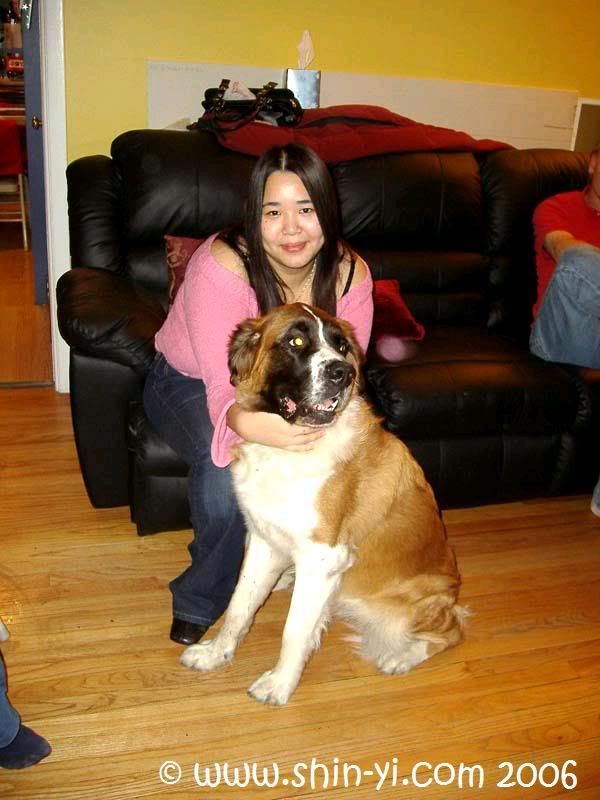 Maude – Mike's St. Benard

Meet Buster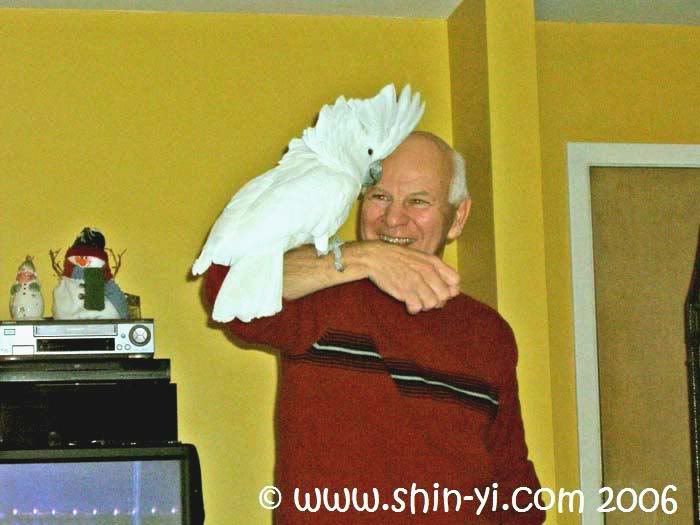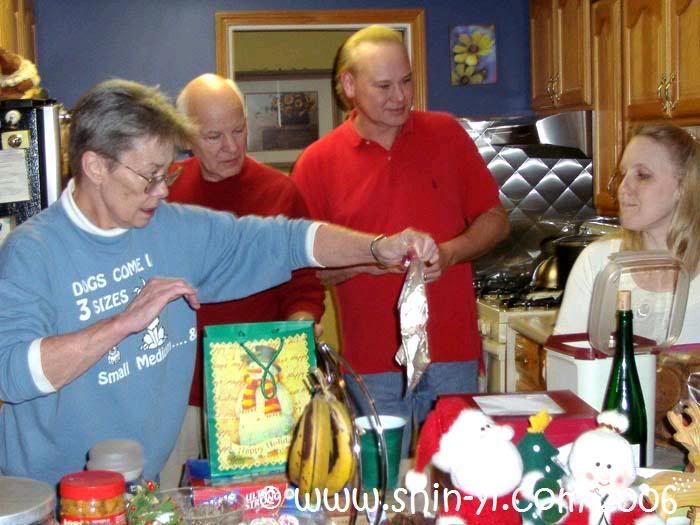 Packing up leftovers
I got ambushed with X'mas gifts from Rob's parents. It was such a surprise. Rob told me that they don't exchange gifts during X'mas so I wasn't prepared at all. I ran out the next day to get gifts for them. Hehe *paiseh*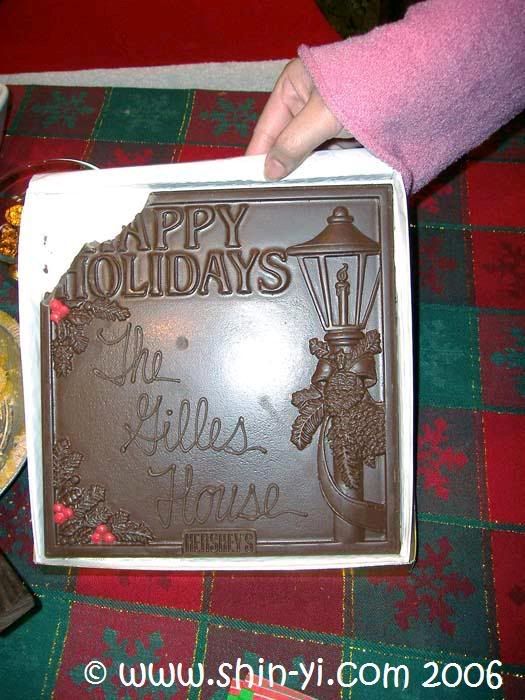 In case you're wondering, YES that is a piece of chocolate!
Hope everyone had a good X'mas! (Yes I know it's late.)
February 2, 2007
Disclaimer: Picture OVERLOAD. Let the page load and come back after 10 minutes. =P
Since I love taking pictures I thought it would be cool to visit the Chicago Botanic Garden. Our first stop was the greenhouse. The green house made me feel right at home because of the humidity. Even Rob said "Hey being in here reminds me of Kuching!" Hehehe
It was so humid in there, orchids and cactuses were able to blossom and they were bigger than the ones I see here!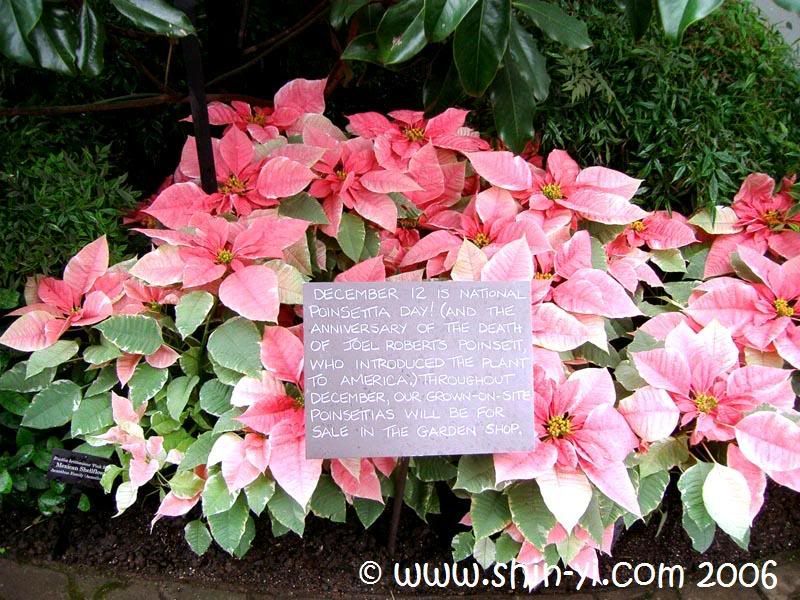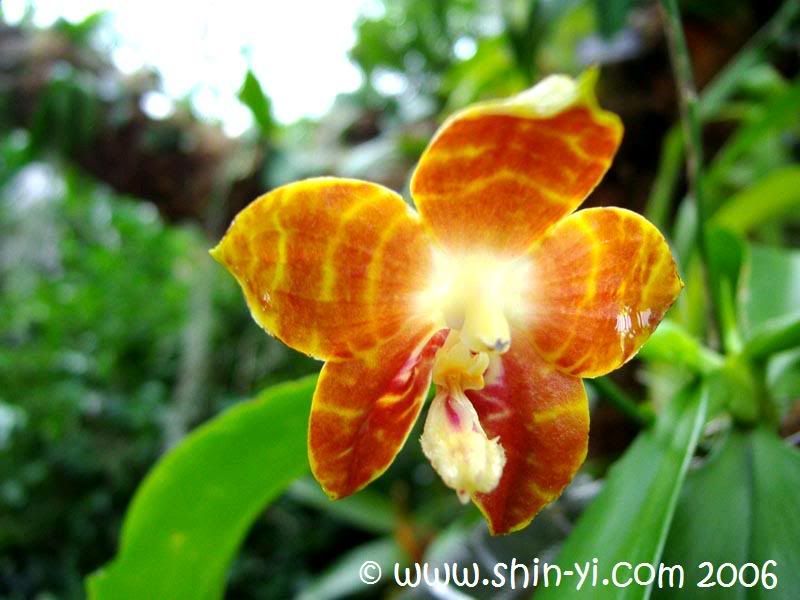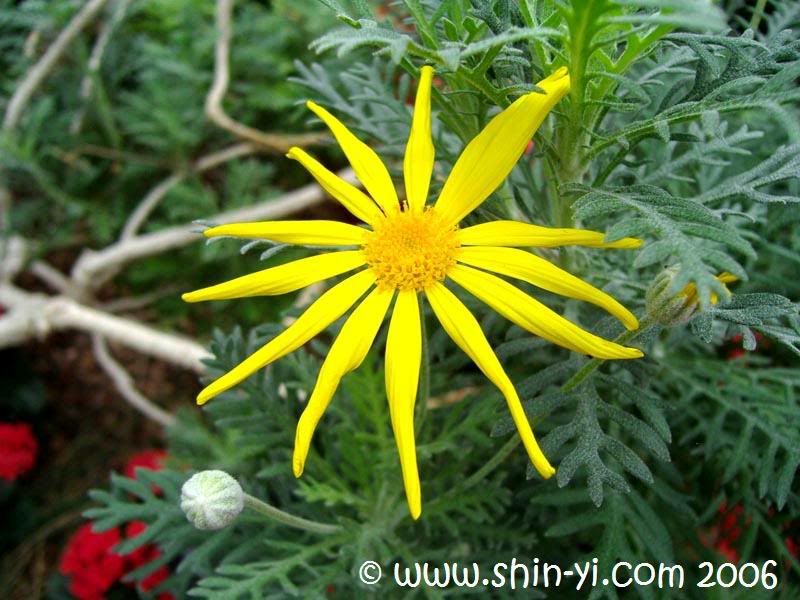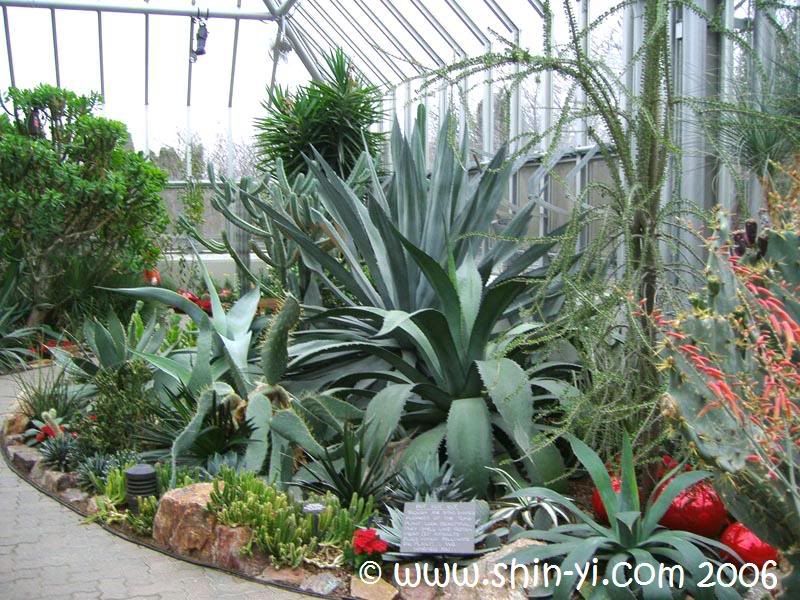 As usual during the holiday season, there were LOTS of beautifully and creatively decorated X'mas trees, each contributed by different companies. For example, a teddybear maker company decorated their tree with teddybears. It is SO cute!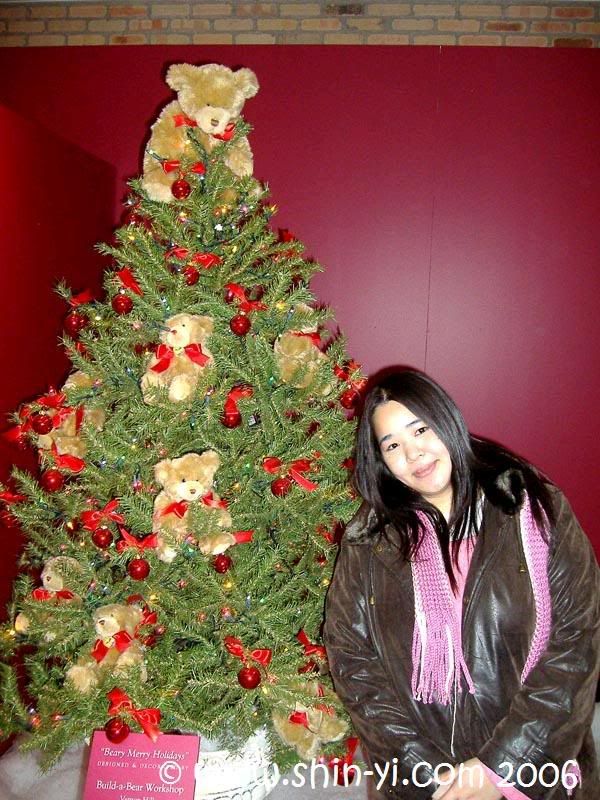 Cute isn't it? 😀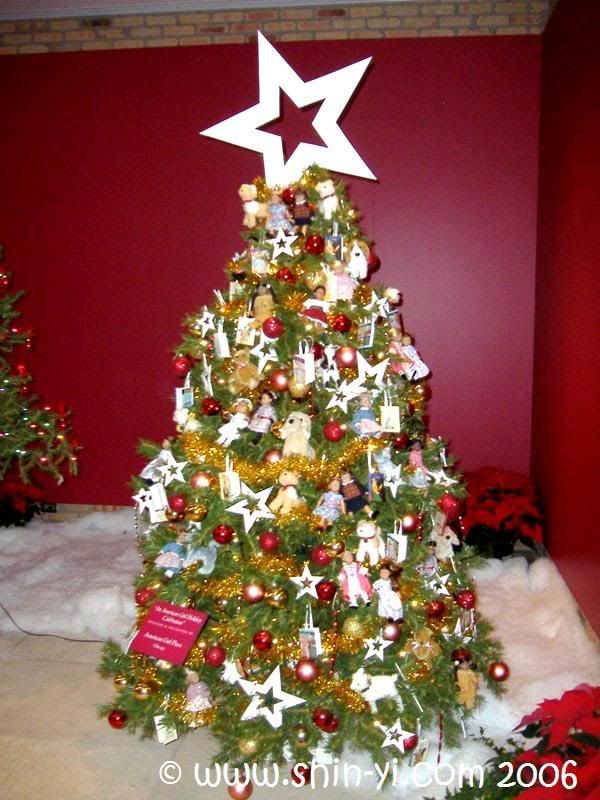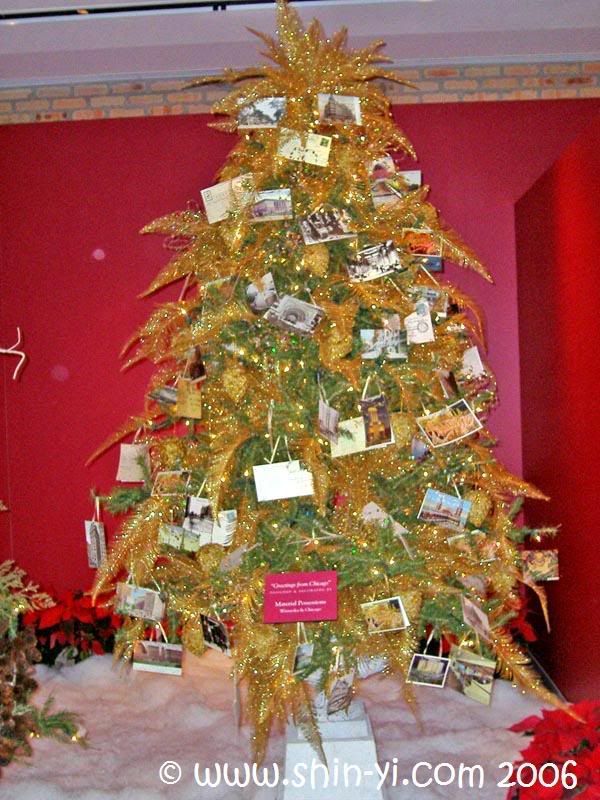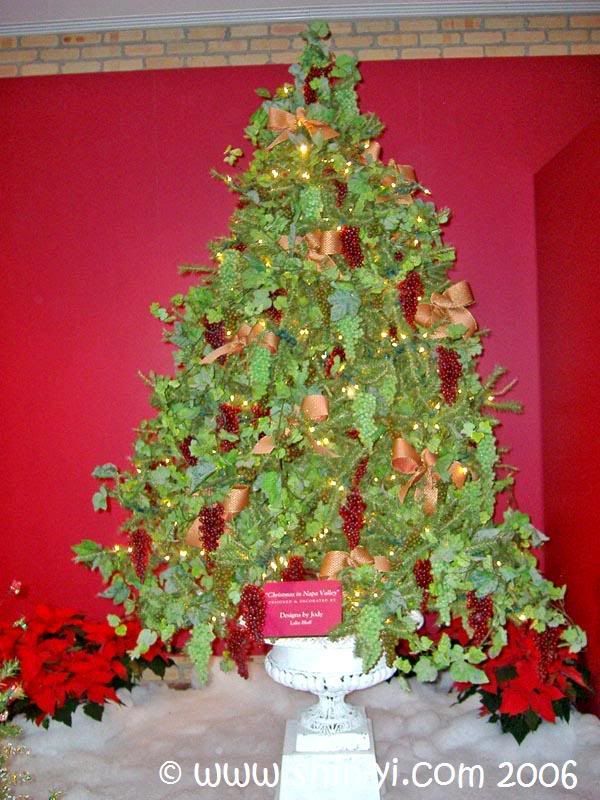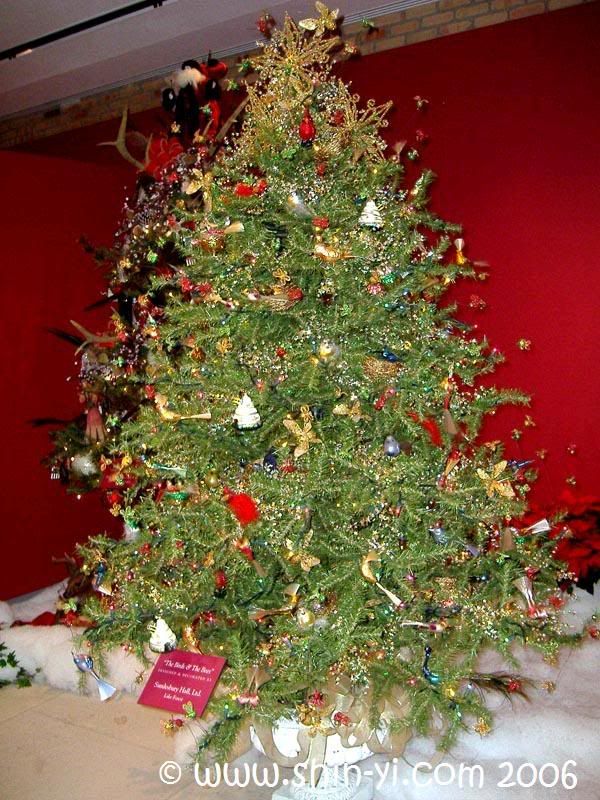 At the same time, they also had this exhibition thing called the Wonderland Express for the holiday season. It's like a 10,000-square-foot exhibition of miniature trains winds over bridges, under trestles, past waterfalls and through dozens of Chicago's favorite landmarks made with wood. It was really cool.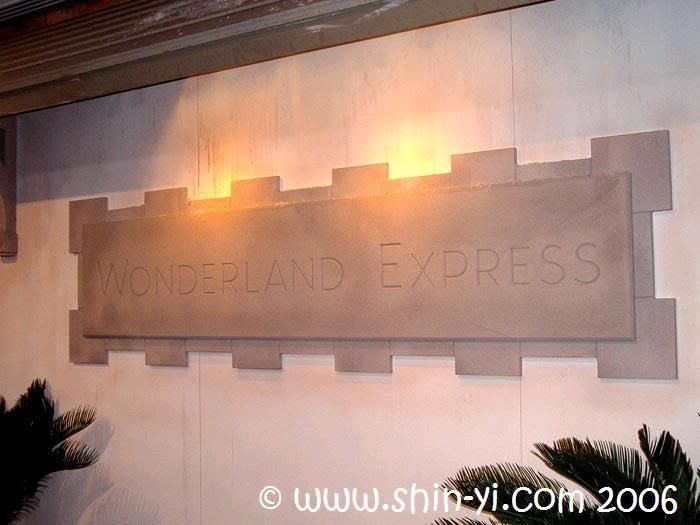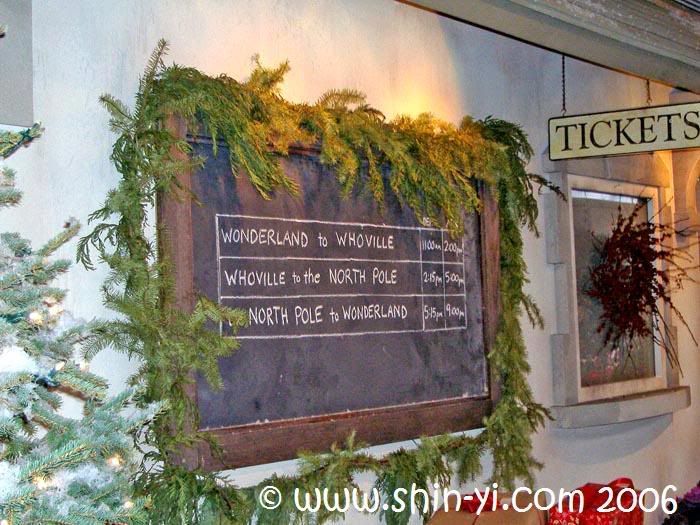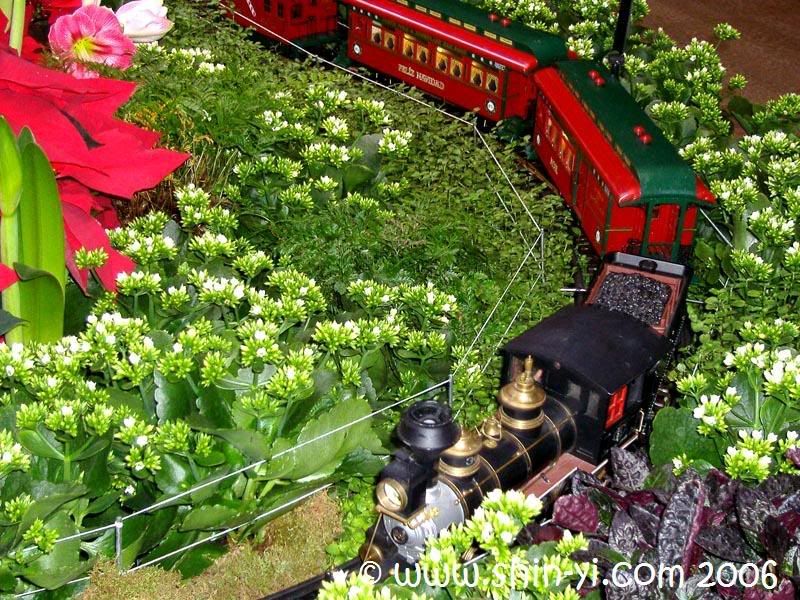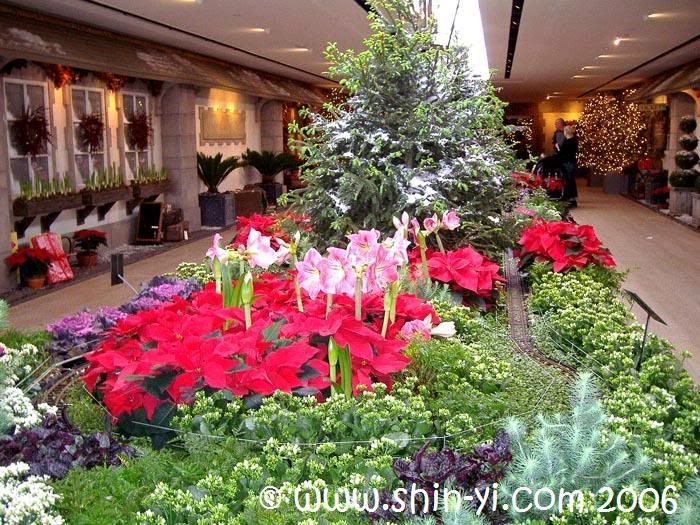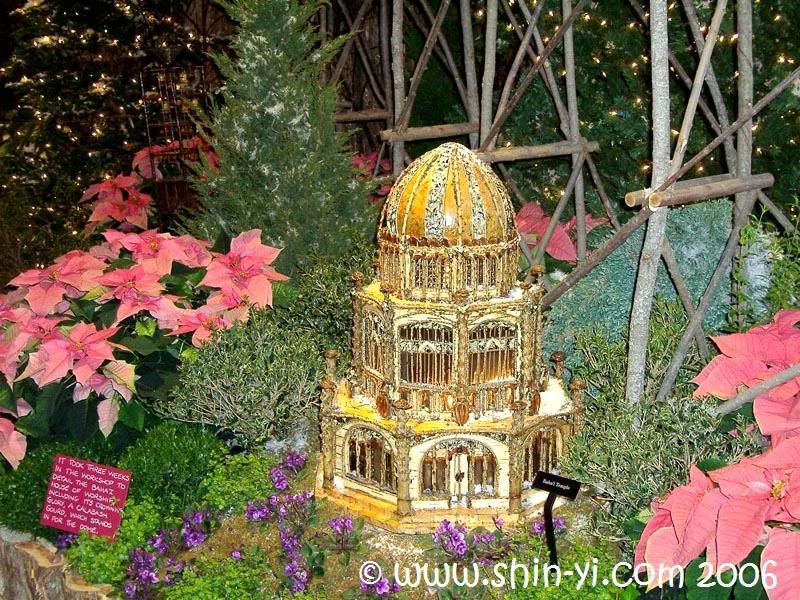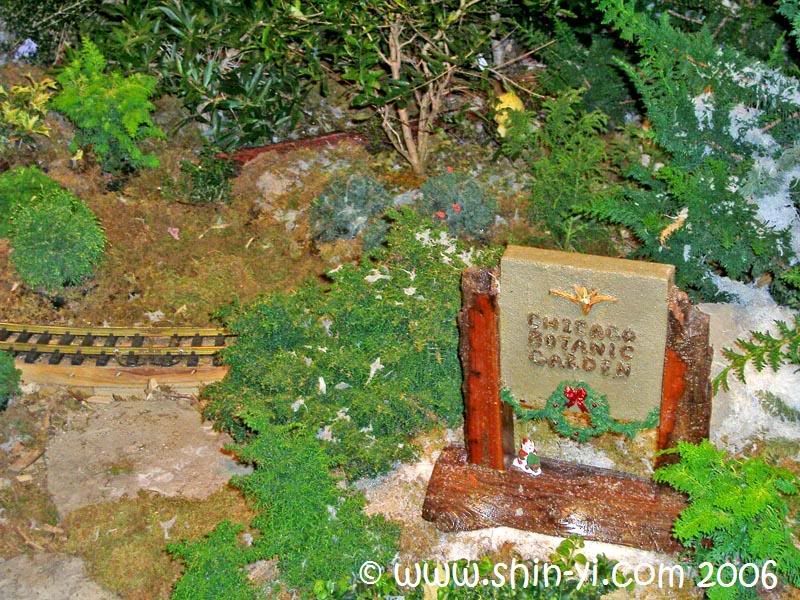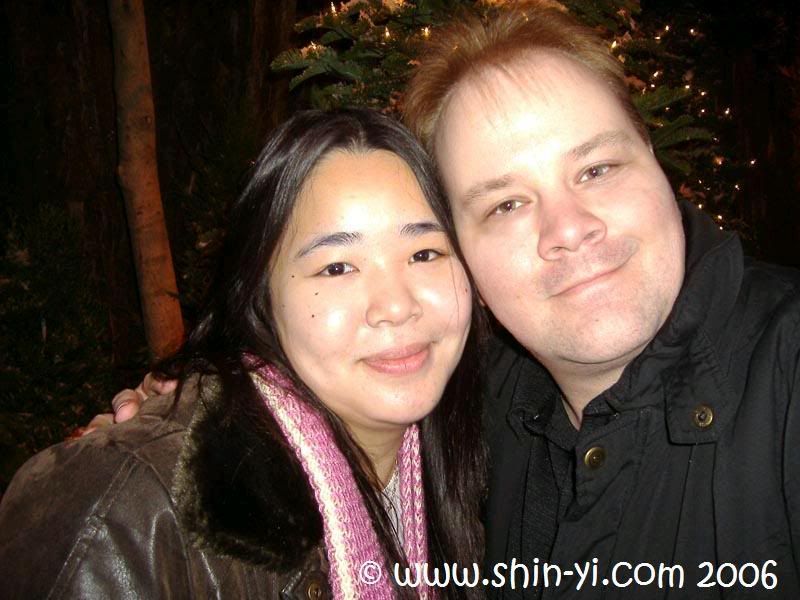 The view outside
The adventurer in me decided to take a stroll outside in the cold. Believe me it was cold and very windy. The botanic garden has lots of different gardens but because it was winter, most of them were closed. If memory serves me correctly I think they have over 20 gardens and a few lakes. Even though it was cold (I have to stress the coldness!), the view of lush greens and lakes made it worthwhile. I definitely wanna go back there during Spring/Summer time if I can.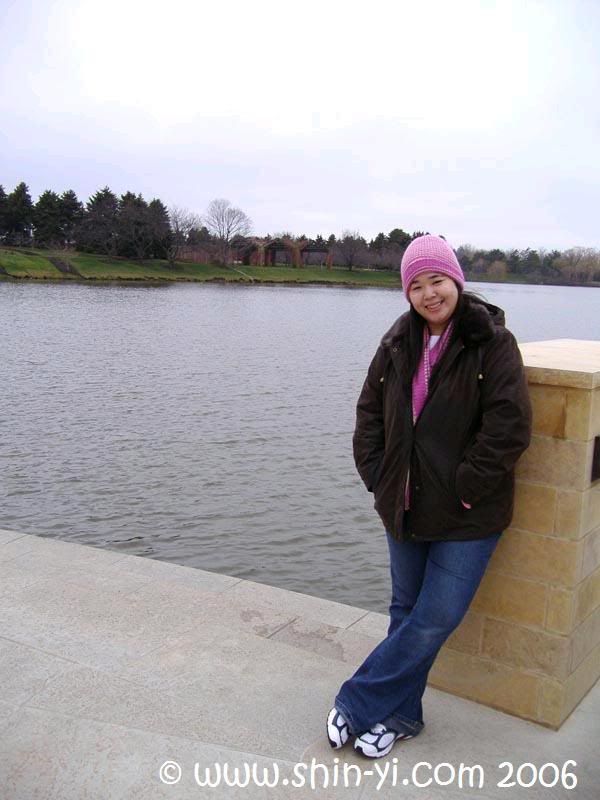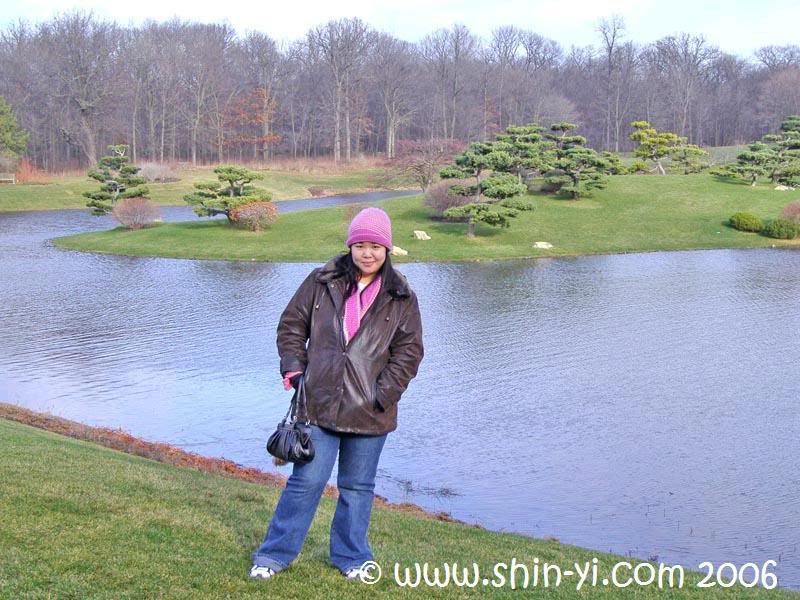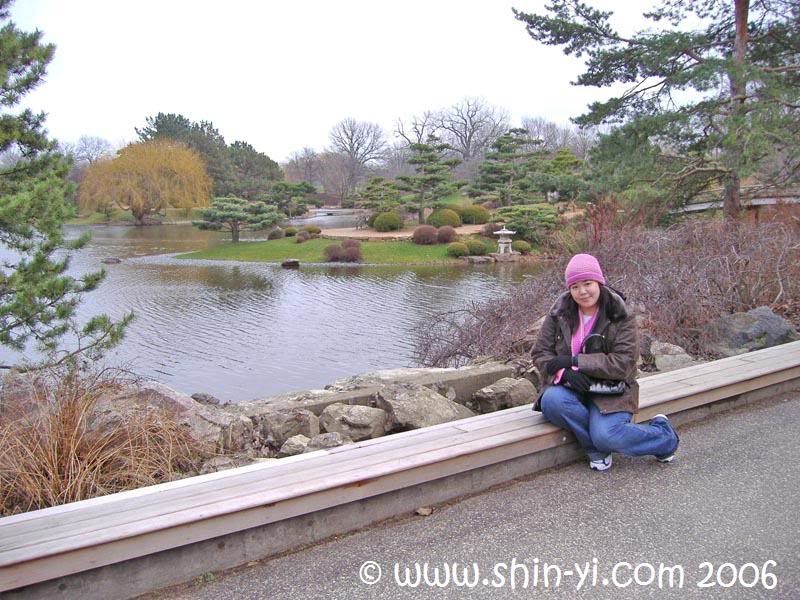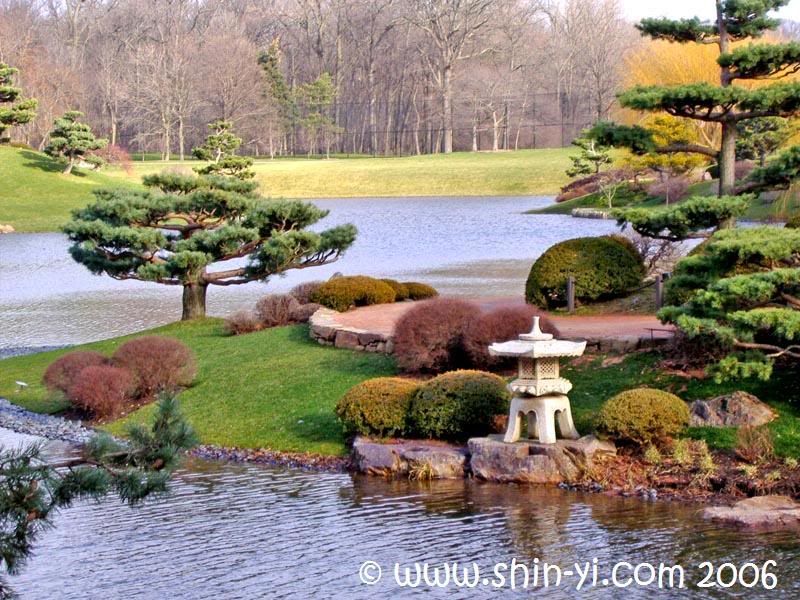 Told you there're lots of pictures =D