Archive for June, 2006
June 28, 2006
Okay, okay I didn't get anything in the mail but I did get something! Something VERY special from my HONEY. =D
What is it, you ask?
Well, my Robbie, my soulmate did one of the most sweetest things for me yesterday.
It has been a rough year for both of us ever since he left for home. I've been stressed out with school for a while and at times took out my frustration on him. I feel very bad for that. We have had our shares of disagreements and arguments. But I have a feeling things will be better for us now that I've shared my frustrations with him. Talking really does help in EVERY relationship. Keep that in mind people! Don't hide your feelings. (Well at least, the important ones.)
Anyway, back to the story. Rob made a video for me and it brought tears to my eyes as I watched it. It might not do the same for other people but the video meant a lot to me LAH because I knew what each picture represented. It was done with so much love and I truly appreaciate it. Thank you so very much Robbie. You are the best thing in my life.
I've watched the video countless times and everytime I watch it, I get goosebumps because it touches my heart everytime. I'm typing this as it's uploading on my YouTube. Hopefully, it'll work and play.
But before you click the "play" button, here are a few friendly warnings:
If you hate me, DO NOT watch it.
If you think I am hurrendously ugly, DO NOT watch it. You will understand why IF you click "play".
If you are NOT into mushyness and lovey-dovey stuff, DO NOT watch it. Then again, this blog is filled with mushyness, so I would say: don't come back if you are not into mushyness-lah. =P
I won't be responsible if you get sick half way and puke all over your keyboard IF you decide to watch it.
Now that we have all that cleared out, you're welcome to click "Play" if you choose to do so.
Okay, now that you watched it, I'm sure most of you are running for the toilet puking your brains out. I know, I know. Pictures OVERLOAD right? HAHAHAHAHA
Isn't the song nice? I love it so much! That's such a perfect song. I mean I didn't know there was a song out there called "My Asian Girl" and I as an Asian girl feel special because of it. I keep playing the song over and OVER and OVER again.
Some of you might be thinking "CEH SHOW OFF!" or "YUCK SO DISGUSTING!" or "EWWWWW" or "Like that also need to post out meh??" etc but that's okay cause Robbie made the video JUST for me and I'm totally happy with it! =D Thank you honey! *smoochies* Besides, I DID WARN YOU. =)
Last note: I love you Robbie. Thank you for always making me feel special and filling my life with so much happiness.
P/S: I don't think I am beautiful. This post is meant to show how wonderful my Robbie is, so LIGHTEN UP people!
June 25, 2006
(I am so going to regret blogging about this. I'm going to get hate comments and the victim will track me down and shoot me and whatnot. lol But oh what the hell! Enjoy people! =D )
As I was walking around with my parents after dinner at Tun Jugah tonight, I saw there was a Fila sale on the ground floor center court. My mom was looking at those comfy sporty-looking sandals for her weekend "lepaking" (loitering). She found what she wanted and chose the color she liked. Meanwhile, I was looking at comfy slippers/flip flops and was told by the salesgirl that they are 70% off and comes down to RM23.97.
So my brain was going off like a car alarm "OOOOOOOOOOOO CHEAP CHEAP CHEAP…FILA SHOES !!! 30 BUCKS CHEAP CHEAP CHEAP!!" The flip flops came in 3 colors; blue, pink and lilac. The salesgirl said "leelac corror" (lilac color). HAHAHA Ok, back to the story. They had sizes 7, and 8 on display.
I tried on the size 8, which was the leelac corror, thinking to myself, "Hmmmm fits good…got some space left on the back. Not too bad.."
After that, I put on the size 7 pink corror one and it fitted even better. Like totally perfect!
Then, I tried on the blue corror size 8. "Size 8 is too big lah but nice color", I was thinking. Slid into the pink one again, felt good. Back to the leelac, "Wonder if they have a size 7 leelac".
I asked and she turns around to look through the boxes behind her, to which I get this reply, "No, leelac no size 7. How about the pink one?"
I go, "Nah, I don't really like the pink one. How about the blue? Do you have that in a 7?"
She checks again for about 2 minutes, comes back and
"Sorrylah miss, no more size 7. The pink one is last size 7 lo", says the salesgirl. "Why don't you take the 8 leelac? The color is vely (very) nice".
"Cannotlah, a bit too big for me. Never mind lah. Thanks, ya?"
We both smile and I was off my way looking around. When it came time to pay for mom's sandals, we both went to queue up at the cashier. While doing that, I was jokingly telling my mom that if I saw someone with the flip flops, I'd snagged it off them. We couldn't find her sandals so she started opening boxes of shoes of other people's on the cashier's desk until……
(You know how when you buy things at the store, most of the time they take it straight to the cashier's counter for you? Well, that was why the boxes of shoes were on the counter. Okay back to the adventure again…) …until….
I SAW THE BLUE FLIP FLOPS. One of those boxes had the blue flip flops I wanted!
As that was going through in my mind, my mom found her sandals. I nudged my mom and silently told her one of the boxes had the blue flip flops! She was like "So what? It's not like they are in your size."
"But Ma, you never know! Should I flip over the box and see what size it is?", one side of my mouth lifted up. I was smugging!
My mom laughs and told me to go for it. And I did.
IT WAS A SIZE 7!!!!!!!!!!!! My brain went to alarm mode again, going "CHEAP CHEAP CHEAP CHEAP!!!!!" I looked at my mom, nodding like crazy as if to say "It's a size 7 Ma!!!!!!!" Somehow my mom understood the language of nodding and wide eyes.
"Do I take them Ma? I wonder who it belongs to?" *looking around*
"Why not? It's been sitting there. I think no one wants it", my mom says.
"How do you know? As if you were standing here for hours!" How sweet of her to say that as to comfort me if I decide to take it. HAHAHAHA
And take it I did! LOL
When it came to mom's turn to pay, she pushed the two boxes of her sandals and "my" flip flops towards the cashier. Cashier girl goes "these two?" We both nodded. I was almost giggling because it was sort of exciting in a way.
As my mom was paying for the sandals and "my" slippers, I was looking left and right, front and back for the supposedly "owner" of "my" slippers. I swear it looked like I was paranoid. I kept whispering to my mom "hurry up!", to which her reply is "I AM!!!". Cashier lady looked at us weird and stuff. Excitement was at its peak for me.
Finally when the transaction was done, I grabbed the bag and walked away quickly. There was no turning back…
When I finally left the premise I was snickering while my dad was looking at me cluelessly. I explained to him why in the car and the first words out of his mouth was the infamous "SIAAAAAAAW (crazy) AH!"
Mom and I started giggling. She said to me "If someone did that to you, I think you would've…"
Before she could finished that sentence I cut her off and said "cursed that person to hell and made a total scene. Yes I would have I think. I can be such a bitch" HAHAHAHAHAHAHAHA Like I said in a previous post, sometimes you've got to be bitch.
All the way home, I had this smirk-smug-smile on my face. I feel this sense of satisfaction even up until now. Nothing can top the feeling of contentment of getting away with something "bad" (depending how you define bad). Ahhhhhhhhhhhhh I feel so SO SO contented right now. I'm even smirking as I type this.
But you wanna know what (and I told this to my mom, to which she rolled her eyes)? Those slippers aren't to die for or THAT pretty or anything. I mean they ARE comfortable but not really worth being a scumbag LOL.
So, if it was YOUR flip flops I snatched at Tun Jugah tonight, I am truly sorry that you lost your flip flops…to someone like me. *smirk*
MWAHAHAHAHAHAHAHA I am so EVIL. *horns growing*
*The End
*******************************************************
I finished my outline FINALLY. I have to print it out and hand it in tomorrow morning but I'm feeling a bit lazy to do that now and I'm pretty sure you're thinking "Why is she so darn lazy?! How hard could it be to print a piece of paper?!"
First of all, it's not A piece of paper. The outline is TWO pages. =P
Secondly, I have to set up the printer. I don't have the luxury of a table big enough to fit my laptop, CD burner, scanner, printer AND my messes. I only have space for my laptop at the moment. I have to get the printer out of the box, onto the table and set it up.
Yes, I'm LAZY.
June 24, 2006
I'm taking a break from constructing my thesis outline. I've been at it for the last couple days even though I was told to get one ready last week. It's due on Monday. I have a strong feeling that I will never change. I will continue to be the procrastinator I am cursed to be. =P
I was reading some news on Yahoo! and a couple articles caught my eye.
I don't know about you guys but I grew up watching shows like Saved by the Bell, Beverly Hills 90210, Melrose Place, Home Improvement etc. So imagine my surprise when I read about Screech (Dustin Diamond) from Saved by the Bell is selling T-shirts to raise money to pay for his house!
Each T-shirt costs $15 and if you want his signature it's 20 bucks buster! Sheesh, talk about extortion. He's selling the shirts on his
website.
Personally I'm not going to pay about RM60 to help this guy out lah but I must say it's quite ridiculous to charge an extra 5 bucks for his signature at a time when he needs FINANCIAL help from his "fans". I don't hate the guy or anything. He did make Saved by the Bell funny in his geeky-nerdy way. I'm just saying, beggars can't be choosers. *shrug*
BUT my favorite in Saved by the Bell (who i thought was just the most gorgeous thing BACK THEN) was none other than Mark-Paul Gosselaar aka Zack Morris. Note that I emphasize on BACK THEN.
See I told you he was HAWT (back then).
**********************************************************
Back to my thesis outline, I'm having troubles coming up with titles for each chapter. My supervisor insists I use my "creative" brain to come up with something, well, CREATIVE seeing as (and I quote) I "look like a REASONABLY intelligent person". I'm not sure as to how I'm suppose to take that comment.
What to do, what to do… *ponders*
Oh yes, I (well technically Rob)now own(s)
www.shin-yi.com
. YAY I'm not sure how to manage my own website but at least that one is owned. Unfortunately, www.shinyi.com is taken but according to Rob www.shinyi.com can be easily mistakenly pronounced as shiny I(eye). com. Hehehe so shin-yi.com is good for me. I'm wondering how I can import all my blogger contents to it and maintain my own website. I think that will be tough. I didn't pay attention in class when they were teaching MS Frontpage. But of course, don't expect too much lah. I'm no Kenny Sia. I was too busy sneaking around website surfing and chatting. =D
I'm sitting here listening to Mix FM. 80s and 90s music…ahhh, brings back memories. Okay, okay I won't go all sentimental and go down memory lane. I'm getting old. Next year I will be a quarter of a century years old. *sigh* Life life life. Such is life. No, I'm not like depressed or anything.
But here's a closing thought. Life is a bitch, so let's all join in. =P
June 20, 2006
It's been a while since a lovey-dovey post from me. So, to keep things 'normal', here are some love quotes which I can relate to and understand AND one of my own. *bows*
When you love someone, all your saved-up wishes start coming out.
~ by Elizabeth Bowen (1899-1973) ~

I love thee, I love but thee
With a love that shall not die
Till the sun grows cold
And the stars grow old.
~ by Willam Shakespeare ~

You don't love a woman because she's beautiful,
She is beautiful because you love her.
~ by Anonymous ~

A part of you has grown in me.
And so you see, it's you and me
Together forever and never apart,
Maybe in distance, but never in heart.
~ by Anonymous ~
Love is patient, love is kind. It does not envy, it does not boast, it is not proud. It is not rude, it is not self-seeking, it is not easily angered, it keeps no record of wrongs. Love does not delight in evil but rejoices with the truth. It always protects, always trusts, always hopes, always perseveres. ~ by 1 Corinthians 13:4-7 ~
Love knows no reasons, love knows no lies. Love defies all reasons, love has no eyes. But love is not blind, love sees but doesn't mind. ~ by Author unknown ~
Love is when a hug and kiss erases all negative feelings. Love is slow dancing to the music in your heart. Love is when you're happy or sad he/she is the first person you think about. Love means feeling sexy with each other even when you're 60..It's love when you love someone so much you could cry. It's love when the thought of losing them makes you so scared. It's love when there are times it feels like it's just the two of you in this world. It's love when you're inspired to write something like this based on him/her. ~Shin Yi (1982 – ) ~
Nice quotes, right? So what are you waiting for? Tell your lover how much they mean to you, RIGHT NOW. =D
P/S I love you Robbie *kiss*
P/S/S I just did, now go tell him/her how much you love him/her!
June 18, 2006
The family had dinner at Crowne Plaza last night for Father's Day. It was the Japanese Buffet night!
I had so much salmon that I think I'm gonna stay away from fish for a while. *shivers* I ate too much raw fish *bleah*
Anyway, after dinner I dropped by at Bing to meet up with the girls. I didn't even have to pay for my drink. *teeheehee* I used my buy-10-drinks-from-us-and-the-11th-one-is-on-us" card.
Other than that, I don't have much to report on. My day was uneventful to be honest. Just read a book, played with a couple new programs, played some games, and worked a bit on my upcoming due paper. *YAWN* Boring eh?
June 17, 2006
Rob and I were talking earlier and we weren't sure what to do at one point as we got kinda quiet. So he asks me,
R: So what do we do now honey?
S: *nochalantly* I don't know.
(Silence again)
R: Okay, so what do you wanna do now? This time don't say you don't know.
S: Ummm, ok…I have no idea what to do.
(More silence)
R: I just said don't say you don't know!
S: I didn't say "I don't know". I said "I have no idea".
R: !!!!!
S: *innocent look*
15 seconds later,
R: So what would you like to do? This time don't say you don't know or anything similar to that.
S: Yes dear.
R: Well?
S: Well what???
R: What do you wanna do?
S: Ermmm, what do YOU wanna do?
R: !!!! *falls off chair*
3 minutes later,
R: Okay, that was good. That was WAY to good. You are the ultimate smartass
S: *smirks* (and silently bows…HEH)
Shin – 1, Rob – 0
June 15, 2006
So it's the World Cup season again. I don't hate football/soccer (depending which continent you live in) or anything like that. But I get a little annoyed when my favorite TV shows get canceled because there is a live broadcast of some game between some two countries. I don't jolly well enjoy watching men running after a black and white ball (or some other color combo). The only thing that caught my attention was when I was flipping through channels the other day I caught a glimpse of Prince William watching a football match between England and *country's name*. By now you very well get the impression that I don't care much for football.
Anyway, I saw an article on The Sun UK regarding the rules for women during this World Cup Season.
LIST OF RULES FOR WOMEN
1. From 9 June to 9 July 2006, you should read the The Sun's sport pages so you are aware of what's going on regarding the World Cup and will be able to join in conversations. If you fail to do this, you'll be looked at in a bad way or be totally ignored. DO NOT complain about not receiving any attention.
2. During the World Cup the television is mine at all times – without any exceptions.
3. I don't mind if you have to pass by in front of the TV during a game – as long as you do it crawling on the floor and without distracting me. If you decide to stand naked in front of the TV, make sure you put clothes on right after because if you catch a cold, I won't have time to take you to the doctor or look after you during the World Cup month.

4. During the games I will be blind, deaf and mute – unless I require a refill of my drink or something to eat. You are out of your mind if you expect me to listen to you, open the door, answer the telephone, or pick up the baby that just fell from the second floor….it won't happen.

5.It would be a good idea for you to keep at least two six packs in the fridge at all times, as well as plenty of things to nibble on.
And please do not make any funny faces to my friends when they come over to watch the games. In return, you will be allowed to use the TV between 12am and 6am, unless they replay a good game that I missed during the day.

6. Please, please, please if you see me upset because one of my teams is losing, DO NOT say "get over it, its only a game" or "don't worry, they'll win next time". If you say these things, you will only make me angrier and I will love you less. Remember, you will never ever know more about football than me and your so called "words of encouragement" will only lead to a break-up or divorce.

7. You are welcome to sit with me to watch one game and you can talk to me during half-time but only when the adverts are on, and only if the score is pleasing me. In addition, please note I am saying "one" game, hence do not use the World Cup as a nice cheesy excuse to "spend time together".

8. The replays of the goals are very important. I don't care if I have seen them or I haven't seen them, I want to see them again. Many times.

9. Tell your friends NOT to have any babies, or any other child related parties or gatherings that requires my attendance because:
a) I will not go,
b) I will not go, and
c) I will not go.

10. But, if a friend of mine invites us to his house on a Sunday to watch a game, we will be there in a flash.

11. The daily World Cup highlights show on TV every night is just as important as the games themselves. Do not even think about saying "but you have already seen this…why don't you change the channel to something we can all watch?" The reply will be: "Refer to Rule #2 of this list".

12. And finally, please save your expressions such as "Thank God the World Cup is only every 4 years". I am immune to these words, because after this comes the Champions League, Italian League, Spanish League, Premier League, etc etc.
Thank you for your co-operation.
Regards,
Men of the World
Okay, now that the men have their rules set out, I think it would only be fair (as a woman), that women have THEIR rules during this World Cup Season (which also can be applied to normal daily life). Since I couldn't find any rules for men on the web (and to be honest I didn't search too hard. I'm sure there are people out there who have already made a list of rules for their male counterparts.), I decided to make some JUST FOR FUN. NOTE: JUST FOR FUN. DON'T GET ALL OFFENDED ON ME OR ANYTHING.
LIST OF RULES FOR MEN
1. From 9 June to 9 July 2006, business will be as usual for me. I couldn't care less about reading the Sports section. I never have, why should I even start now?
2. If I/WE bought the TV, there is no way in hell for one month the TV belongs to YOU. If you wanna hog the TV for World Cup for a whole freaking month, BUY YOUR OWN DAMN TV WITH YOUR OWN DAMN MONEY and find a suitable place for it (so that you won't trip over it when you do your victory/lost dance). =)
3. I wouldn't care much if your football game is at 3 am. Time difference is a wonderful thing when the World Cup is held in another continent. You can watch all the football you want between 12am-9am. So since you have the advantage of the time difference, I expect to be able to watch MY shows during prime time, replay or not.
4. I will pass by the TV to get whatever I want. I certainly will not crawl on the floor to do so. However, as a woman I understand the importance for you, as a man, to watch 22 sweaty men in shorts scurrying around over a ball and so I will hurry when I pass by the TV for whatever reason.
5. You may be blind/deaf/mute during a game so I will not bother to try to alert you when the house is on fire or if there is an earthquake.
6. Pardon me if I want to "help" make you feel better when your team loses. The possiblity of them winning next time is there. Do you know how to spell O-P-T-I-M-I-S-T-I-C? It's a wondeful thing, you know?
7. Even if your team loses, it's not the end of the world. The sky will not turn black and mankind will not cease to exist. In the end, it's just a B-A-L-L. And you call us DRAMATIC.
8. I do not mind sitting with you to watch a football game but bear in mind my attention span for it will last 30 minutes at the max. So don't perasan (be all that and think) I will want to watch the game with you many many times.
9. Replays are important, so are re-runs. So don't bitch at us when we watch re-runs of TV shows.
10. Friends can come around. Your friends can come to watch football, my friends can come to talk. I don't ask you to get my friends food and drinks, so don't expect me to "serve" your friends. If you want to have someone serve you for that month because you are just too lazy to lift up your ass, get a maid. At the end of the day:
a) I don't care about football,
b) I don't care about football, and
c) I don't care about football.
11. I'd be more than happy to let you go over to your friends' place to watch football because that means more TV for me. =)
12. There are more important things in this world other than football. I get that it's a once in 4 years thing but that's not a valid excuse. People die everyday, either by starvation or illness or natural disasters. I have the right to talk about other things BESIDES football, i.e volcanoes erupting, hurricanes, floods, fires, tsunamis, earthquakes etc.
13. No matter what you say/think, football is not your life. Which is worse? Life without football or life without your balls? Don't mess with women.
When in doubt, refer to Rule #13.
Thank you for your co-operation.
Regards,
Women of the World.
June 14, 2006
I had a hair cut yesterday. Until now, I'm still fussing over it a little. There's not a lot of difference in terms of length I think but I can FEEL the difference. Hahaha
The place I initially wanted to go at Travillion was closed, as in CLOSED down. *pout* So, I ended up at The Hair Shop around the roundabout before the airport near BDC. The place wasn't bad. There's not much I can say about my hair cut other than it's around 2 inches shorter and the fringe is shorter too. No style or anything.
I went with Erin and she caved in and permed her hair as well as highlight it. I helped her chose the style of perm and highlight colors. I have yet to see the finished product yet but I have a couple pictures of her in the process. *Heheheh*

Perming while she smiles for the camera
.
.
.
.
.
And now….for the grand finale, the picture of the day……….

BOO! Siaw lang in the making
June 10, 2006
I've been more occupied the past week, with my grandmother in the hospital and all the "fun" stuff. Hence, the lack of updates.
The week prior before all the madness started I went out a lot. One of those days, my parents and I took a roadtrip (because of the long Gawai Holidays) to Ranchang Pool in Serian. The drive took us almost an hour.

High shot. I was on the suspension brigde with heels on. DAMN those people who were walking harder than hell and rocking the bridge. Couldn't get a clear shot!!! *grumble*





Waterwall at Ranchang Pool
That same weekend my friends and I checked out a new place at Jalan Song called "Chilax", which is short for "Chill out and Relax". The name might be a little odd but I enjoy the decor of the place. Lots of sofas/couches makes it very comfy. The place had a couple of racks of games such as UNO, Monopoly, Scrabble, Chess etc.

Cool looking poster. "The Devil Wears Prada"

Apparently roses are A LOT of fun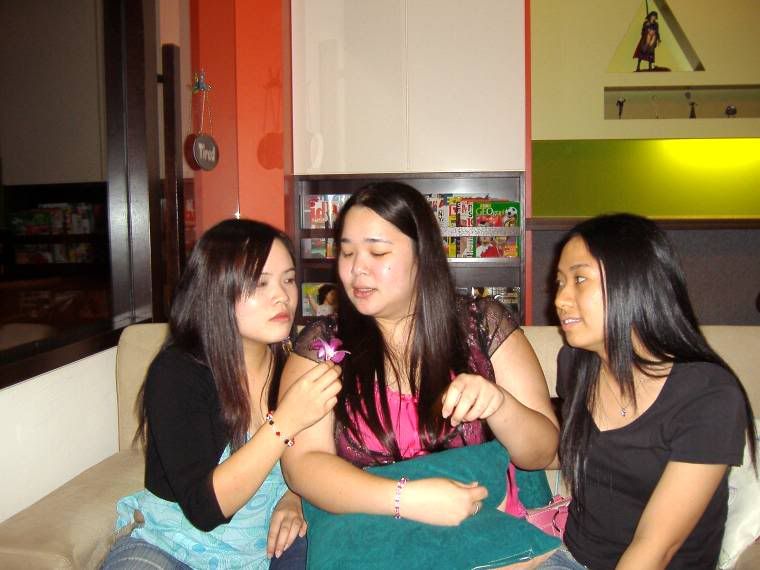 Orchids are quite interesting as well. (Speaking of which I have a LOT of orchid pics)

Fiona's bf, Chung and his "partner-in-crime" Andy-the-serial-killer-don't-piss-me-off-or-I-will-hunt-you-down. *smirk*


My attempt at a disgusting look

I was trying to kiss the orchid. Honest.

And we finally posed for a nice picture..

Playing Monopoly. (Bracelet costs RM5 at the Serian market if any of you are wondering)
Oh yes, my parents and I also went over to check out my uncle's place as he was out of town. Other than feeding the dogs, I took some pictures. My dad says I'm like a reporter. "Never without the camera", he says.

Trying to take pics of the Japanese Koi in the pond
After much deliberation, throwing fish food makes the fishies come to where you want them to be =P

Shot FROM the main house

Shot OF the main house
It's good to be rich, isn't it?
Wish I was rich…
Anyone got any ideas how to get rich…FAST?
June 5, 2006
My grandmother was admitted to the hospital yesterday afternoon. She had a high fever and our GP suggested we admit her in case it was a stroke.
And he was right. After tests and CT scan, it was finalize that my grandma indeed had a stroke, a very mild stroke, which is a relief. Now we're awaiting tests as to find out WHY she had a stroke. I was surprised to hear that she had a stroke. Currently she's on no-solid-foods. She gets milk once every 3 hours.
I just got back from the hospital and she looks a LOT better than yesterday. She was trembling a lot yesterday and that was scarry for me to watch.
Anyway, I have a lot of reading to do as I've been too occupied with this to focus on school. Laters~