Archive for March, 2007
March 28, 2007
Disclaimer: Do not continue reading if you are hungry. The owner of this blog will not bear any responsibility for the weight gain of readers after reading this post.
Chili's was one of my favorite places to dine in during my stay in Chicago. What I loved most in that restaurant was THE MOLTEN CAKE. If you have a sweet tooth like I do, you'll understand when you see the picture.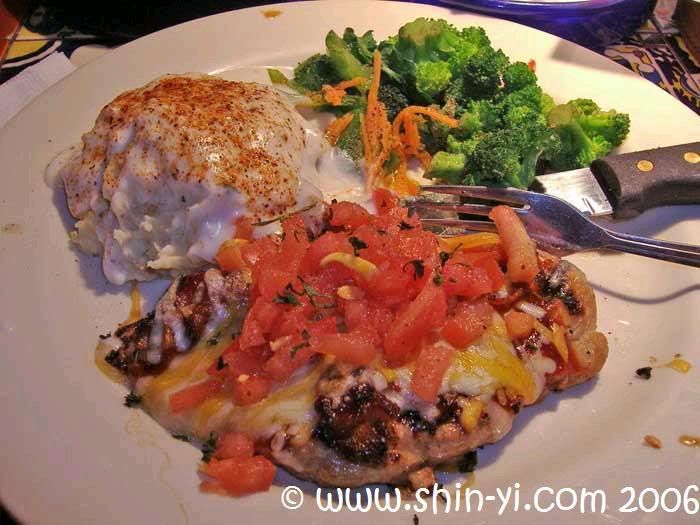 Monterey Chicken – grilled chicken topped with tomatoes served with mash potatoes and brocolli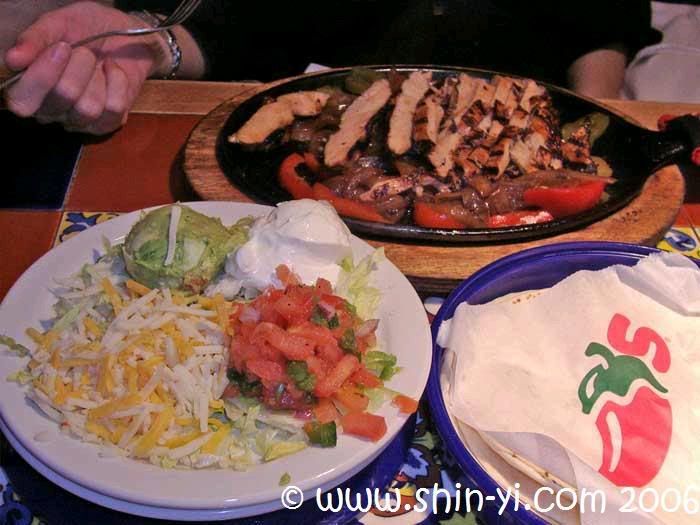 Fajitas with grilled chicken. Fajitas are a type of Mexican food.

Cajun chicken pasta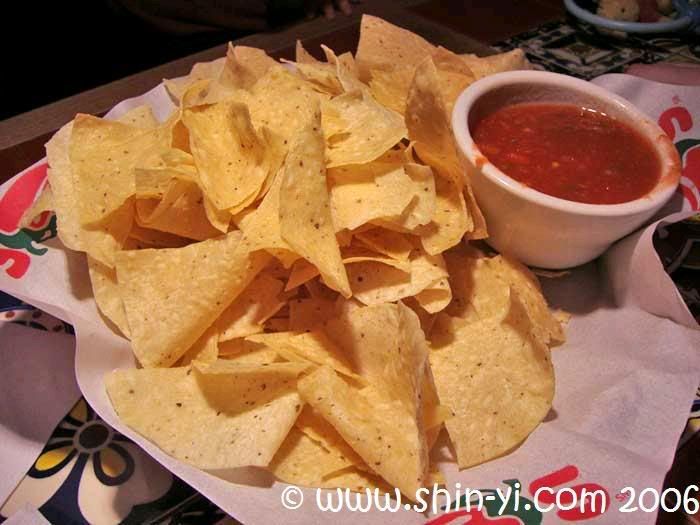 Toastada chips – free refills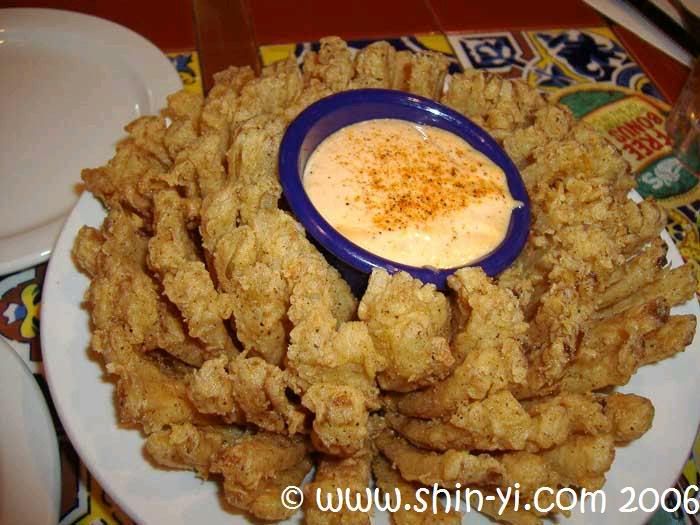 This is called the Awesome Blossom. It basically tastes like onions rings.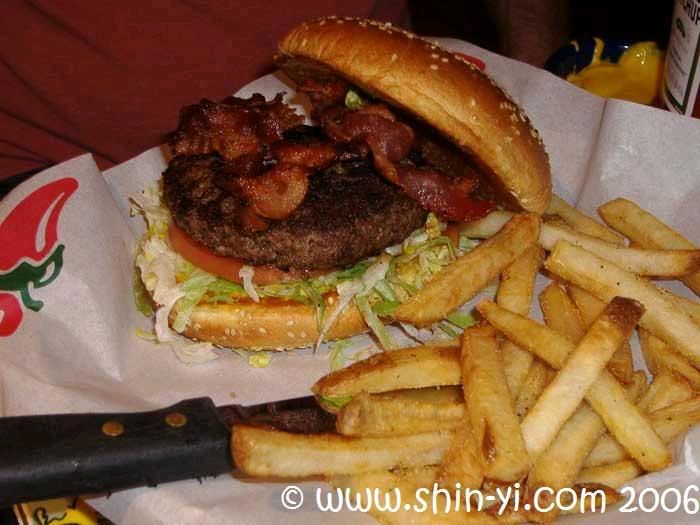 Beef burger with bacon and chips AKA french fries
And the best thing of all….
Drum roll please….
….
….
….
….
….
….

THE Molten cake, the sin of all sins. (Yes, that's actually another Molten Cake in the background)
I had the Molten cake twice. 😀 It was SO FREAKING good. A moist chocolate cake topped with vanilla ice cream topped with chocolate sauce and caramel. HOLY CRAP IT WAS SO GOOD!
Friday's was another place I liked a lot (but not as much as Chili's – THEY RAWK [damn I should be the official Chili's spokesperson]).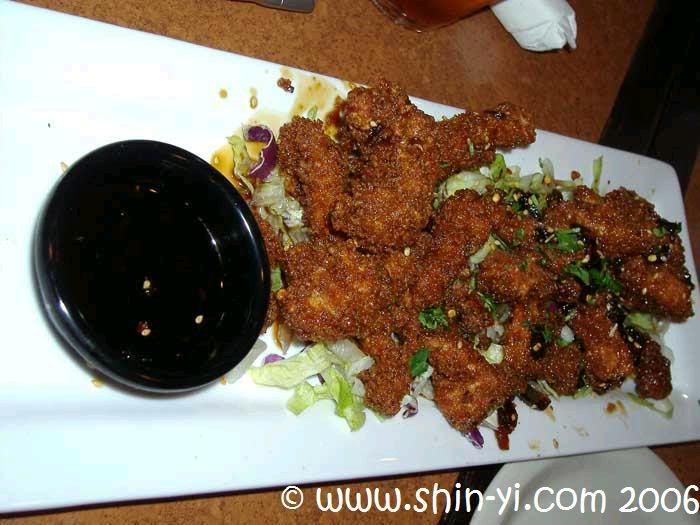 Sesame Jack chicken strips = GOOD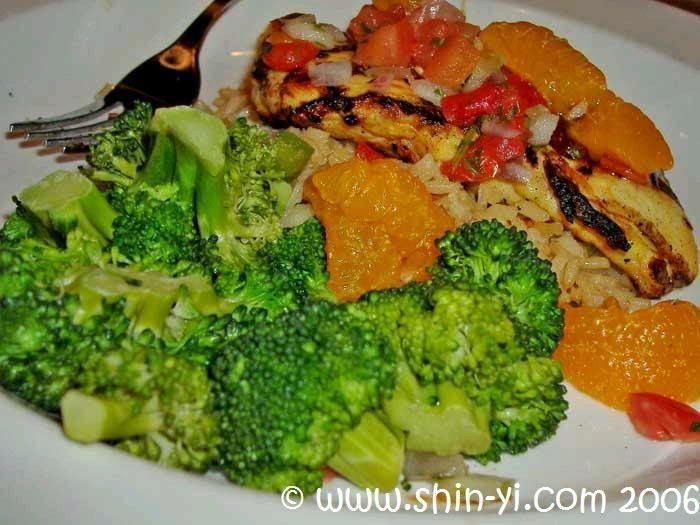 Dragonfire chicken served with rice and brocolli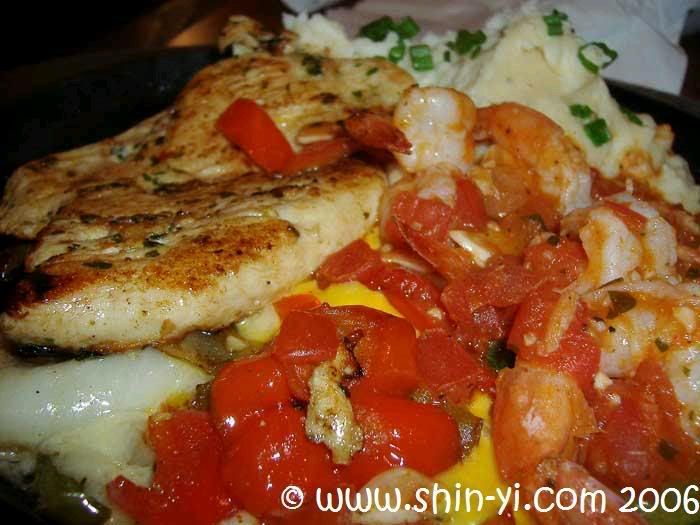 Sizzling chicken and shrimp = YUMMY

Chrissy, Ernie, Rob, Me and John at the back
For Christmas eve, we went to Artemis with Rob's dad. I tried the Greek chicken which was Rob's mom's favorite dish there.

Yummy Greek Chicken

Hot Turkey sandwich. The bread is underneath the turkey.
Feeling challenged by Rob's dad, Rob and I order the biggest most humongous dessert in their menu. It's called the Belly Buster. The name says it all. As the waiter brought the dessert, a lot of people in the restaurant were like "Ooooooooo" or "Wow". One table even offered to help eat it. This is why…..

The Belly Buster – Five large scoops of ice cream (our choice of flavors), lots of whipped cream, wafer cookies, bananas, cherries, hot fudge and nuts.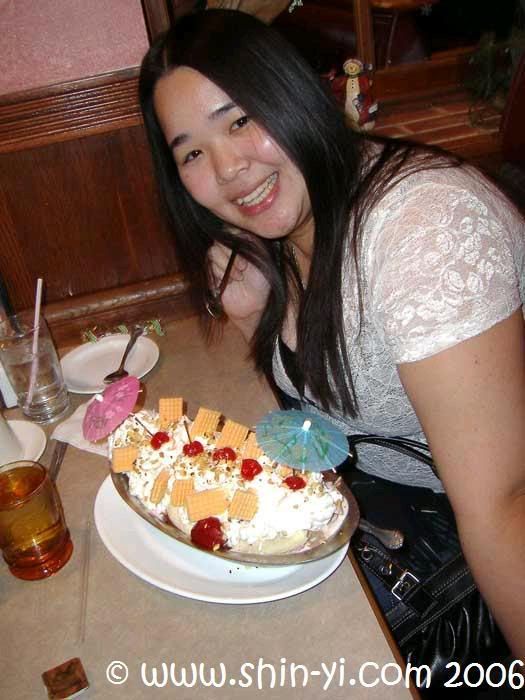 See how HUGE it is???
The ice cream started to melt before we even managed to finish it. Rob's dad was taunting us to finish it. Using a small dessert spoon to scoop the liquid ice cream seemed rather pointless, so….we improvised….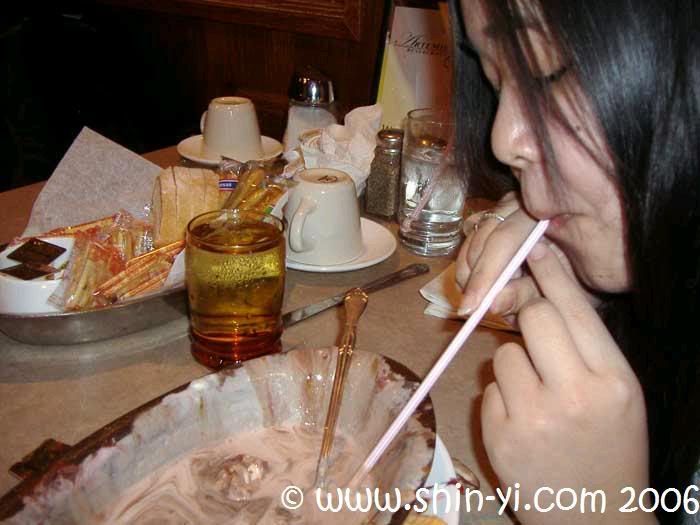 We used straws and slurped up that baby in no time. 😀

Rob hard at "work"
Stay tuned for Part 3!!
March 26, 2007
Disclaimer: Do not continue reading if you are hungry. The owner of this blog will not bear any responsibility for the weight gain of readers after reading this post.
Endulging in yummy food is one of the bestest pleasures in life. I ate like a pig during my stay in Chicago. By the time I got to Chicago it was already dinner time and this is what I had.

Burger and onion rings at Kappy's, my first real American meal
The next morning (after lots of cuddling and snuggling the night before), Rob took me to the all-American breakfast restaurant, IHOP (International House of Pancakes).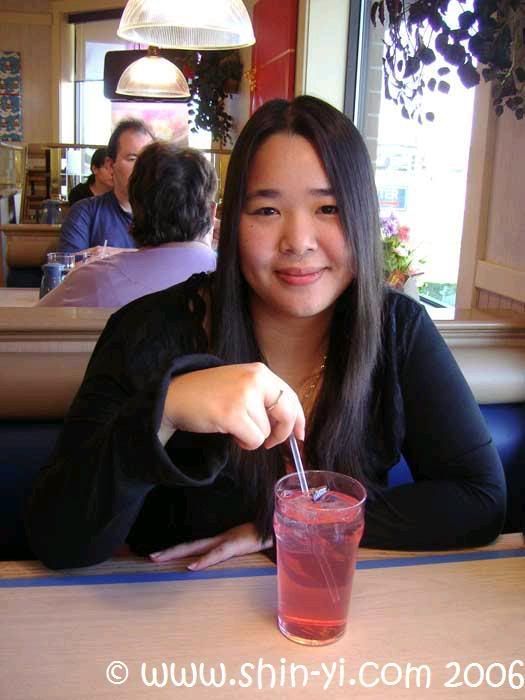 In a booth at IHOP drinking pink lemonade of sorts

Scrambled eggs, hash browns, and bacon

Scrambled eggs, hash browns, bacon , ham and sausages

IHOP's signature cinnamon roll French toast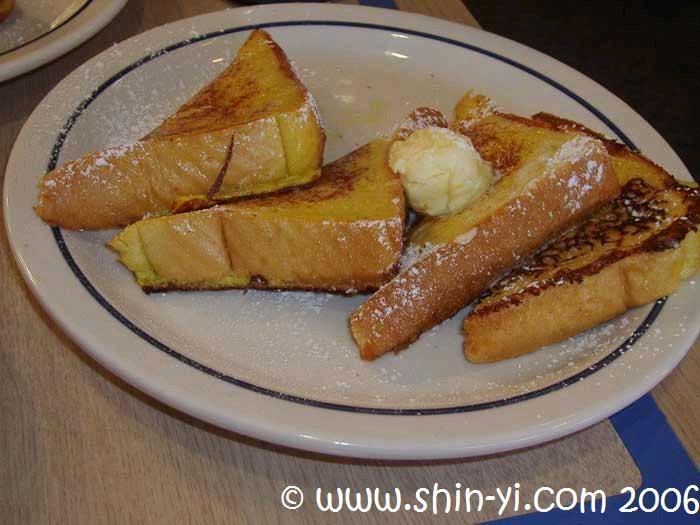 French toast. OMG THEY WERE SO GOOD!

Pancakes, look at the melting butter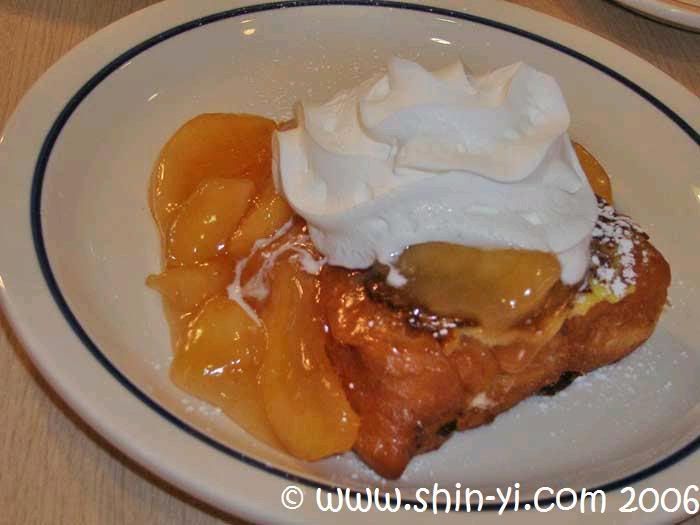 Apple French toast
Rob's dad took us to breakfast a few times…

Egg Factory's Strawberry waffles

Egg Factory's Banana and walnut waffles

Walker Brothers Apple cinnamon pancake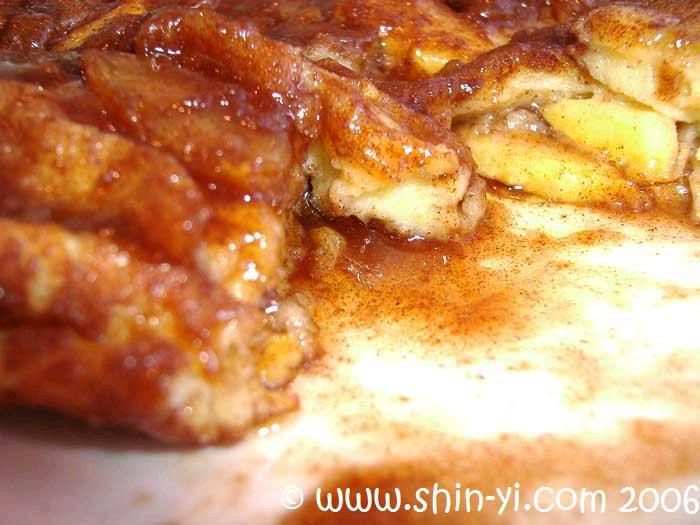 Look at the sauce and cinnamon…
DAMN MY MOUTH IS WATERING NOW!
This is just a teaser. The next few posts will definitely get you guys all hungry and swallowing your saliva! With that said, stay tuned!
March 25, 2007
I hate the feeling of sleeping 8 hours and waking up TIRED. The only reason I can think of to explain this would be how much I was dreaming. I remember running away from or after something. I just remember a lot of running. I think I was at the airport running the neverending run to catch my flight.
In dream analysis, I assume this means I am chasing some sort of a dream or something of that sort in reality. At this moment I would love more than anything to be catching a flight back to the States. I really miss it there. Most importantly, there is someone special waiting for me there. Oh how I wish to be in his arms right now. I love that sense of security when I'm in his arms. Okay, I'm so straying now…
Anyhooo, I suddenly had the urge to make some earrings last night so I unpacked my tools and crystal beads. I stared at the stuff for a whole 2 minutes but had no idea what color I want for an earring so I packed things back. How stupid was that???
I had a haircut yesterday. Had to get the ends trimmed as I was getting some split ends. Now my hair looks healthier *ahhhhs in relief* 😀 I'm gonna give Donny Hair Salon at Padungan some free publicity because the guy did a wonderful job and he was very very friendly. My haircut cost RM18 and I think it's well worth it.
I will let you guys know something though. His assistants will straighten your hair before cutting it. I felt a bit DUH because when one of his assistants started straightening my hair, I was like "Ummm I just want a haircut".
Assistant says "Yeah, I know…"
Me: ………Okay…..but you're straightening my hair?
Assistant: Ummmm yeah…You don't want to straighten?
Me: Ermmmm….ok…I didn't know you straighten before getting a hair cut…is this something new? Is it better this way?
Assistant: *looks at me weirdly* Yeah…?
Me: *smile sheepishly* Okay then
HAHAHAHA I felt so DUH.
That aside, I played badminton last night, as I have for the past 2 months (on and off) or so. Gone are those clubbing Saturday nights. Macamlah (As if) I club that much in the first place. I am SO contradicting myself. *roll eyes* Wait, can you roll your own eyes at yourself? Ermmm…I shall ponder that for the day…
Anyway I better get ready. Going out for dinner
Au revoir~!
March 24, 2007
Some pictures of Damai while I'm trying to finish up the first chapter for my thesis. Enjoy!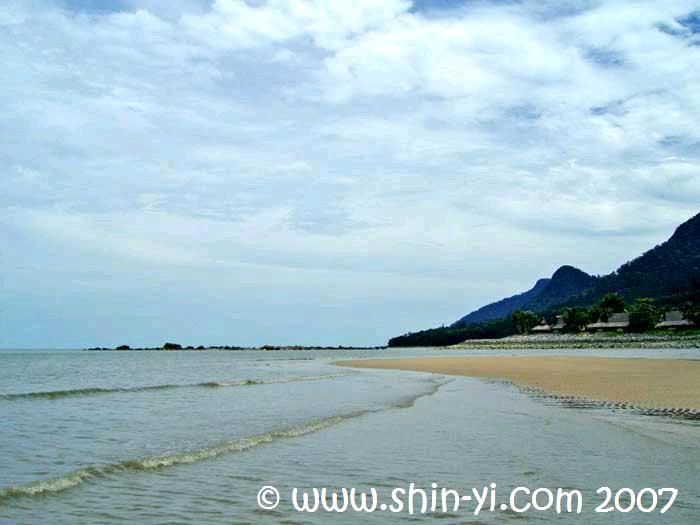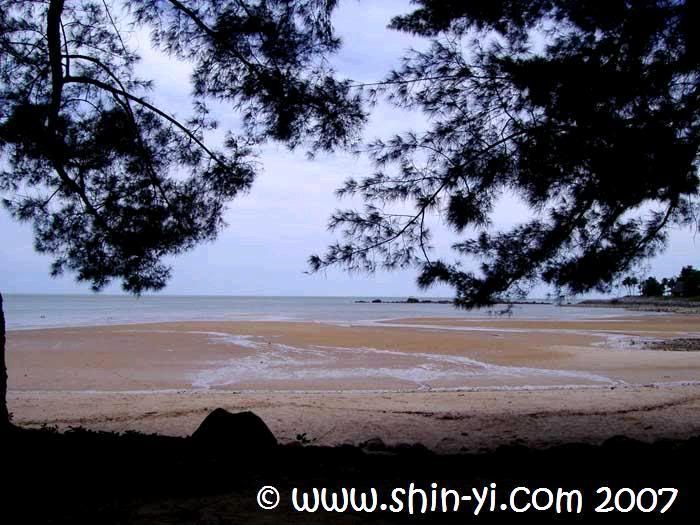 Like I said in the earlier post, we had to walk up a gazillion steps to go up the hilltop, this is the view halfway on the steps.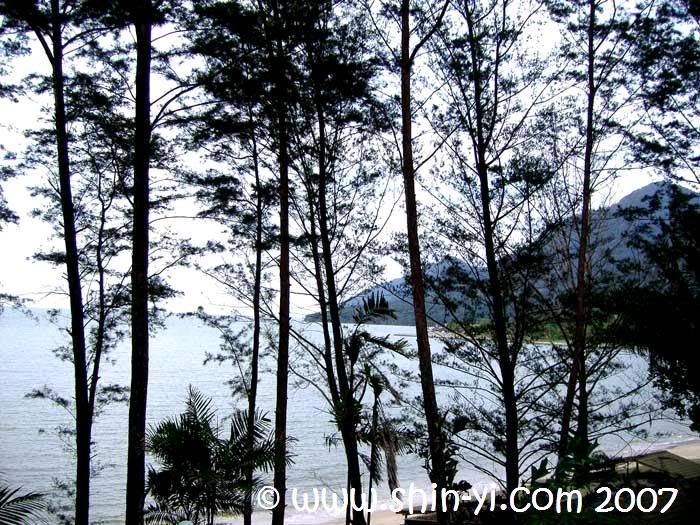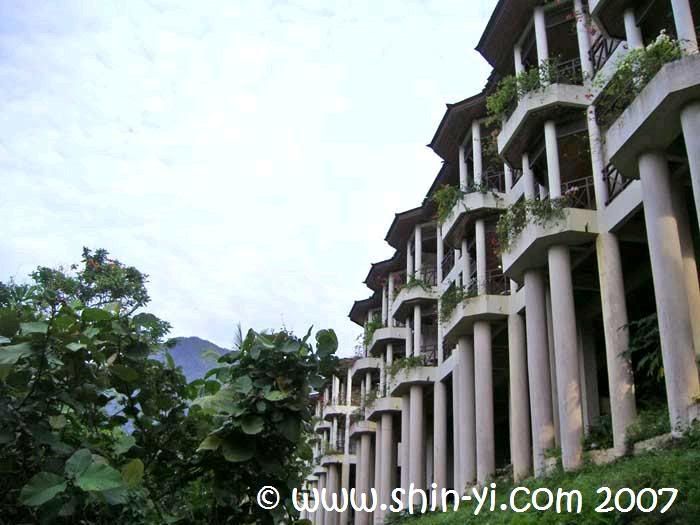 The Hilltop Suites
I We reached the Hilltop puffing and huffing.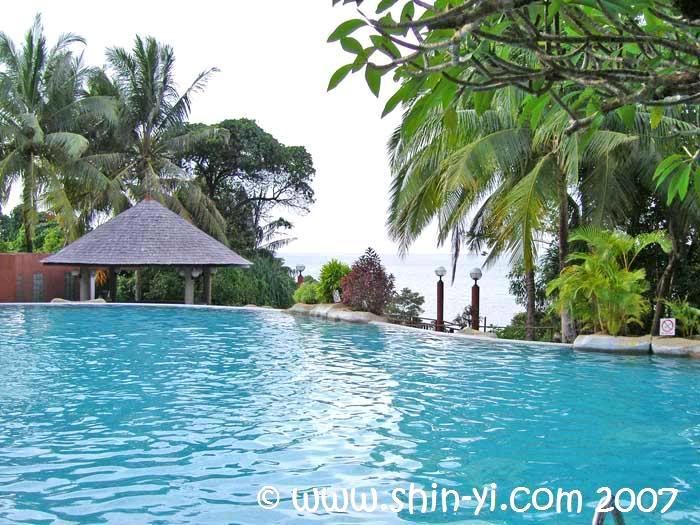 The swimming pool at the Hilltop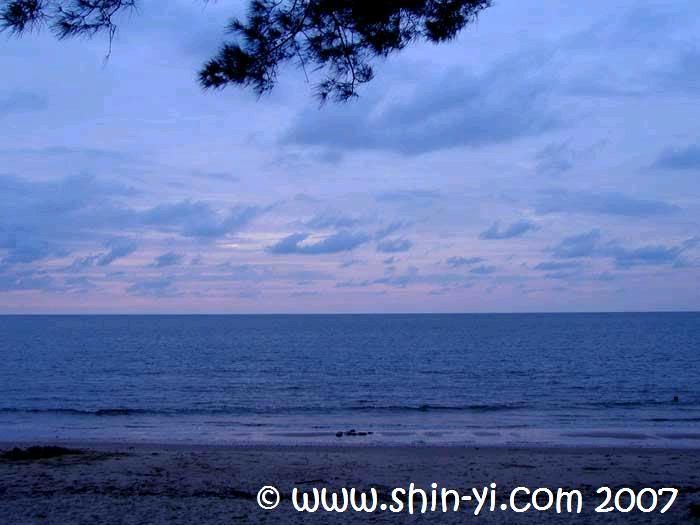 Some kind of a sunset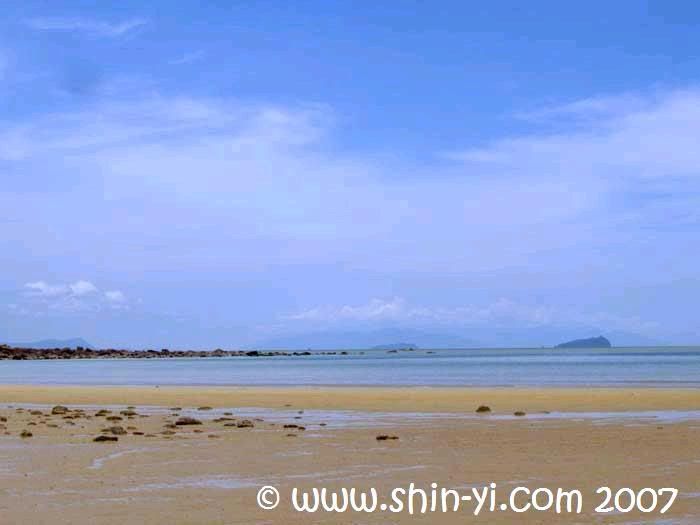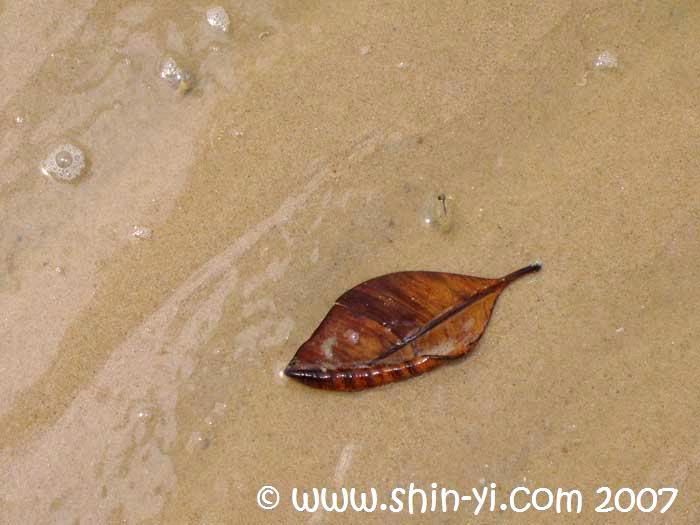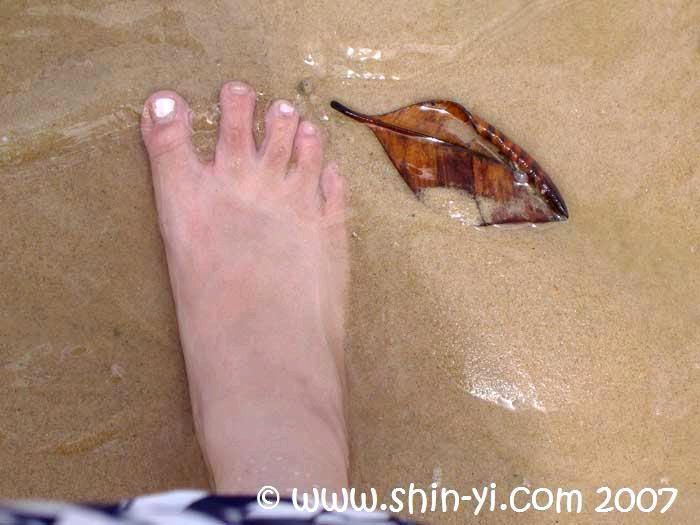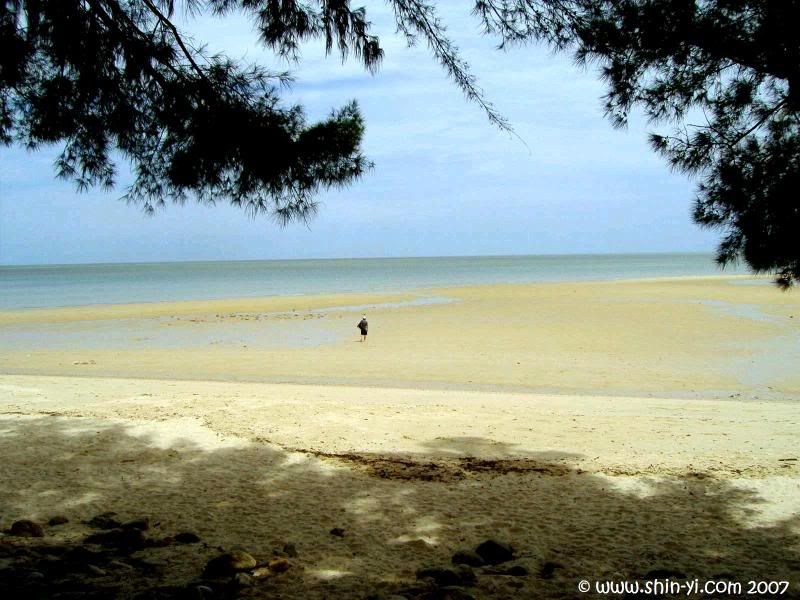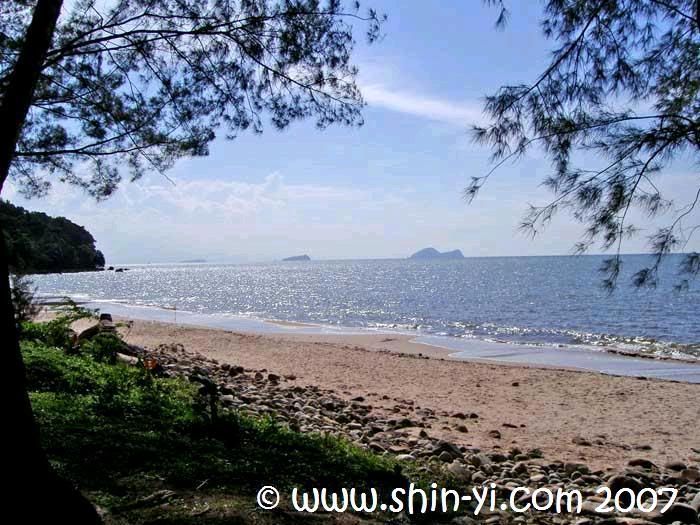 The morning sun on the water. One of my fav pictures
March 22, 2007
I know I said I was going to do a food post from when I was in the States but there are just TOO many pictures! I'm still organizing them so please be patient! It'll be up soon, promise to make all of you drool!
***************************************************
Like I said in the earlier post, I was in Damai Beach last weekend. It was nice to get out from the hustle and bustle to enjoy the calmness and peacefulness of the beach. The last time I was in Damai was when Rob was here so you can imagine how much I missed him while I was in the water.

Yes it's a fact that I am fat. HAH!

Fiona and Linda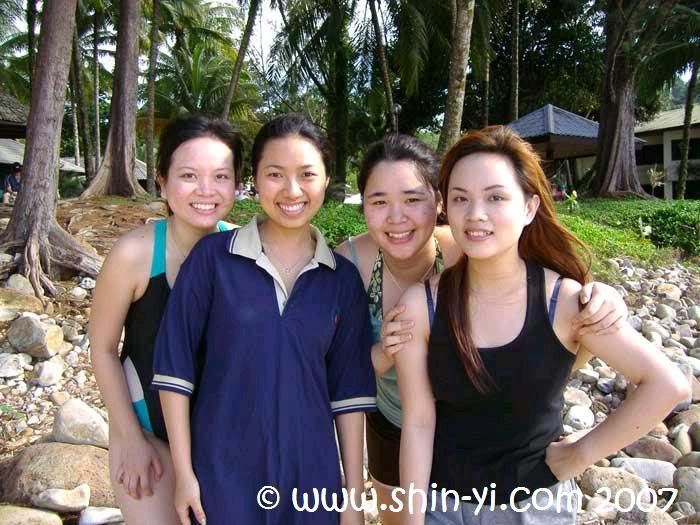 The only 4 girls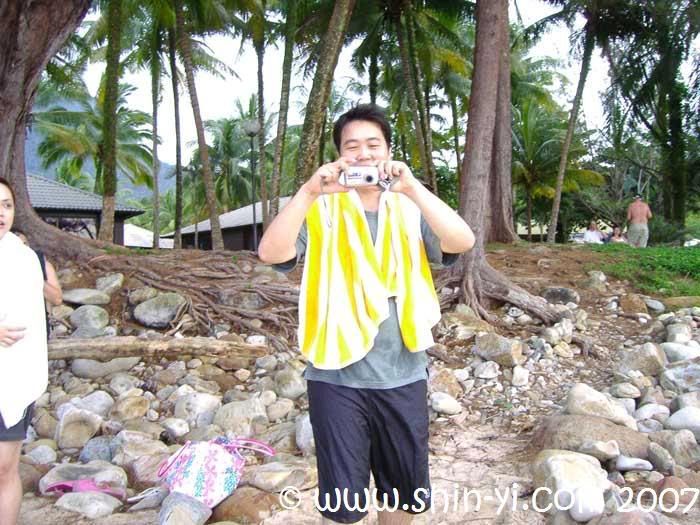 A picture of Min Chiat taking a picture =P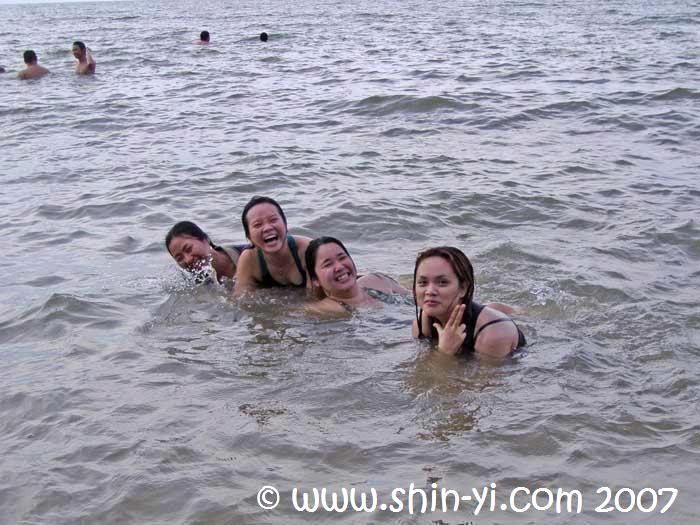 Having a good time in the water.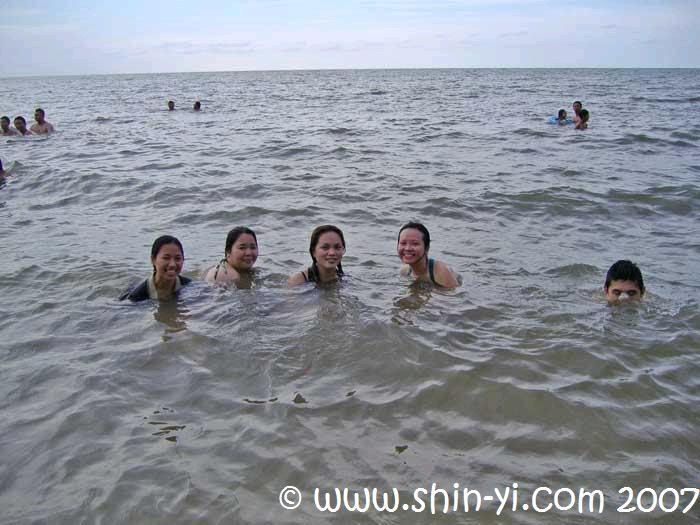 Look to the right of the picture…what is Ah Chung doing??
Having not enough of the water, we decided to walk like a zillion steps to the swimming pool at the hilltop. The main swimming pool was too crowded with kids. Walking up those steps took a lot of work, at least for me. My legs were all wobbly and weak after. I need more stamina!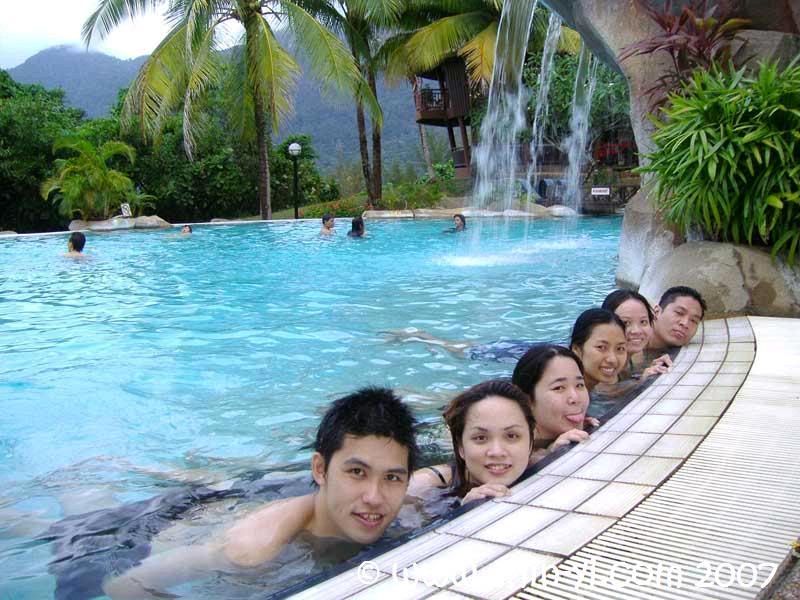 Dinner was of course at Buntal. I didn't join my friends because my parents came up to Buntal to have seafood at another restaurant so I figured I'd go with them instead. I did meet up with my other friends when I was done with my dinner.

The boys at dinner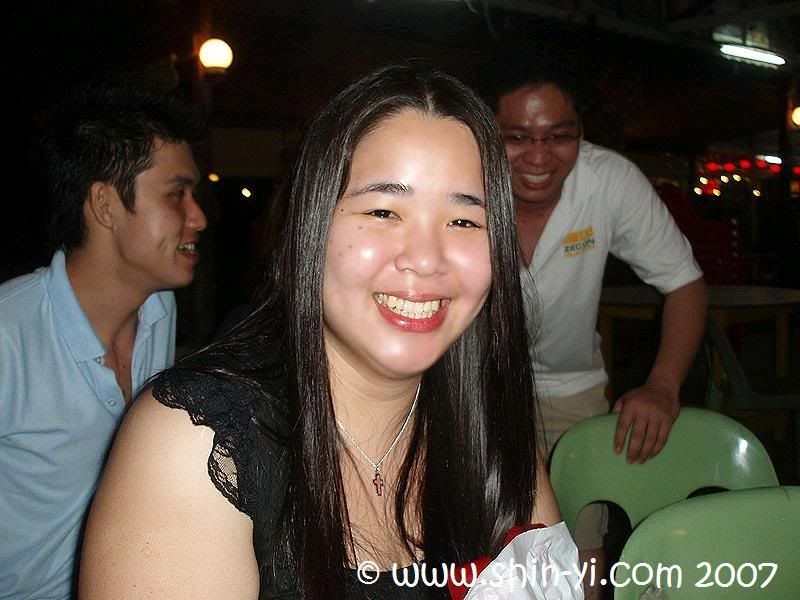 Candid shot of me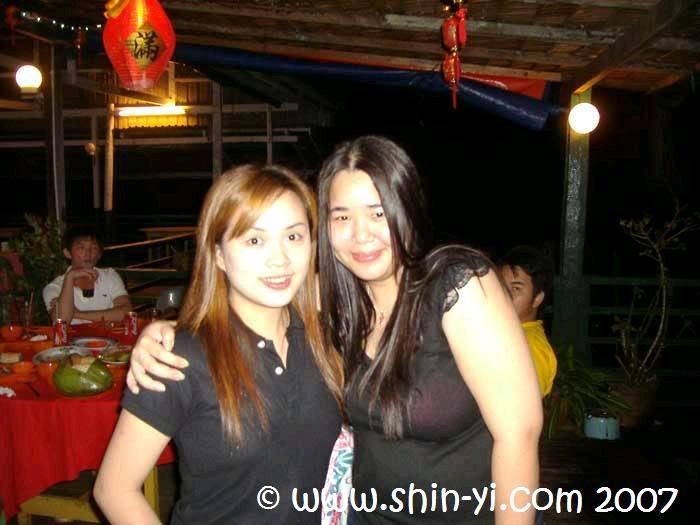 More camwhoring
The next morning we woke up around 8 (but I woke up at about 7) and headed for the buffet breakfast. Seeing as we only had two free vouchers, all of us shared the cost of the entire meal. We ended up paying RM21 each. Breakfast was good. =D
Then it was back to camwhoring…

Fiona looks like she's ready to do some naughty things. I look damn excited and Pei Ee looks evil. =S

Kononnya want to be ninja lah (Supposedly ninjas)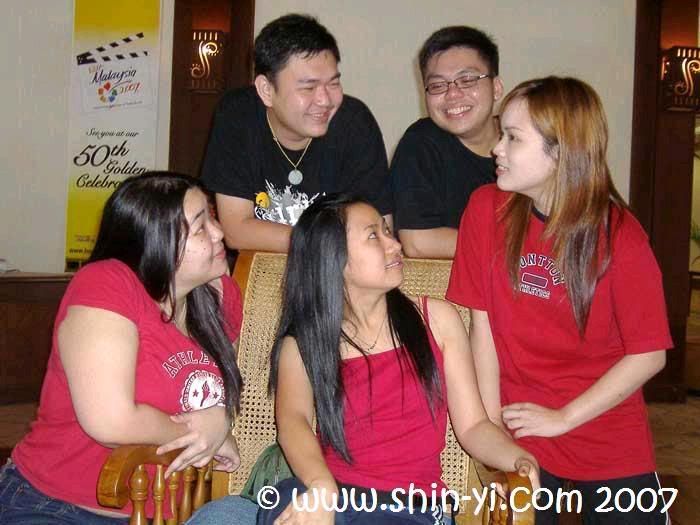 Being silly in the lobby

With Allen

Me, Fiona, Pei Ee, Alan (sitting), and Sien Fah (foot)
I also snucked out to the beach for some self camwhoring.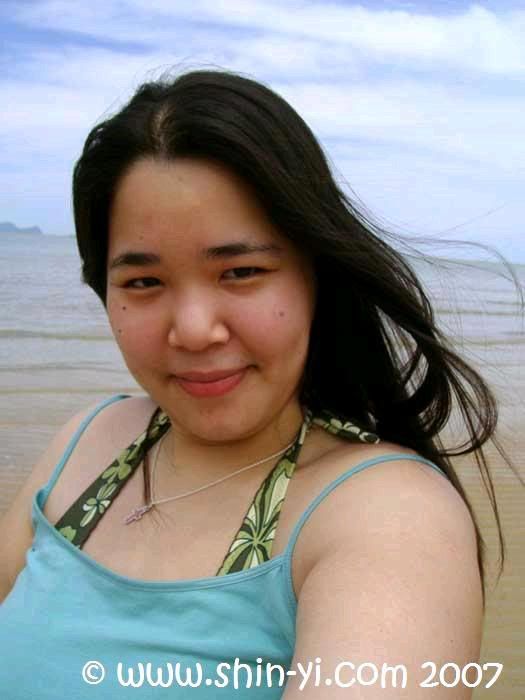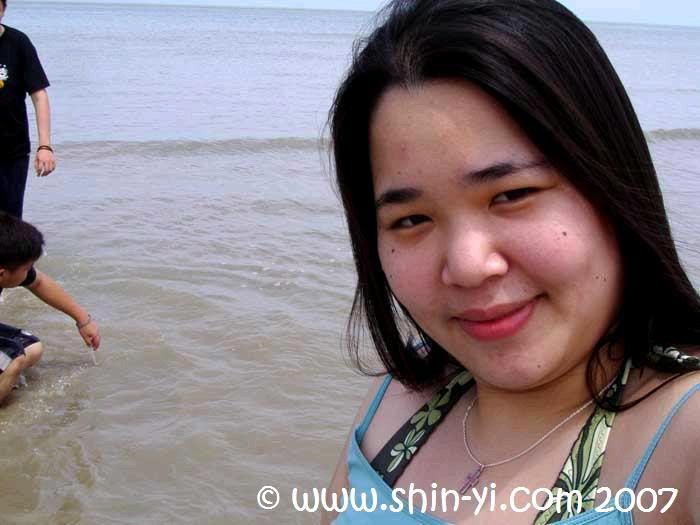 My pink flipflops from Old Navy.
And….
finally, a group picture before we leave.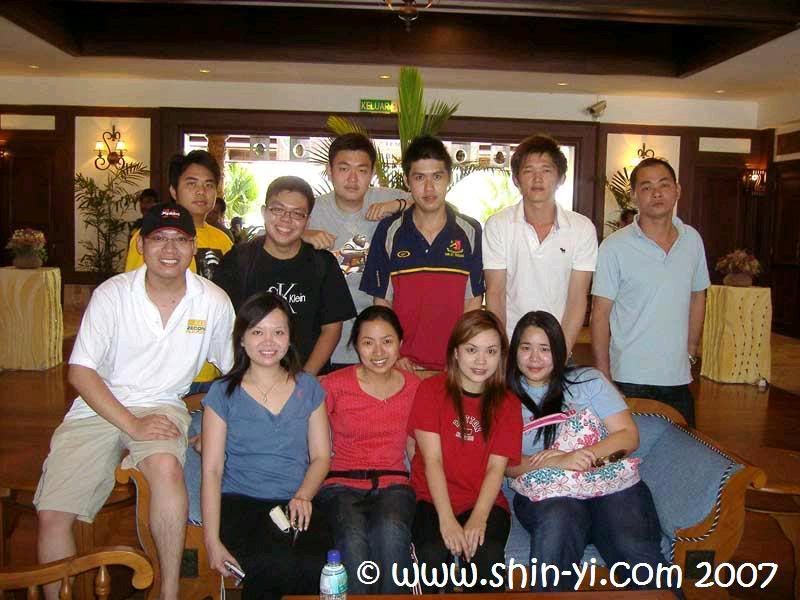 Min Chiat missing from the picture as he had to leave early
Yes, all twelve of us squashed in ONE room. =P
March 20, 2007
I spent the weekend at Damai Beach. I'll post up the pics soon. No nice sunset pictures though, it was a cloudy day. BLEH
So anyway, some things have been on my mind in the last few days…
If ALL your friends tell you that someone is bad news repeatedly (and you yourself realize there is a truth in that), would you listen? I definitely would! I believe my close friends would have my best interest at heart and won't do anything to hurt me intentionally.
If you see one of your friends in such a situation what would you do? Say something right?
I, for one, am a person who will not sit and watch people I care about dig their own grave. I am outspoken. I am straightforward. If I see someone I care about doing something wrong, I will almost ALWAYS say something. Perhaps that is a personality flaw on my part.
However, it gets tiring when the things I say go in one ear and out the other. It gets exhausting repeating the same thing over and over and over again.
How do I help someone who doesn't even help themselves? How do I care about someone who doesn't even care about themselves? How do I save someone who doesn't even try to save themselves? How do I talk to someone who doesn't even listen?
I value my friendships, with people who are worth the value. Yes, I am picky about who I consider true friends. Maybe that makes me snobbish, or maybe that just makes me smart? There are lots of different people out there, some of which their main goal is to take advantage of anyone who is willing to be used in order to get what they want. Those kinds of people piss me off immensely.
To my friend…no matter what I say you won't listen. When will you realize that while you're so engrossed in protecting someone, you risk losing ALL your other friends? In the end, you have one person who doesn't even care about your well being over your closest friends who care about you so much.
I will not say anything anymore. After all it is your life. It is time for me to back off. I have done my part. I can only hope and pray that one day you'll realize your decision is wrong and that it won't be too late to regret it.
I am done with this drama.
March 15, 2007
My stud muffin personally made me a pizza while I was in Chicago. A heart-shaped pizza at that. *smiles gleefully*
I shall let the pictures do the talking.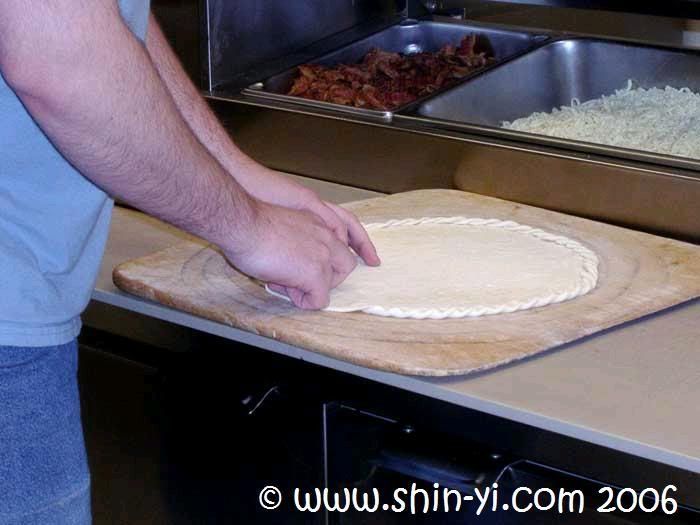 I like how he folds the edges. Makes it look "pretty". HEH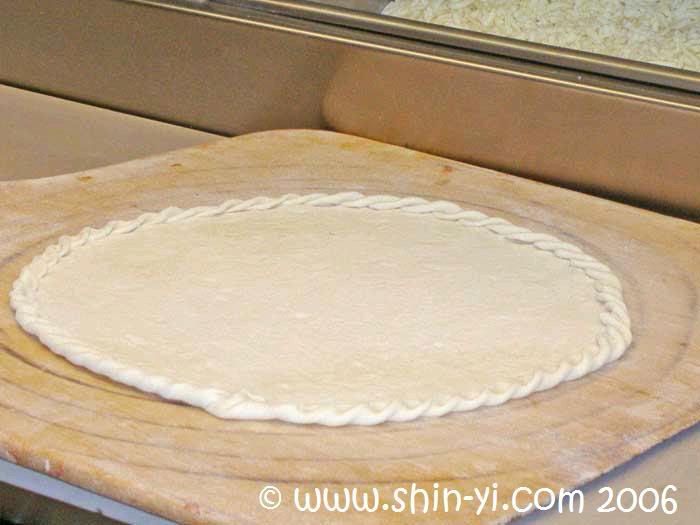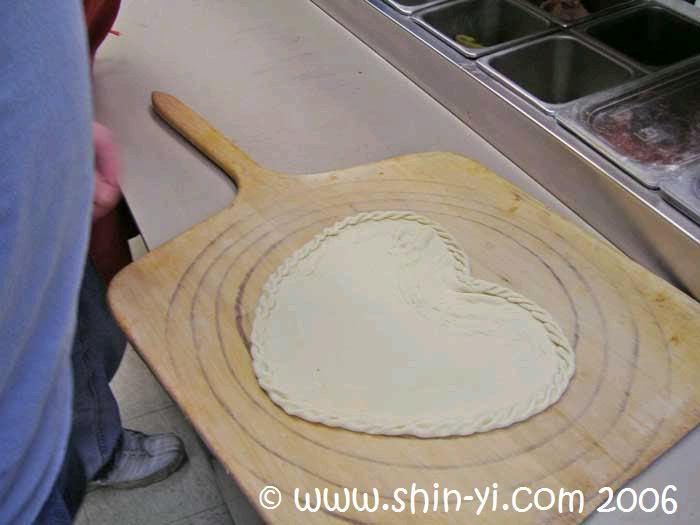 A heart pizza for his sweetheart. (I am SO corny)
Then in goes the sauce.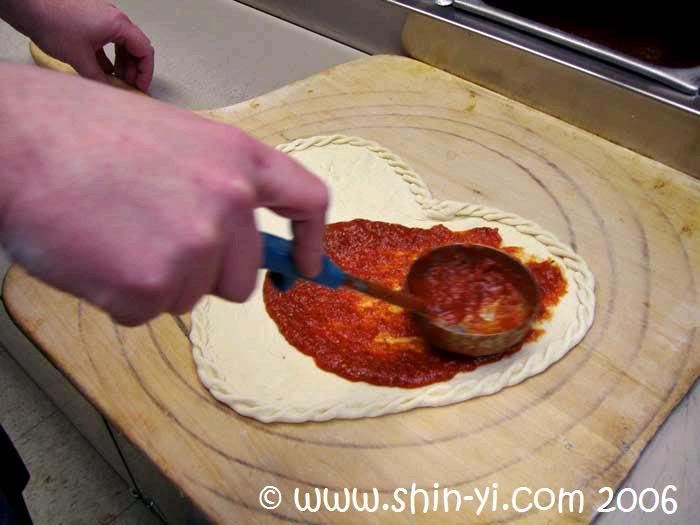 Spread it around as so.
In goes the sausage. This is a specially ordered sausage. MUCH better than Pizza Hut.
Me putting the pepperoni. Again, mucho better than Pizza Hut
Juicy pineapple. Rob's hands, not mine. I didn't want to get my hands dirty. HEH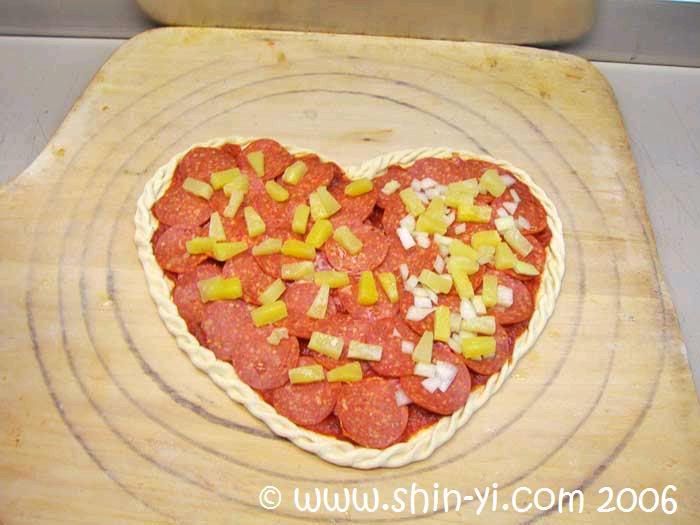 Half onions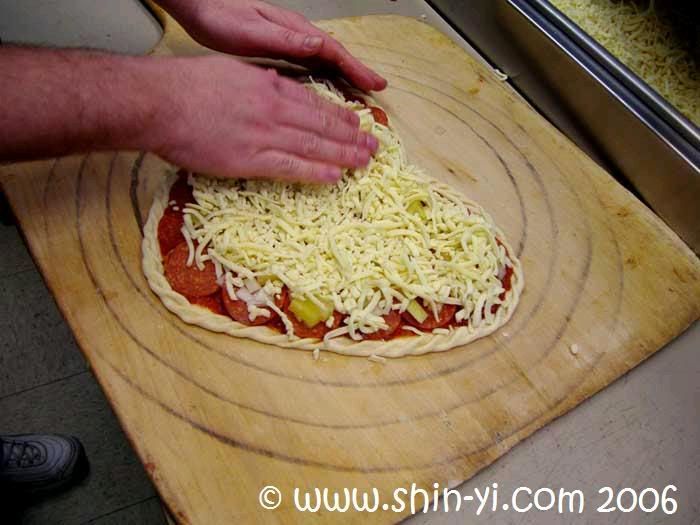 Cheese, lots of cheese.
Goes into the oven for 15-20 minutes and…
TADA!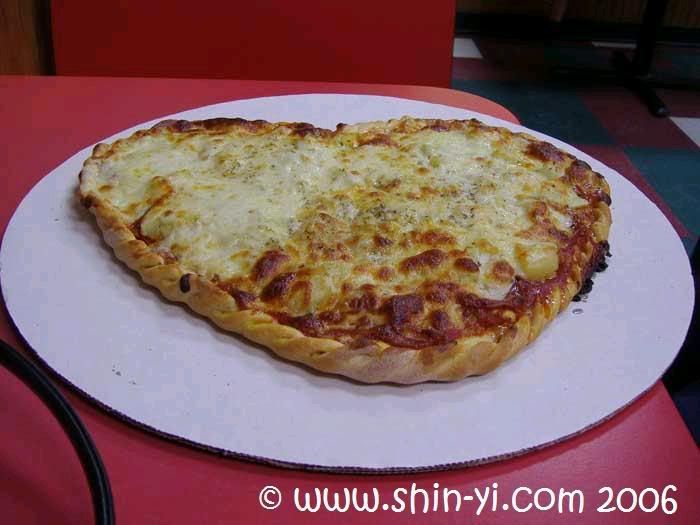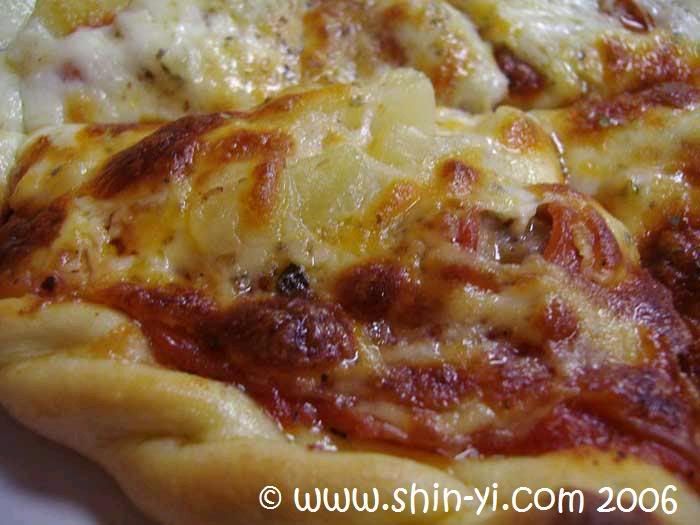 It was the best pizza I've ever had! Lots of sausage and pepperoni and pineapple and onions! Thinking about it now makes me drool. I think I'm gonna go snack on something. Heh
March 11, 2007
Was doing some blog surfing and came across something that disgusted me.
I thought to myself, as a woman (I like to think so heh 😛 ) and a blogger (so-called), I must blog about this and give my two cents worth.
myAsylum (with whom I am nominated with for Asia Blogs Awards) drew my attention to the fact that OUR Tourism Minister made the most assinine statement of all time. I am deeply disturbed to have this person as MY country's Tourism Minister.
Apparently Mr Minister made a comment that literally called all Malaysian bloggers liars, with a majority of them being "unemployed women".
Here's the quote:
"Bloggers are liars. They use all sort of ways to cheat others. From what I know, out of 10,000 unemployed bloggers, 8,000 are women…Bloggers like to spread rumours, they don't like national unity. Today our country has achievements because we are tolerant and compromising. Otherwise we will have civil war."
Source: http://jeremiahfoo.com/blog/?p=372
And you know what the best part is? Those statements were made on International Women's Day. HAH!! What a way to piss off women. Tsk tsk tsk. Another thing, shouldn't he be wandering around promoting the country as opposed to making foolishly bold statements like those, thereby tarnishing the image of the country?
I rarely write about politics, even more so LOCAL politics. I read political blogs once in a while and silently agree and chuckle at comments made. I never write about local politics because just thinking about it pisses me off. And when I'm pissed off I say the most outrageous things. I write about my life, my thoughts, my feelings, my experiences.
Why am I now dimmed a "liar" because of that? I do NOT disrupt national harmony. More importantly, I never lie in my life blog!
Eh, better stop talking about it, else I'd get sued or something. 😛
Shhhh, you did not hear this from me.
March 9, 2007
I cut my pinky finger yesterday while helping my dog clean a cut on his paw. It looked reddish today so I soaked the wound with hydrogen peroxide as Rob had asked me too. It stung and the wound got all whitish. So, I texted him and told him that. Here's a peek at our conversation when he came online today.
Shin : hiiiiiiiiiiiiiiiiiiiiiiii
Rob : hi stingfinger
Shin :

Rob : your native american indian name is whitefinger
Shin :
!!
Shin : wait
Shin : YOU are whitefinger [cos he's white, ya know, caucasian]
Shin : i'm yellowfinger [cos I'm Chinese, ya know, yellow]
Shin :

Rob :

Rob : my fingers arent white… its like peach
Shin : ooooooo
Shin : peachiefinger..sounds so manly

Rob :
!
Shin : this is blog worthy

Rob : glad i didnt say pink
Rob :
BLEH
Shin : oooooo mr pinkpinky
how macho
It just goes to show how silly and weird we are. And yes, I'm sarcastic
March 8, 2007
Craving for some authentic Chinese food, Rob and I took the train to Chinatown. The night before we searched online for the best dimsum place in Chinatown. I wanted to go somewhere that serves their dimsum in the cart, you know the real deal. And I found it! The place is called The Phoenix by Cermack Street. The food tasted great, sad to say much better than the dimsum you get here in Kuching, so much so I was so busy eating that I didn't take any pictures. Figures huh? I had to fly all the way to Chicago to have great dimsum.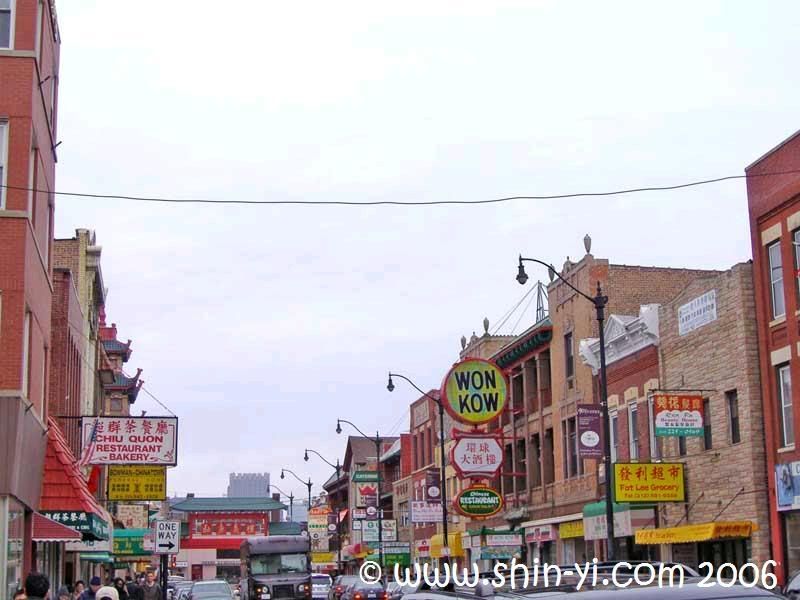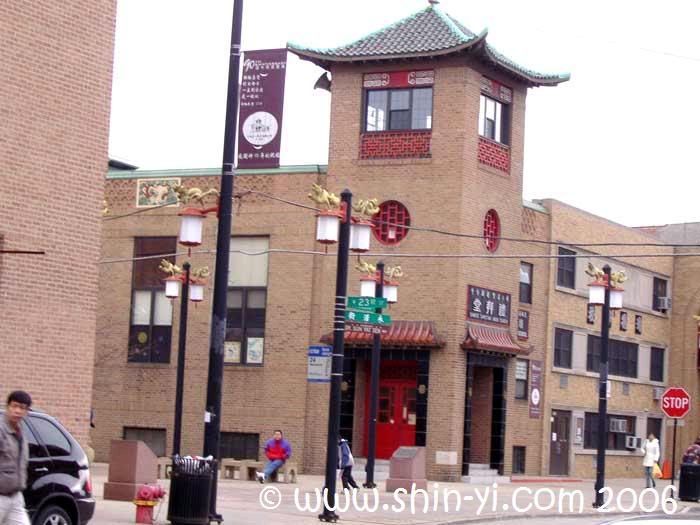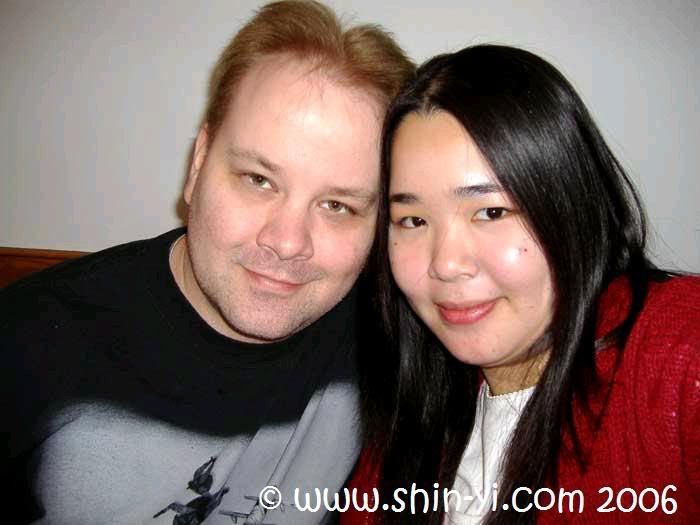 With my dim sum loving stud
There was a little park in the center of Chinatown with the 12 Chinese zodiacs and a brief description of each.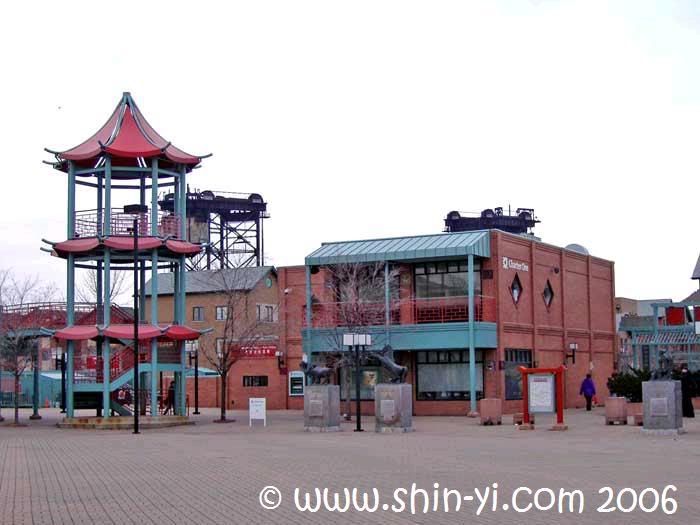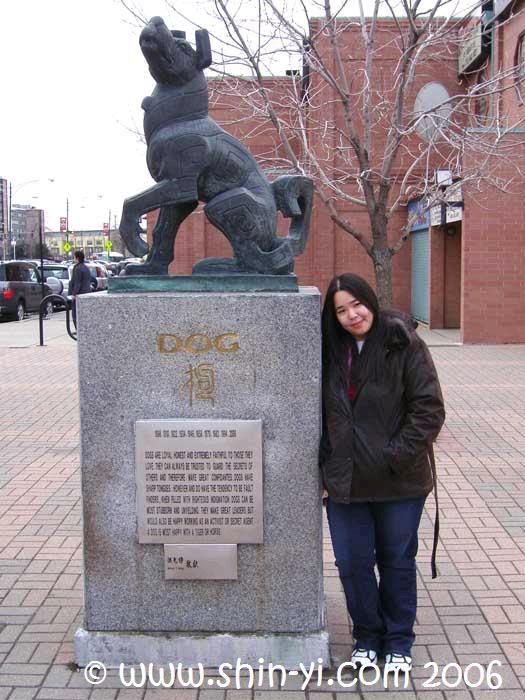 Yours truly with my Chinese zodiac, the bitch dog
The Dog sign says "Dogs are loyal, honest and extremely faithful to those they love. They can always be trusted to guard the secrets of others and therefore, make great confidantes. Dogs have sharp tongues but however have the tendency to be fault finders. When filled with righteous indignation, dogs can be most stubborn and unyielding. They make great leaders but also would be happy working as an activist or secret agent. A Dog is most happy with a Tiger or Horse."
Sounds a lot like me. HEH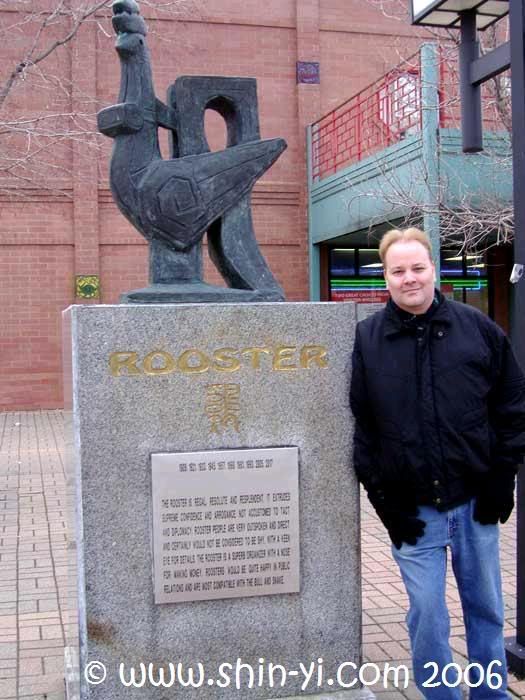 Rob with his cock rooster zodiac
The cock rooster sign says "The rooster is regal, resolute and resplendent (whatever that means). It extrudes extreme confidence and arrogance. Not accustomed to tact and diplomacy. Rooster people are very outspoken and direct and certainly would not be considered to be shy. With a keen eye for details, the rooster is a superb organizer with a nose for making money. Roosters would be quite happy in public relations and are most compatible with the bull and snake."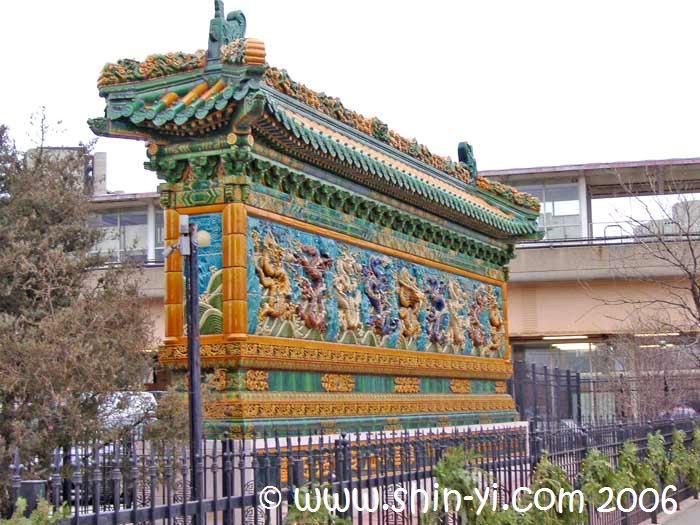 As we left for the train station something caught my attention.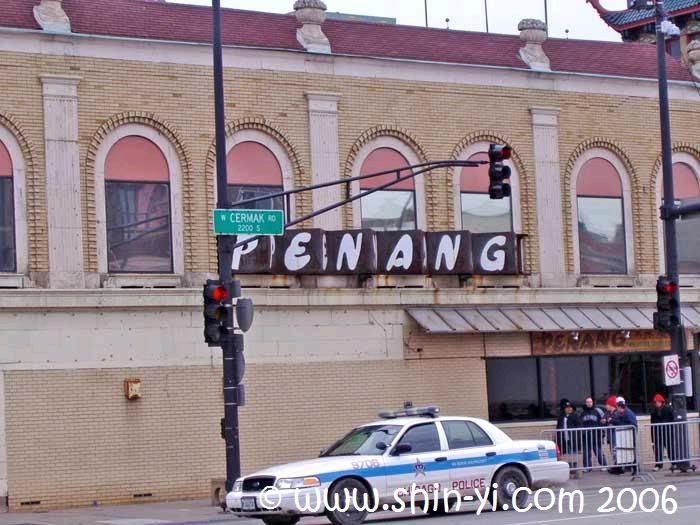 A corner store named "Penang. I wondered…..could it be…
YES! A Malaysian restaurant! I was all proud and excited. (More like, I acted like some sua pah lau who never seen a "Penang" restaurant in the US before).
Okay, gonna work on my thesis now.
Do stay tune for my next Chicago post on FOOD. *drool*