Archive for November, 2007
November 27, 2007
The house is undergoing some renovation.
This morning they (and I mean the contractors and workers) started pounding some 10-foot beams around the yard. The parents want to build an extra room which dear ol' mom dubbed "the family room". I'm pretty indifferent about this project.
The only problem I have with it is the loud noise coming from those orange tractor pounding beams into the ground and I'm saying it like that because it's kinda sorta maybe late and I'm not that articulate so give me a break fullstop. *all in one breath*
To think, this project is gonna last at least a month, probably more. How am I going to cope with each bang on those beams causing some kinda thud in my head? If I go to the library I have horny biatches and imbeciles librarians and security personel to deal with. If I stay at home, it's hard to concentrate with those thumping banging pounding sounds that are so hard on the ears. So, die die both ways lah…
*sigh*
BLEH.
Fine.
Bed time, gotta work tomorrow.
November 23, 2007
Rob sent me this link yesterday. I never expected to see what I saw. It's way to funny.
http://www.elfyourself.com/?id=9569007199
Unfortunately I don't know how to embed the flash player on to my blog. It would've been a lot easier for my readers.
This is too funny not to pass on. You guys really HAVE TO try it out.
November 21, 2007
The wedding went smoothly, and I got the rest I needed. It was such a fun experience going through the whole process of preparing and living the actual day. Sure it was tiring but I have to say it was one of the best moments of my life to be able to share such a joyous day with my oldest and best friend.
So to Chung and Fiona,
May you have the best life together.
Fiona is Both are currently shopping honeymooning in KL. I hope they have a lot of fun there. It feels surreal now that it's over. It feels like something is missing considering we spent a year or so preparing for that day. A few friends were a big help during the big day and before. I totally appreciate it. I thank you. You know who you are. As for the rest of you that I was PMSing over in the previous post, all I can say is when it comes your time, karma will come into place.
I took over 300 pictures that day and I'm still waiting for pictures from other people's camera. I'm sure they took more than I did because I was busy helping. I uploaded the pics, just haven't had the time to resize or Photoshop.
Anyway, I'm now going back into "nerd mode" to work on the thesis. It's going to be a while until I post about the wedding cause it takes time to sort out through the pictures, plus I'm waiting to compile other pictures from other people as well.
Until then, keep smilling. 🙂
November 16, 2007
YOU offered to help and when we ask for help YOU give excuses.
YOU say YOU treasure friendships but YOU take YOUR friends for granted.
YOU consider YOURself a friend, yet YOU keep complicating things for YOUR friends.
It's all YOU, YOUR words, YOUR actions, or rather lack off.
Yes, this post is about YOU. The YOUs that are just plain selfish and don't give a crap about other people. One day, you will get yours. Karma.
P/S: PMSing lah. 😛
P/P/S: No updates for the rest of the week. Busy helping Fiona with wedding stuff.
November 13, 2007
I was at work on my birthday and little did I know I would be surprised once again…with a beautiful bouquet of PINK roses!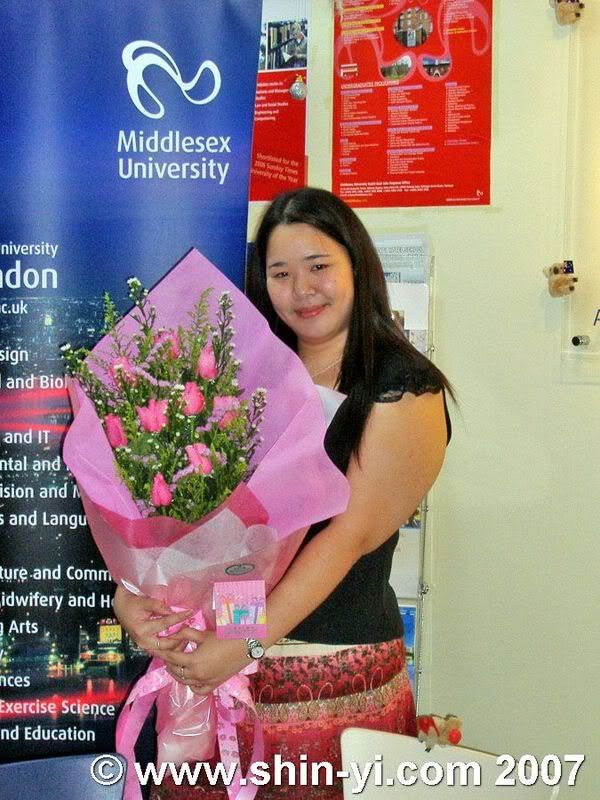 The culprits…
……………
…………..
…………..
………….
Jasmine and Carolyn.

I really like this picture of them. It's very candid and cute.
The funny about that morning was that I was busy decorating the Christmas tree and heard someone at the door. So without turning back, I said in general to the both of them, "There's someone at the door!" I was told later that their initial plan was for me to get the door and see the bouquet. Attempt FAILED.
So I was still busy fussing over my artwork decorations until I heard a guy's voice say my name. I then turned around and saw a beautiful bouquet of roses that could just melt your heart. I was quite speechless! All I could do was excitedly saying "What did you two do?!" over and over again while they both had silly grins on their face.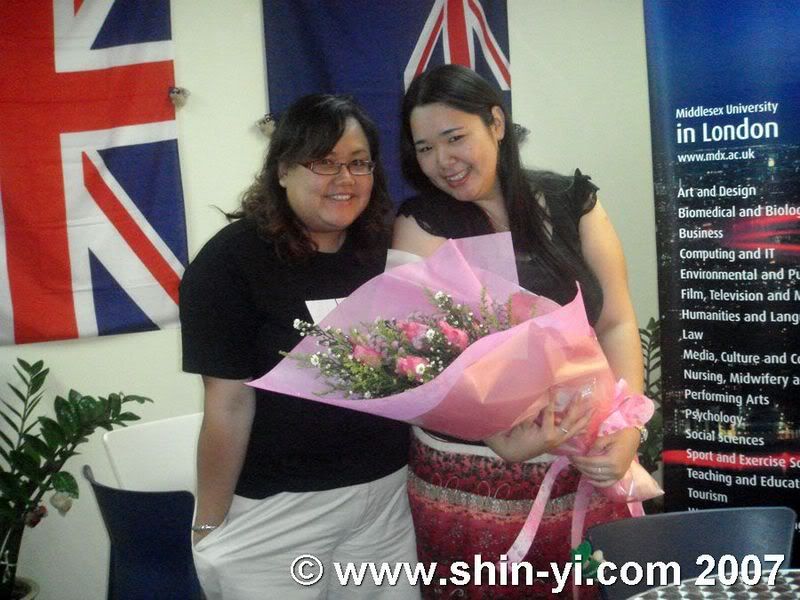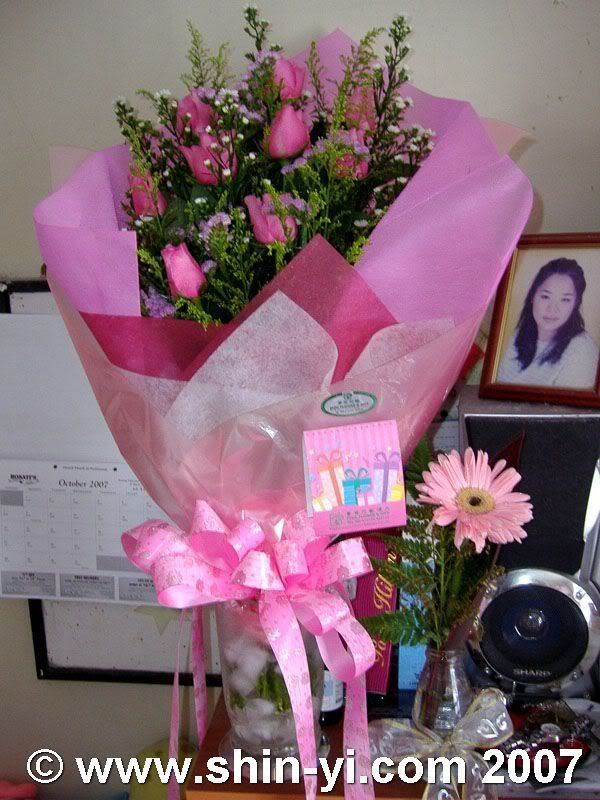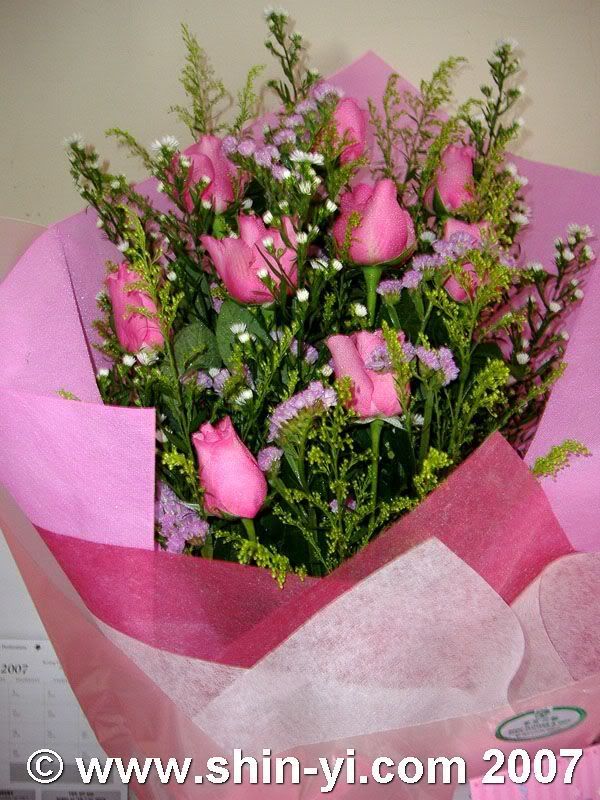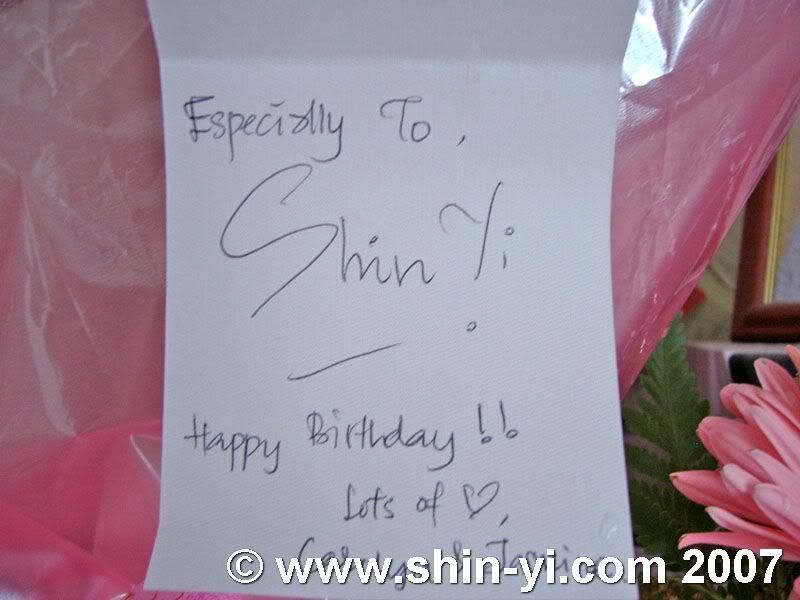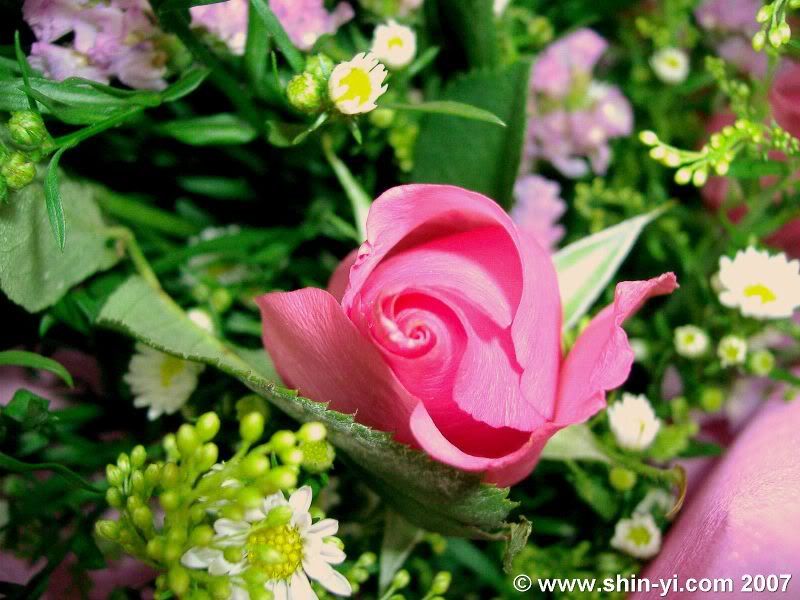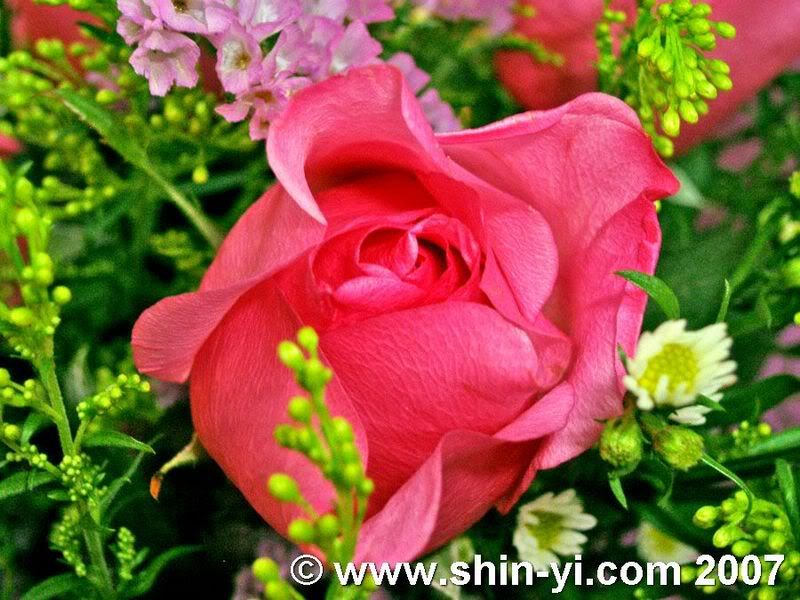 Nature's beauty
Soon enough I was busy preparing confetti for Fiona's wedding…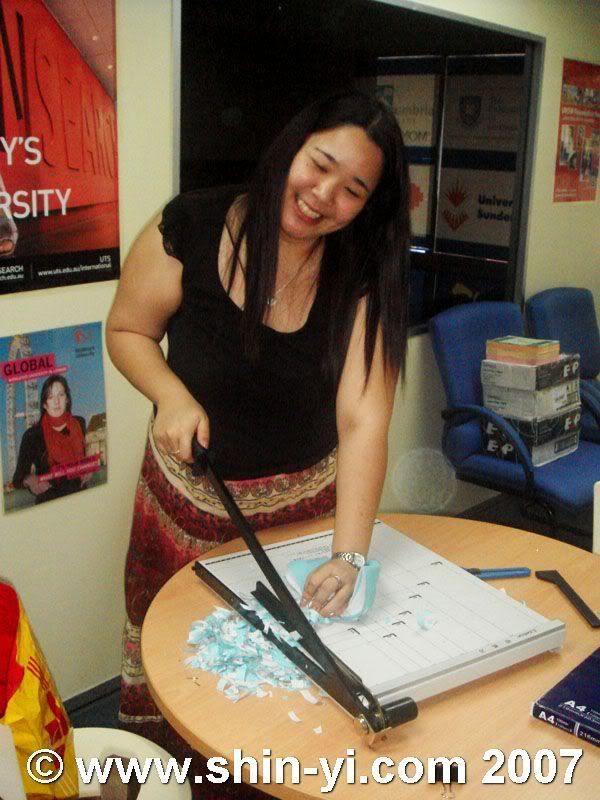 It was kinda fun. I got to put those biceps at work. HEH
Anyway I had dinner with my family and friends later that night at Joyous Shanghai.

Shark fin's soup with crab meat and scallops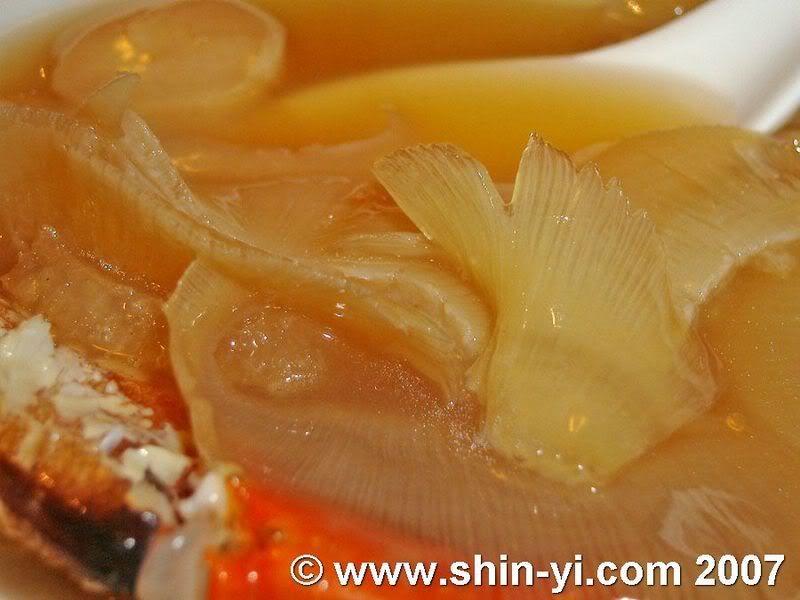 Drunken chicken

Breaded shrimp

Huang Ti Mien (Emperor's Noodles)

Marinated mango Thai style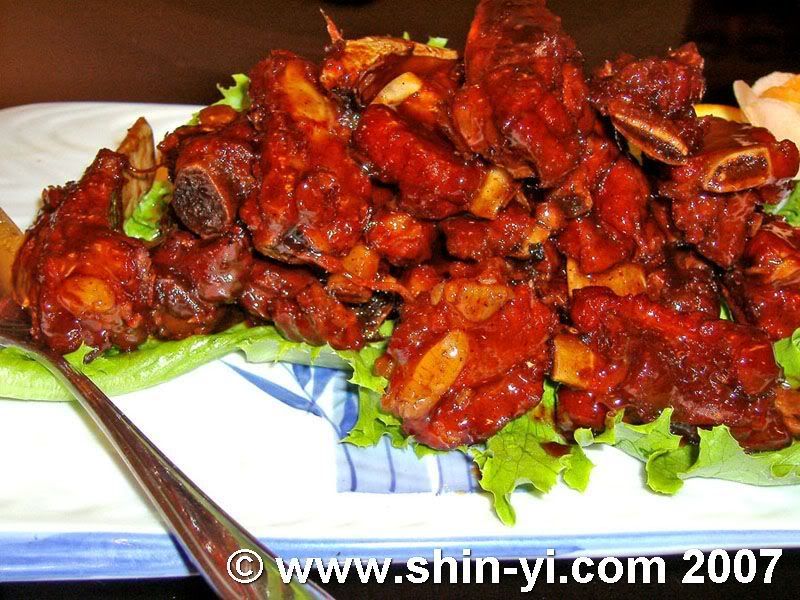 MmmmmmmmmmMMMMmmmmm succulent ribs

Just look at the glistenning juices…MMmmmmMMmm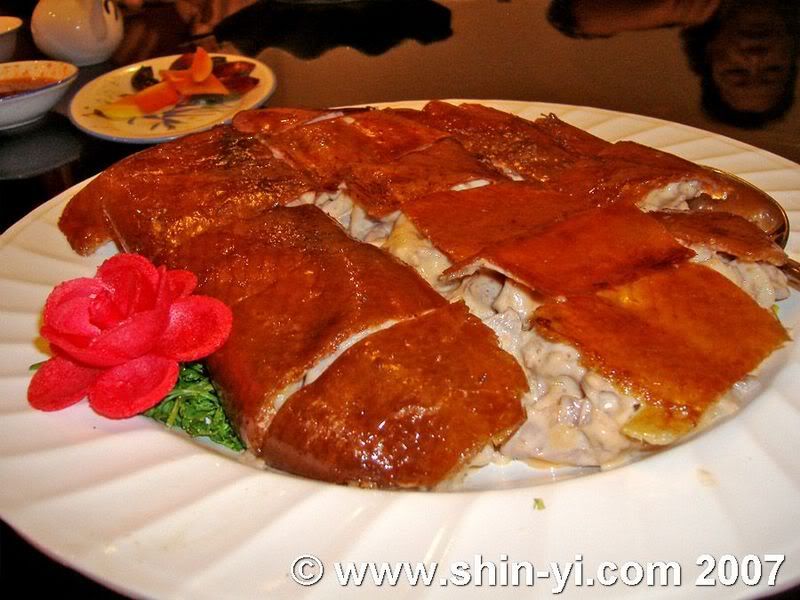 MMMMMMMMMMMMango Duck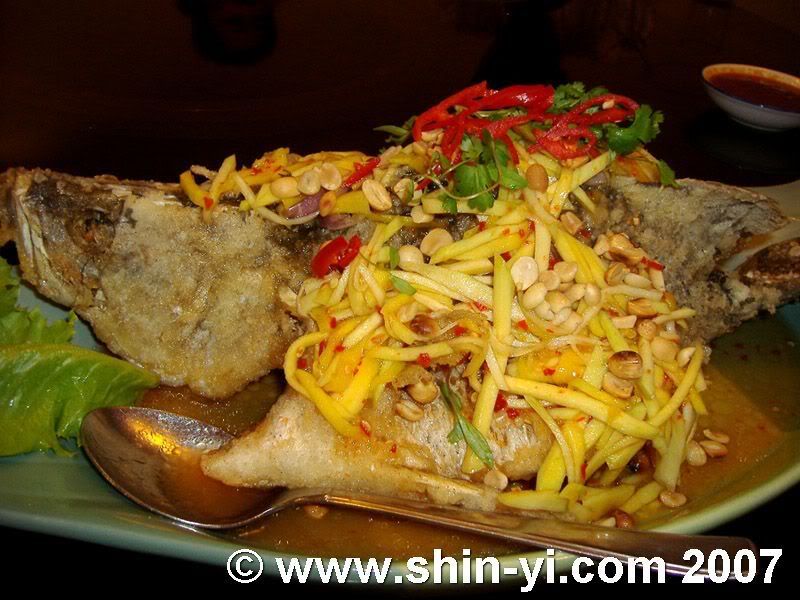 Thai style fish
Then came dessert…
…………
…………
…………
…………
DURIAN PUFF!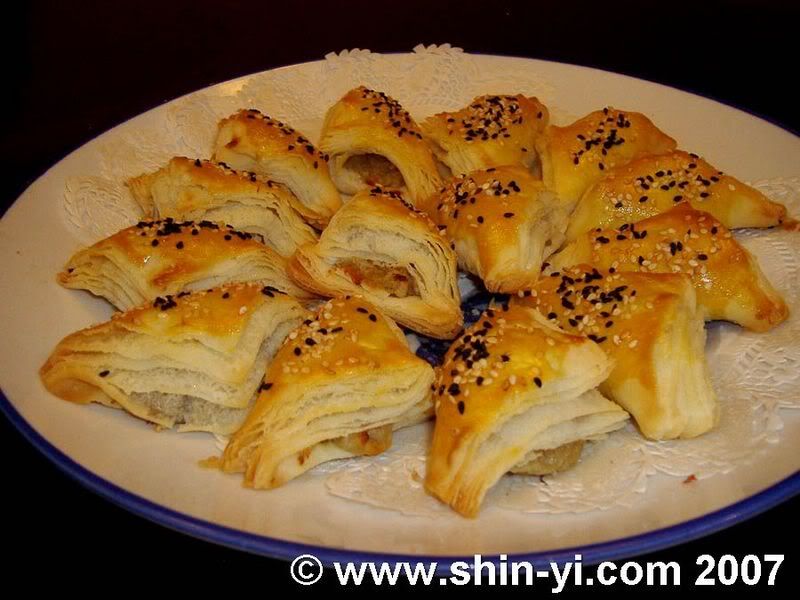 The pastry was OH-SO fluffy and crunchy. Absolutely mouth-watering thinking about it rght now.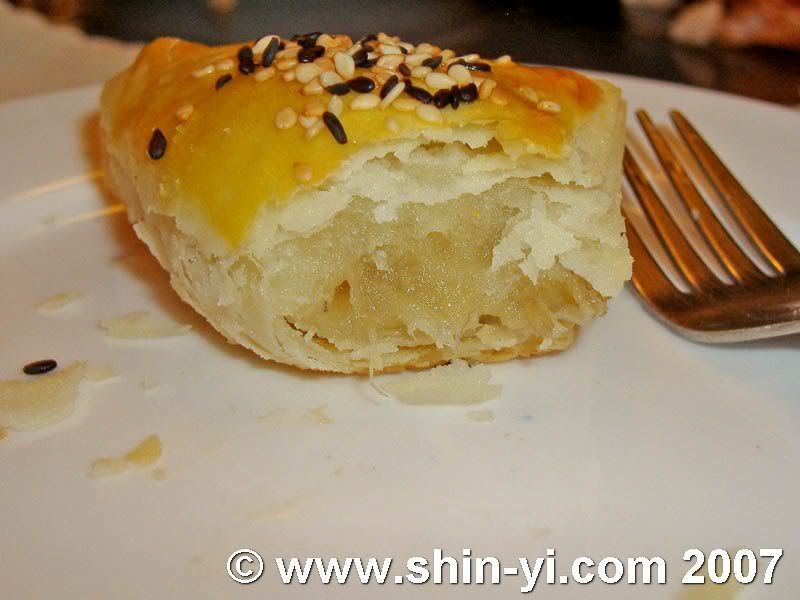 Another dessert…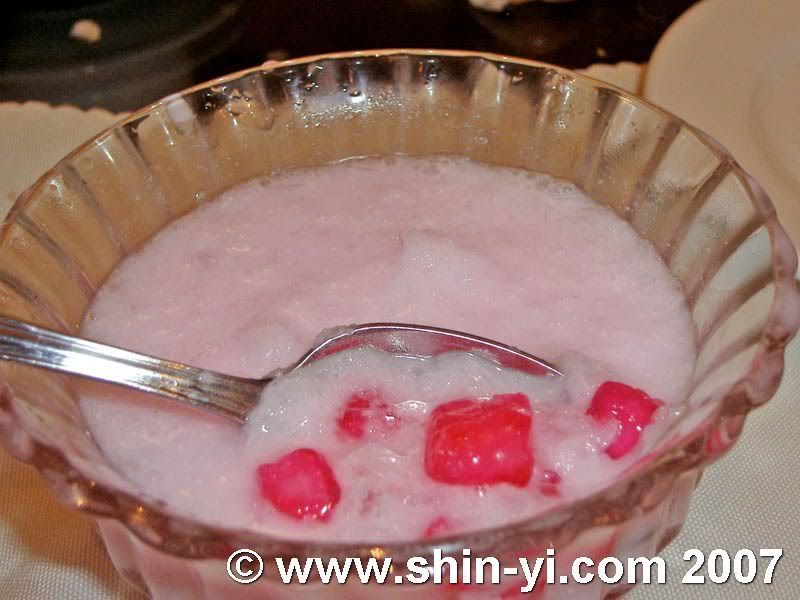 Water chestnut with coconut cream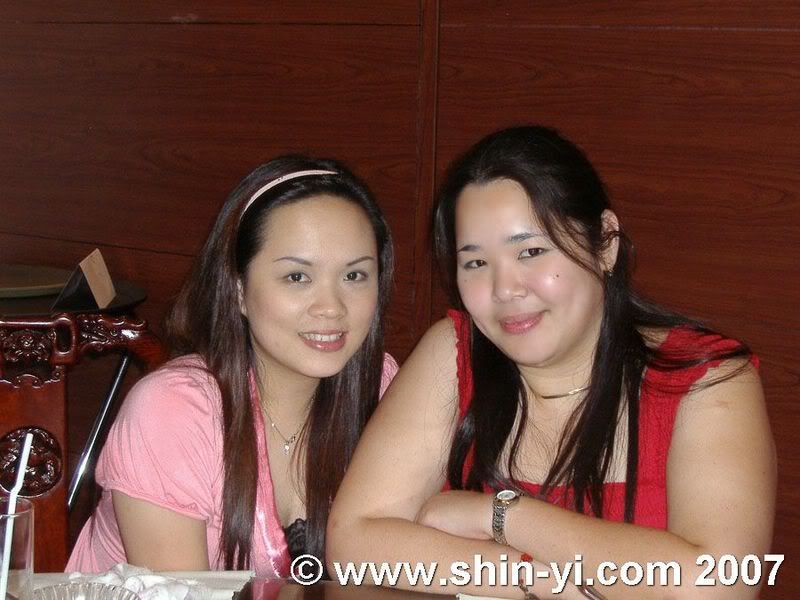 With wife-to-be Fiona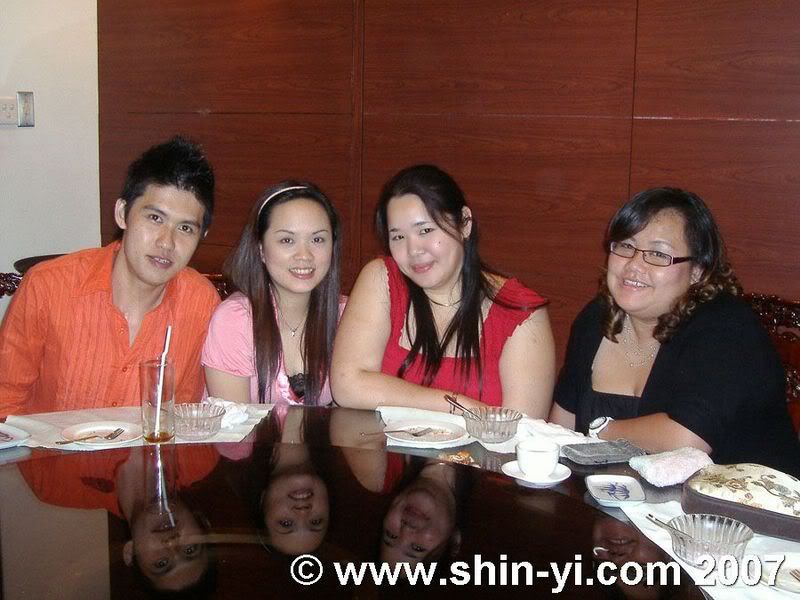 Husband and wife to be, Moi, Carolyn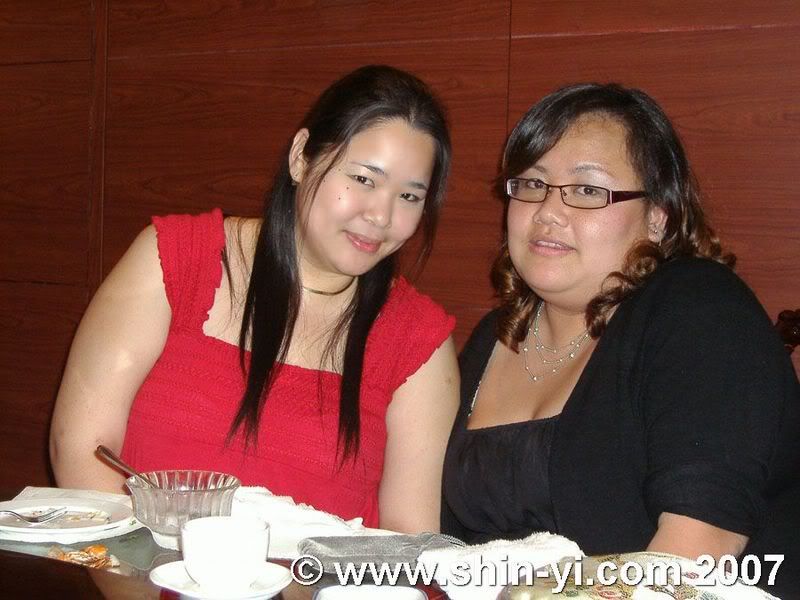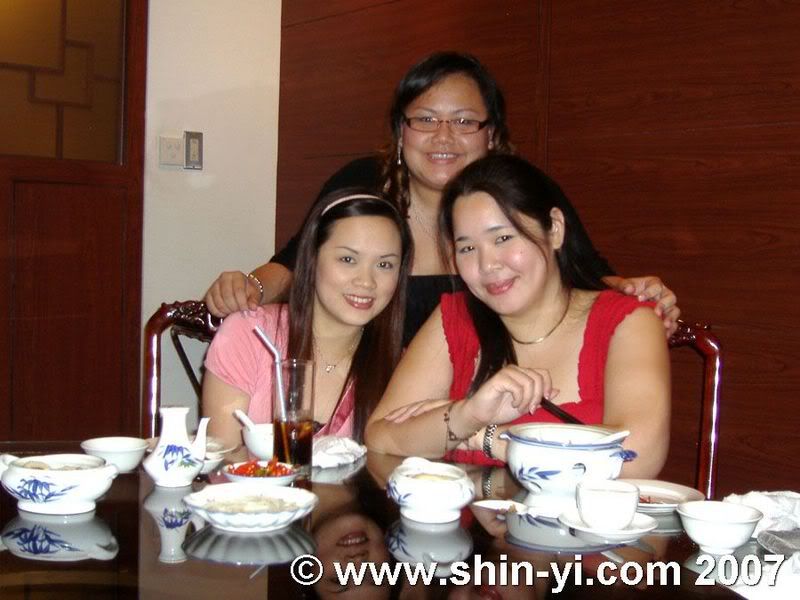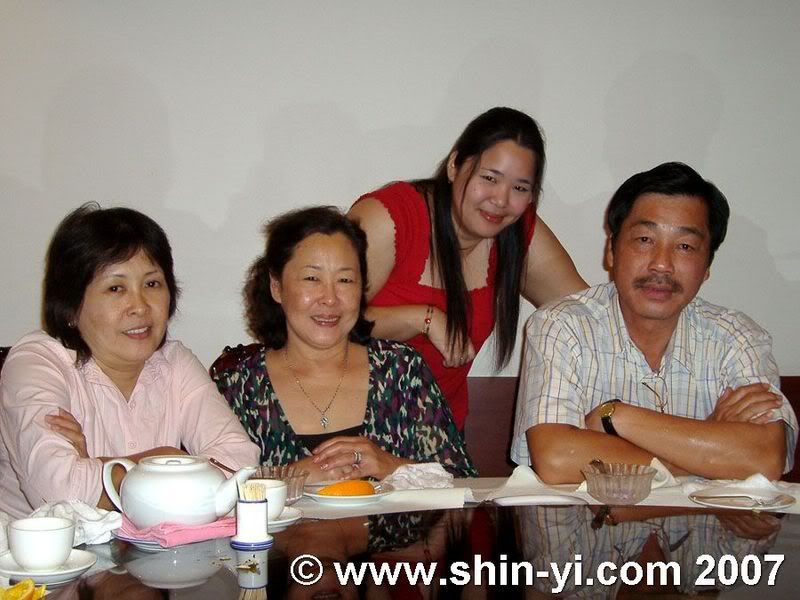 With Mom and Dad and Aunt
It was a nice birthday dinner, with family and close friends. It would've been kinda nice to have some celebration with my other friends but I've concluded that it's not neccessary to make a big-hoo-haa outta my birthday. I prefer quality time with quality people during my special day.
Overall, a very very nice birthday this year. Looking to a wonderful one again next year. 😀
November 10, 2007
November 4th 2007
My birthday celebration this year started as early as Sunday (4/11) at Merdeka Palace's Ristorante Beccari. The reason why we celebrated early was to go have dinner at the Great Sunday Buffet, which consists mostly of Italian food and some Japanese and TONS of desserts.

Carolyn organized such a nice time for both Fiona and I. Everything was so well thought out and went smoothly. She even surprised us with gifts, flowers and cakes, one cake for each of us. It was very nice of her to go through all the trouble in making sure the night went on perfectly. She even decorated my cake herself! Am so touched!
I think this is the first time Fiona and I celebrated our birthday together. Being just 9 days apart, we figured we might as well go for a nice dinner and indulge ourselves with sinful food.
Enjoy the GIGANTIC amount of pictures!
(Maybe you should go get a drink of water or something and come back to view the pictures?)

Gifts awaiting us at the table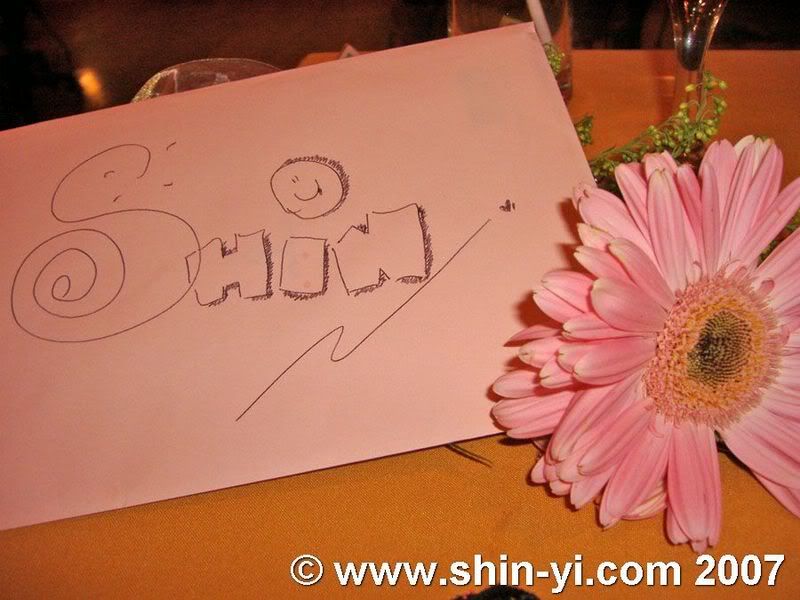 Bodyshop products! Shower gel and body lotion
I had this plan of going for the dessert table first in case they ran out.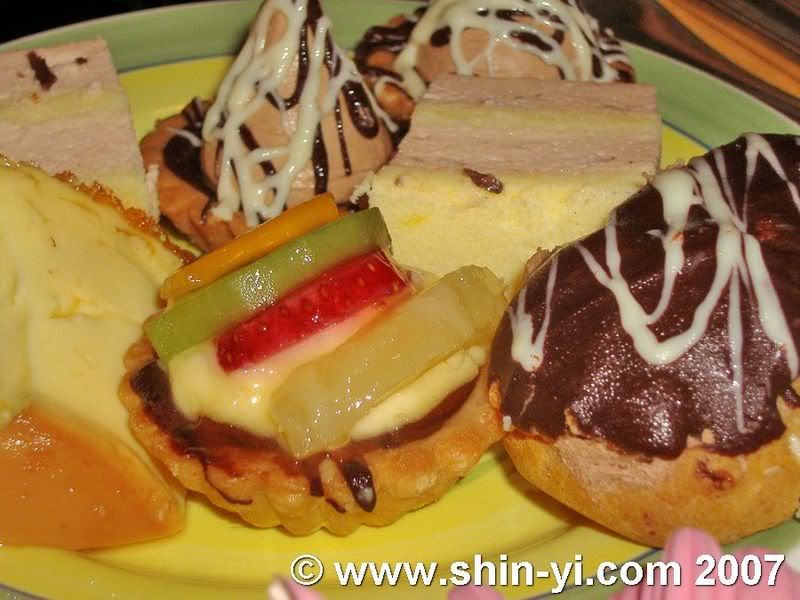 Something funny happened as I was busy getting tiramisu, one each for each of us. That means 3 pieces of tiramisu, as shown below. So I plopped the three pieces onto a plate while the other two girls were looking at me with wide-eyes and giggling. I was like "What?? One each lah!" and Carolyn proceeded to giggle.
Little did I know, it was actually SIX pieces together. There were 6 square pieces of tiramisu, as oppose to the 3 rectagular pieces I initially thought. In the end, the girls had one piece each while I finished it off…yes I ate the remaining 4 pieces.
My first round consists of potato salad, COLD beef lasagna, baked potato, lamb stew, roasted chicken and some brocolli. That was just my one plate.
The second round, we had pizza, pasta, more desserts, sushi etc. We had other plates of food we shared.The amount was almost endless come to think of it.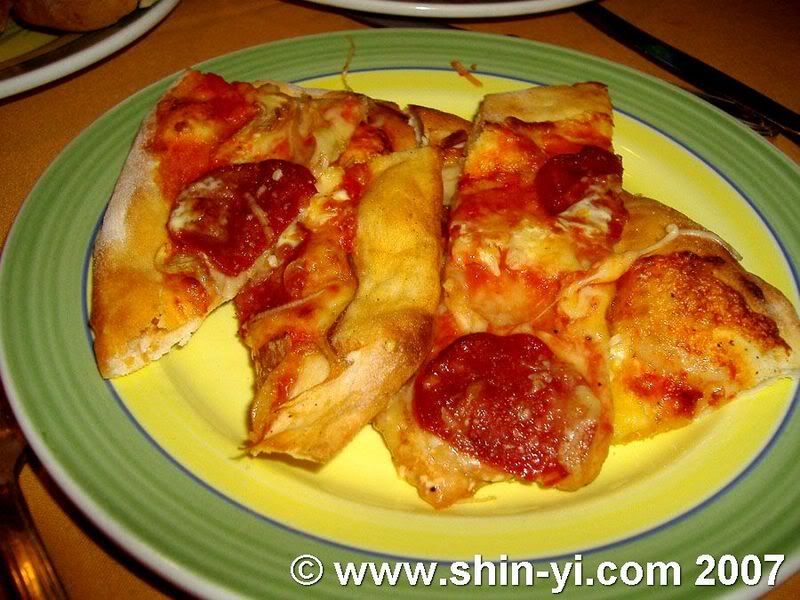 MMmmmm thin crust pizza – crunchy and cheesey!
Eventually we slowed down a bit and started camwhoring…

Birthday girl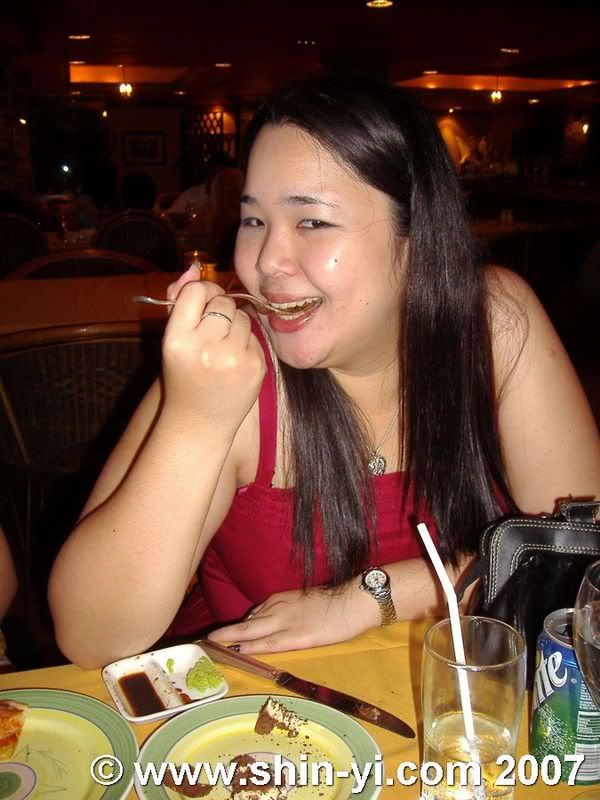 Enjoying tiramisu to the fullest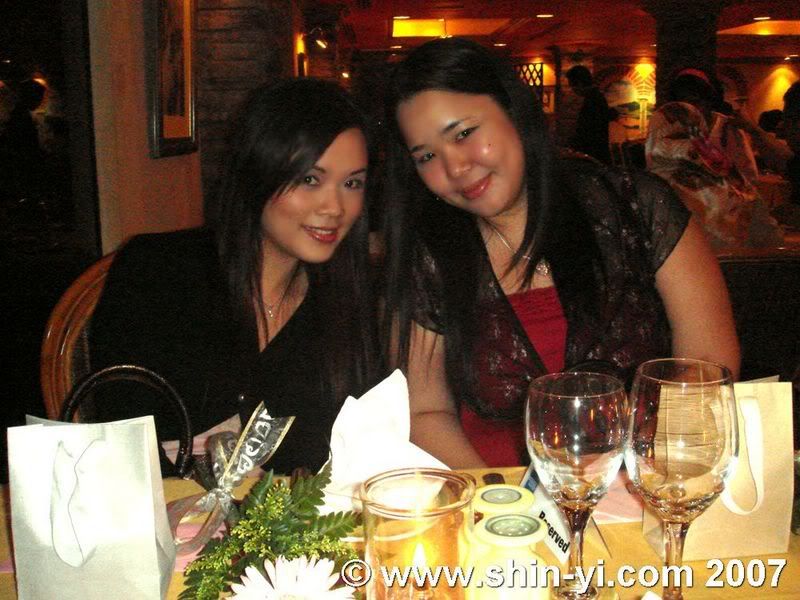 Birthday girls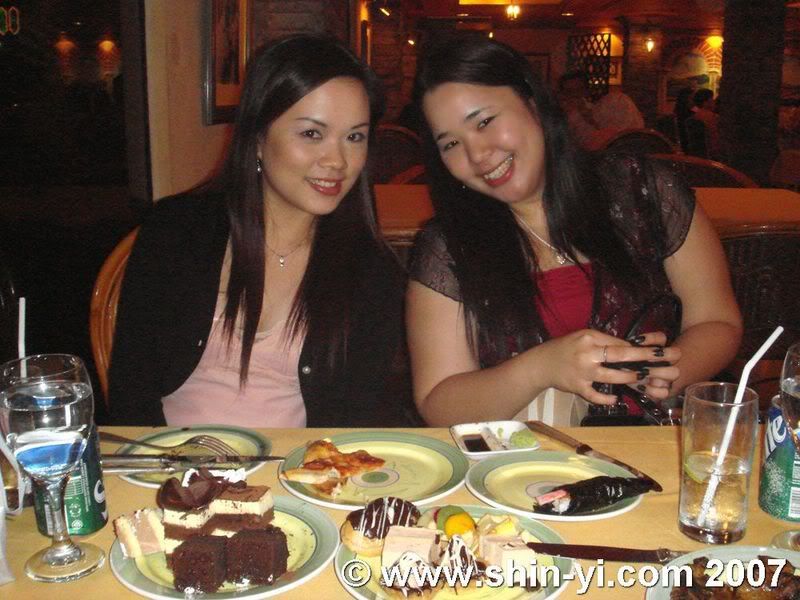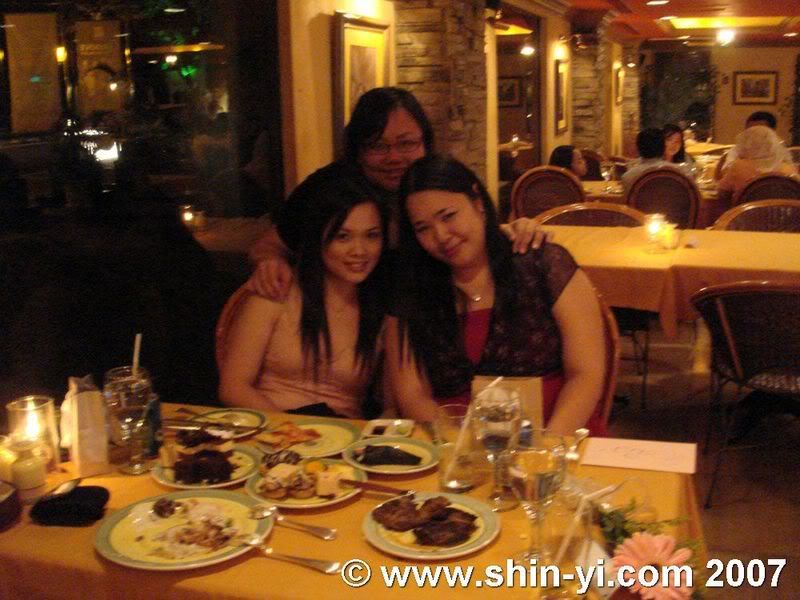 Birthday girls with the sneaky culprit (will explain further down)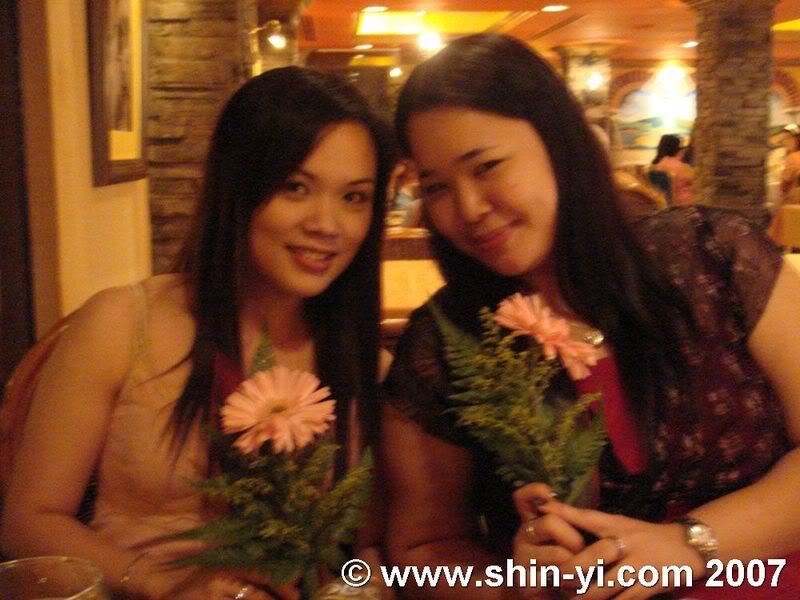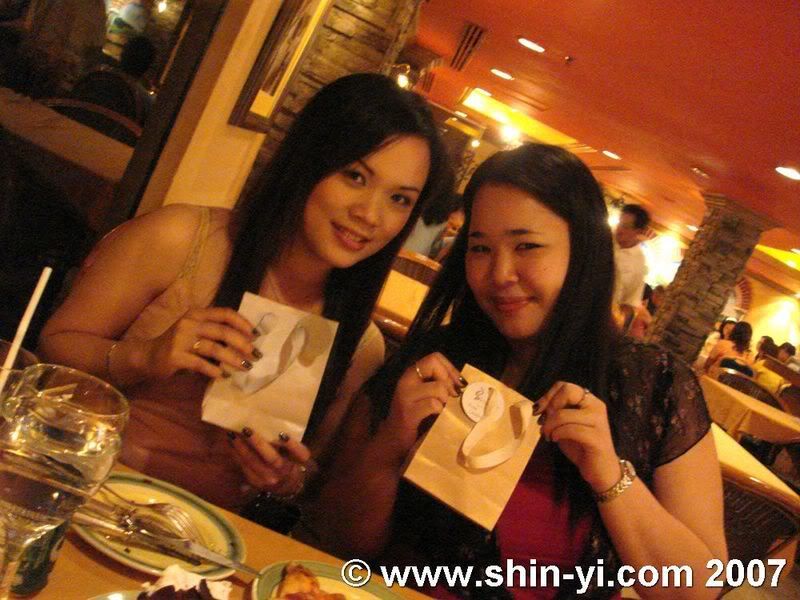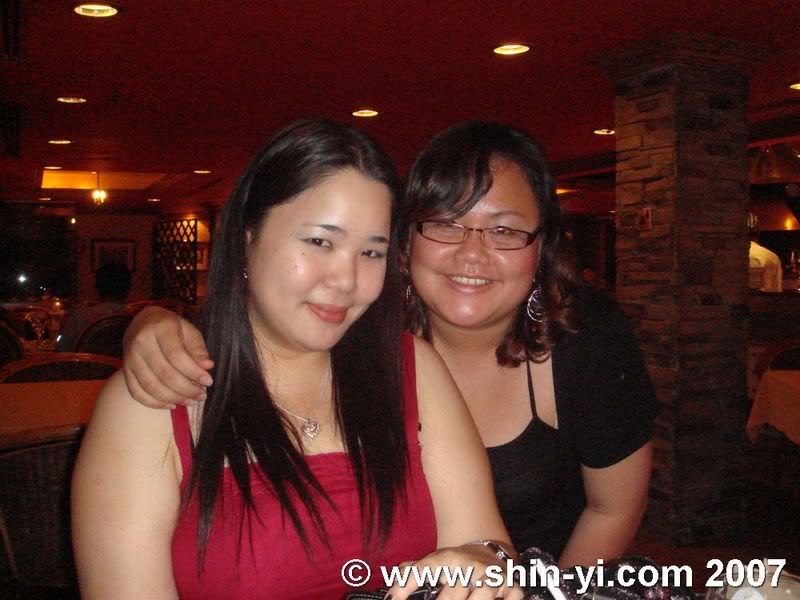 I have no idea what she's trying to do. I'm just glad she wasn't aiming for me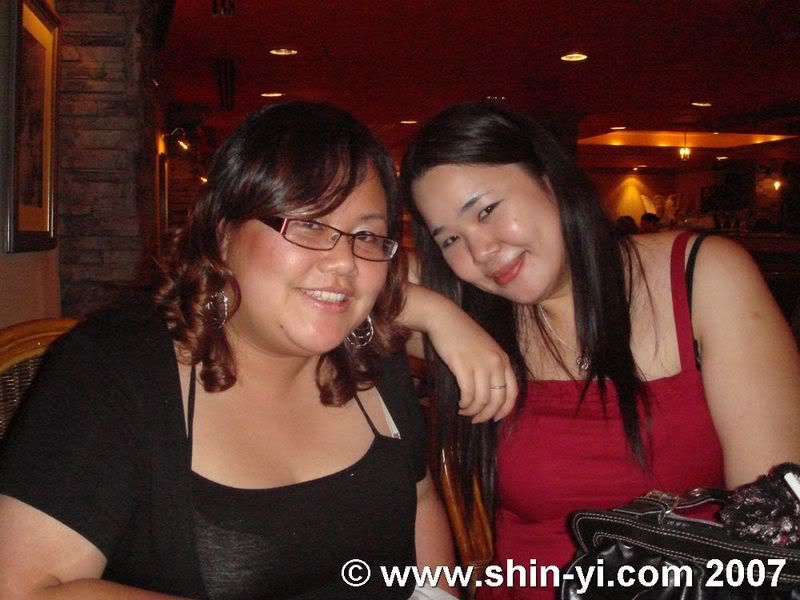 Inspecting Fiona's cardigan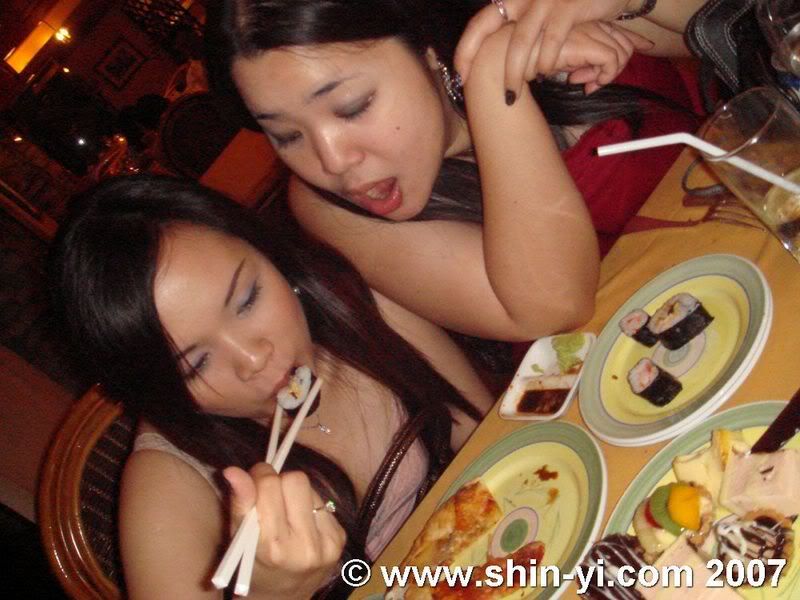 That particular sushi looks yummy…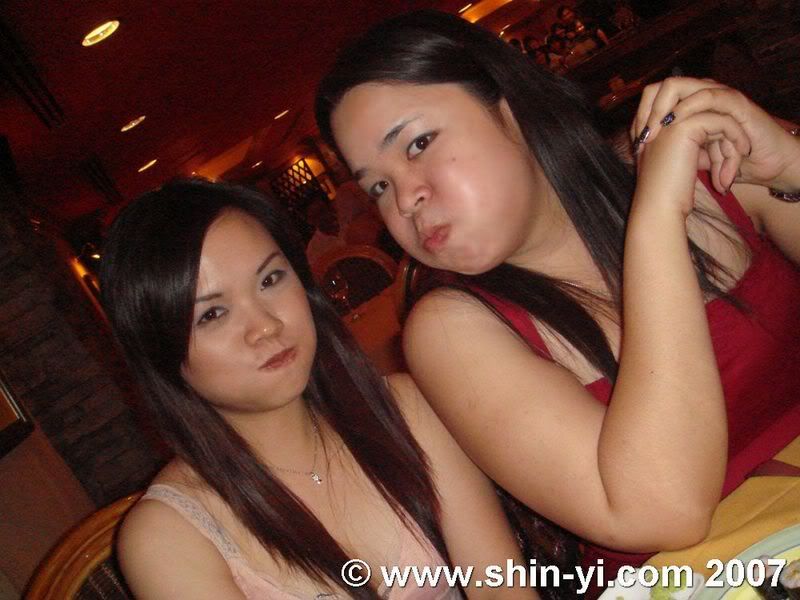 When we finally decided we couldn't eat anymore, we asked the waiter to clear the table. Little did we know, Carolyn had other plans.
Out of nowhere two waiters came out with cakes…yes one cake each. One cake in particular seemed GIGANTIC…it was one of my favourite from Secret Recipe. WHITE CHOCOLATE MACADEMIA CAKE!!!!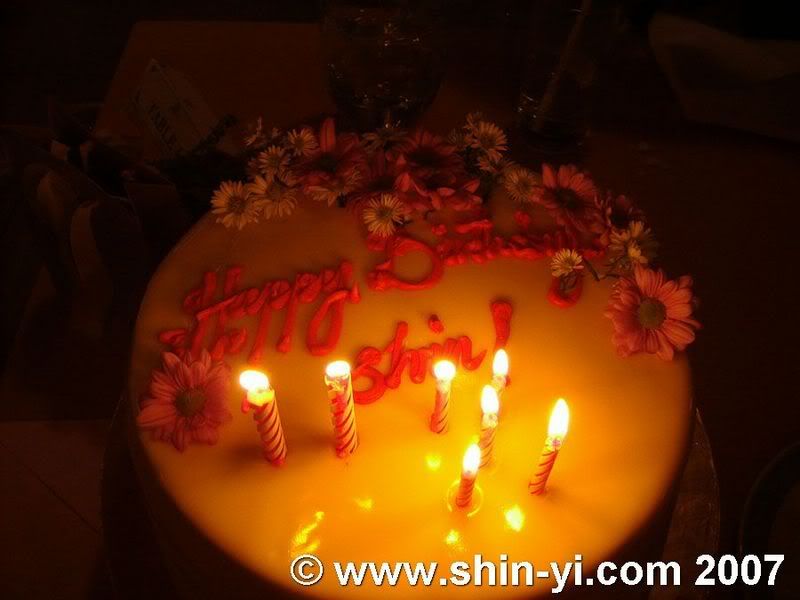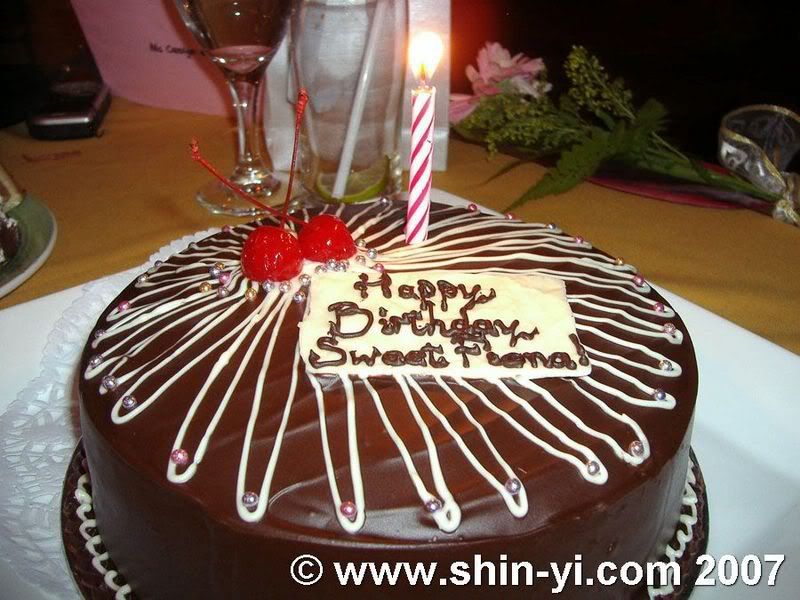 Fiona's chocolate cake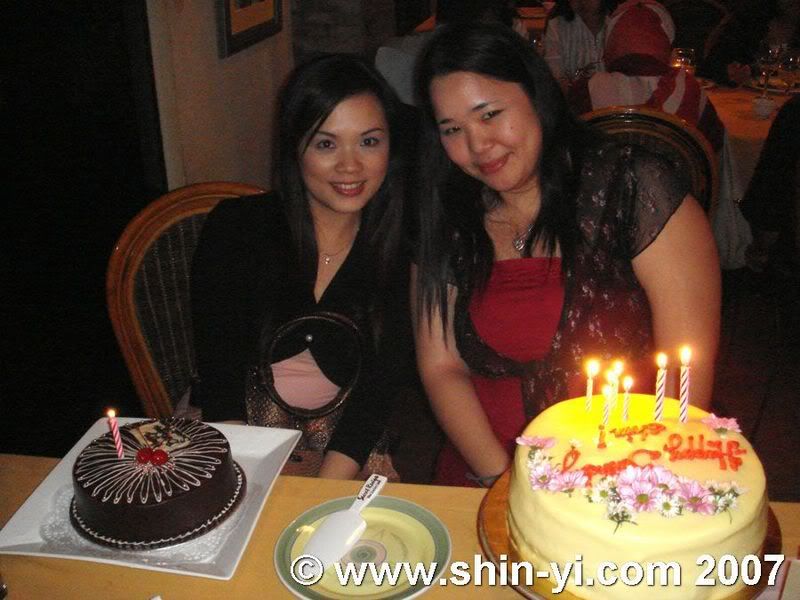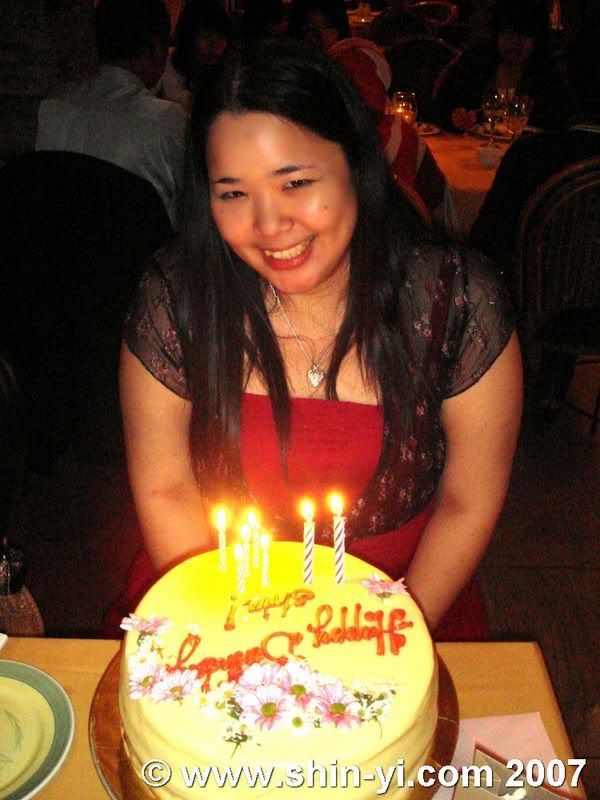 Making a wish so that Rob wins millions of dollars and I don't ever need to do a thesis again.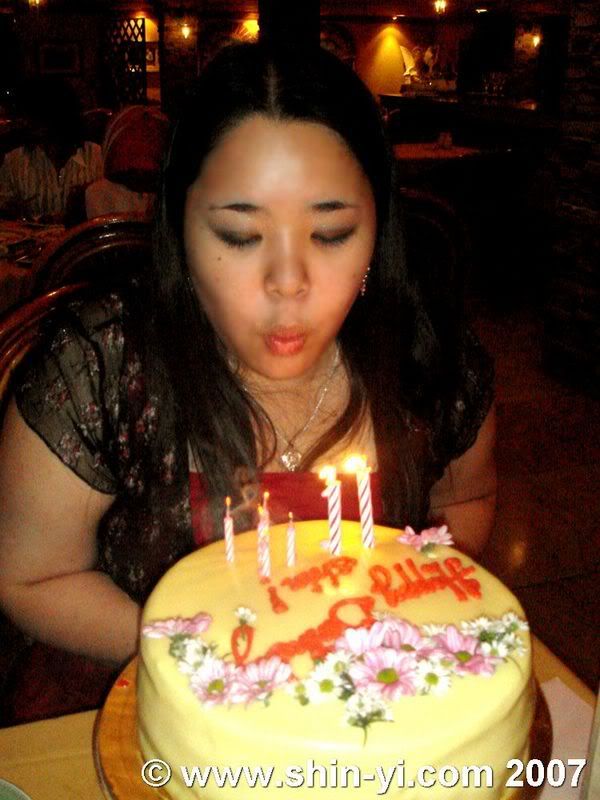 Blowing out the candles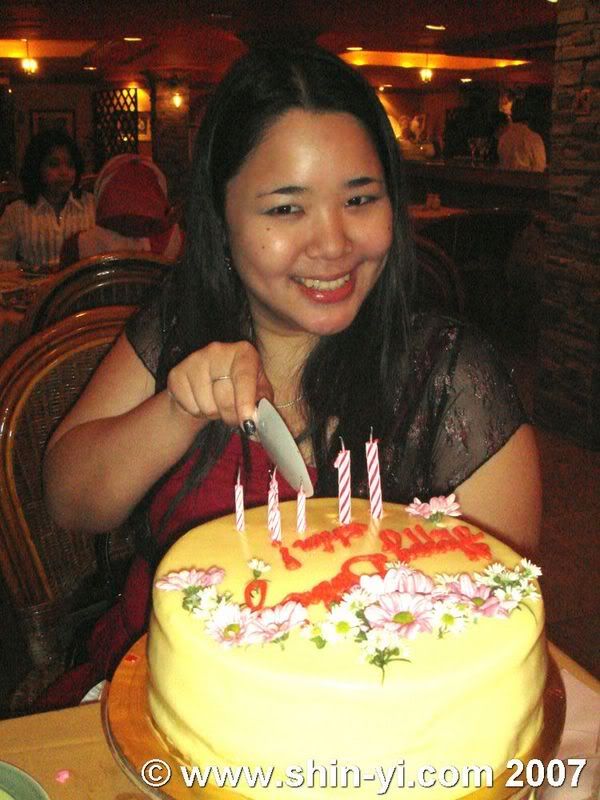 Posing for the camera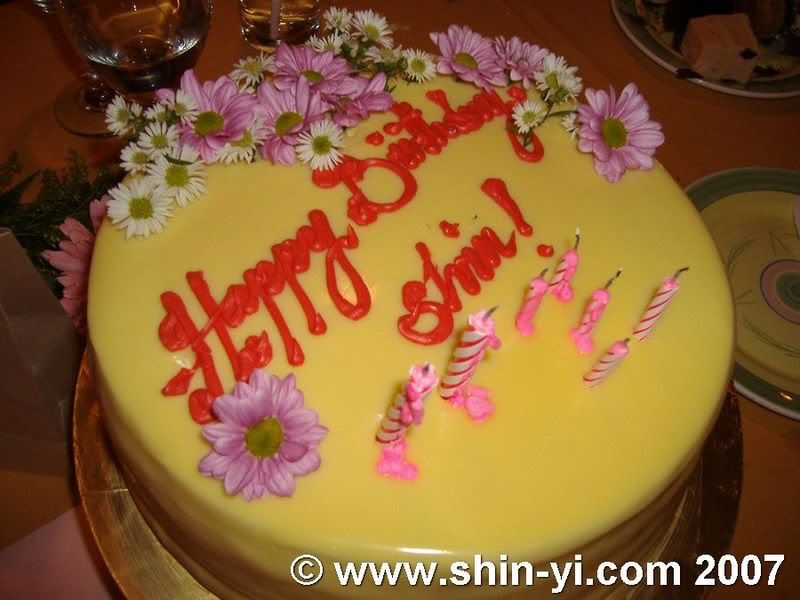 Such a pretty looking cake right? Carolyn decorated it with fresh powers cause she thought it looked too plain being all white. I thought it was so sweet of her to do that. 😀
We were so full that we decided not to eat the cakes and took it home with us.
Just to show you how big the cake was, look at the difference of the size of the box.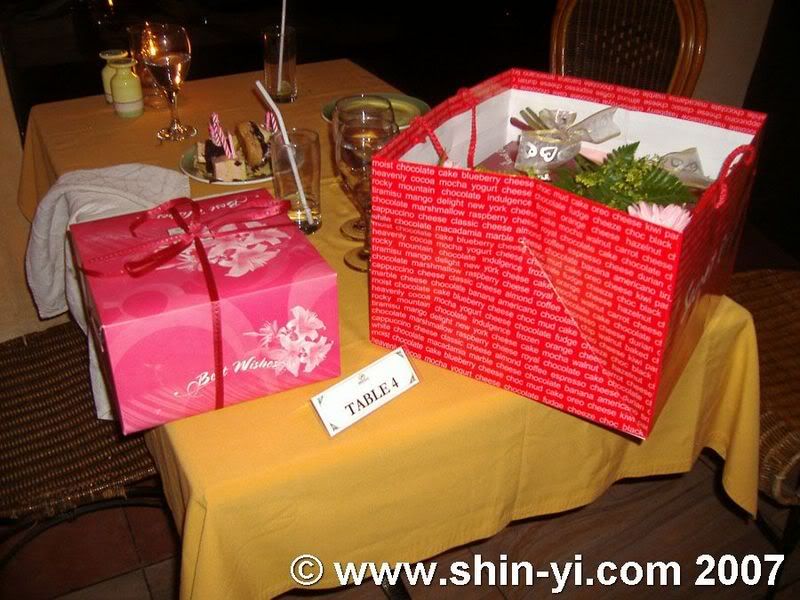 Upon reaching home I had to partially empty the fridge so I could fit the cake in there. HEH

This is how tall the cake is.

I love the flower decorations.
Anyway, the next morning I woke up, brushed my teeth and wash up like any other day. I went downstairs into the kitchen. I open the fridge, took my cake out, opened the box and this is what greeted me good morning…
…….
…….
…….
…….
…….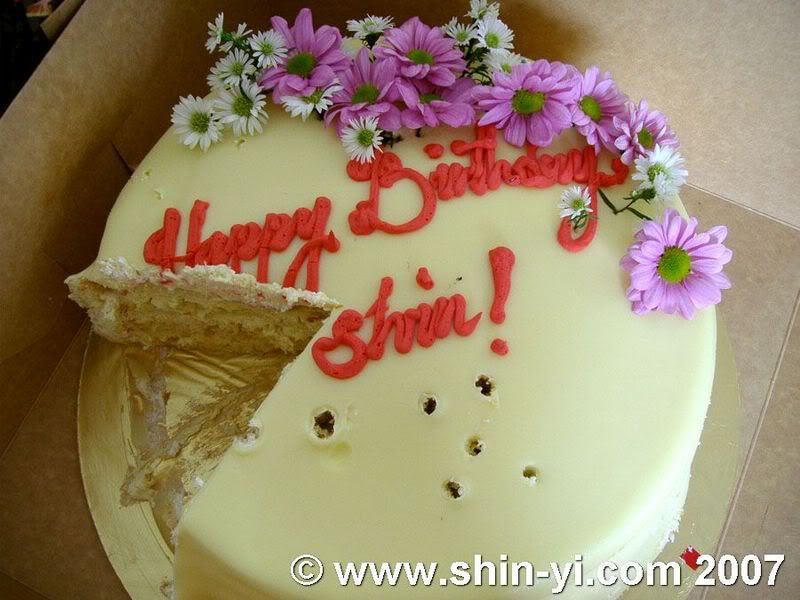 Who ate my cake?!?!?!
%$#!!%~&%#*(%#$!!!
November 8, 2007
It's midnight..
Happy Birthday to me.
Strange enough, I don't feel any different hitting 25. Perhaps a decade ago I was expecting to be working and have everything perfect in my life.
Instead, I'm in school almost struggling to get the thesis done and just last week had my supervisor tell me to redo a certain chapter. Also, I'm somewhat saddened and disappointed by a few friendships. *sigh*
At the same time, I'm alive and well. I get to be 25. I get to pursue a Masters Degree. I have eyes to see the world and ears to hear the music of life. I can read, I can write, I am fortunate. Most importantly, I am loved.
Maybe in another 10 years time I'll be what I dreamt of when I was 15.
November 6, 2007
Got the pictures back got the pictures back! *jumps in joy*
It only took like *counts* 2 months. 😛
Here are some samples.
The wonders of makeup and Photoshop eh? In some pics I look kinda plastic.
Part of the package was 6 5R prints, touched up and all that stuff. The thing is I didn't expect to get ALL the pictures in a CD, including the ones I didn't choose. Now I can go print crazy.
I'm turning 25 in a day…I don't know what to think of it…yet.
November 4, 2007
I splurged a little this week and am really happy with my purchases. Since my birthday is coming up next week, I figured I'd get something nice for myself. Haven't done that in a while. Then again, I suppose it's just an excuse to splurge. Heh
My purchases:
1) Kate eyeshadow
Kate is a sub-brand of Kanebo, the skincare and cosmetics brand that my mom uses as well as the one who did my makeup for the photoshoot thingy back in August. (Speaking of that I GOT MY PICTURES BACK LAST NIGHT!!!! VERY SATISFIED!!!)
I had wanted to get this eyeshadow since the first time I saw it but it was not on sale. When I was looking around at Everrise the other night, it was on sale for 10% off so it costed me about RM43. They come in gold, blue, purple and silver. I opted for blue to go with my blue dress that I'll be wearing soon.
The eyeshadow comes with powdered eyeliner that really enhances the eye. Since I have sepet (smaller) eyes, it was a good thing to have. I mean, look at the results!

My eyes are HUGE compared to my natural look, LOVE IT!
2) Kate nail polish
I had not planned on getting nail polish but the salesgirl had this killer nail polish that I thought was absolutely pretty, even though it was black. Yes, BLACK. I have never used black nail polish before. I'm more of the blue-pink-purple shade kinda girl. Anyway the nail polish was on sale too for RM9.80 each.

See, not very me right?
The thing that made the nail polish nice was the glittery coat over it. The pink glitter one is kinda see-through, so it didn't effect the color of the black. It turned out absolutely stunning! 😀 I personally think that going darker shades on the nails actually makes your hand look fairer. What do you think?

The glitter makes a huge difference
I'm so so SO satisfied with my purchases. 😀
Yes, just two items (technically 3)
For some reason, I'm starting to get into Kate's cosmetics. I think I wanna go back to look around for some other stuff, like lip gloss and eyeliner. Heh sometimes I wish my job was shopping.
Okay I'm gonna run, Westwing is back on NTV7 at 1.30pm Sundays!