Archive for January, 2008
January 30, 2008
I know I have been slacking in terms of blog post lately. I just can't find the motivation to blog about anything. I have tons of pictures from dinners, birthday celebrations, and the house. Instead I spend more of my time nowadays in the living room downstairs while people work on the house. It's kinda boring.
Speaking of that, the room is almost done. I would say about 90%. All that is need to be done is painting. We'll get the dining set on Friday and curtains will be installed tomorrow. Pictures will be up once all is done.
The Chinese New Year is just around the corner and traffic has been busy. Just today, when I was on my way home from work, I was stuck on the road for a good 20 minutes before moving. I suppose everyone is doing their shopping and preparing to usher in the new year. Speaking of which, I need to clean up my room because it is abso-freaking-lutely messy; books and papers and clothes laying around. Yes, I'm THAT messy. =S
Okay I'm signing off for now. Got some stuff to read.
January 27, 2008
It's your birthday today,
How I wish I was there,
So we can go out and play,
And have nothing to care.
It's your birthday today,
How I wish I was there,
So I can look in your eyes and say
I love you very much Robear.
Happy Birthday Baby!
January 18, 2008
Sorry I have not been updating this week. Been sick for almost a week now, nursing some kinda bug. Add to the fact I have nothing that interesting to talk about and the things I wanna talk about are personal and may offend some people so I rather not go into it.
A couple of the medications I'm taking makes me feel floaty. One is for my cough and the other for my sinus. Everytime I take them I get all dizzy-floaty within 10 minutes. So I stopped taking both since Thursday and my sinus is not improving. I suppose that means I gotta keep taking them huh? *sigh* The whole dizzy-floaty feeling really sucks. It makes me crabby I think…right honey? *looks at Rob*
Well the meds are kicking in so I better get some sleep before I get all wordy and weird. Bye~
January 11, 2008
I had a fun time shopping with my two crazy friends on Thursday and the crowd was massive! I bought 2 pairs of shoes and 2 tops and ate at Sushi King (AGAIN) and spent all about RM100. Not too bad I'd say.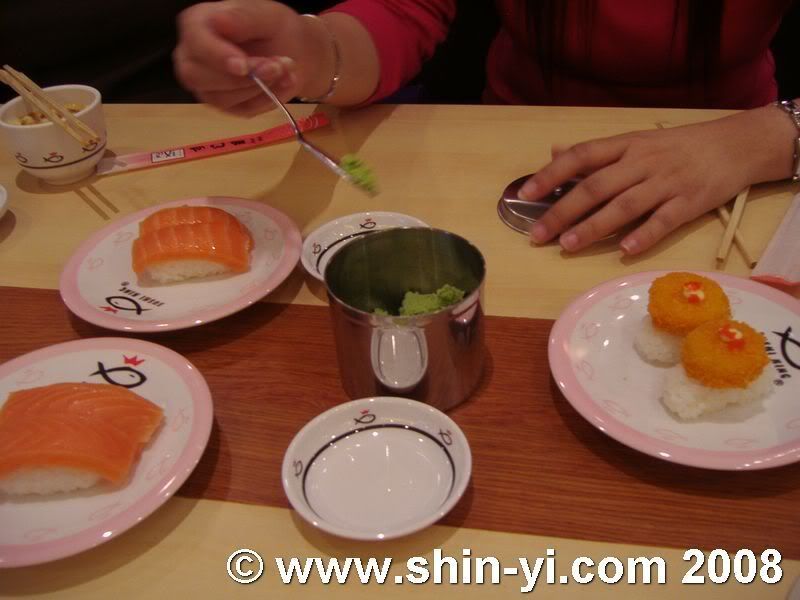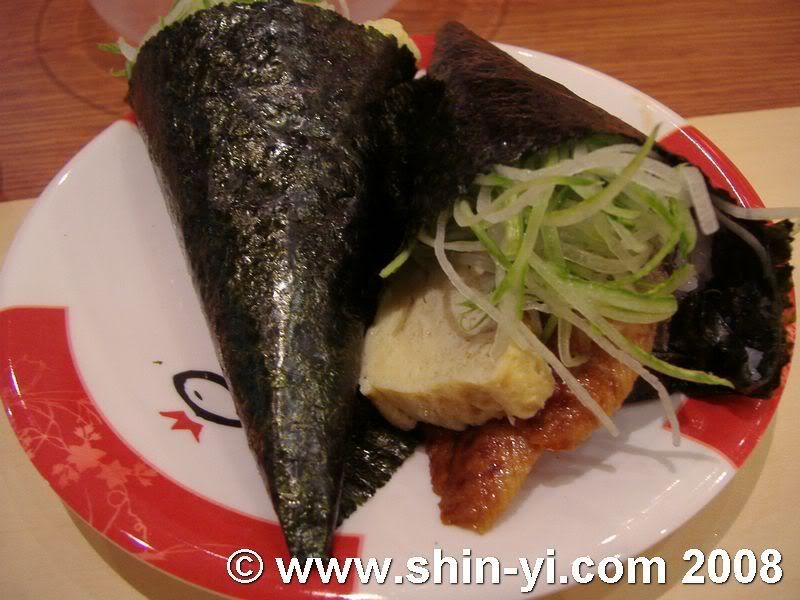 Buy 1 free 1 promotion – Unagi roll of sorts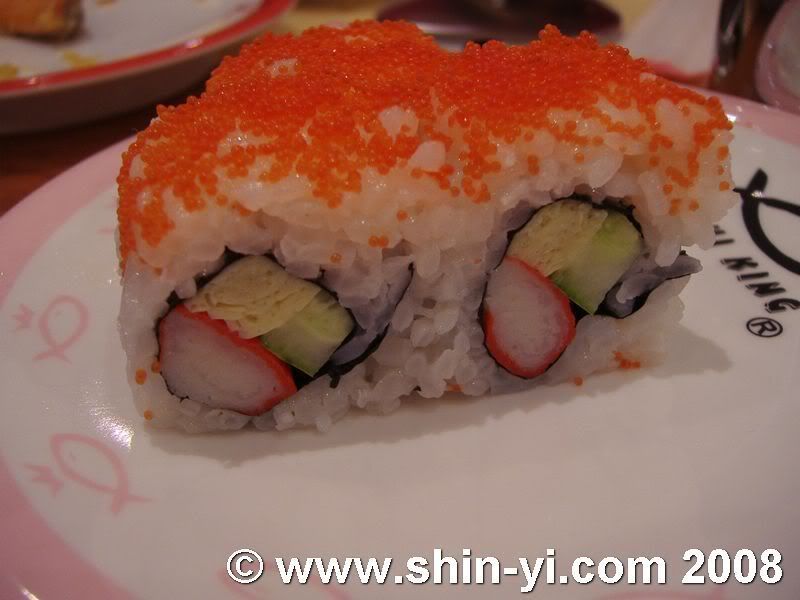 California maki

Don't know what this is called but its fried egg and crabcakes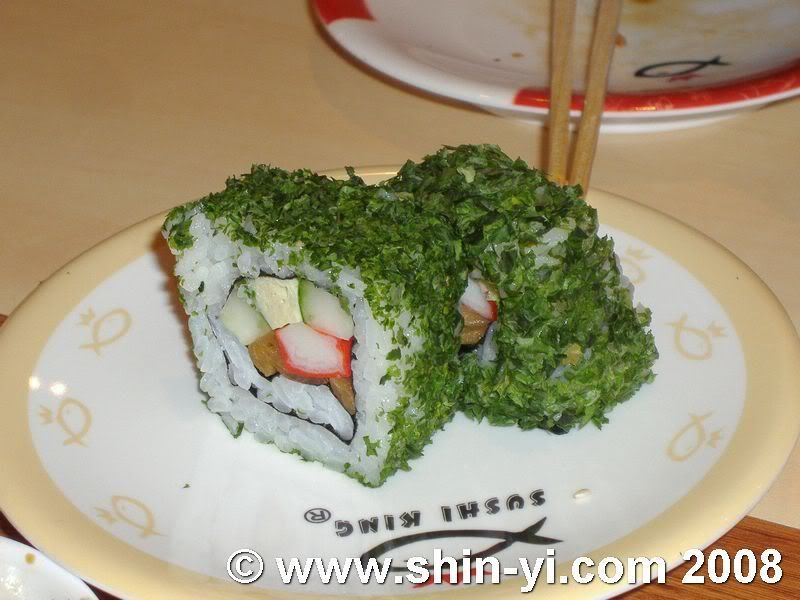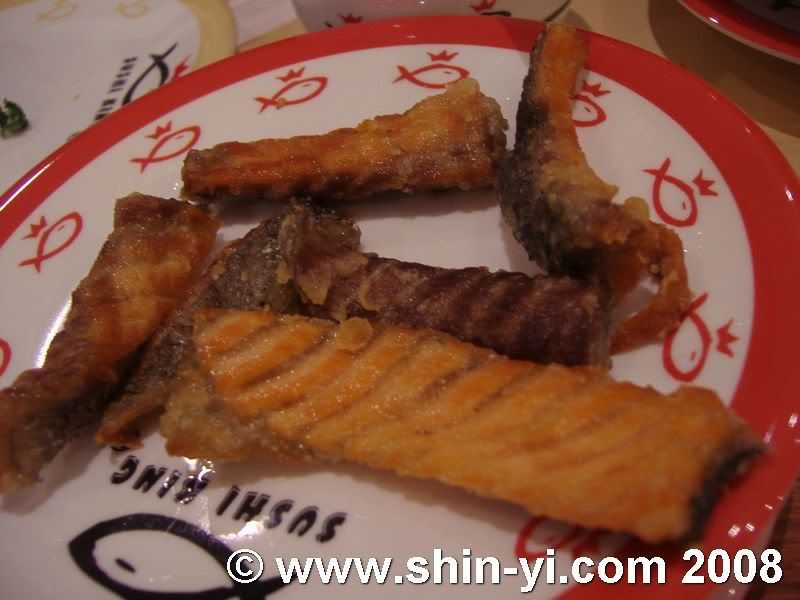 My new favourite – fried salmon skin!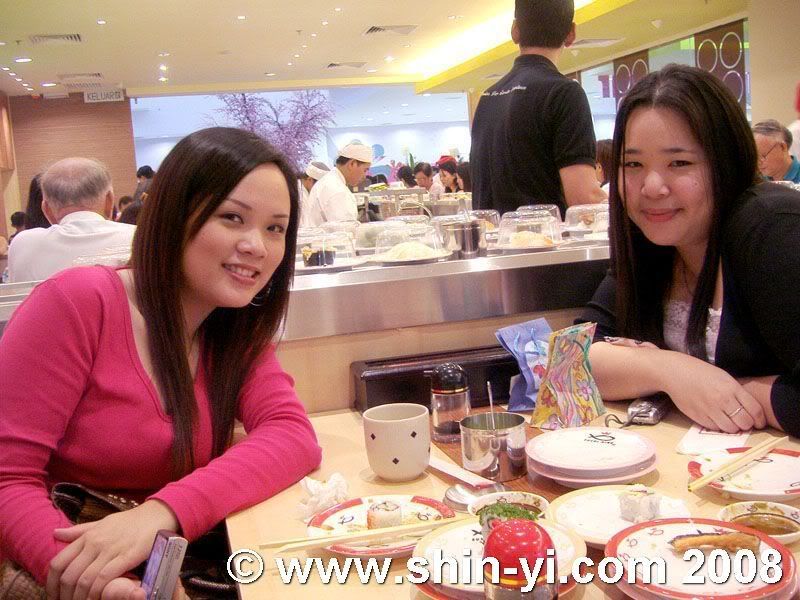 With my two partners-in-crime camwhoring
As we were about to leave the mall, we got stopped by a reporter with the Borneo Post and got our pictures taken. So, yes we were in the papers today. Not just the Borneo Post, but the Chinese newspaper See Hua Daily as well. It's probably a translation from the one in the Borneo Post. It's kinda weird to see myself in the paper, but at the same time I think it's funny too. The article is even featured in the Borneo Post online but no picture of us.

See Hua Daily

The Borneo Post
I went again last night cause the parents wanted to check out the supermarket that sells a lot of imported stuff. When we left the carpark was INSANE. Cars were honking like crazy and there was this long line up until the exit/entrance. So we decided to get out of the car and walked around some more. By 9.30 we went to the car and there was STILL massive jam. I wondered if the security guards were sleeping on the job.
As we squished our way out of the parking spot and moved inch by inch forward for at least 15 minutes, we finally saw the security personel instructing cars to different exits. I soon found out there was 2 exits/entrances. I think there should be more signs and directions in the carpark but that's just my two-cents worth.
Anyway, Rob's coming online soon.
Time for some cyber-snuggles!
January 9, 2008
The Spring is opening tomorrow to the public. It was officially opened today by the Chief Minister. This evening the mall opened for exclusively invited guests for the opening of stores like Esprit, Roxy etc.
Sadly, I was not invited.
BUT on the way home from dinner, we saw many cars turning into the newly-built mall and decided to try our luck to look around. Upon arriving at the front door, security guards were stopping people who were walking in, asking them questions and whatnot. I suppose the "public" were not allowed in the mall. My mom, sneaky as she is, glided herself with a group who were allowed in and walked in with ease. I followed from behind but was stopped half way. Actually I could've kept walking in and ignored the security guard but I figured that would look like I was guilty so I stopped. The conversation followed as such
Security guard: Where are you going? (DUH)
Me: I'm going inside
SC: Do you work here?
Me: No
SC: Then I cannot allow..
Me: I'm invited by my friend from one of the stores..
SC: Which one?
Me: The one on the second floor
SC: …..
Me: Ok?
SC: Ok
Me: Thank you
ROFL
I have to say I'm most proud of myself for maintaining my composure and confidence, while looking quite stern and convincing.
The mall is the biggest in town and very nicely designed. Walking in there reminded me of Mid Valley Megamall in terms of how the mall was divided into 4 sections, though it is not as big. There were quite a lot of people in there and I am most definitely sure that more than half of them were not invited guests.
Anyway, here are some pictures I took, exclusively for my readers.

I'm going over again tomorrow for its first opening day cos I am KIASU and I'm pretty sure it'll be INSANE.
Will update if anything interesting happens.
Au revoir!
January 8, 2008
I'm sure most Kuchingites are aware of the new mall in town – Boulevard (how original) and I've been to that place a handful of times since it was opened last year. The next mall I'm sure everyone is anticipating for is The Spring, which will open this Thursday. My mom has already mentioned that she wants to "go have a look" on that day and I'm kinda indifferent about it mainly because there will be a MASSIVE crowd. I went to Boulevard on the second day it was officially opened and it was so crowded! I never seen such a crowd in Kuching malls before.

I was guilty of parking my car by the roadside too

Like I said, big crowd
Anyway pimples are popping outta my face like nobody's business. I suppose it's due to the fact that I keep pressuring myself to finish the thesis as soon as possible. Allow me to shed some light on how bad the pimples are. My parents and I went to Sushi King for dinner and as I was eating a shrimp sushi my mom tells me "You've got rice below your lips". I touched around the chin area and felt nothing of that sorts, until my finger grazed a HUGE-ASS pimple, to which I said "That's a pimple!!!!" So cue my mom laughing at me. *sigh*
Renovation works are still in place and it doesn't look like we're gonna have the whole house done like planned before Chinese New Year. The new room would be done but the car porch extension and roofs won't by the looks of it. We've been looking around for dining table sets and can't seem to find THE perfect one yet. Oh well, the search continues…
Daniel Beddingfield's "If you're not the one" is playing and I get this pang of melancholy cause it makes me miss Rob and his bearhugs.
Arrghhh is there an off button for the brain?
January 2, 2008
I'm sure a lot of people make resolutions every year and I normally don't because I RARELY achieve/keep them. However, I figured I would jump in the bandwagon this year. My resolutions for 2008, in no particular order, are:
1) Graduate in August, which means finishing the thesis
2) Be a better lover (and I don't mean sexually you perverts)
3) Lose weight YEAH RIGHT – who am I kidding?
4) Be more patient but not stupidly patient
5) Stand up for myself more
6) Maintain a good relationship with the parents
7) Erase selfish inconsiderate people from my life
8) Watch less nonsense tv, read more
9) Own new gadgets – better digital camera and mp3 player
10) Appreciate the simple things in life more
That's about all I could think of at the moment. Will add more as I go, I think. In the mean time, I'm gonna hit the sack and dream of a perfect world where our politicians don't get involve in sex scandals and then have the videos distributed for the public to see.
January 1, 2008
Goodbye 2007!!!
Happy New Year to all my reader(s)!