Archive for the 'Glutton' Category
September 30, 2009
Today I went to pick up homemade Ping pi (Crystal mooncake) from a friend of mine, more commonly known in this blog as Soupy. Rob came up with that name, long story for another day.
The first time I tried it was back in 2005 when we were working together. Since then, I've been pestering her at almost a yearly basis for ping pi, because it was yummy! 😀

Even comes in a pretty box
After many chants text messages of "ping pi ping pi ping pi ping pi", she had no choice finally made some for me yesterday. Yes, I have no shame at all. :whistle: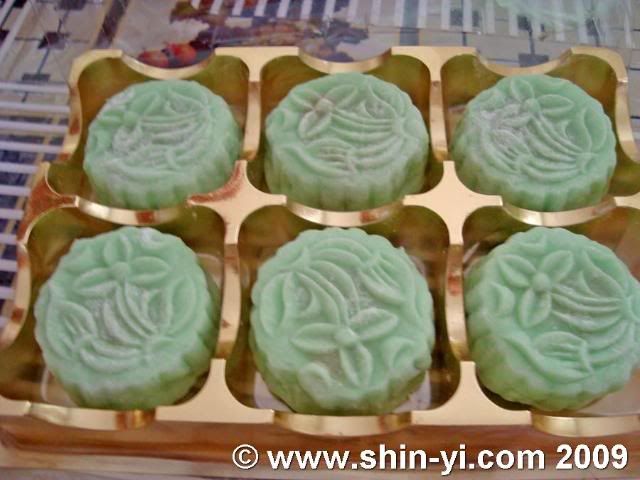 Oh so pretty!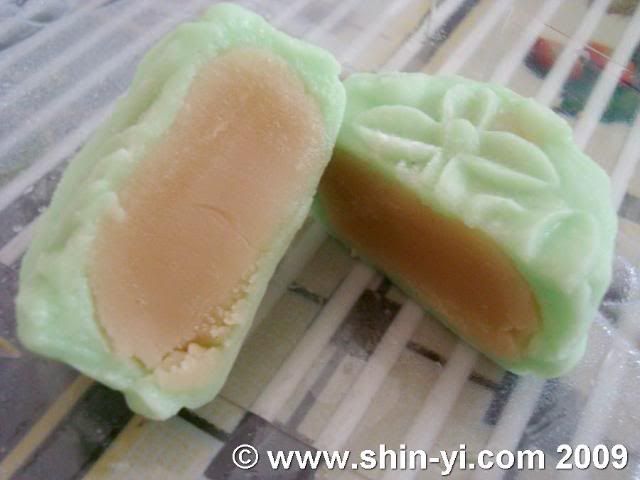 TONS of lotus paste filling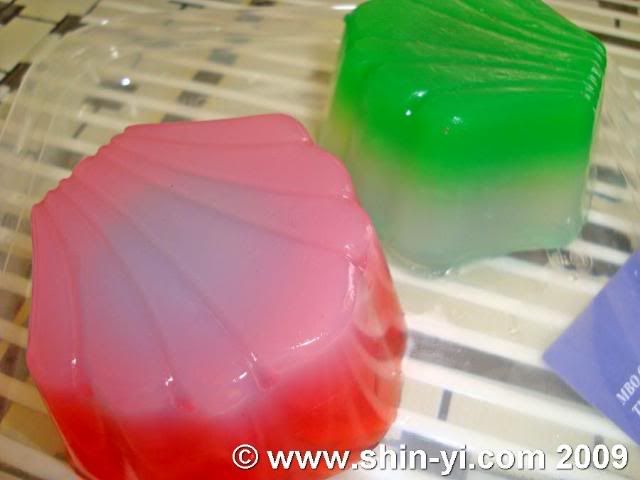 This year she introduced me to something new, agar agar mooncake, which I have never tried before. I have to say they were pretty good!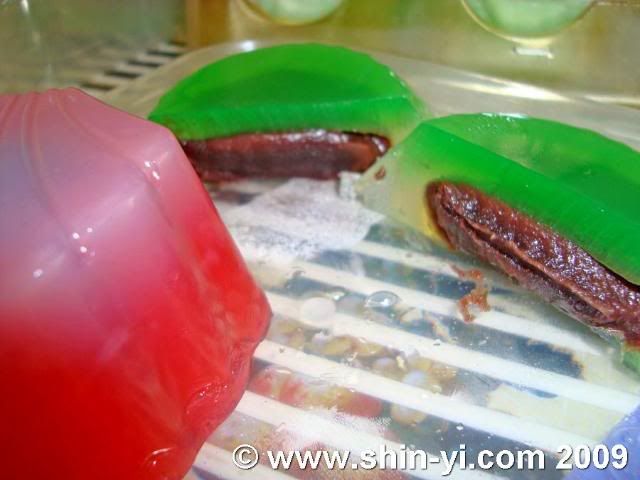 I found it kinda ironic how much I enjoyed the agar agar mooncake, since I literally got burnt from making plain agar agar last week. Gee I wonder why the agar agar is pinkish? Hmmmmm 😀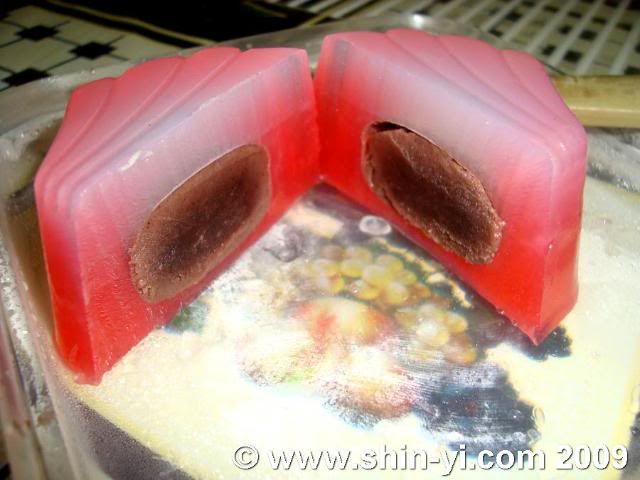 With red bean paste filling. YUM
=P~
Nom nom nom.
Thank you Siew Pin. ~muah~ 😀
P/S While I was enjoying my mooncakes and taking pictures, guess who was watching by the door?

Leo begging for some mooncakes too
June 23, 2009
I've been going to Little Cottage quite frequently for dinner. It's located in Tabuan Laru area. If memory serves me correctly, it's located in Lorong 2B3. I find the place very homey because it's actually like a bistro in a house.
The interior decor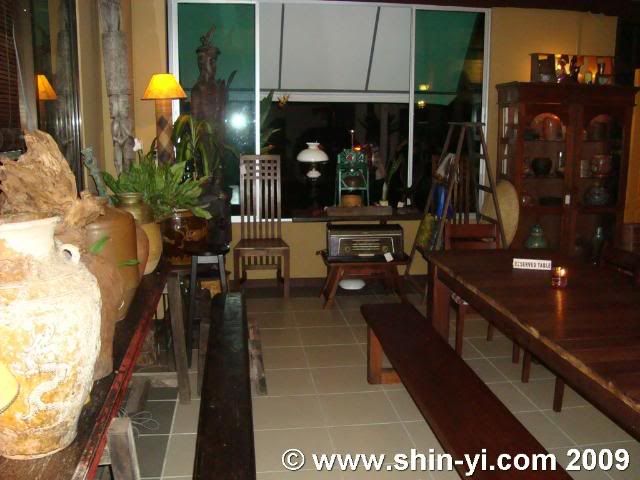 Antic radio
I personally prefer the Nyonya food compared to its western food. The western food takes a longer time to be served, obviously because of the cooking time and doesn't taste that great. The Nyonya food on the other hand is delish and is served really fast because it's pre-cooked. My favorite is the Beef Rendang!

My yummy Ice Chocolate

Ayam masak merah…MMMmmmMMmmmm

My favourite Beef Rendang. It's to die for!

Beef rendang + cucumbers + rice = Drool fest

Asam curry fish
I later found out that the owner of Little Cottage used to work at Denis' Place, a place I went to a lot as a teenager (which was like 10 years ago) at Main Bazaar.
I'm making myself hungry again. I think I'll go shove my face in a candy bar. 😛
June 4, 2009
Today I embraced the glutton in me. I had a headache this afternoon and suddenly something triggered my brain, sending signals that I really NEEDED something sweet. So I went downstairs and raided my secret stash of candy (which Rob had generously contributed to this past Valentine's Day). First I ate a 220 calories piece of Russell Stover chocolate. Yes, I have been saving it up for this long. (I still have more by the way 😛 ) Then again, I'm not so much a chocolate junkie. I just get bursts of cravings once in a while, and then I go ape shit on the sugary evil chocolates.
So anyway, 220 calories for A PIECE OF CHOCOLATE. It wasn't a big piece, it was more like the size of a 50 cent coin. Heck, I could have eaten A BAR of Whatchamacallit that was 210 calories(!) which would be about 4 times bigger than that piece of chocolate. What the heck was I thinking?!
Oh it didn't just end there. Me? Just ONE piece of chocolate? Yeah right, you've got to be kidding me. When I start, I end it good. 😉 I had to have more. But only after I used my tongue to scrape off the remnants of chewy chocolatey caramel heavens that were stuck on my teeth. 
Then, I ate a Butterfinger bar. Since there were a couple that were crushed along the way in the mail, I opened one up and because it was all broken into tiny pieces, I poured the whole damn thing in my mouth. Yes, all of it in one go. I started to munch…the crunchy peanutbuttery goodness, almost melting in my mouth, MMMmmm MMMMMmmm MMMMmmmmmm =P~
In case you're wondering…yes, I had another candy bar. Baby Ruth. It was GOOD. The chocolate covered peanuts, the caramel, the chewy nougat….holy crap it was like there was a party going on in my mouth. My tastebuds were thanking me! I chewed and chewed and chewed. It was so good I didn't want to stop chewing. I then realized that I had better stop myself at candy bar #3.  Again, I swirled my tongue around for excess candy bar on the teeth (and please don't pretend that you don't do that and make it sound like I'm a disgusting pig…oh wait I am a pig :@) errr…never mind.)
I gulped down a glass of water and put the rest of my candy away. I shall save them for my next craving. :smug:
If by now you're not craving for some form of candy, I salute you. If you are craving for candy, it really isn't my fault that you're weak. I know I'm weak. O:-)
Thought I would share the highlight of my day…
Okay, time to skidaddle and do some work!
September 16, 2008
This is my first time travelling alone and being somewhere without family. I was excited to say the least. So that's why I consider this my first mini adventure. I have travelled myself to Australia before but I was picked up by family and stayed with them. This time was different. I stayed by myself for a night in a hotel room, even after hearing all those horror stories. I'm pretty proud of myself. =D
My journey started with the earliest flight out of Kuching to KL at 6am. An hour and 45 minutes later, I arrived in KLIA and had less than an hour to get to my gate for Newark International Airport (EWR) which is in New Jersey, about an hour from New York. I called my parents and Rob, who was really excited for my arrival.
Fast forward 24 hours later (with a stop in Stokholm, Sweden), I arrived to this…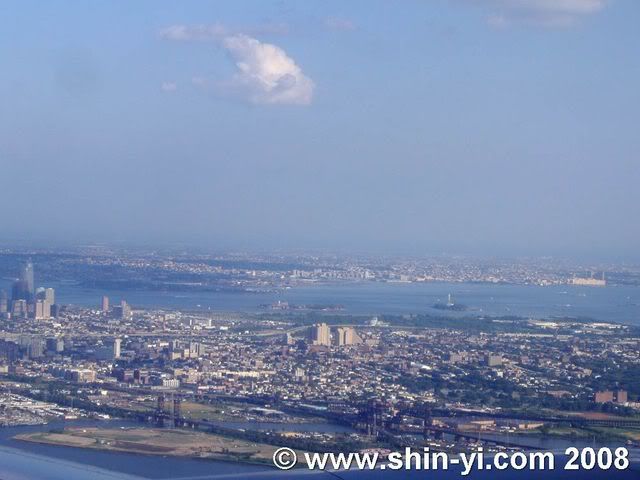 If you look hard enough, you can see the Statue of Liberty in the middle of the River. It is indeed quite a site. I waited for my cousin to pick me up to go to dinner. After dinner, I checked in my free room (which I am still very proud of) at Howard Johnson. I wasn't expecting much for it was a free room but imagine my surprised when I saw my room.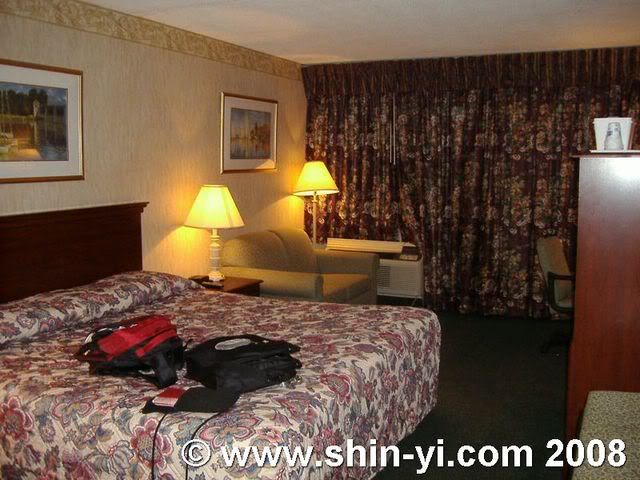 It was HUGE (for the price they were asking), with a king size bed and a full bathroom. I was really impressed. My flight the next morning was 8 so I woke up around 5.30am to get ready and take the free shuttle to the airport.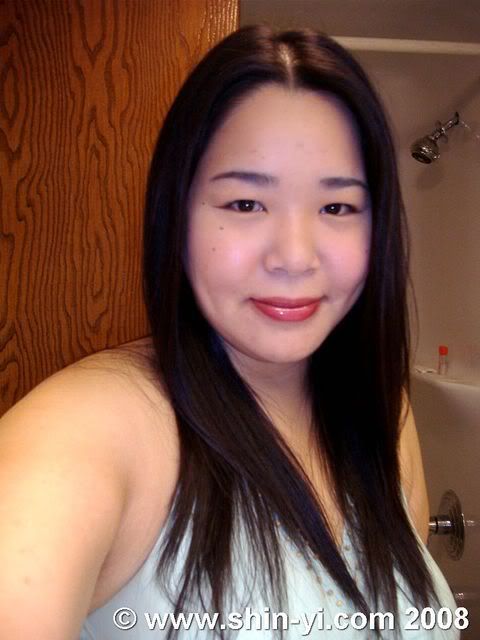 Me all glammed up *giggle*
I arrived at the airport a lot earlier then I expected. Then my flight to Chicago was delayed around an hour or so after everybody boarded the plane due to traffic congestion. When the plane took off the excitement I felt was more intense because I was just that much closer to seeing Rob.

I thought the little clouds looked cute
But all was well when I arrive at O'hare International Airport just before 11am. It was my first time arriving at O'hare so I'm sure I looked like a lost puppy to people there. I kept walking and walking, and in my mind I had wanted to go check myself out (as vain as that may sound) in the bathroom to make sure my face was okay etc etc before I see Rob for the first time in over a year. The first bathroom I past by had a line forming so I figured I would go to the next one I see. Unfortunately the next bathroom was closed for maintenance and that was the last bathroom along my way.
Before I knew it, I could see red and white balloons in the air…
………………..
………………..
………………..
………………..
IT WAS ROB!!!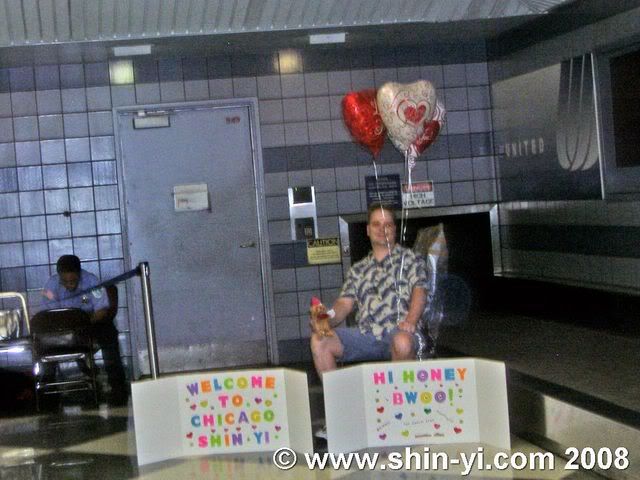 Excuse the bad picture. I was laughing while taking the picture.
He set up his little own station to welcome me to Chicago. I was so excited to see him and at the same time laughing because of what he did. After I snapped a picture, I ran towards him and we embraced for a minute. In his hand was a little teddybear holding a heart which said "I love you". He gave it to me and "Here, have a bear with a PINK hat" while smirking.
He had made the signs a few days before I arrived but the night before something happened to the signs and he had to make new ones all over again. Here is a closer shot…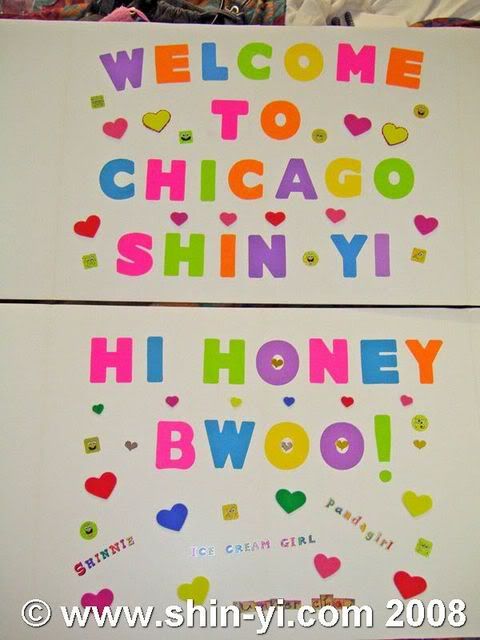 It's pretty obvious what the first sign says. Now the second one says "Hi Honey Bwoo!" and other little pet names. Let me explain what "Bwoo!" means to us. One night while Rob was telling me some good news, I wanted to said "Woohoo!" but what came out of my mouth was "Bwoo!". So from then on, "Bwoo!" has been the official substitute of "Woohoo!".
The other four words in there are Shinnie, Ice cream girl, Pandagirl and the last one (blocked by my watermark) says "Summer Chai". Now the origin of "Summer Chai" can be found here. Its just a little insided joke with my friends. I told Rob about it before and the smartass in him decided to include that in the sign.
We got my luggage and headed a lonnnnnnnng track to the parking lot. When we got to the car, he surprised me again with a single pink rose. I was touched.
Off we went to IHOP for brunch. I have been planning this first day for months. I ordered my all time favourite; the Breakfast Sampler which consists of everything I love from IHOP, french toast, pancakes, sausages, scrambled eggs and bacon and a side of HASH BROWNS!!!! Rob ordered Strawberry pancakes which were heavenly as well.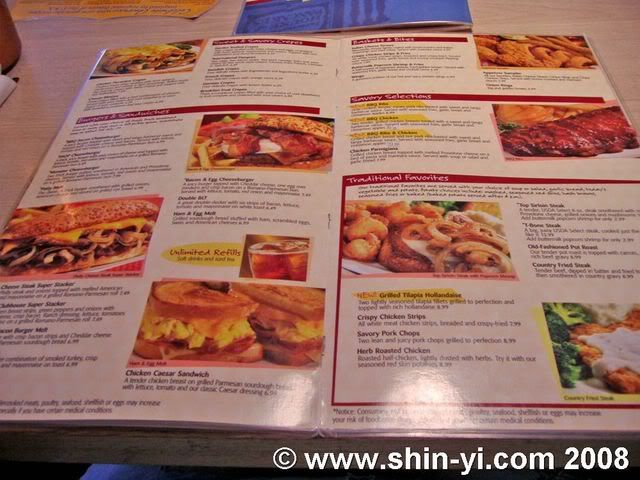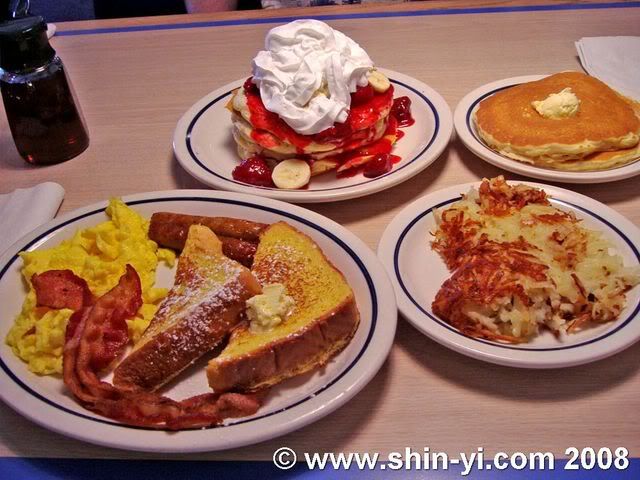 After eating, we checked in the motel we would be staying in for the next 4 days before going on the roadtrip. Rob went in to check-in because they charge extra for 2 occupants in a room. The cheapskate me wanted to save like USD10 per day. That's USD30 ok! Which means we saved over RM100.
As I stayed in the car and looked around the surroundings, I was relieved. It felt good to be there. It's hard to describe the feelings. I felt complete being with my soulmate once again. It felt right. It felt as if everything in my life was coming into place. Suddenly reality hit me and I realized that I would be leaving in 5 weeks. I was extremely happy to be there but at the same time sad because it meant that eventually I had to leave. A minute later, I saw Rob walking towards the car and I smiled. The feeling of sadness disappeared.
We unloaded the car that had my luggage and other essentials which Rob had prepared e.g. toiletries, extra pillows, snacks etc. After some snuggling and cuddling, we took a dip in the pool for an hour and then headed to Woodfield Mall for Baskin Robbins ice cream! We walked around the mall a bit and surprisingly I didn't buy anything at all. I was probably saving up for the Mall of America. HEHEHEHE

Oh-so-happy with my Strawberry Cheesecake ice cream
Before going to dinner, we stopped by Rob's house to say hi to his parents and for me to reunite with Naomi the Samoyed. She instantly remembered me and was following me all over the place. I now call Naomi "Princess" and I think she loves it. I miss her.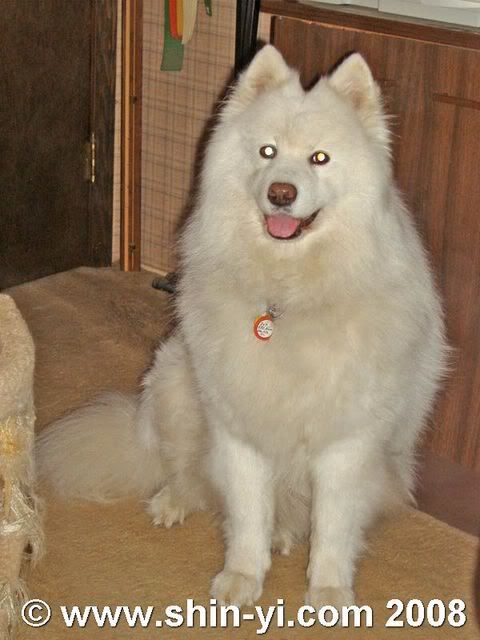 Isn't she just SO adorable?
Dinner was at one of my favourite places, Chili's. I have been craving for Molten Cake for over a year. We ate light for our meal, sharing an appetizer of buffalo wings, chicken nuggets of sorts and egg rolls.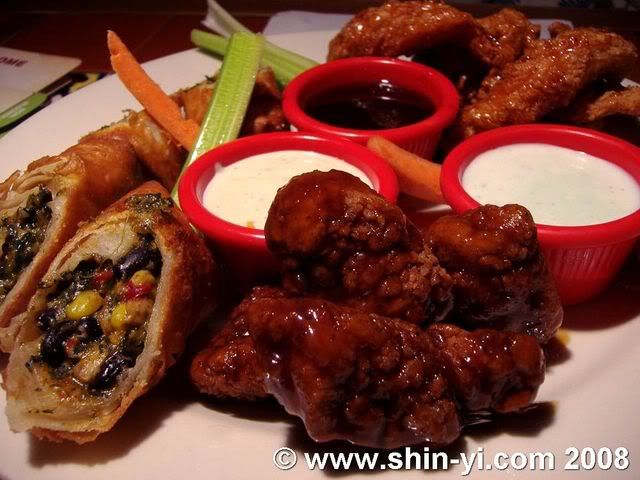 Rob had told me about the new Molten Cake at Chili's called White Chocolate Molten Cake months ago. Instantly I knew I MUST try it no matter what! So we order one of those and the classic Molten Cake.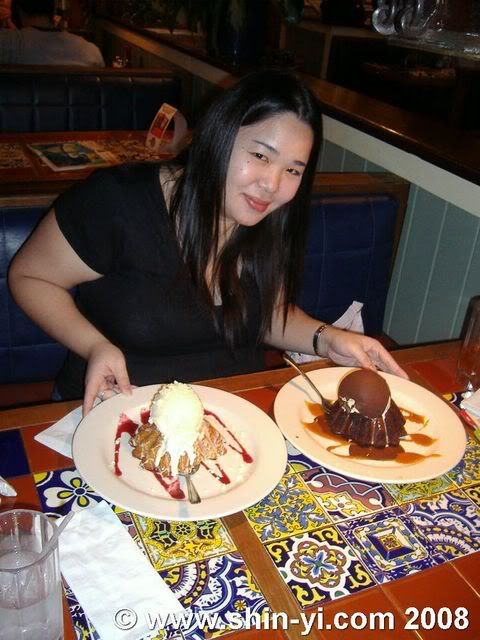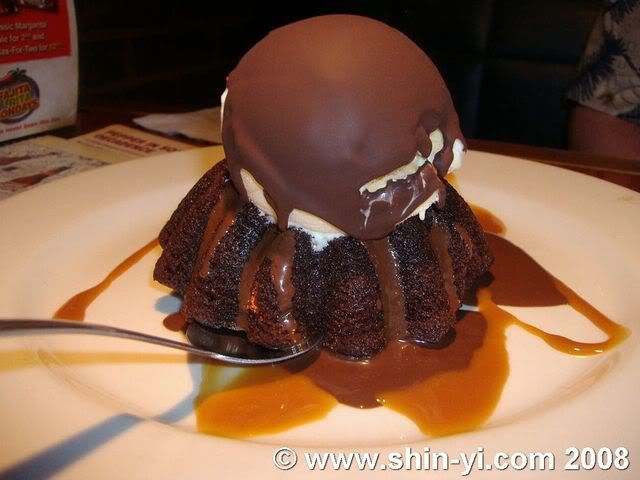 Chocolate cake with drizzles of chocolate syrup and caramel, topped with vanila ice cream and more chocolate!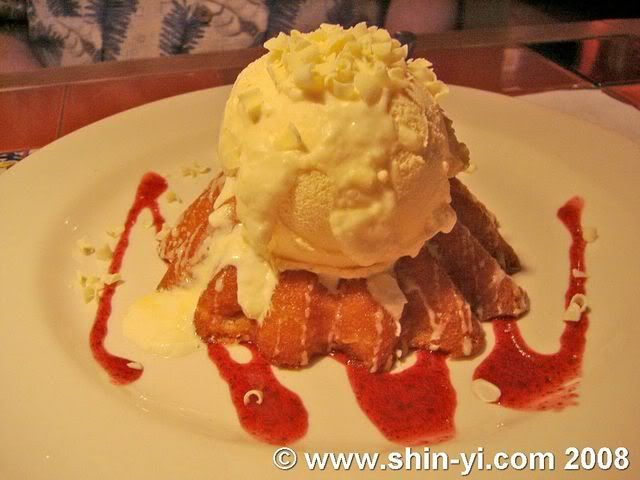 Moist vanilla cake with melted white chocolate and strawberry sauce, topped with vanilla ice cream and chunks of white chocolate chips!
MMMmmmmmMMMMMmmmmmmmmMMMmmmMMMM
Both were DELICIOUS!!!! I can't pick a favourite. The classic Molten cake was fantastic as always and the White Chocolate one was equally as good. I gobbled the White Chocolate Molten Cake

This is what was left of the Molten cakes. =D
That's it for my first day in Chicago. Stay tune for the roadtrip post!
January 11, 2008
I had a fun time shopping with my two crazy friends on Thursday and the crowd was massive! I bought 2 pairs of shoes and 2 tops and ate at Sushi King (AGAIN) and spent all about RM100. Not too bad I'd say.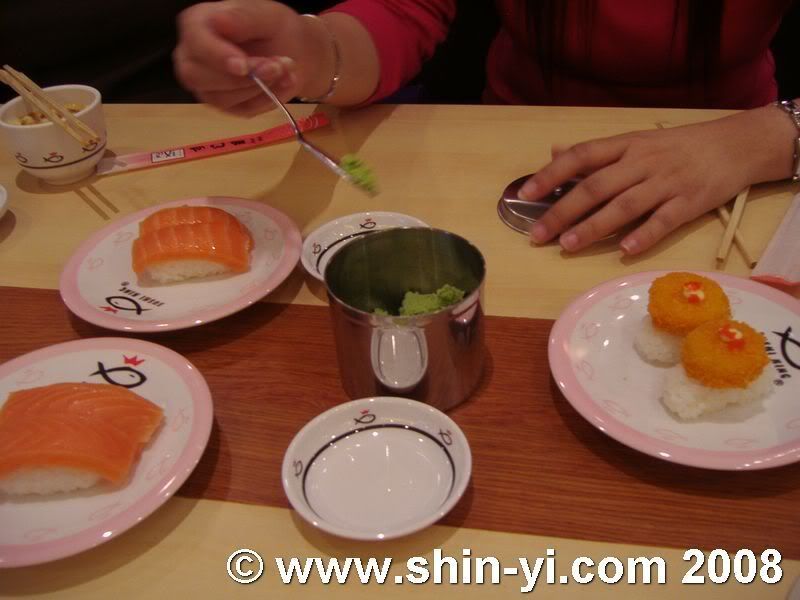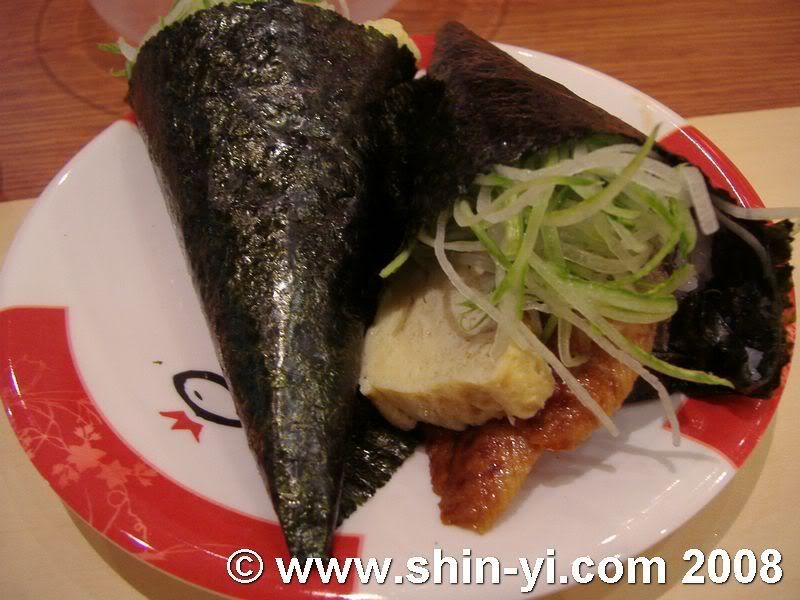 Buy 1 free 1 promotion – Unagi roll of sorts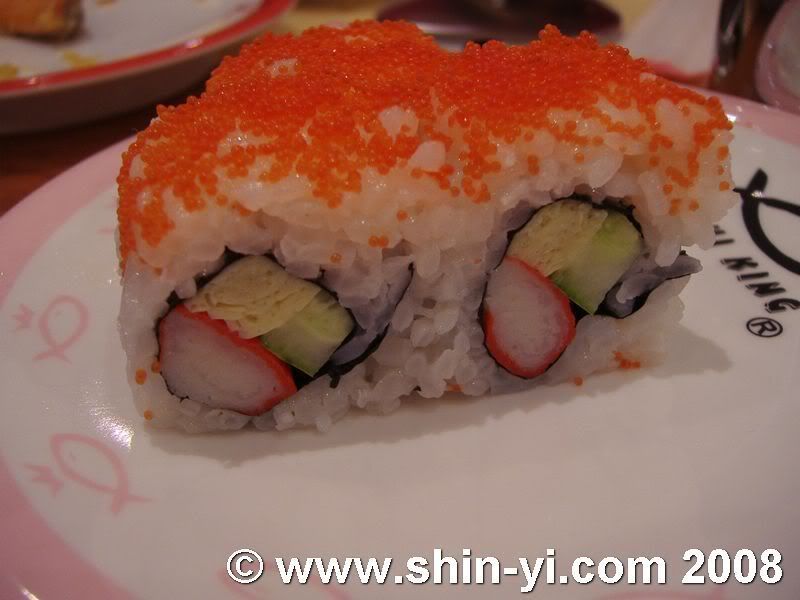 California maki

Don't know what this is called but its fried egg and crabcakes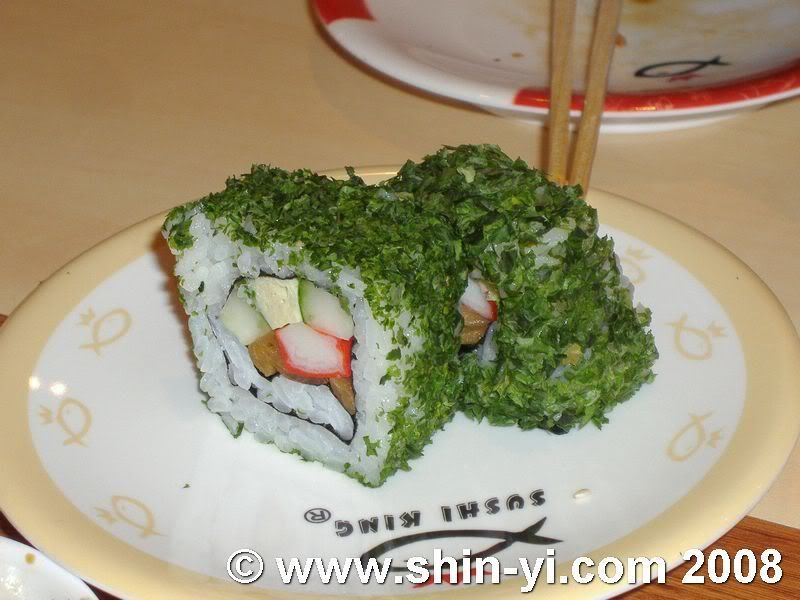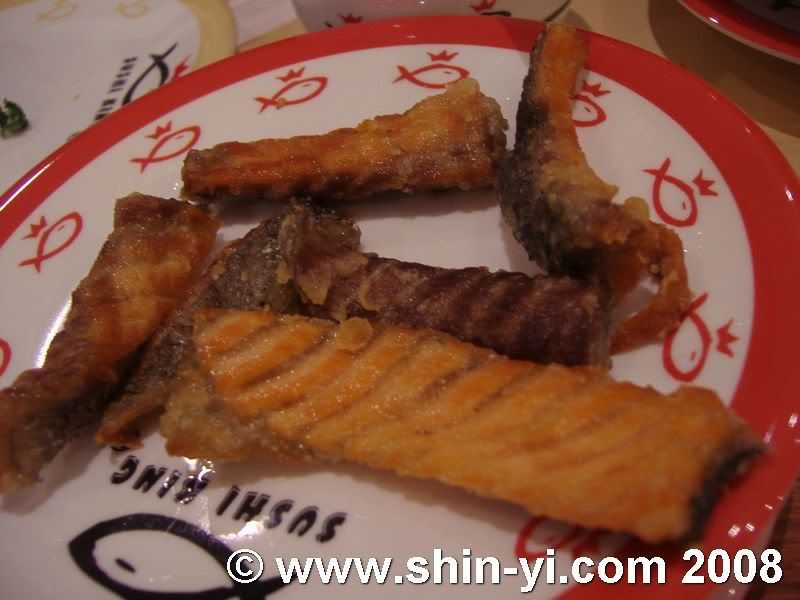 My new favourite – fried salmon skin!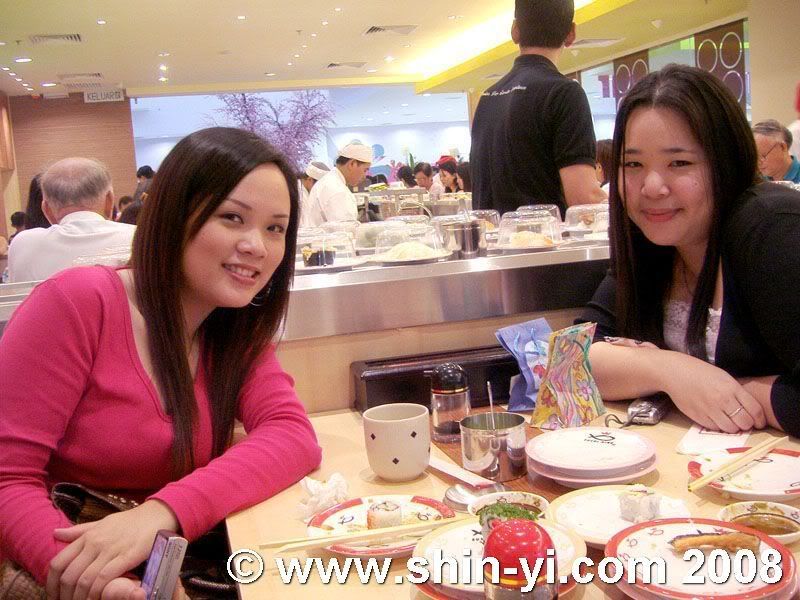 With my two partners-in-crime camwhoring
As we were about to leave the mall, we got stopped by a reporter with the Borneo Post and got our pictures taken. So, yes we were in the papers today. Not just the Borneo Post, but the Chinese newspaper See Hua Daily as well. It's probably a translation from the one in the Borneo Post. It's kinda weird to see myself in the paper, but at the same time I think it's funny too. The article is even featured in the Borneo Post online but no picture of us.

See Hua Daily

The Borneo Post
I went again last night cause the parents wanted to check out the supermarket that sells a lot of imported stuff. When we left the carpark was INSANE. Cars were honking like crazy and there was this long line up until the exit/entrance. So we decided to get out of the car and walked around some more. By 9.30 we went to the car and there was STILL massive jam. I wondered if the security guards were sleeping on the job.
As we squished our way out of the parking spot and moved inch by inch forward for at least 15 minutes, we finally saw the security personel instructing cars to different exits. I soon found out there was 2 exits/entrances. I think there should be more signs and directions in the carpark but that's just my two-cents worth.
Anyway, Rob's coming online soon.
Time for some cyber-snuggles!
October 5, 2007
I was on a tangent earlier today…
S: *in singing mode* I'm fat fat fat fat fat fat fat
R: No you're not honey
S: Oh yes I am lalalalalalala
R: Nah you're not. You're just pleasantly plump.
S: ……
R: *waits for response*
S: …..
R: ……
S: *huge grin* I knew I love you for a reason honey 😀
R: Lol I was getting a bit worried on how you would respond
*cue us both laughing like crazy*
Ok it may not be funny for you but it was funny at the time it happened.
It's not something I do often but I tend to get a bug up my ass and start blabbering about big arms and tummy and whatnot. It's a fact that I am overweight AKA fat in this oh-so-cruel world. But at the end of the day, I am happy with who I am. 😀
Chapter 5 is still in the works. The ambitious me is saying "Gotta hand it in next week" but I don't think that is quite possible. My overall aim is to get Chapter 5 and 6 in before my birthday but not sure if I can do that either. Lots to read still so I'm gonna sign off now.
Have a wonderful weekend guys!
July 26, 2007
I've had one of the best night's sleep last night. I slept about 8 hours or so and woke up totally energized. The weather has been cooler here in Kuching lately. Such a nice weather to sleep in. Speaking on sleeping in, I was very comfortable sleeping in my Monkey PJs. Somehow I'm feeling very proud right now to show you pictures of my monkey jamas. Heh

My monkey made it do it!

Monkeys swinging on vines (Don't mind the mess)
Rob bought me the monkey pants when he came here in late 2005. It's from OldNavy. The t-shirt, he gave to me during my last trip to the States. I was looking for something to wear to sleep last night and saw the shirt and I had an epiphany. It was like DING!! I thought it would look funny wearing those two pieces together and VOILA! I think it's a cute combination. 😛
Anyway, I was hyperly twitching for a while because I didn't know what to do. I started bugging Rob and a couple people online. Then I left for Uni to pay fees. No news yet on the scholarship but I honestly believe I won't hear from them either.
About 2 weeks ago I went to the Banquet for dinner with my parents. The food there isn't bad. I love the baked lamb. It's SO good! A word of advice, don't order desert k? It's really not worth the money lah. My watermelon juice cost like RM7 or something. I expected it to be a big glass when I ordered because of the price but I was SO wrong. Then again, I guess when you go to places like that that's pretty much a norm. Ok ok I'll stop talking and make you guys drool with a few food pictures.

Most expensive watermelon juice EVER

Mix stir fry vegetables

Steamed cod-fish

Baked lamb

DRROOOL

Chicken in some kinda Thai sauce of sorts

I think it's one of their signature dishes

Desert – Chinese pancake and ice-cream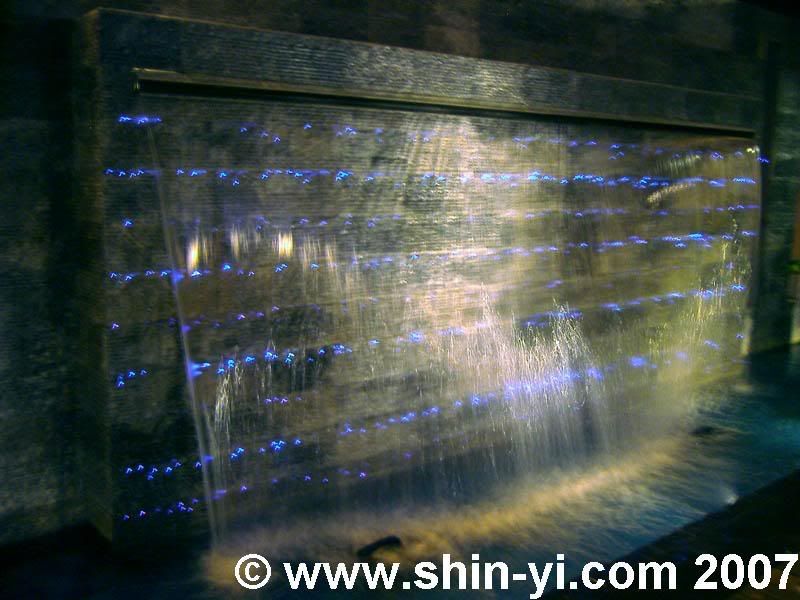 Pretty waterfall that changes lights..from blue…

to pink…

to green
Hmmm when I started this post I felt like I had a lot of things to say. Now I can't remember what I wanted to say. BLEH!
Oh yeah Rob and I are (actually me in particular) getting hooked on Sudoku again. Yesterday I dared him to a two-hour Sudoku marathon today. I wonder if he's going to come online early so we can have the match. He usually wins though but the kiasu-ness in me wants to keep playing until I win and when I eventually win, I wanna go again and see if I can kick his ass for a second time to which I usually don't and we repeat the cycle again and again until we both get brain damage.
Ok, I'm gonna sign off now and prepare myself mentally for the sudoku tournament. HEH