Archive for the 'friendship' Category
September 30, 2009
Today I went to pick up homemade Ping pi (Crystal mooncake) from a friend of mine, more commonly known in this blog as Soupy. Rob came up with that name, long story for another day.
The first time I tried it was back in 2005 when we were working together. Since then, I've been pestering her at almost a yearly basis for ping pi, because it was yummy! 😀

Even comes in a pretty box
After many chants text messages of "ping pi ping pi ping pi ping pi", she had no choice finally made some for me yesterday. Yes, I have no shame at all. :whistle: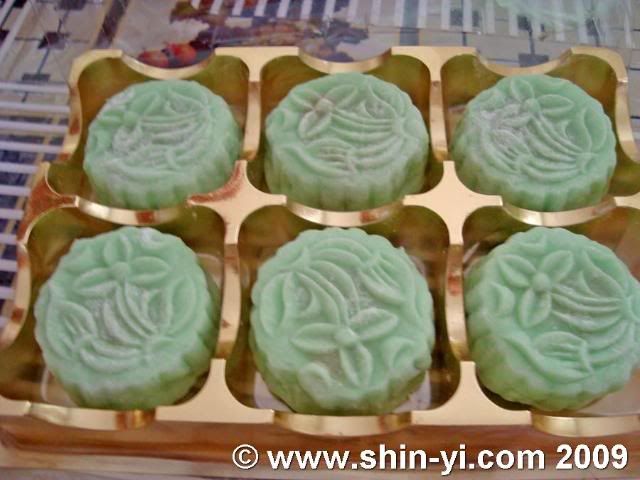 Oh so pretty!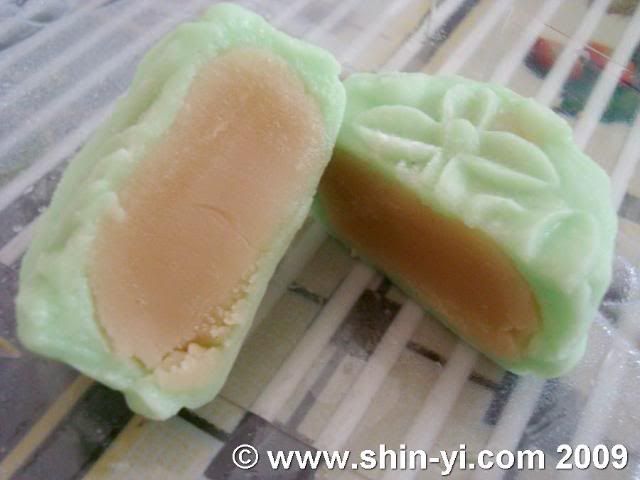 TONS of lotus paste filling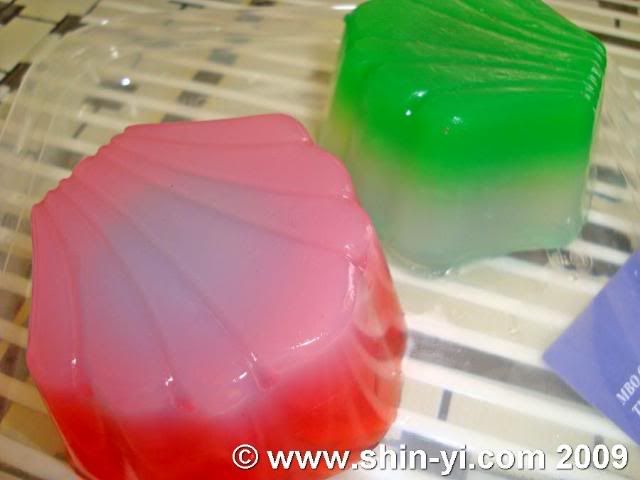 This year she introduced me to something new, agar agar mooncake, which I have never tried before. I have to say they were pretty good!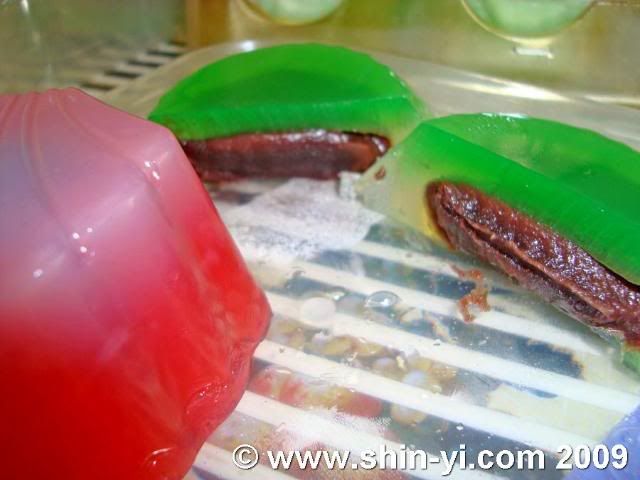 I found it kinda ironic how much I enjoyed the agar agar mooncake, since I literally got burnt from making plain agar agar last week. Gee I wonder why the agar agar is pinkish? Hmmmmm 😀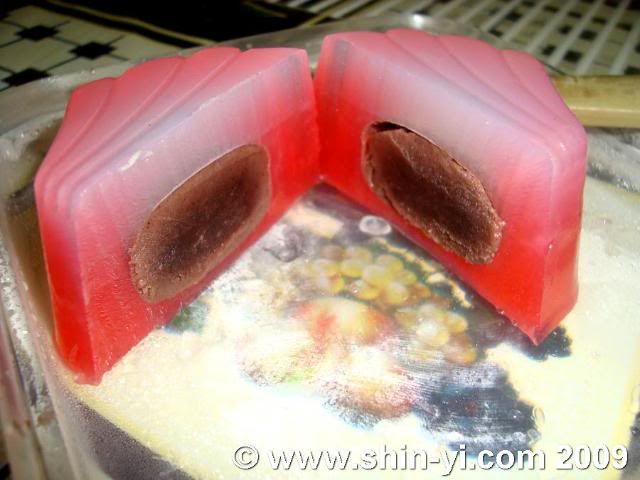 With red bean paste filling. YUM
=P~
Nom nom nom.
Thank you Siew Pin. ~muah~ 😀
P/S While I was enjoying my mooncakes and taking pictures, guess who was watching by the door?

Leo begging for some mooncakes too
March 17, 2009
Have you ever reach a point of desperation that you see no way out?
Have you ever felt so helpless that it feels like nothing you do will make it better?
Have you ever been in a situation that feels like everything and/or everyone is against you?
Have you ever felt anger that is so intense that you can't stop crying?
Have you ever been so disappointed that you wish you could disappear?
Have you ever been so frustrated that you grip your hand into a fist so tight your fingernails dig into your skin, leaving marks?
Have you ever felt so betrayed that you question your self worth?
Have you ever been so sick and tired of everything and/or everyone around you that you wish you could pack your bags and leave?
Have you ever felt that regardless what you do nothing ever changes?
March 23, 2008
I have this urge to write suddenly. I don't know where I am going with this but just bear with me and my thoughts.
In world that is losing hope, I am blessed. I am blessed for I have people in my life, people who make life good.
At the same time I have people in my life that make me ponder why they are in my life. I wonder why I let people like those into my life. I wonder why or how I can put with them so much. These people can be family or they can be friends. Many times they frustrate me, they piss me off, they disappoint me, they disgust me. I am sure you have people like that in your life too.
So then how do you deal with these difficult people? My personal philosophy has been to always ignore them because in the end, karma will get them. But how much can you endure before you totally "lose it" with them? My personal experience have taught me that sometimes you just need to "lose it" with them. Sometimes it is easier when you totally eliminate them from your life and suddenly the burden of pleasing them is lifted.
When it comes to people I care about I am often very "cincai" (anything goes attitude for the lack of other terms). You can have your ways, you can have your opinions. I've had a hard family member to deal with once. Initially I would just let this person do and say what he/she liked. I also mastered the art of "in one ear, out the other". Don't get me wrong, I listen when it matters but when it comes to like gossip bitching crap amongst family members I rarely want to get involve, unless that person has pissed me off immensely. Anyway to cut (pun not intended) it short, eventually this family member went too far, as far as to insult my mother in his/her quest for righteousness. It was there and then that I lost it.
I cut ties with this person. What use is a family member who hurts you like that after all you have done for them? I have not regretted my decision since.
My latest experience is with a friend I've known for years. This friend is essentially not a bad person in my opinion but holds on to some very funny (in my opinion) beliefs. I'm not talking religious beliefs, I'm talking about self morals and principles. Not wanting to bore you readers to death, I confronted this person and made it clear that I do not appreciate the things he/she did or said regarding me. I lost it with him/her. Not because I didn't like his/her beliefs but because his/her actions have hurt people around him/her and he/she just doesn't give a crap and walks around all high and mighty, at least from my observation.
And again I thought, what use is a friend who hurts you like that? None. Lose them. Life has since been a lot peaceful.
Of course it is hard to give up a friendship. I value my friendships and to a certain extent I protect my friendships deeply. But one thing to always remember; love yourself first when it comes to people who do not love you. Why bother about people who don't care about you? Let them go, let them ruin their own lives. Don't let them drag you down with them.
Life is a beautiful thing. I try not to waste it being resentful at other people. Instead I let them go. Sure it's easier said than done. I have a hard time NOT being resentful towards other people but I think I can safely say that I am managing much better now, as compared to a few years ago.
If you think I am writing about you, I'm not going to say I'm sorry. I'm not here to apologize. I'm here to write my thoughts, in my own territory. 🙂
March 5, 2008
It's one of those days today that I wonder why some people are the way they are. It somehow "amazes" me that there are people out there who are THAT selfish, THAT irresponsible, THAT vain, THAT inconsiderate, THAT childish, THAT stupid…just so THAT. Get what I mean?
I'm not saying I'm perfect nor am I Miss-Goodie-Two-Shoes. Far from it actually.
~~~~~~~~~~~~~~~~~~~~~~~~~~~~~~~~~~~~~~~~~~~~~~~
So some girl bumped the back of my car this morning. I was going really slow looking for parking at work and this red Kancil was behind me for a few minutes. Suddenly I hear a thump(!) and my car inches forward. My first thought was "WTF?!?!?!?" I launched out of my car looking like some fierce wild lion (I swear I heard thunder like in the movies in my head) and checked my car. The girl in the Kancil looking quite worried and might I add, pretty intimidated, got out of her car and went "Sorry sorry…." I swear I looked scary. I continue ignoring her and checked my back bumper, lights, everything….
And nothing…not a single scratch. Seriously, there was nothing. Either that or I'm just THAT blind. I then returned to my car still fuming and went my way. I calmed down eventually and I felt bad for being so rude to the girl. Later on I saw her car parked nearby the office. I'm guessing she works in the same area. Wonder if I'll see her again.
So now I have a question. I get bumped at the back of the car and I see no scratches. Can someone please explain the laws of physics regarding this?
I've been contemplating whether I should tell my dad about this because NOTHING gets by him when it comes to our cars. Most of the time he sees lines or scratches I didn't even know exist, and it's my car! So far he hasn't said anything yet and I think I will keep my mouth shut to spare myself. So you readers who know my dad, keep your mouths shut or I will bitchslap you to kingdom-come.
On to more happier things…
Rob and I are planning on a trip for me to visit him around June. Hopefully it'll happen…wait, it HAS to! I need to see my honey so I can claim my hugs and kisses, candy bars, and random pink things. Right baby? =D
It'll be warm out and lots to do. We wanna do a roadtrip again. We had so much fun the last time we did a roadtrip there that we decided that this time it would be a longer drive. We shoved candies (more accurately the chewy Gummi Bear) and competed who could fit the most in our mouths. I don't remember who won but I have a very distinctive memory that we ended up like a couple of hyperactive monkeys in the car. It was so much fun!
*sigh* Memories…
I miss you Robbie. I miss being close to you. I miss seeing that twinkle in your eyes when you laugh. I miss your bear-hugs. I miss holding hands with you. I miss you kissing me on the forehead.
Okay…so I just scrolled up to read what I wrote above and realize I'm totally bipolar. First I get all feisty and bitchy, then I get all mushy and lovey-dovey. =S I think I need therapy or something. Either that or I have ADD. For you non-psychos out there, ADD stands for Attention Deficit Disorder.
I blame this on PMS so BLAH!
November 21, 2007
The wedding went smoothly, and I got the rest I needed. It was such a fun experience going through the whole process of preparing and living the actual day. Sure it was tiring but I have to say it was one of the best moments of my life to be able to share such a joyous day with my oldest and best friend.
So to Chung and Fiona,
May you have the best life together.
Fiona is Both are currently shopping honeymooning in KL. I hope they have a lot of fun there. It feels surreal now that it's over. It feels like something is missing considering we spent a year or so preparing for that day. A few friends were a big help during the big day and before. I totally appreciate it. I thank you. You know who you are. As for the rest of you that I was PMSing over in the previous post, all I can say is when it comes your time, karma will come into place.
I took over 300 pictures that day and I'm still waiting for pictures from other people's camera. I'm sure they took more than I did because I was busy helping. I uploaded the pics, just haven't had the time to resize or Photoshop.
Anyway, I'm now going back into "nerd mode" to work on the thesis. It's going to be a while until I post about the wedding cause it takes time to sort out through the pictures, plus I'm waiting to compile other pictures from other people as well.
Until then, keep smilling. 🙂
November 10, 2007
November 4th 2007
My birthday celebration this year started as early as Sunday (4/11) at Merdeka Palace's Ristorante Beccari. The reason why we celebrated early was to go have dinner at the Great Sunday Buffet, which consists mostly of Italian food and some Japanese and TONS of desserts.

Carolyn organized such a nice time for both Fiona and I. Everything was so well thought out and went smoothly. She even surprised us with gifts, flowers and cakes, one cake for each of us. It was very nice of her to go through all the trouble in making sure the night went on perfectly. She even decorated my cake herself! Am so touched!
I think this is the first time Fiona and I celebrated our birthday together. Being just 9 days apart, we figured we might as well go for a nice dinner and indulge ourselves with sinful food.
Enjoy the GIGANTIC amount of pictures!
(Maybe you should go get a drink of water or something and come back to view the pictures?)

Gifts awaiting us at the table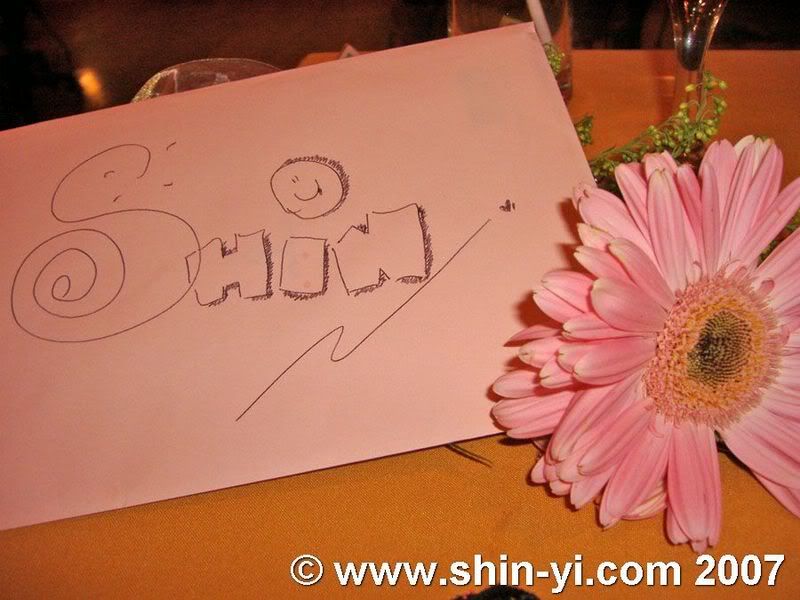 Bodyshop products! Shower gel and body lotion
I had this plan of going for the dessert table first in case they ran out.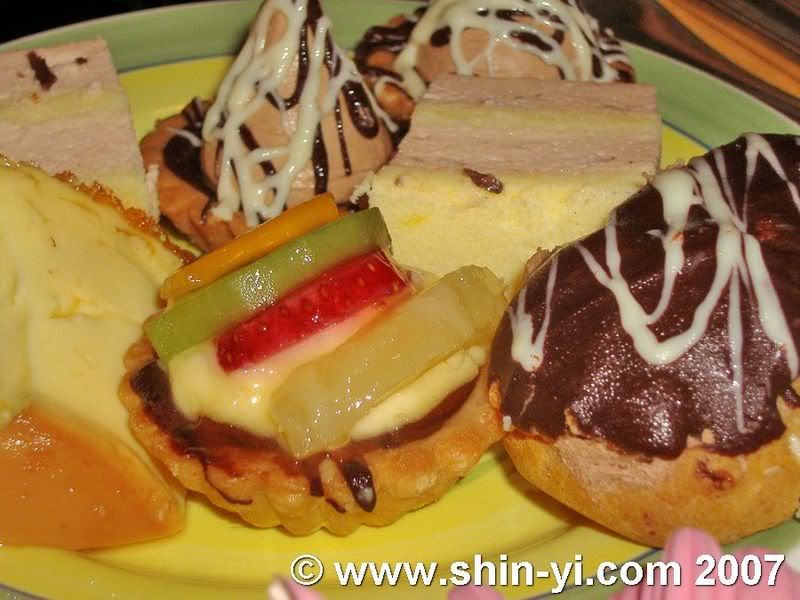 Something funny happened as I was busy getting tiramisu, one each for each of us. That means 3 pieces of tiramisu, as shown below. So I plopped the three pieces onto a plate while the other two girls were looking at me with wide-eyes and giggling. I was like "What?? One each lah!" and Carolyn proceeded to giggle.
Little did I know, it was actually SIX pieces together. There were 6 square pieces of tiramisu, as oppose to the 3 rectagular pieces I initially thought. In the end, the girls had one piece each while I finished it off…yes I ate the remaining 4 pieces.
My first round consists of potato salad, COLD beef lasagna, baked potato, lamb stew, roasted chicken and some brocolli. That was just my one plate.
The second round, we had pizza, pasta, more desserts, sushi etc. We had other plates of food we shared.The amount was almost endless come to think of it.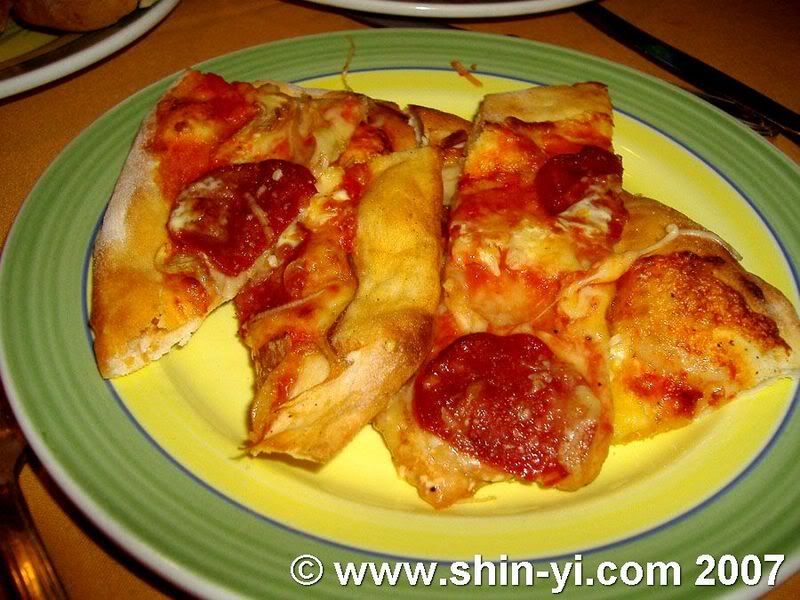 MMmmmm thin crust pizza – crunchy and cheesey!
Eventually we slowed down a bit and started camwhoring…

Birthday girl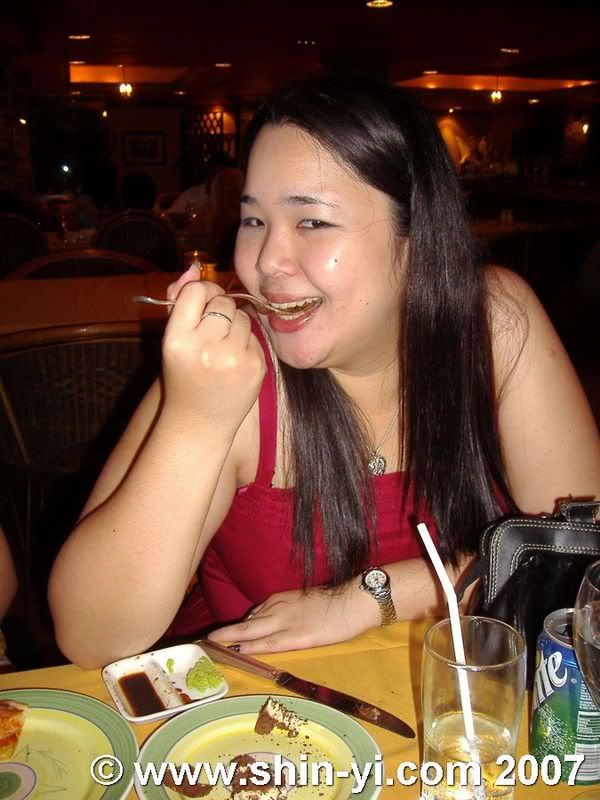 Enjoying tiramisu to the fullest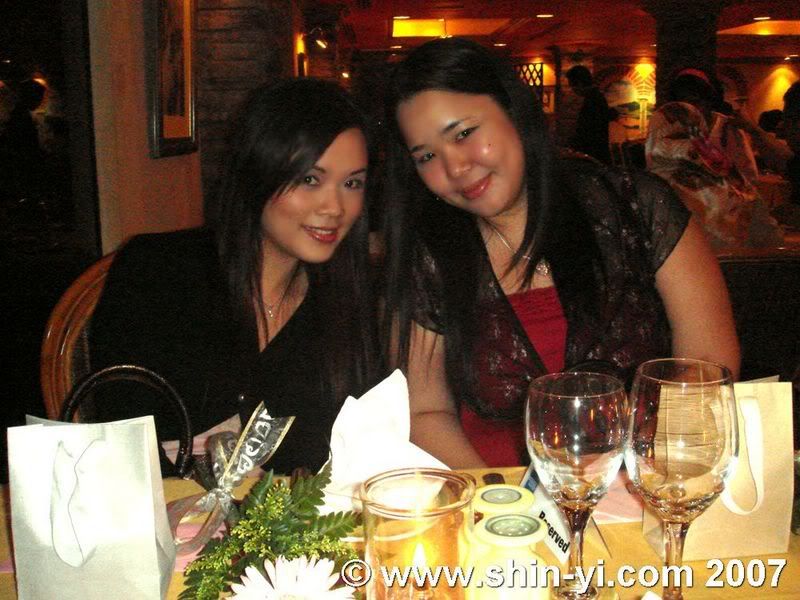 Birthday girls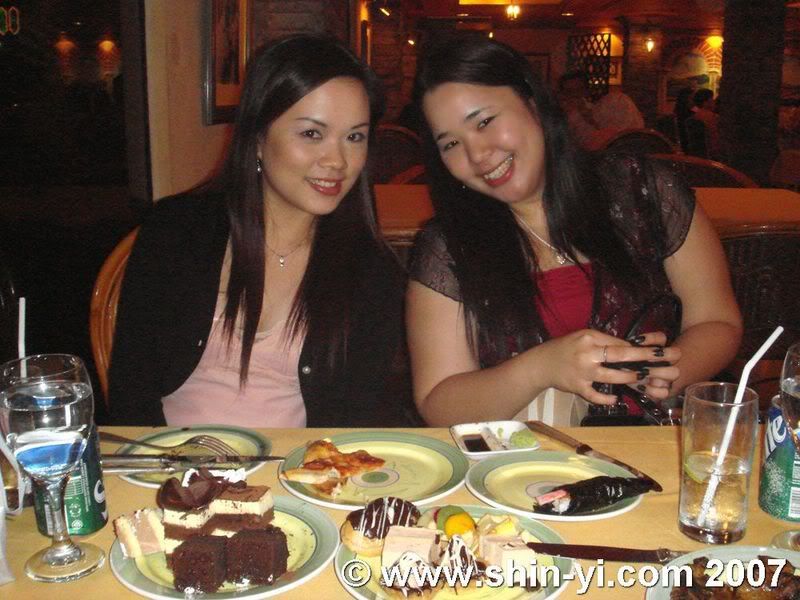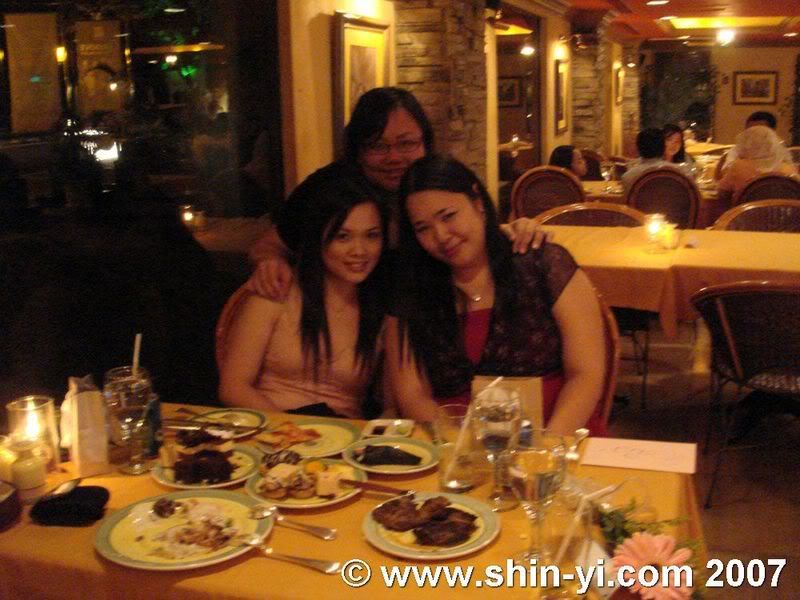 Birthday girls with the sneaky culprit (will explain further down)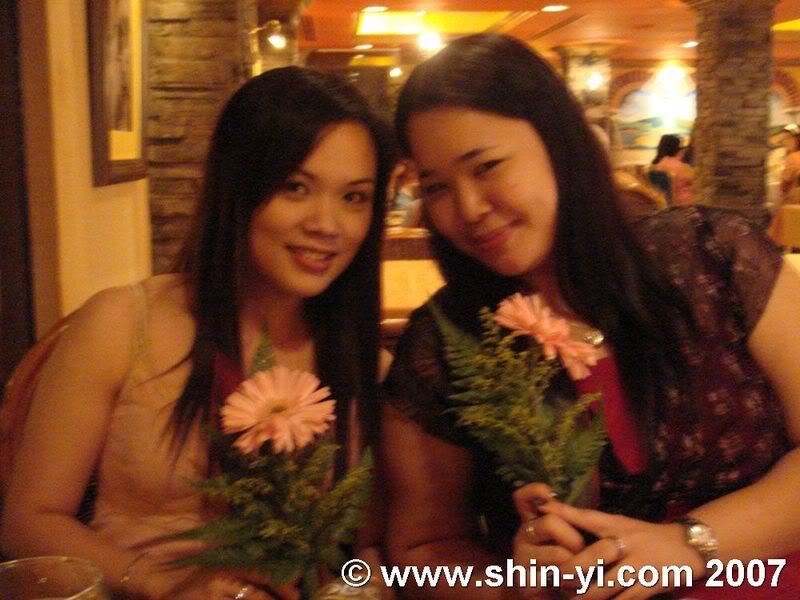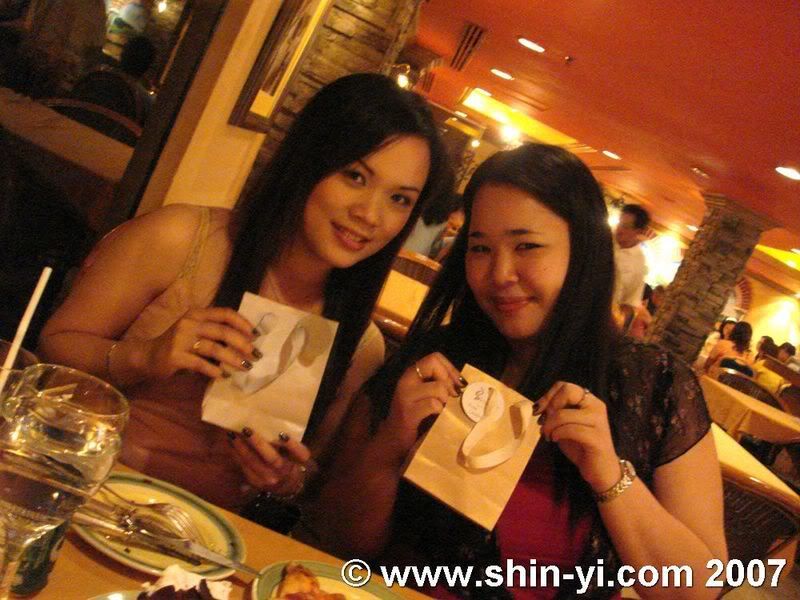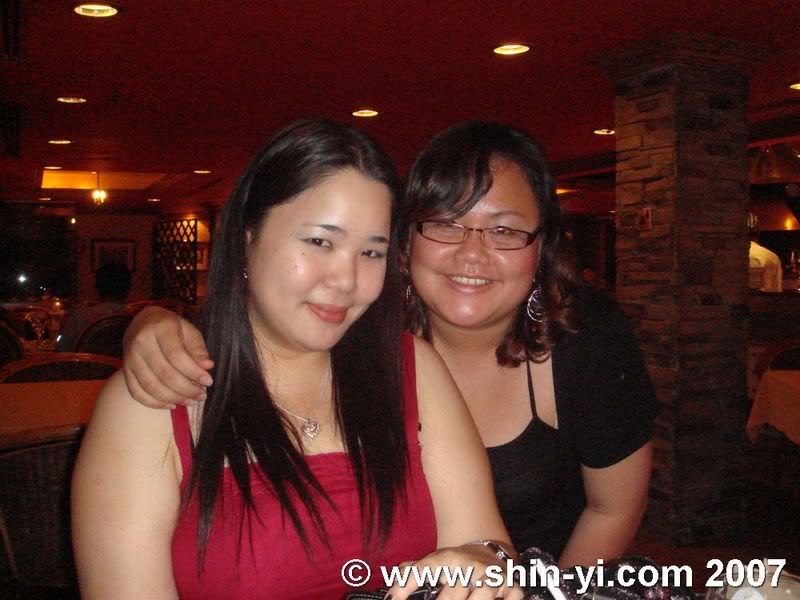 I have no idea what she's trying to do. I'm just glad she wasn't aiming for me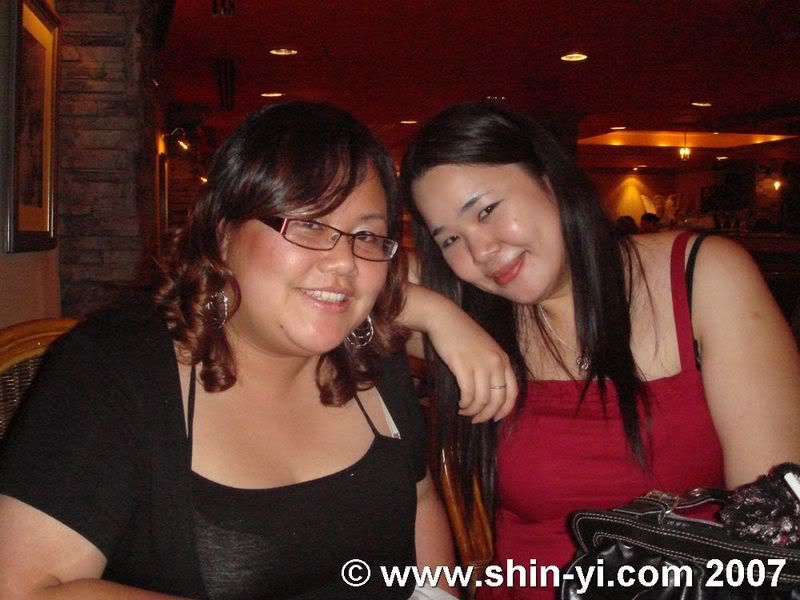 Inspecting Fiona's cardigan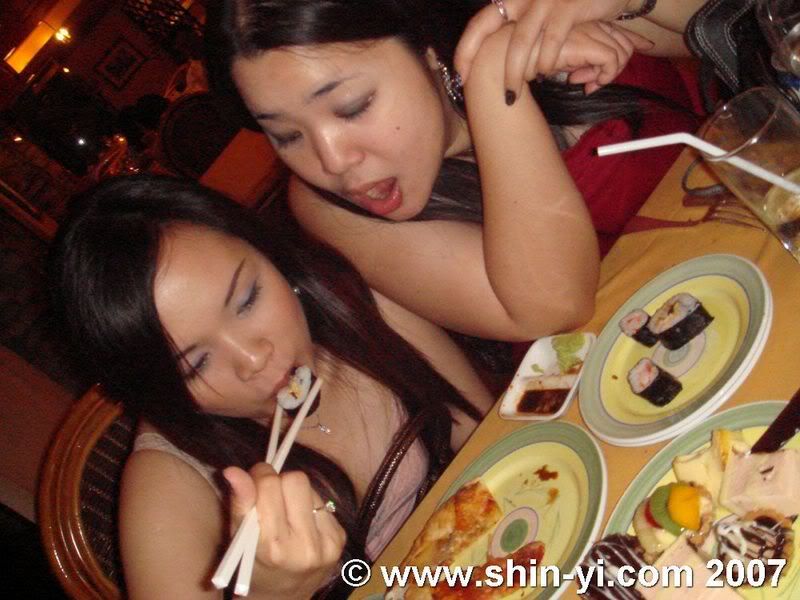 That particular sushi looks yummy…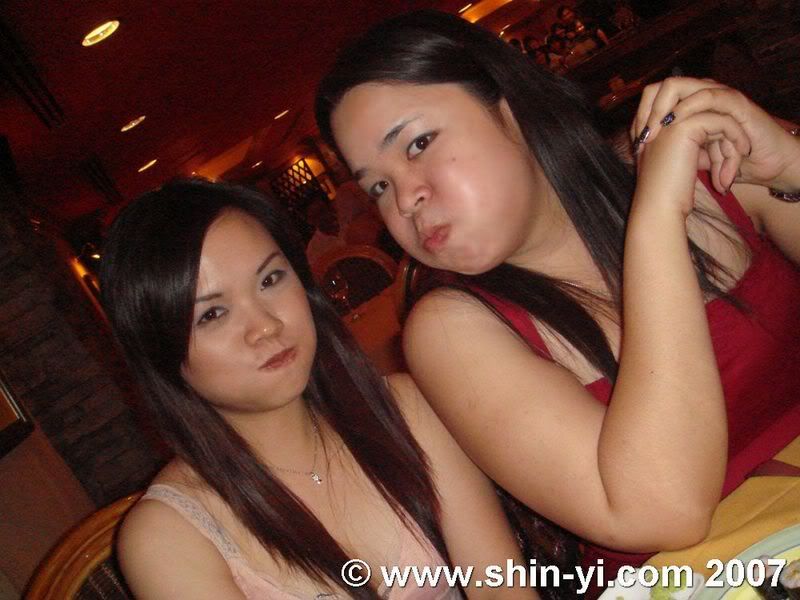 When we finally decided we couldn't eat anymore, we asked the waiter to clear the table. Little did we know, Carolyn had other plans.
Out of nowhere two waiters came out with cakes…yes one cake each. One cake in particular seemed GIGANTIC…it was one of my favourite from Secret Recipe. WHITE CHOCOLATE MACADEMIA CAKE!!!!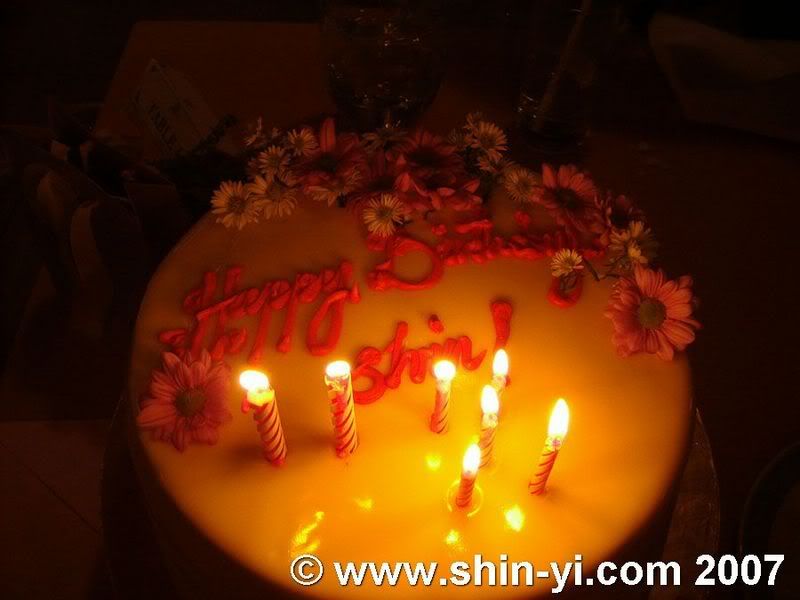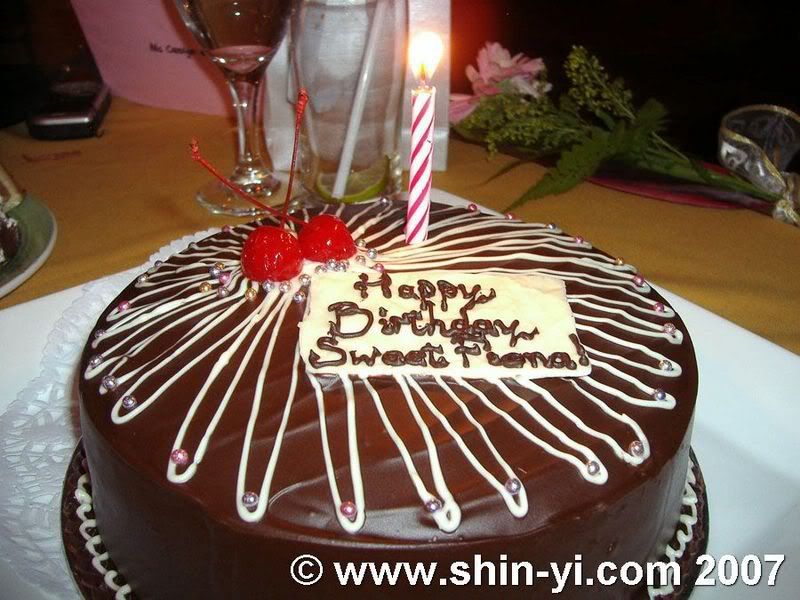 Fiona's chocolate cake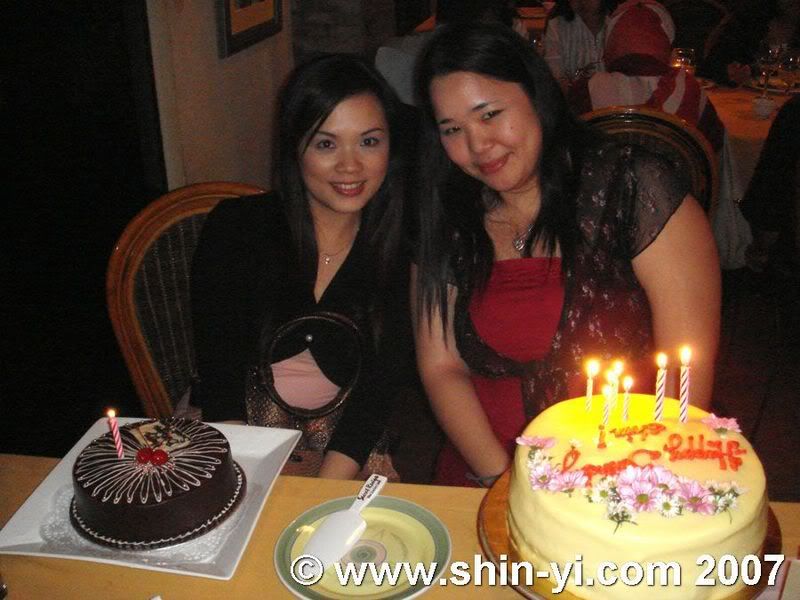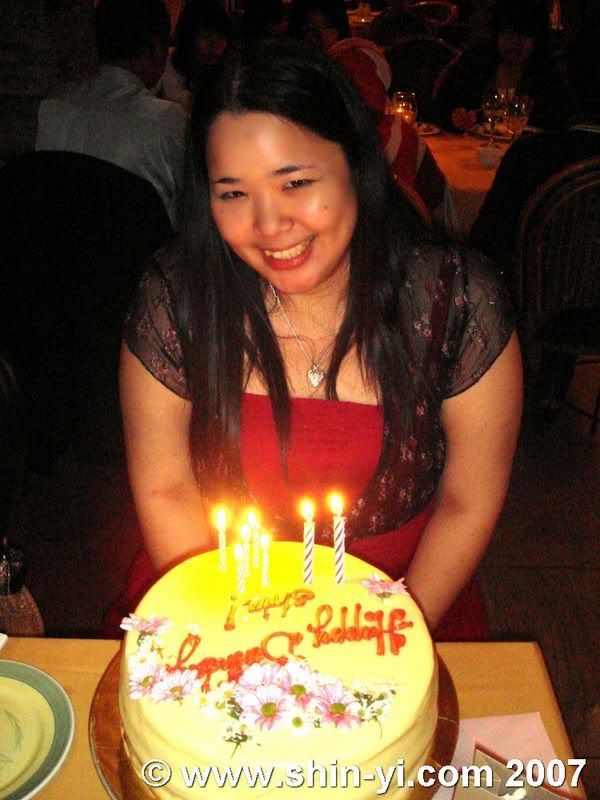 Making a wish so that Rob wins millions of dollars and I don't ever need to do a thesis again.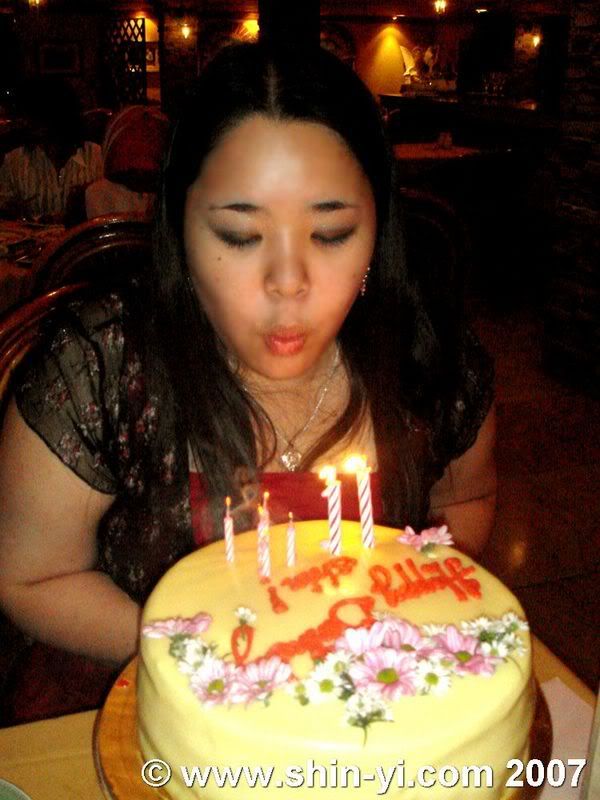 Blowing out the candles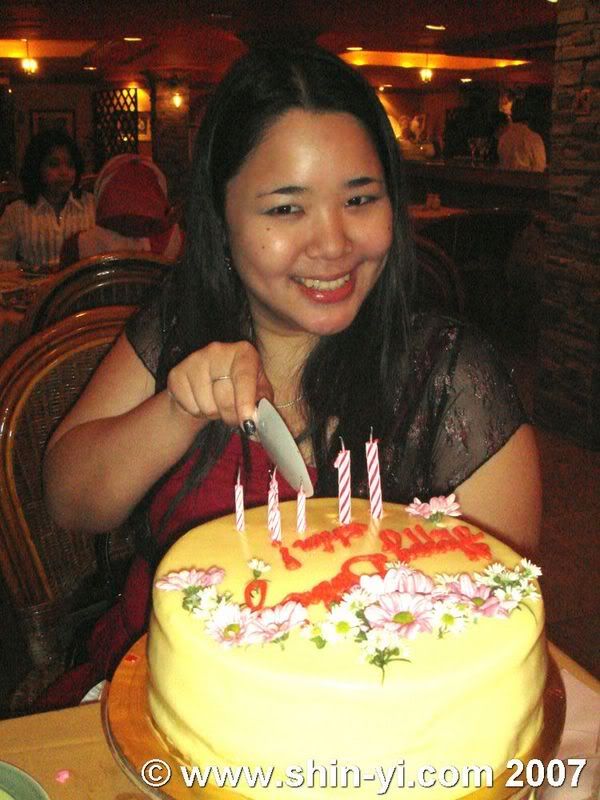 Posing for the camera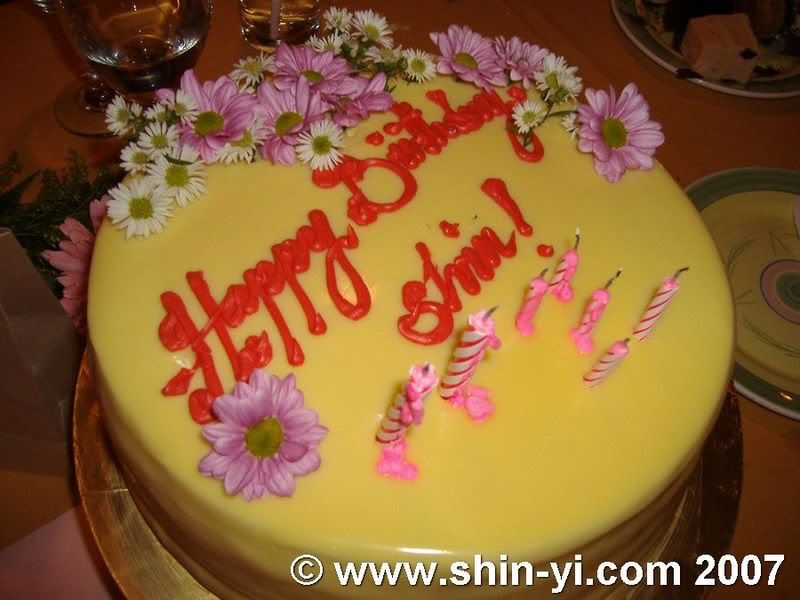 Such a pretty looking cake right? Carolyn decorated it with fresh powers cause she thought it looked too plain being all white. I thought it was so sweet of her to do that. 😀
We were so full that we decided not to eat the cakes and took it home with us.
Just to show you how big the cake was, look at the difference of the size of the box.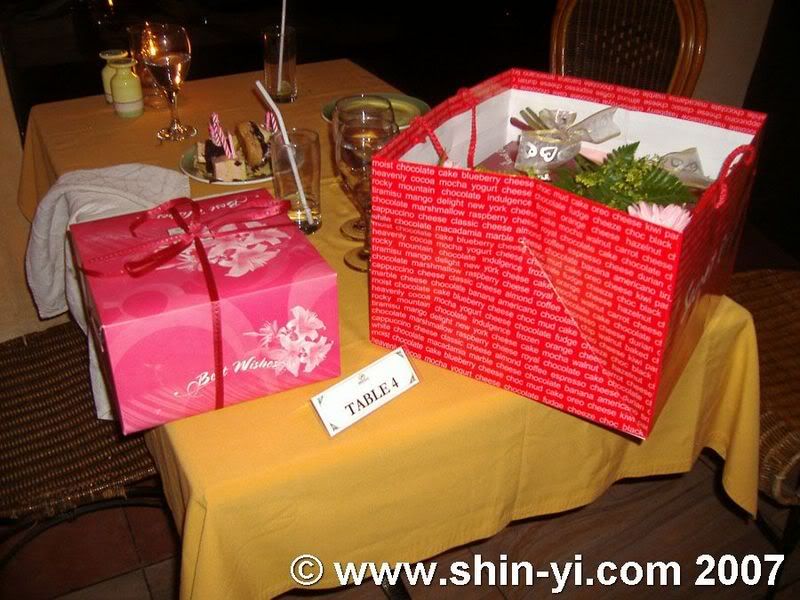 Upon reaching home I had to partially empty the fridge so I could fit the cake in there. HEH

This is how tall the cake is.

I love the flower decorations.
Anyway, the next morning I woke up, brushed my teeth and wash up like any other day. I went downstairs into the kitchen. I open the fridge, took my cake out, opened the box and this is what greeted me good morning…
…….
…….
…….
…….
…….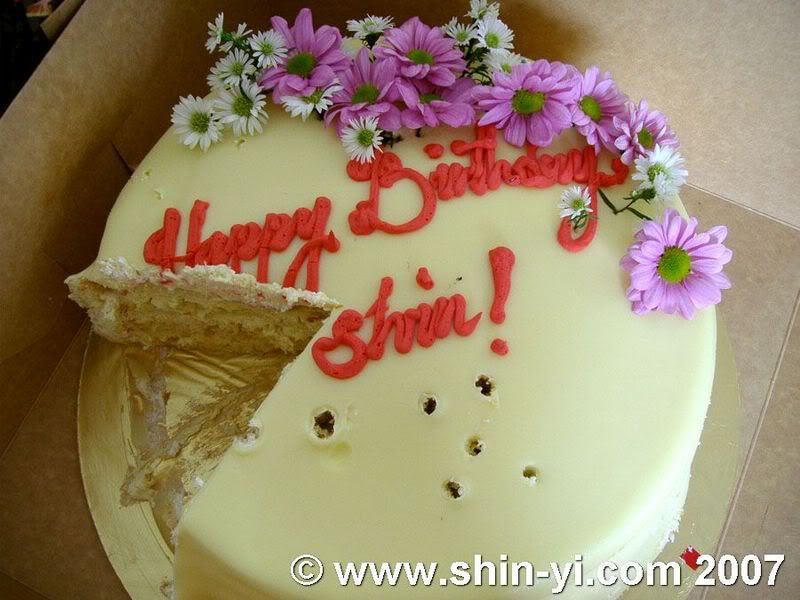 Who ate my cake?!?!?!
%$#!!%~&%#*(%#$!!!