November 4, 2006
Disclaimer: LOTS OF PICTURES!
Day 2 in Bangkok started early at around 7.30am. Our first stop was the famous Four-face Buddha near a shopping mall. I forgot what the name was. I have not much interest in statues and whatnot so I wasn't paying attention to what the tour guide was saying. Besides, it was too early for a history lesson! Hehehe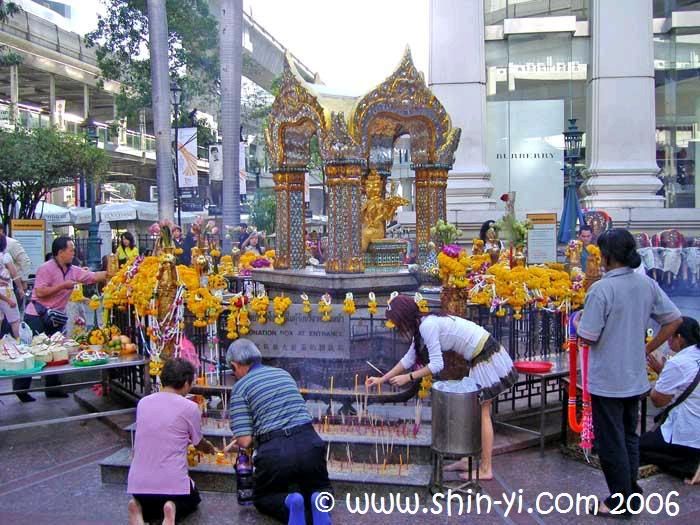 Anyway, we were told by our tour guide that this particular Four-face Buddha is very famous. A lot of people from all over the world come and pray and give offerings to it. Those who get what they prayed for from this Buddha come back within a year or so and offer gifts to the Buddha. The gifts come in many forms. A logging tycoon from Surabaya had half a dozen of elephants carved from very expensive teaks to be offered to the Buddha.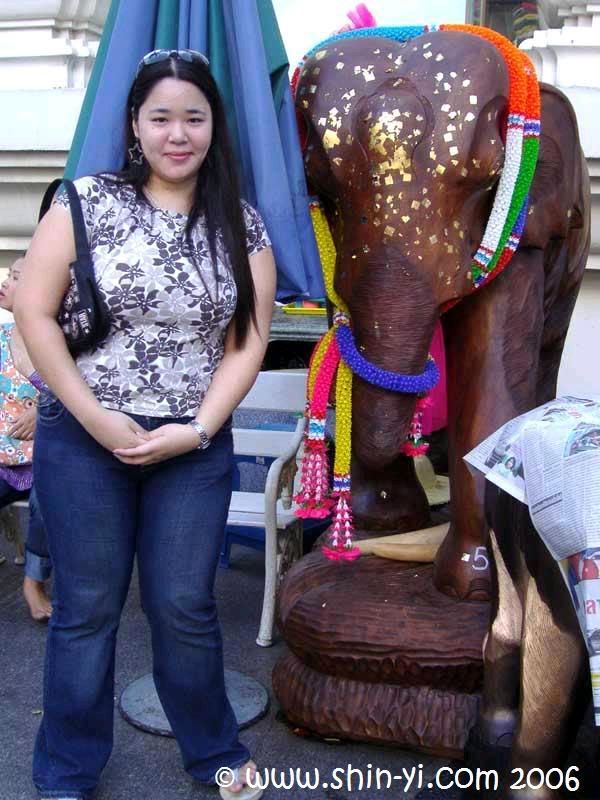 The giggly trio in Bangkok had a picture taken by the statue and amusingly there's Burberry behind us. HAHAHAHA
After the Buddha statue tour, we went to the famous Temple of Dawn aka Wat Arun. We had to take a boat across the Chao Phraya River.
The view from the boat was awesome. Pictures from websites of the exact view during sunset was absolutely magnificent. Too bad I couldn't witness that. Anyway, a stall was offering traditional Thai costumes for rent at the entrance. I don't remember how much it cost but I'm sure it was under 100baht (or RM10). We all jumped on it. The costumes weren't as nice as the ones we see on TV and they really make us look fat. I mean, look at me…
Ummm, come to think of it I AM fat, so scratch that… :s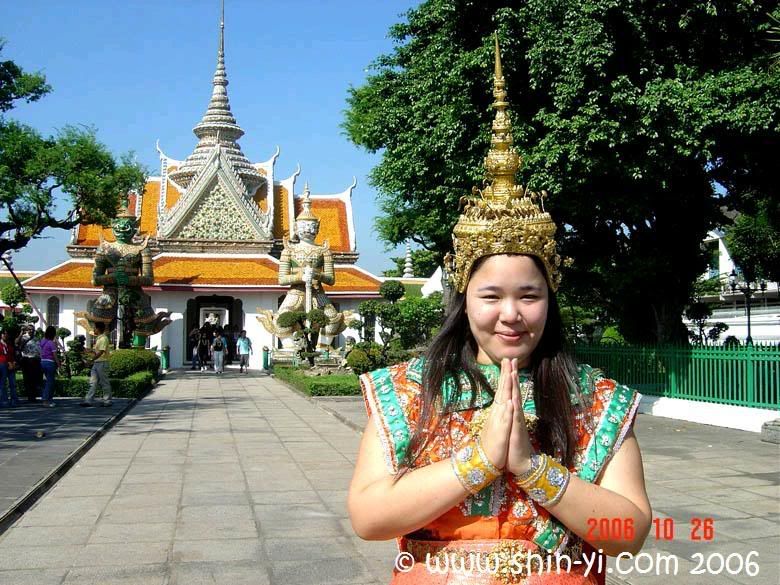 Sawadeeka *giggle*
Okay, back to the temple…
The interior of the temple was beautiful. It used to be the temple for a Thai king to do his religious prayers. That explains the rows of gold Buddha statues and gems embedded on the pillars and ceilings.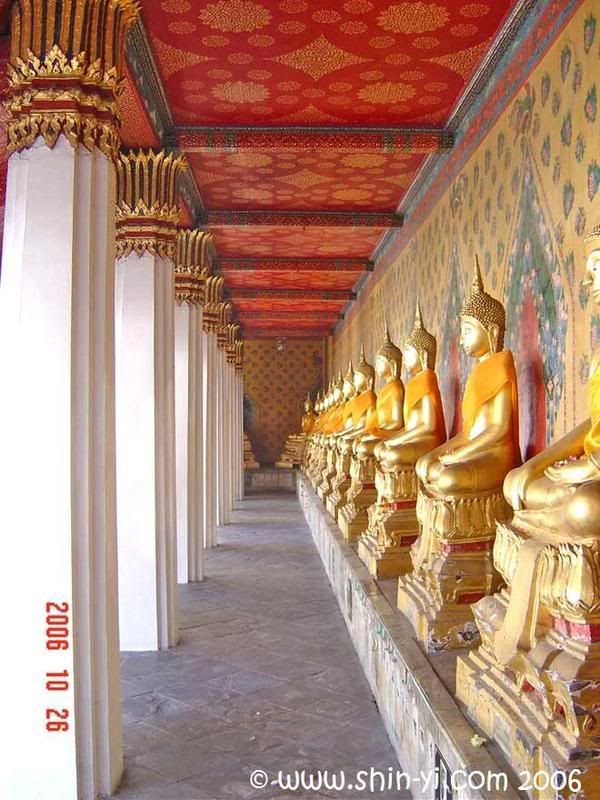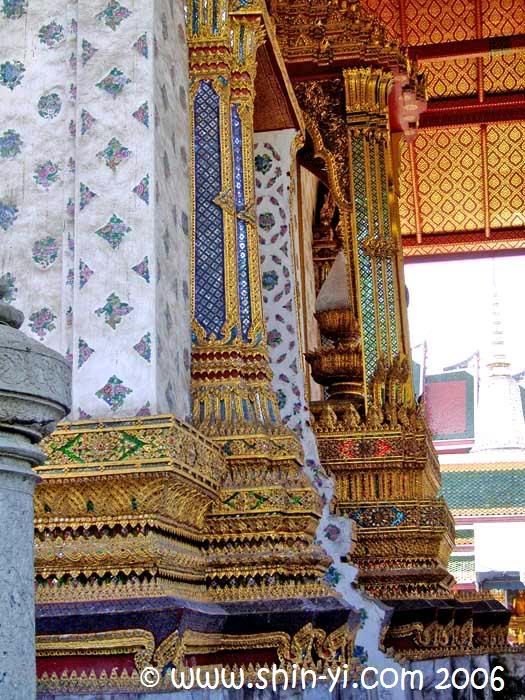 Another thing about this temple is that it has a LOT of statues. Big, small, tall and short.

Me being the goofy person I am.

More goofieness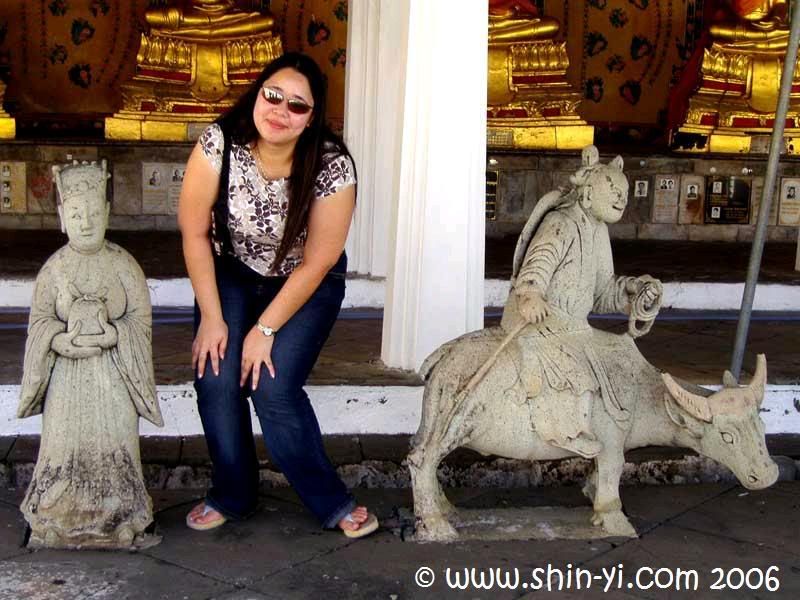 This particular statue of a lion of sort made me giggle. We were told these statues were made by the Chinese during the 17th century as gifts to the king of Thailand then. I must say the Chinese were very detailed.

That's a bung hole in case some of you are wondering what I'm pointing at. lol
After the temple, we headed to the Sriracha Tiger Zoo. The tiger zoo is located on the way to Pattaya. It was about 2 and half hours ride. We tried to nap in the van but got woken up constantly because the highway was kinda bumpy. However, I must say it was the highlight of the day for me. I enjoyed the tiger show (not to be mistaken with the other "Tiger show" heh).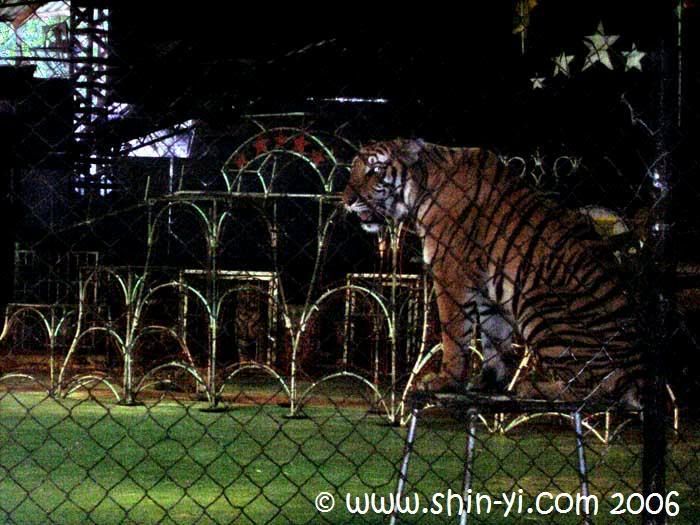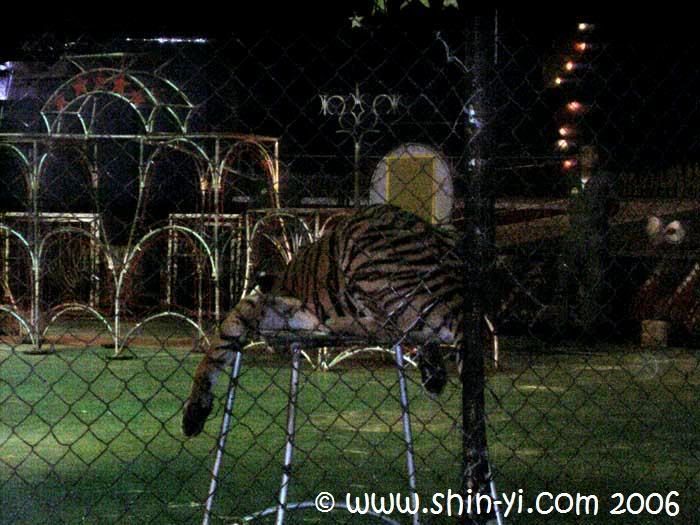 I also took pictures with a baby tiger! Rob thinks I was crazy for doing that because the "baby" tiger looked really big. He said it was big enough to gnaw on my head. I think it was so cute! The huge paws and all that. See for yourself.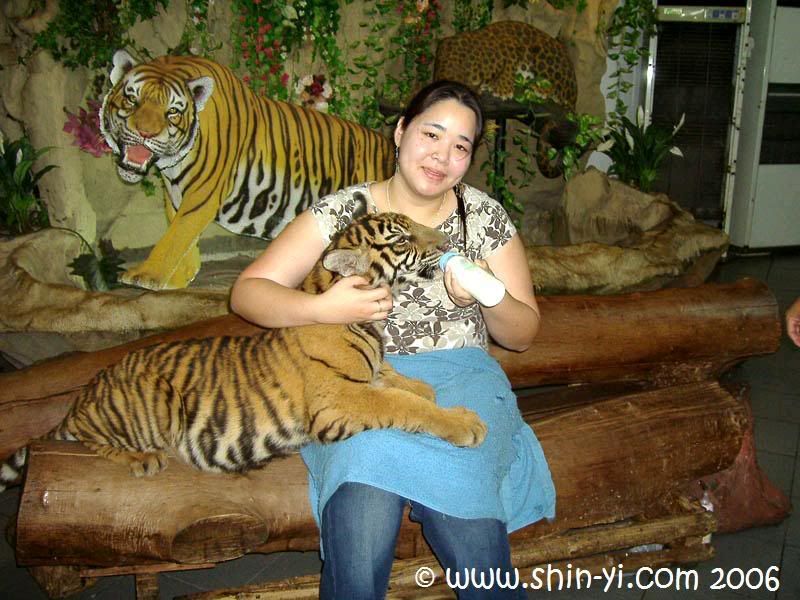 Cute what!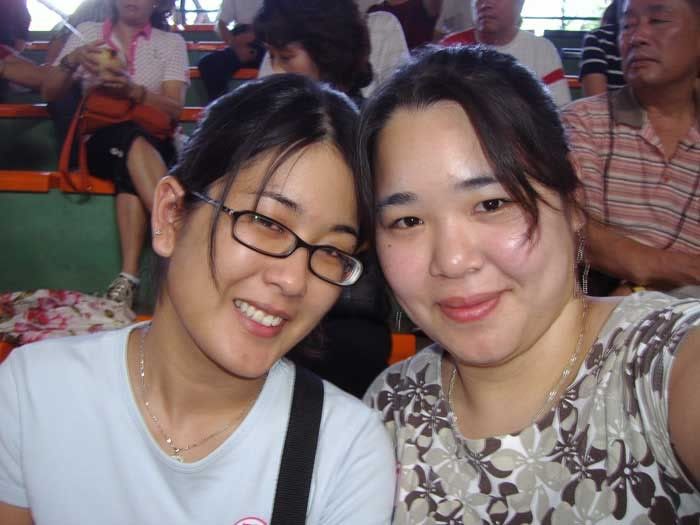 There was a crocodile show too.

Let's just say no one can pay me enough money to do the stunts this guy did. Isn't he insane?!?
Oh, this is a cute picture too. I took it after the Pig Race.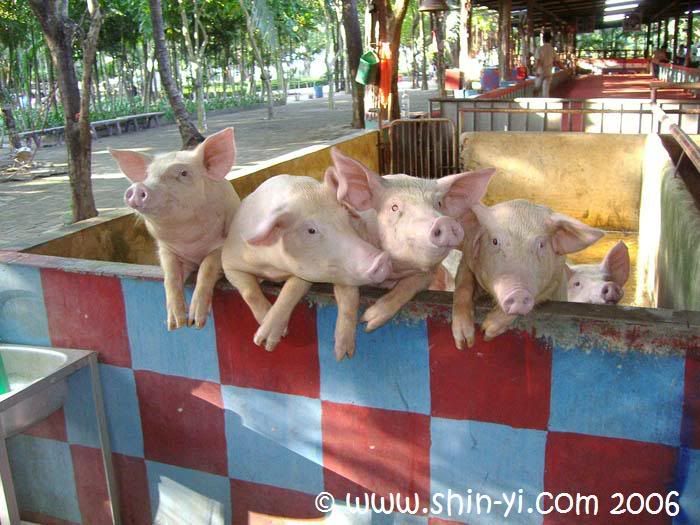 We headed towards Pattaya after the zoo. It was a 30 minutes drive. We arrived at the famous Alcazar for the cabbaret AKA Ah Gua show .
The cabaret show was such an extravaganza with marvellous music, dance and costumes. I took videos of some of the shows but the sound was distorted. Doubt I will post the videos up unless I can find a way to better the sound quality. But the pictures turned out nice.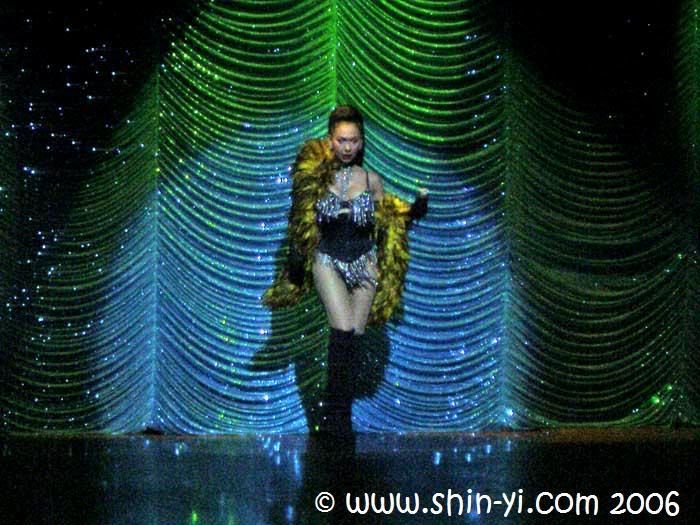 Check out her/his ass!
This one, I think was hilarious. He/she went to the audience and grabbing hands of men and putting them on his/her "boobs".

Then he/she pulled a white guy out of the audience on stage, grabbed his head and pushed it in between his/her boobs. I couldn't get any pictures in time. :/
More hotties…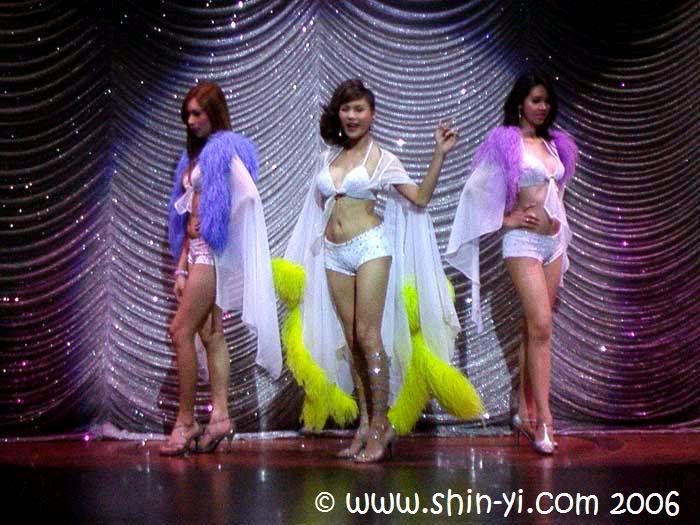 I think he/she is hot.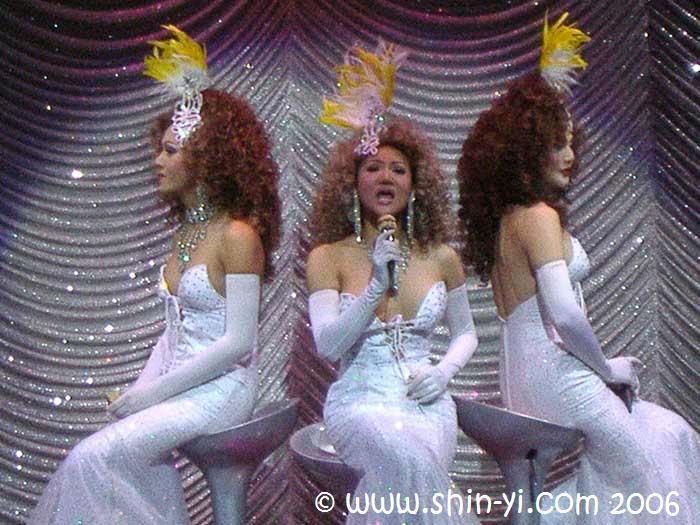 Pattaya's very own "Destiny's Child"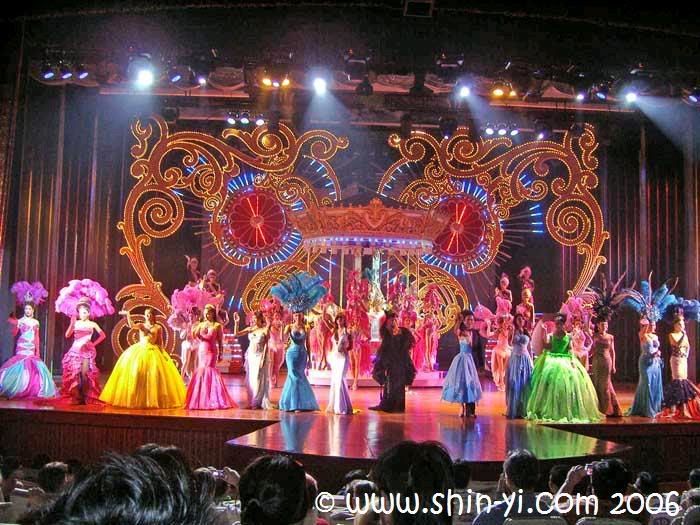 Everyone came out and waved goodbye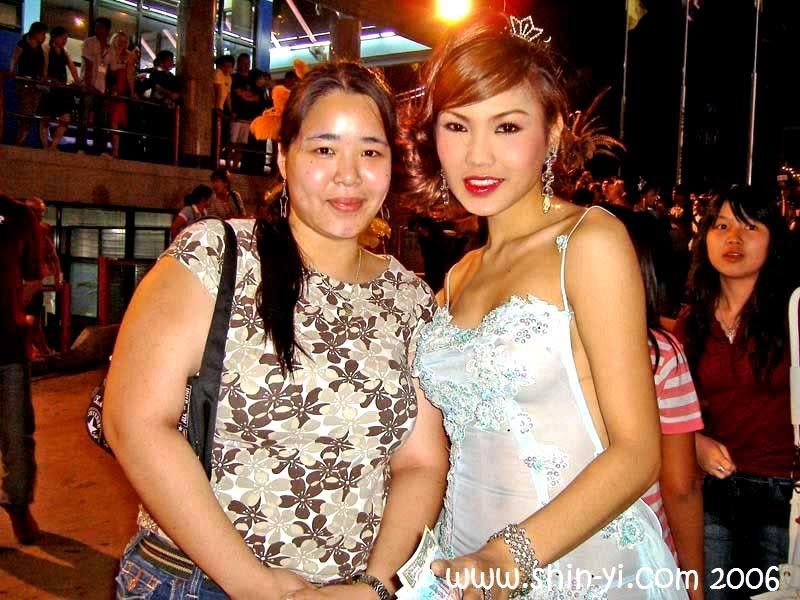 Remember the hottie in white? He/She looked hot on stage but somehow the face looks distorted in this picture :s
The Alcazar cabaret is a must if you visit Pattaya!
And finally, the day of touring ended with a good dinner of Pineapple rice and other local dishes.
We checked in the A-One Cruise Hotel in Pattaya for the night.
Stay tuned! More pictures to come…