November 9, 2006
Day 3 in Pattaya started out with a boat ride to the beautiful Coral Island. The ride was quite bumpy and took about 15 minutes or so. However, on the way there we made a pit stop for PARASAILING!!!

The camwhoring starts early in the day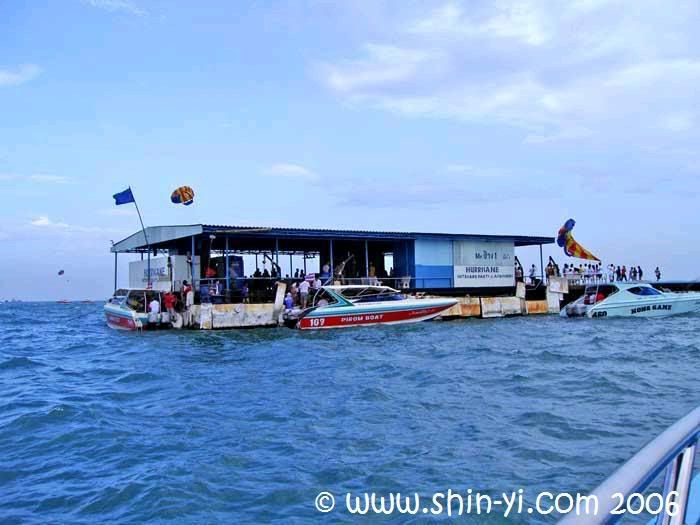 The beach has multiple platforms like this for parasailing
Parasailing cost 350 baht for a round. It's about 5 minutes or so up in the air. If you sign up for a second time, they put you up there for an extra 5 minutes. So technically, it'll be about 10 minutes in the air the second time round AND they dip you in water a couple of times. And yes, yours truly went on it TWICE and got dipped in water 3 times. If you wanna know how deep you get in the water, let's just say I tasted salt water. lol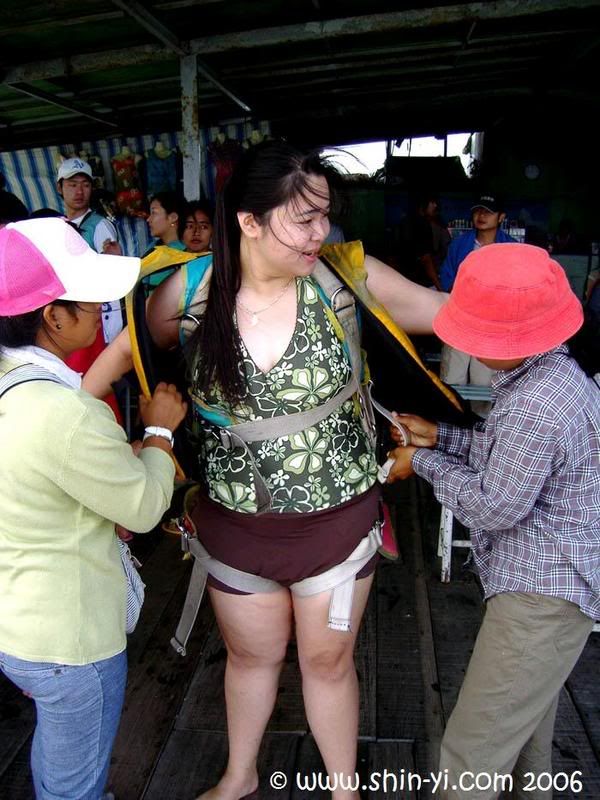 Moi getting geared up. Yes, that's the swimsuit I bought at the night market.
But I have to say parasailing is freaking AWESOME. It can be painful though. I have the bruises to prove it. lol The thing is when you're up in the air like that, enjoying the view and the excitement, you don't realize that the harness is uncomfortable (because it's tight and that's a GOOD thing mind you) and for a long period of time it may hurt.

Up and up I go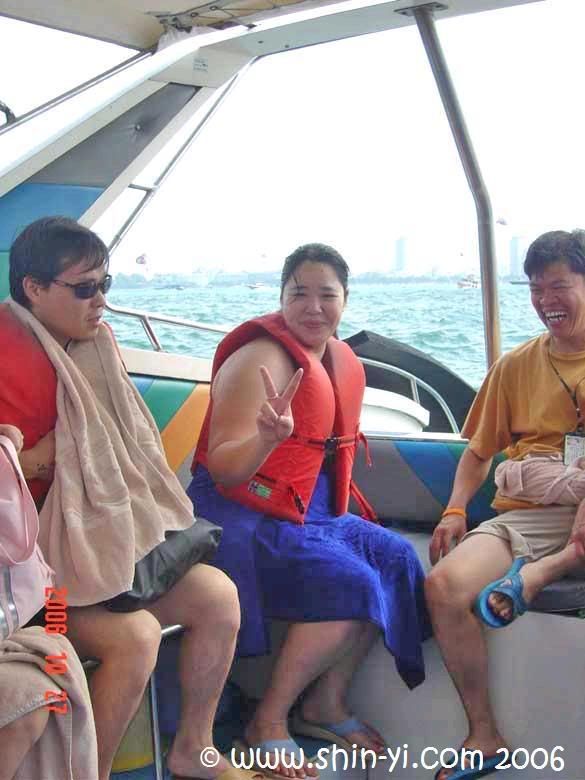 When parasailing was done, we packed up and continued our journey to Coral Island. Like I said a few times already, Coral Island is beautiful. The white sandy beach and sky blue water was just wonderful. The people there were friendly and nice, unlike some in Bangkok. At Coral Island I signed up for the banana boat ride. That was fun too but not as fun as parasailing. Word of advice, when someone tells you "If the boat flips over, let go", that means "I'm going to do a sharp turn intentionally to make you all fall, not just once BUT twice." Don't say I didn't warn you. 😛

Yes, that's me at the end of the boat. What were you expecting? Supermodel body? 😛
After banana boat, we lounged on the beach. My cousin and I got our hair braided and nails done. Hair braiding cost 300 baht. Don't settle for anything more! I got my nails done for 200 baht but the stating price was 300 baht. I was able to bargain it down with the reason of "Aiyo 5 people!!! Cheaper ok? 200 baht ok? Settle." 😀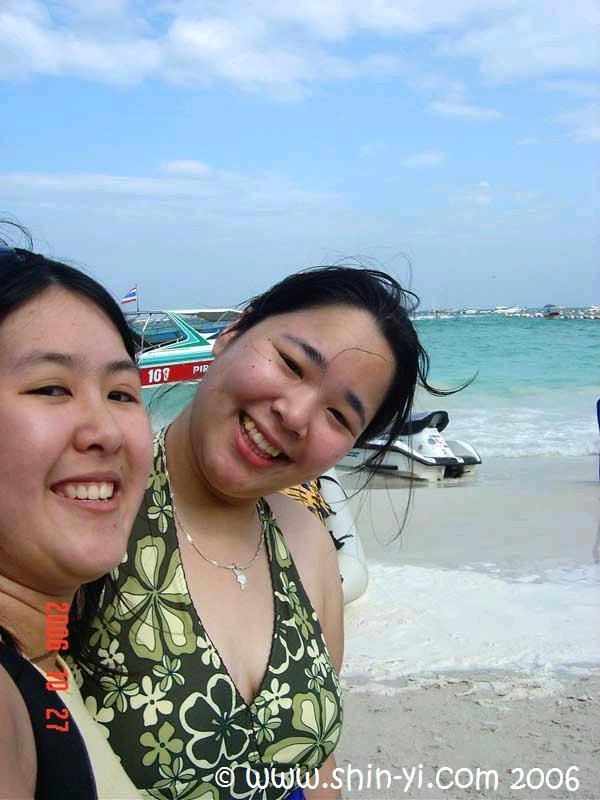 Cousin, Lek-thai (inside joke) and moi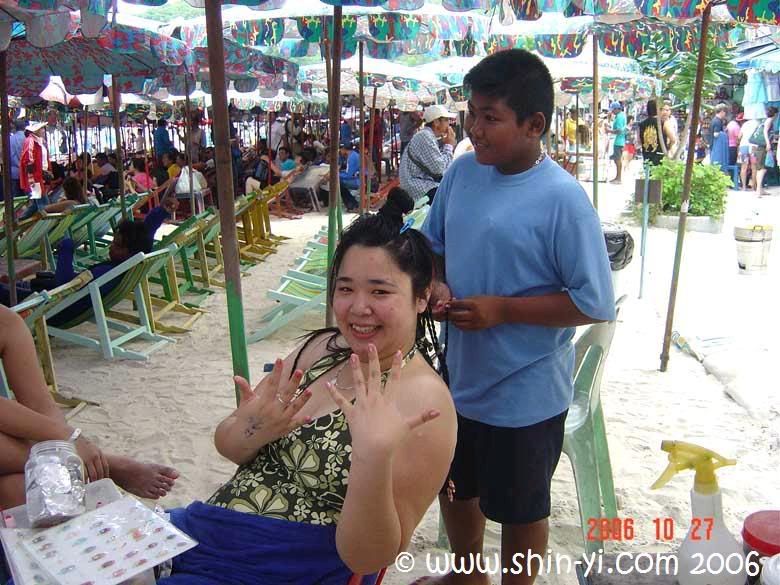 Getting my nails and hair done at the same time 😀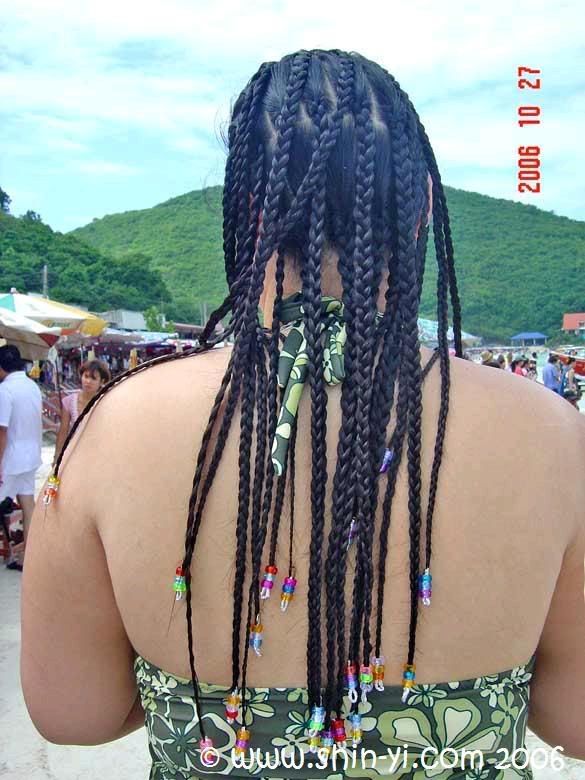 Looks cool eh? I like it 😀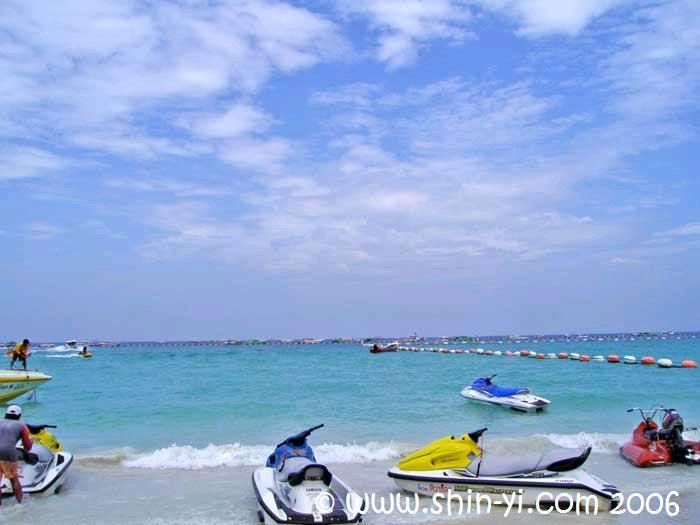 Now you know why I say Pattaya is beautiful. After spending half a day in Coral Island, we headed back to the hotel to clean up and get ready to go do lunch and leave Pattaya. So sad!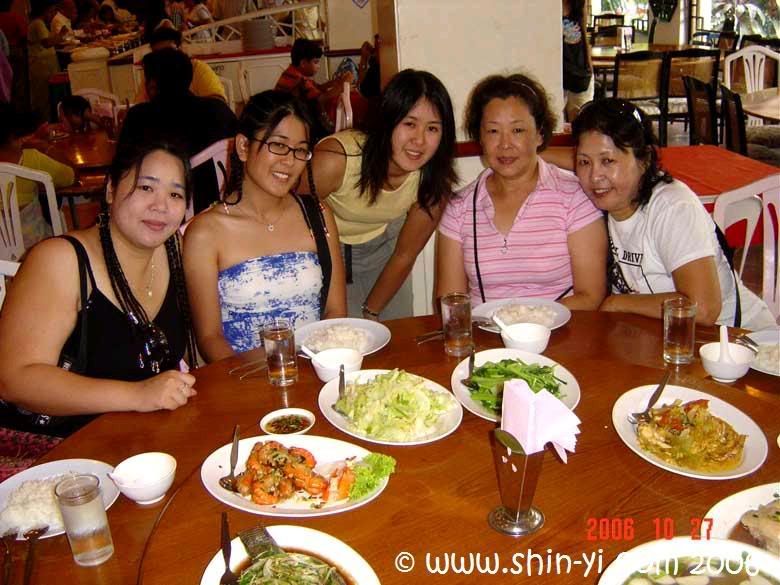 We also made a stop at Pattaya's lookout point to enjoy the view. Check out the view!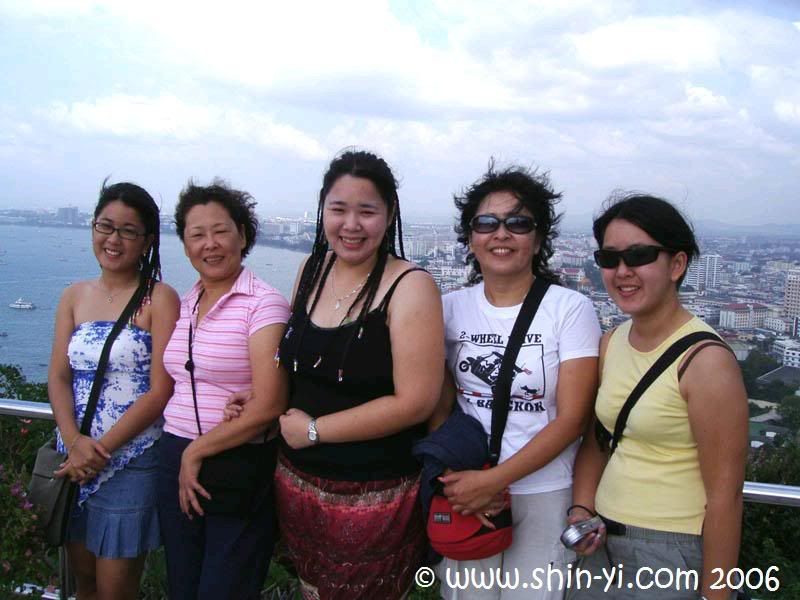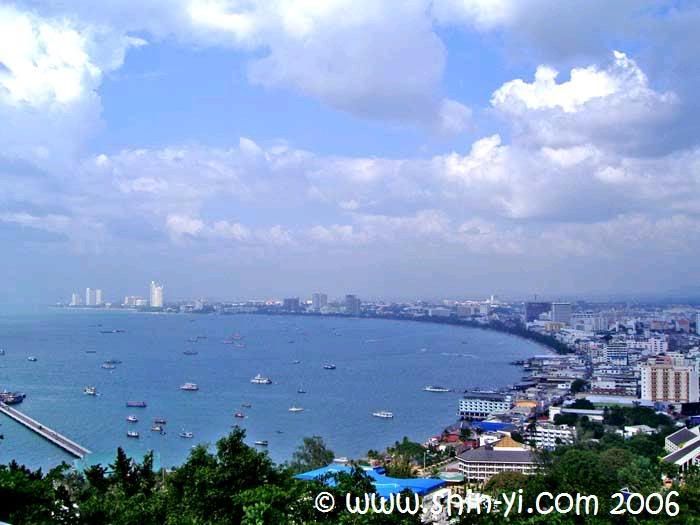 The view without the camwhores. HEH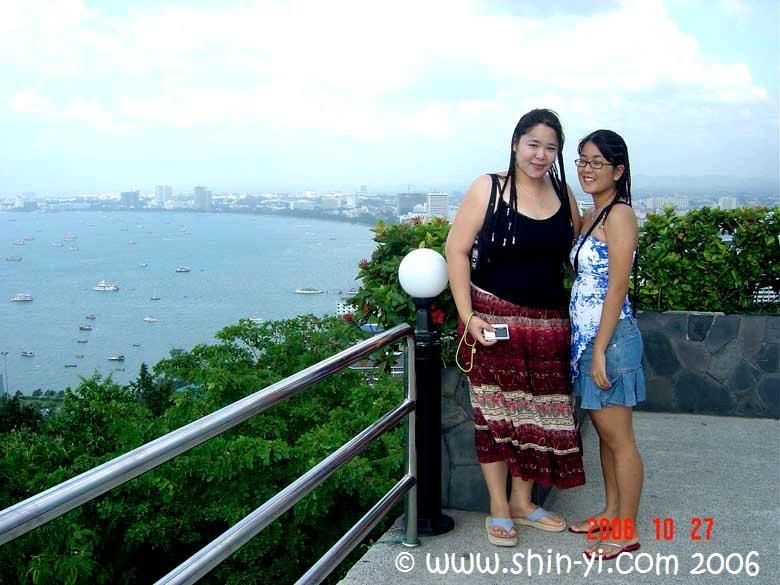 Next stop, the cultural and elephant show! Very colorful costumes and lights. I enjoyed watching the elephants bop their heads from side to side and galloping to the music.

Elephants painting
By the time the elephant show was done, it was dinner time. We headed back to Bangkok after dinner. It was a 3 hour ride. I fell asleep in the van.
We checked in the Indra Regent Hotel in Platunam and called it a night. The next day we walked around Indra Square. Lots of "branded" goods (if you know what I mean) are sold cheap with the condition you buy more than 3 items in the same shop. Fortunately, the people there were a lot more courteous and I enjoyed myself. However, I didn't get to shop much because I was leaving on the 5pm flight and the pickup from the hotel to the airport was at 2pm.
Thailand is a nice place to go, for fun, sightseeing and shopping. If you're more into shopping, it's a great place to go but my only advice is to not join a tour group because you just don't have enough time to shop like us. Then again, if you would like to sightsee you can always book a day tour with the travel agent representative in hotels. They usually have a little office at the hotel lobby.
Well, it's lunch time for me. Ciao~~~