October 28, 2008
The night before we left MOA, we decided to try a restaurant that I have been quite curious about ever since Rob told me about it years ago. Since I didn't try it the first time I was in the US, I thought it would be nice to buy Rob a good dinner, like a VERY early or late birthday dinner, depending on how you see it. Heh (His birthday is in January by the way).
The restaurant is called Rainforest Cafe.
What's so special about this place is the decor. Everything is based on the rainforest. They even have fake rain and thunder while you dine, with added sound effects of animals like monkeys, lions, birds etc. They have aquariums…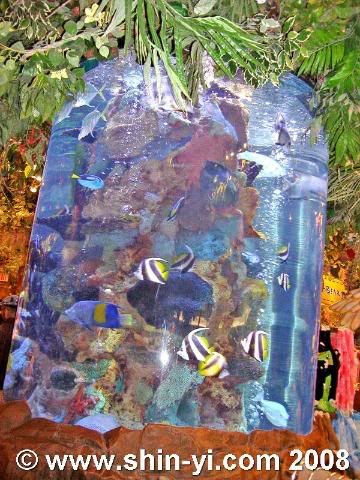 They have huge parrots…
Heck, they even have an alligator swamp.
UNFORTUNATELY, Rob and I had a terrible waitress. I think her name is Jessie. Her service was disgustingly bad. It almost ranks right up there with MFM. The place was packed that night but we got a table in about 15 minutes, which was not that bad.

Before the food disaster

He's just so adorable!

We ordered fried calamari as an appetizer. Rob went to the bathroom while I waited for our food. Fifteen minutes or so later, some guy came with the calamari. I sat and stared at the calamari because no one had given us any eating silverware (fork & knife). When Rob came back from the bathroom (about a few minutes later), we still had no silverware. The calamari looked dry and didn't seem warm at all.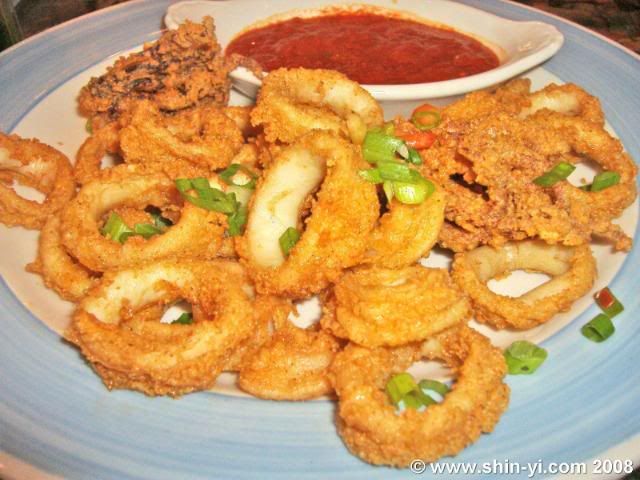 Eventually Jessie came over to check on our food, and we requested silverware and then she FINALLY brought us some. That took almost five minutes itself. I mean, how long can it take for you to go to the working station, grabbed a couple sets of silverware and bring it to the customers? I decided to let it go. I took a bit at the calamari and it was COLD and soggy. Rob disliked it too. We waved to Jessie and told her about it.
Guess what she did? She stands next to me, one hand on her hip, the other on the back of my chair, looking down at us like we did something wrong and said "So what do you want me to do about it?" Rob and I looked at each other, shocked. Then Rob said "This is cold, how do you expect us to eat this?" Her response was "Well it's cold because it's been sitting there so long to which I looked at her in disbelief and said "Yeah, cause we had NO SILVERWARE to eat it". Rob then proceeded to tell her we would like a new batch of calamari.
She takes the lousy calamari and comes back in less than 5 minutes and say "Here, there just came out of the fryer". How is that possible? One, it doesn't take 2 minutes to fry calamari and two, even if it was "just out of the fryer" it would've burnt my tongue when I ate it. We presumed that what she did was throw the plate in the microwave and heated it up, which explained why the calamari was so tough to bite on.
That wasn't the only thing that pissed us off. Rob ordered a hamburger and asked for fries as opposed to the potato chips. But it came with potato chips. We let her know of her mistake and she went off, came back with a plate of french fries that were again "fresh from the fryer". Funny, it was just warm, not burning hot, NOT just out of the fryer.
I ordered some form of pasta which Jessie highly recommended because "it's SO GOOD". I was disappointed. It wasn't that good at all. More spicy and oily than anything as you can see.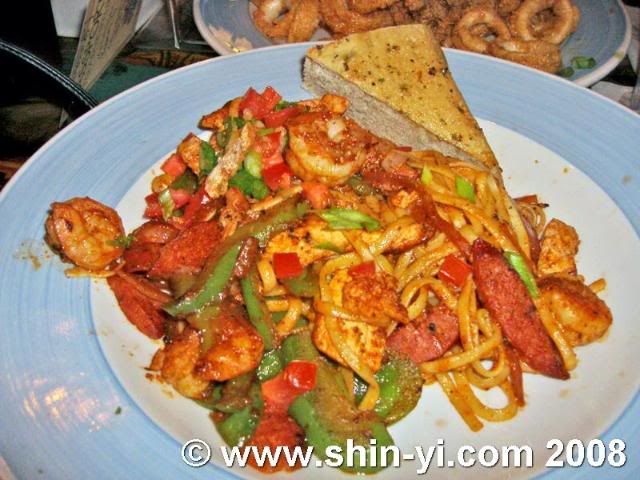 The meal costed about USD60, with tax and tip and all. Nonetheless I was really unhappy, not because it was pricey but because the service sucked and the food was just borderline "ok". It wasn't great food, it wasn't tongue-twisting delicious. It was just edible, for the lack of other terms. Rainforest Cafe at MOA really isn't as good after all. (Note: Found out Jessie "no longer works" there when the manager of that location called to apologize for the lousy service and food after Rob emailed and blasted them. We got the money refunded! HAHAHA)
The next morning, we went back to MOA for one last run. Actually, my last run. Heh
Ahhhhhhhhhhh…pure satisfaction as I left MOA but at the same time…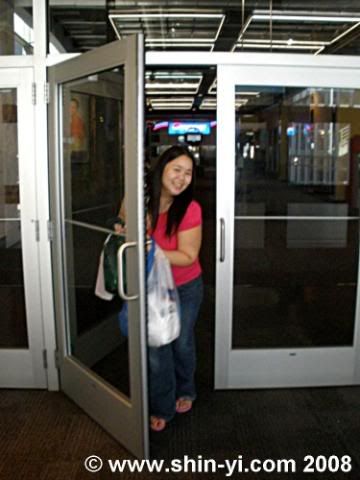 Sad to be leaving because I still could not get enough of MOA.

At the parking bay
Then I asked to camwhore outside MOA, so Rob drove us to the front entrance of MOA.

MOA at the palm of my hand
It was really windy outside the mall. Here's how windy it was.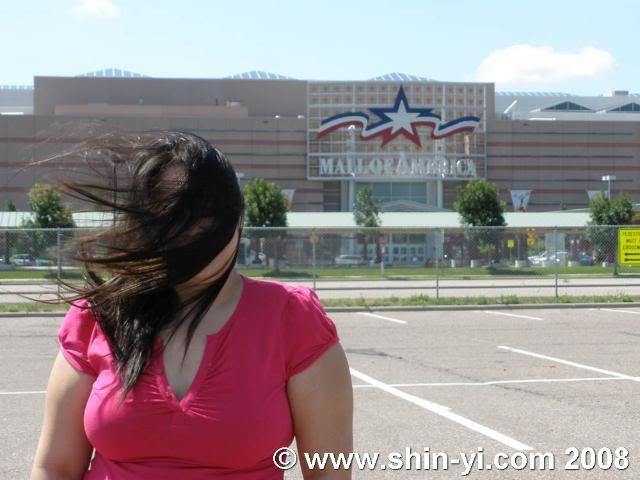 Then what followed was Rob and I trying to camwhore together. After many attempts, this was probably the best picture we could take, with the sun glaring on our eyes, and the wind blowing in our face, which explains our hair and Rob's squinting eyes. I was wearing shades.
And we were off on our journey to Rockford. We spent a couple nights there and visited the Anderson Japanese Garden (which I probably will blog about next).
We didn't take the scenic route on the way back because it looked as if it was going to rain. As you can see from the picture below, we were driving towards the gray clouds.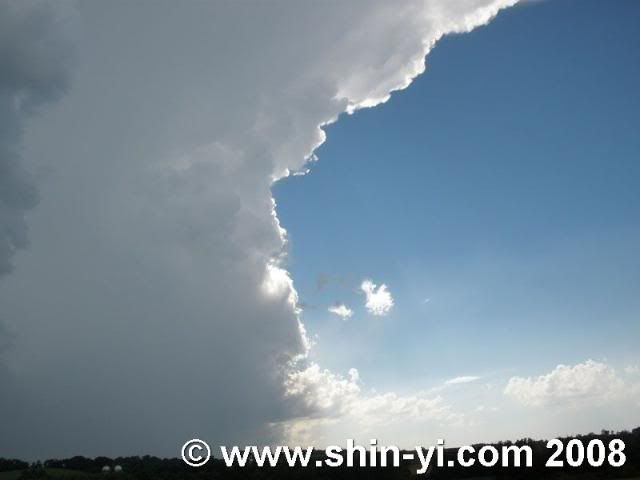 Half sunny, half cloudy

Even though we didn't take the scenic route, there were some nice views along the way to Rockford. I know I've said this a gazillion times (maybe less
) but I love seeing the countryside, with the farms, fields and lushes trees. Something about them gives me this feeling of serenity. It was a plus that I got to see some sheep grazing.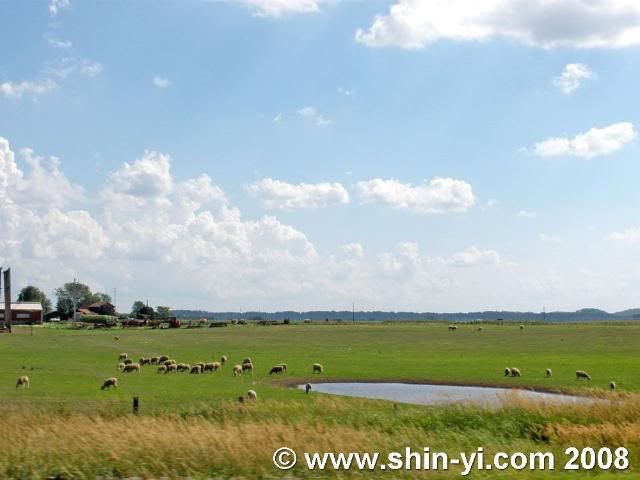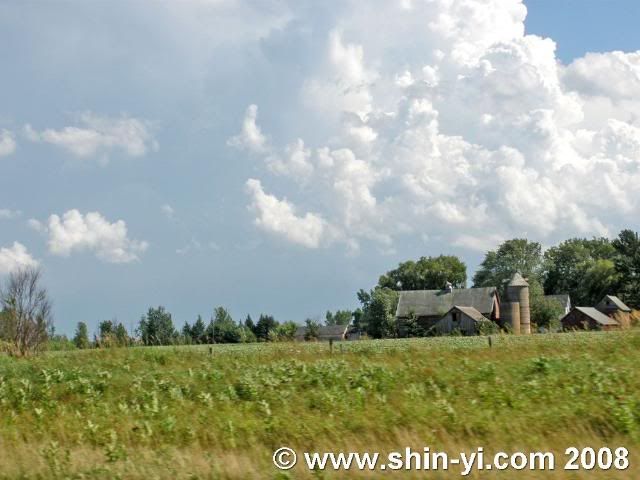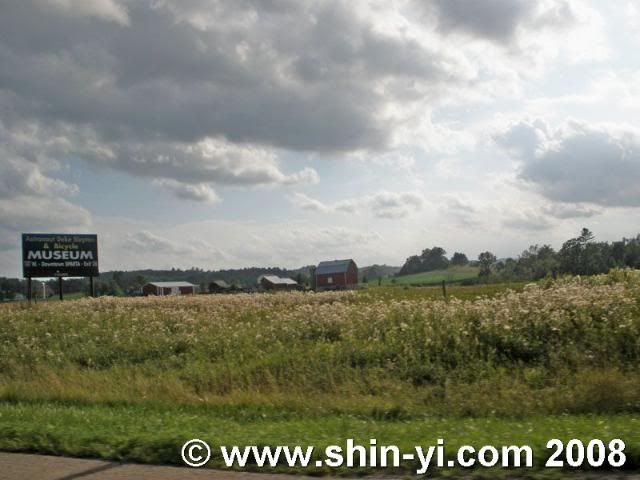 As nightfall approached and my contant whining drove Rob insane we stopped at a town (which I totally forgot the name) for dinner. We ate at Perkins Restaurant! If you remembered from my previous post, I did take a picture of a Perkins Restaurant in Winona but the one we ate at was another location.
As we were seated in our booth, I noticed a man in a blue shirt and long hair. He looked up at me and smiled. I politely smiled back. We were seated a few feet from where he was standing. It looked as if he was shaping a balloon animal. Curious, I stalked continued to watch what he was doing. Then our waitress told us that it was Kids' Nights at Perkins and that there was an entertainer in the restaurant.
He glanced up and saw me watching him, while I shyly looked away. LOL I didn't want to seem rude from staring at him. Then I looked at him again, while he was shaping a long red balloon into a heart. I thought it was cute and told Rob to look. He turned around and this guy was just going crazy with the balloon. Within a minute, he had finished his task.
He walked over to us and presented me with the balloon. I was pleasantly surprised!

By the way, that's Apricot salmon with mash potatoes, corn, and bread

So cute right? Rob later on commented that it was weird that the guy knew to make a PINK flower with a HEART, of which I both love.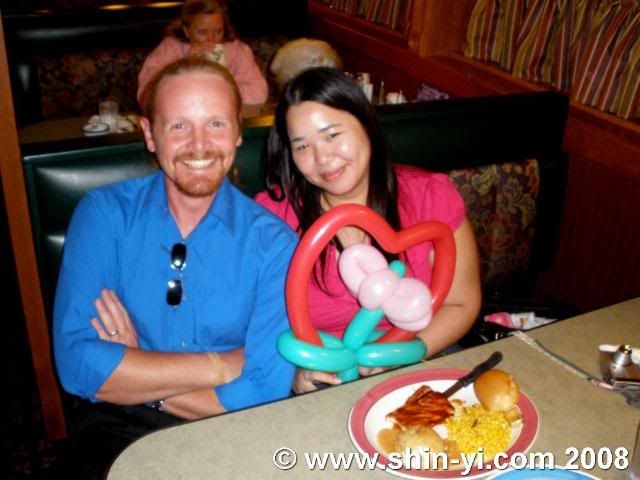 Don't quite remember his name
Anyway, this guy proceeded to give us a personal magic show. I didn't mange to take a video of it because I was still in awe over the balloon thing. Heh
I remembered inspecting the rubber bands, and they were perfectly normal rubber bands. He somehow looped them together into a chain. (Rob had a rubberband too.) He also did some other magic tricks, which got Rob and myself dumbfounded! All that came outta our mouths were "What the!" or "How did you do that!?!?" or "Holy crap!" etc etc (you get the gist). Essentially we both looked like this: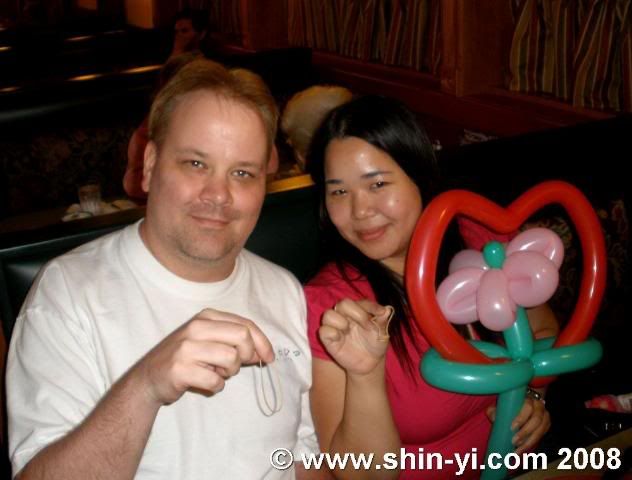 Magic rubberbands
This is me satisfied after a great meal with great entertainment. The apricot salmon was DELICIOUS!!!! Don't worry guys, I will do the food post in due time. Patience my little minions.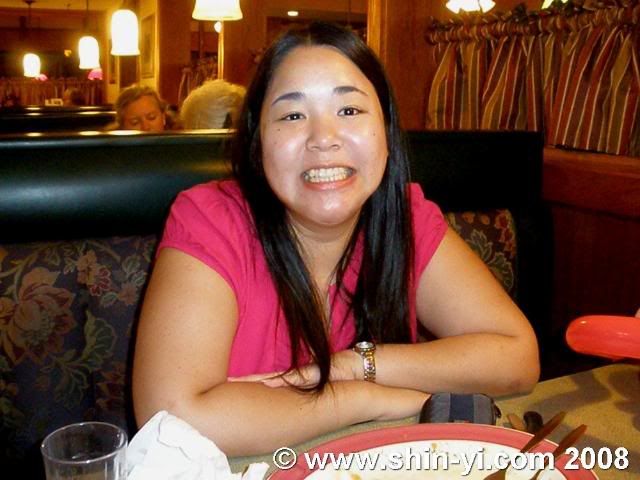 And of course, a must after every meal. We camwhore at least once.